*The Pikes Peak Cog Railway is currently closed for 2018.*
Broadmoor Pikes Peak Cog Railway
Memories are not made from the mundane, but from the bright, awe-inspiring moments that take your breath away. Pikes Peak has been a source of inspiration since the first people laid eyes on its jagged snowy summit rising out of the plains. Known as Sun Mountain by the early Tabeguache or "People of Sun Mountain," the Peak has been a shining beacon to visitors for hundreds of years.
Unlike those early visitors, you can summit this majestic Peak in an hour, without even breaking a sweat! Book your trip on the nation's highest Cog Railway and prepare for some of the best memories of your life!
Reserve Your Seats
This popular train books up fast!
Morning can be the best time to summit the peak, when skies are blue and the sun shines brightly on the face of Pikes Peak. Colorado enjoys over 300 days of blue skies and on a clear day you can see the curve of the earth from the summit of Pikes Peak. Be sure you call ahead for reservations so you don't miss out!
Local's Tip: Arrive 30-45 minutes early and use the restrooms at the depot! There are no "potty breaks" along the way.
Call for Reservations: 719-685-5401
During the trip
Aspens, wildlife, and a tremendous sense of aaaaahhhhh!
~Insert great quote about journeys here~
But seriously, the joy is in the journey during this three hour ride up America's mountain. At once thrilling and relaxing, this is a trip unlike anything you've ever experienced. The Cog Railway climbs nearly 8,000 feet in elevation, passing pristine mountain biomes of towering boulders, aspen, waterfalls and if you're lucky, wildlife — all while you kick back with your favorite people and enjoy the view.
Local's Tip: Be sure to bring a camera with a full battery and plenty of memory.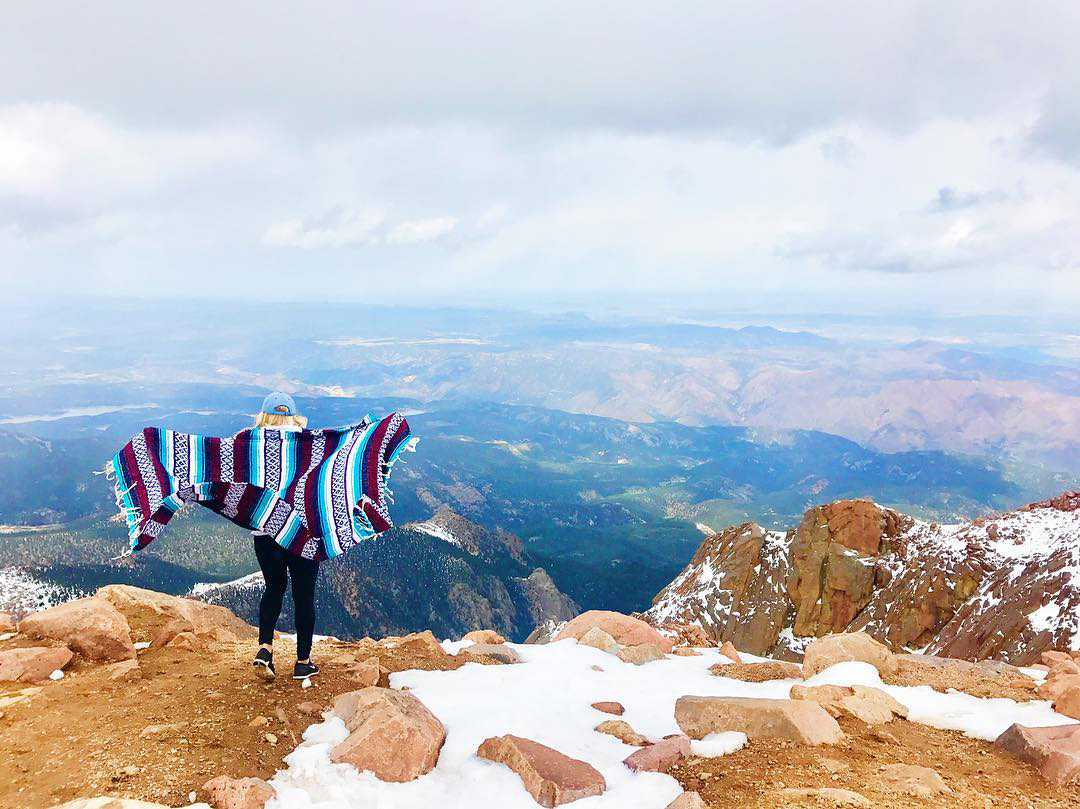 The Summit of Pikes Peak
Your day on top of the world.
The Pikes Peak Cog Railway stops for 30-40 minutes on the summit, so use your time wisely. Do you want to sit back and soak in the view? Do you NEED to get a new hoody at the summit house? We recommend you make a plan of attack to make the most of your time on top of the mountain. . . after you visit the restrooms, of course. 😉
Local's Tip: Be sure to pick up some summit house donuts at 14,115 ft.
Clothing Tip: Bring a coat for the summit, it will be 30-40 degrees colder than the base.
Explore More
More Tips
Insider hints to keep you comfy
The Pikes Peak Cog Railway will take you up 8,000 feet in elevation — that's no small feat. Here are other tips to help you enjoy your trip:
1. Bring a coat. The summit is 30-40 degrees colder than the base of the mountain. Hat and gloves don't hurt either.
2. Drink lots of water. Dehydration is the number one contributing factor to elevation sickness. Extra H2O will help keep you fighting-fit.
3. Use the bathrooms at the depot and summit house, there are no restrooms on the train.
4. Your time on the summit is limited, so plan ahead to make the most of it.
5. Bring your camera and make sure it is fully charged with plenty of memory.
6. Call ahead for reservations. Trains can book up a couple of weeks out in the height of season. 719-685-5401
7. Bring your favorite people, memories are always better with loved ones.
Don't forget to share!
Tag us in your photos #PikesPeakRailway and #VisitPikesPeak for a chance to be featured on our website. #instafamous