Carnivale Survival Guide: Mardi Gras in Manitou
Are you ready for a Mardi Gras adventure that won't require a plane ticket or overpriced hotel? Then head on over to Manitou Springs February 17-18 for the annual Carnivale celebration. Every year, the tiny town goes Big Easy and everyone in the Pikes Peak region joins in on the festivities. Are you planning to be one of them? We can help! We've compiled a Carnivale Survival Guide to help you get to the party, maximize your fun and get home safely. Gather up your beads, your masks, your parasol and your laissez-faire attitude because you're about to have an adventure.
Carniball at Carnivale: Friday, Feb. 17
Feb. 17 | 6 p.m. – 10 p.m. | $50 | Briarhurst Manor, 404 Manitou Ave. | Get tickets!
What is Carnivale without a masquerade? The party begins with, well, a party. Dress in your masquerade best for the best ball in town, hands down. This year's theme is Manitou Time Machine. Your $50 ticket will get you the following:
$500 in casino chips for an epic evening of mock gambling. 

Live New Orleans-style jams from local band favorite Tribe. 

Fire dancers.

Door prizes from local Manitou Springs businesses.

Full buffet dinner.

Celebration of the 2023 Carnivale Court of Royalty.
The Carnivale Parade: Saturday, Feb. 18
First things first, you can totally join the parade with your own Carnivale Krewe. All you have to do is register your group and follow instructions for parade day. There are awards for awesome krewes, so feel free to take this seriously (or not, it's Carnivale). No motorized vehicles, please. 
Carnival Parade Route
The parade begins in Memorial Park and proceeds all the way to Soda Springs Park. You can chill anywhere you like along the route and have a blast cheering the floats.
Mumbo Jumbo Gumbo Cook-Off
Gumbo is a delightful dish that encompasses some of the best features of Cajun cuisine: rich, flavorful, fragrant and fabulous. Every year, lucky attendees get a chance to taste upwards of 20+ gumbo dishes at $0.75 a sample after the cook-off concludes. Let's talk about cook-off rules real quick. There are only 20 chefs allowed to participate, from both amateur and professional divisions. 
8:00 a.m. – Cook-off begins. Teams work for over two hours to create 5 gallons of gumbo for judging an tasting. 
10:45 a.m. – Judging begins. 
After judging – Time to eat! Visitors with paid tickets can try from any one of the chefs they wish. 
Awards will commence after the judges have made their final decision. 
Attendees will have a chance to make their own People's Choice votes during their tasting. If you were thinking you might want to give your favorite recipe a whirl, you may still have a shot at one of the 20 coveted spots. Find the application here and best of luck!
Other Carnivale Awesomeness
The whole town is in on the fun when Carnivale comes to town! You'll definitely want to visit some of the local restaurants for Cajun specials or cool cocktails. Speaking of drinks, the town's friendly bars and pubs are sure to have plenty, plus live, local music to boot. Visit local shops to find eclectic gifts, cool Carnivale gear or festive accessories. 
Carnivale After Parties
Just like the Mardi Gras celebration in Louisiana, Manitou's Carnivale has quite a few after parties so you don't have to stop your celebration early. All take place on Saturday, Feb. 18. 
Krewe of Shining Celestials Carnivale Parade After Party
2-4 p.m. | Free

DJ URBNLGND, parade awards, family-friendly activities, water station
Buffalo Lodge Bicycle Resort Parade After Party
2-9 p.m. | Free

DJ Joe Imperiale, Happy Hour
Manitou Queenival Post-Parade Party
3-5 p.m. | $15 |

Get tickets!

The hottest drag show in town, drink specials, food from Adam's Mountain Cafe
Getting There: Driving & Parking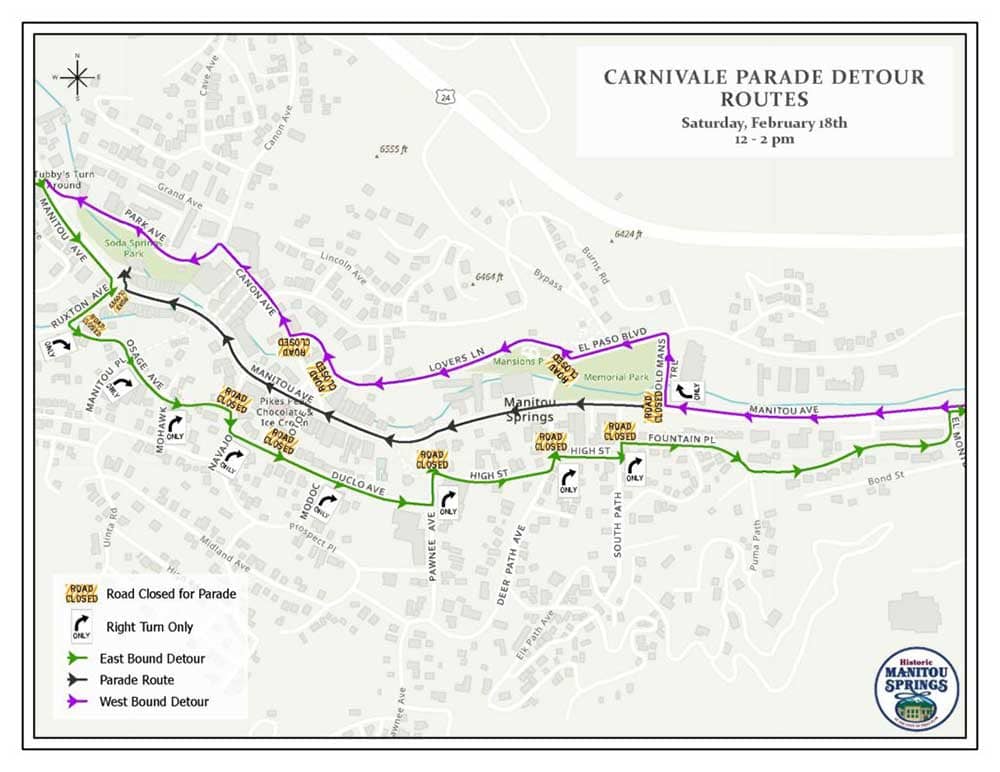 Manitou Springs has always been a tiny town with a big reputation and home to tons of fabulous parades and parties. However, due to the town's tiny footprint, there is not a lot of parking. Additionally, getting in and out of town can be complicated if there is a parade scheduled. We have a few tips that can help you make it easy to make it to the festivities. How easy? Big easy. 
Getting to Manitou Springs
If you're heading to Manitou for the parade and you plan on parking in town, you'll want to arrive early. Honestly, we don't really recommend trying to drive into Manitou at all during large events. We'll share some options in a moment. You can drive into Manitou via Manitou Avenue, or head up Highway 24 and take Serpentine Drive or Manitou Avenue (past Cave of the Winds). All ways into town will be crowded, so give yourself time to prepare. The road will shut down early for the parade and open back up after 2 p.m.
Alternate Ways to Get to Manitou for Carnivale
PikeRide Bikes
Yes, it is a bit chilly this time of year, but PikeRides have e-assist to help you get where you need to be fast for a cheap price. Bundle up if it's chilly and take the Midland Trail that runs alongside Highway 24. You will have a spot to park it so you don't have to stress. 
#3 Metro Bus
The bus runs all day and drops riders off at Memorial Park. Get the details on bus passes and routes here.
Rideshare
Hop into a rideshare. You can have them run you into town and drop you off or drop you along the outskirts to allow you to walk in. 
Carnivale Parking
If the logistics of bikes and buses is too much, you can drive in. Go early to claim a spot because it gets crowded quickly. One thing you DO NOT want to do is park randomly. If there's a sign to pay, or a sign that restricts parking, your Carnivale adventure is going to cost $$$ in ticket fees. 
Hiawatha Gardens
Park for a fee in this handy lot located right next to Memorial Park. The lot is pretty roomy but Carnivale makes its own rules and you may not be able to find a spot. You can pay with a card or your phone. 
Manitou Springs High School and Middle School
For a meager $10 you can park all day in the high school and middle school parking lots. The money supports the SkillsUSA program in the district, which provides education and skilled learning in construction. 
We hope this Carnivale survival guide helps you make the most of your weekend of Mardi Gras magic. Events in Manitou Springs are some of the best in the Pikes Peak region. With a little pre-planning and patience, you will have an amazing experience. If you're coming from out of town and need some more activities to fill out your weekend, check out our Mardi Gras itinerary! Laissez les bons temps rouler!