📸: _courtneyduh
We absolutely love Earth Day — and not just because we happen to live in one of the prettiest, most fun places on the planet. (Colorado Springs, if you were confused.) No, we love Earth Day because it gives us a chance to give back to this marvelous sphere that unerringly provides us with the gravity, atmosphere, water, oxygen and soil required to keep humanity — and all the other species — alive and kicking. In 1970, Earth Day was established as a day of recognition that we all need to take care of the earth in order to keep it a stupendous place to live, love, work and play, today and for generations to come. In honor of this tradition, we've compiled a few ways for you to celebrate Earth Day here in the Pikes Peak region.
1. Volunteer in the Pikes Peak Region
In Colorado Springs, Manitou Springs and Old Colorado City, volunteers will be gathering on Saturday, April 21, to participate in a region-wide cleanup of local parks, trails and waterways as part of the 2018 Great American Cleanup. It's a great way to get to know your fellow earth fans in the Pikes Peak region and to do good for the planet that does so much for you! Slather on some sunscreen and your sturdiest closed-toed shoes and join a cleanup crew near you. Heavy-duty gloves and water bottles are a must for this outing. Note: If you decide to join a sanctioned clean-up session, participants will be required to sign a waiver and all kids under 16 will need adult supervision. You can find a site in Colorado Springs and other areas and register at http://www.gacppp.com/.
2. Learn About Conservation at the Cheyenne Mountain Zoo
Accredited zoos play a huge part in protecting the environment through conservation and education — and the Cheyenne Mountain Zoo here in Colorado Springs is no exception. You can boost your knowledge of animals, our planet and conservation by visiting the zoo over Earth Day weekend. Your admission supports the Cheyenne Mountain Zoo's efforts to protect endangered species and educate people on how to be good stewards of the planet's resources. While you're there, take time not to just enjoy the beautiful animals, but to read the educational signage at each habitat that tells you all about their impact on the world. You'll not only have a ton of fun, you'll leave smarter than when you got there (and equipped with new ideas to help protect our planet and its animals).
3. Visit a Vehicle-Free Garden of the Gods on Earth Day Morning
Garden of the Gods wants visitors to enjoy a car-free morning on Earth Day! From 5 a.m.-10 a.m. you and your family and friends can bike and hike the park sans motorized vehicles. Park at the Garden of the Gods Trading Post (or ride your bike there) and then set out on an adventure via bicycle or on foot on the trails. The Garden of the Gods Trading Post will be open at 9 a.m. that Sunday, so you can easily pop in for a snack, hearty lunch or a hot cup of coffee pre- or post-Garden fun. Bring water and wear sunscreen and comfortable shoes. The earlier you get there, the more time you'll have to enjoy the Garden of the Gods without worrying about cars! (P.S. Later in the day, you can also go car-free by riding through the park … on a horse. Check out Academy Riding Stables to learn more.)
4. See the Earth from the Top of Pikes Peak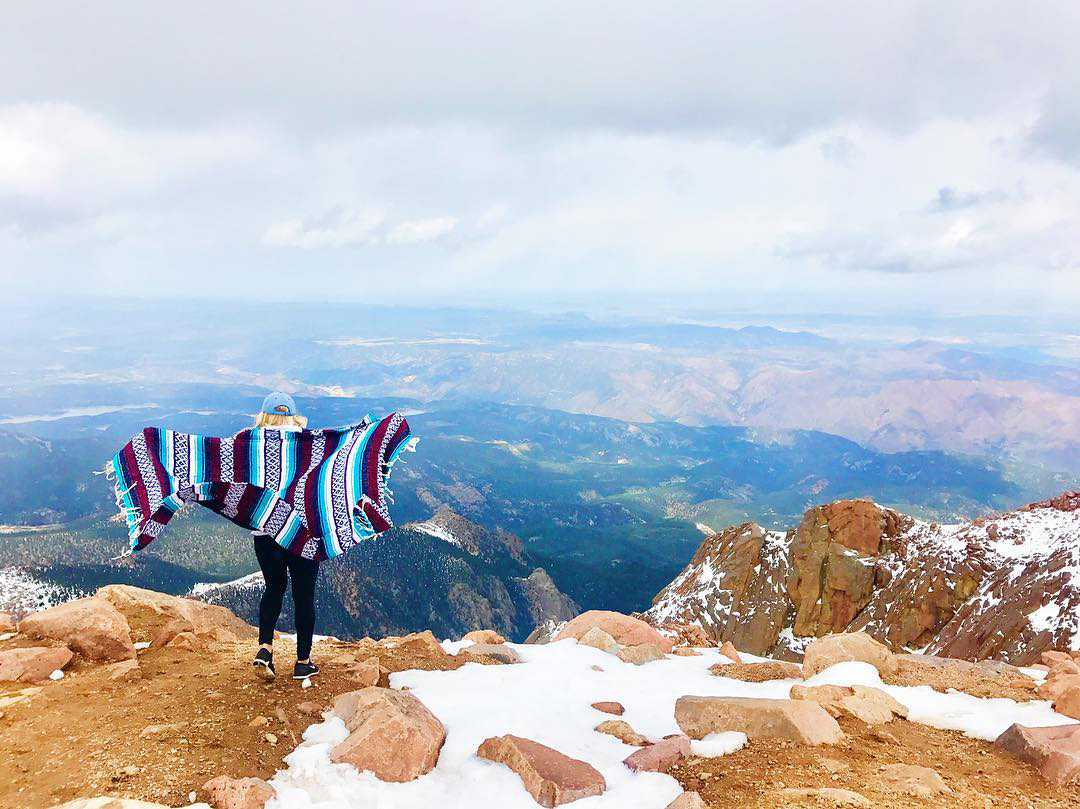 We can promise that you'll find no better view of the planet in Colorado on Earth Day than from the summit of Pikes Peak. Head up the Pikes Peak Highway for an amazing journey through several different Colorado life zones. You'll have ample opportunity to stop and hike the mountain's trails and you can also enjoy a lakeside picnic at Crystal Creek Reservoir. At the top of Pikes Peak, the views are unbeatable (you can even see the curvature of the earth of a particularly clear day). Munch on world-famous hot donuts as you marvel at the wonder of this spinning globe and its life-sustaining beauty, capture photos of the peak's panoramic views and hike around the summit.
Whether you spend the day volunteering, learning or simply enjoying all the planet has to offer (or maybe doing all three, you overachiever, you), the Pikes Peak region offers you endless opportunities for celebrating the planet on Earth Day.