1. Take a Winter Horseback Ride in the Garden
Experience Garden of the Gods from the back of Academy Riding Stables gorgeous horses. We suggest the longest ride, which goes around the perimeter of one of America's most beautiful — and beloved — parks. It's definitely a unique experience!
2. Do a Little Light Spelunking
Ok, so you may not be rappelling down cliffs in the dark like a true spelunker, but you will see rock formations as old as time itself, stalactites and stalagmites, cavernous depths and other geological features in your Cave of the Winds tour. As a bonus, you'll enjoy steady, cool temps, no matter the weather outside.
3. Take a Flying Leap
Since you'll be at the Cave of the Winds anyway, why not check out the Terror-dactyl, a heart-stopping plunge into the canyon that will launch you 150 feet at 100 miles per hour. And while terror may be a feeling, we promise that joy and exhilaration will be, too.
4. Speed Down Pikes Peak via Bicycle
The idea of riding your bike on Pikes Peak Highway is probably a bit scary. But with Challenge Unlimited, you're guided by an expert and protected from traffic the whole way down. You'll zoom around the famous mountain's curves on a 20+ mile journey that culminates in lunch — and wine.
5. Ride the Rapids
Navigate Colorado's epic rivers by raft, led by a trusted guide. Echo Canyon River Expeditions offers gentle family floats — and challenging white water excursions. You can craft a multi-night splash fest or simply join up for a day of fun. See a different side of Colorado and enjoy some family bonding, too.
6. Drive or Climb Up Pikes Peak
So, you've jaunted down the peak by bike. Now you can head back up on your own terms and check out the mountain in style. Take your time on the way up. Stop and fish, enjoy a picnic, hike around the trails and be sure to eat tons of fresh, hot donuts at the top! And don't forget to snap the perfect 14,115-foot family photo.
7. Attend a Star Party
There's a whole spectacular universe to explore and the Space Foundation Discovery Center helps you do just that during their monthly star parties. Look through top-of-the-line telescopes as you learn about space and pop inside the center at discounted rates see real space gear!
8. Strike Gold in Cripple Creek
Travel deep into the earth — 1,000 feet deep, to be exact. The Mollie Kathleen Gold Mine is a hands-on journey into the lives of miners in 1800s Cripple Creek. You'll see an actual gold vein and ride in a mine cart, too. And since you'll already be in town, we suggest you do a little sight-seeing and maybe even pop onto the Narrow Gauge Railroad for a scenic tour.
9. Zipline Across the Arkansas River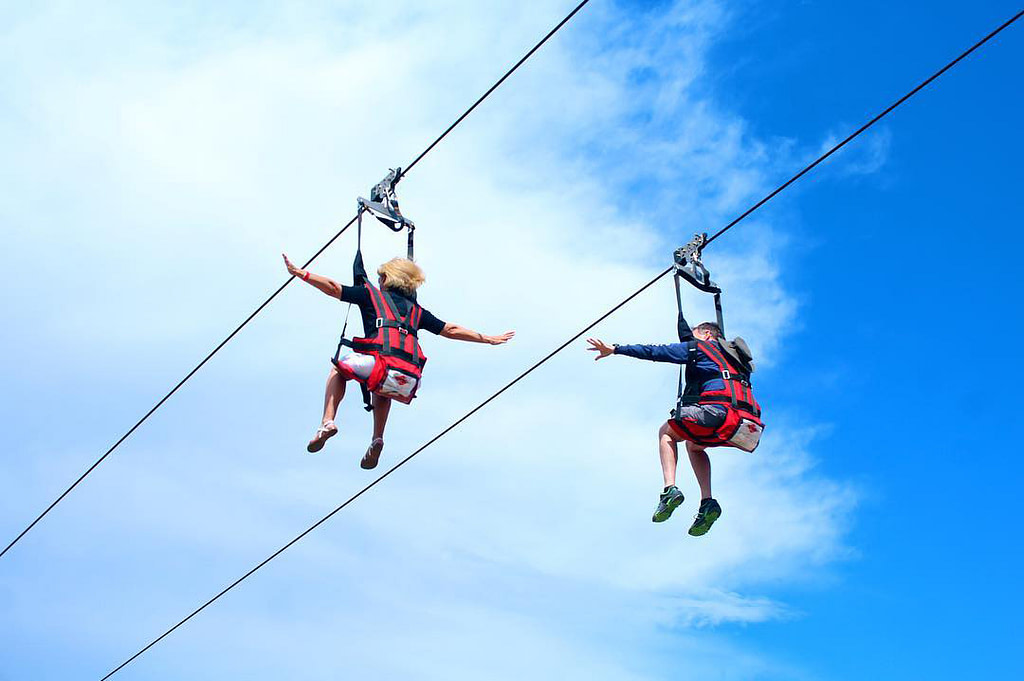 If you thought the Terror-Dactyl was brave, we've got a new challenge—ziplining across the Royal Gorge. You'll cruise 1,200 feet above the river on North America's highest zipline, the canyon below you and the panorama of Colorado's beauty all around you. It's definitely an adrenaline rush.
We hope 2018 is filled with adventure and fun and new experiences and that this list makes it just a bit more special. Happy New Year!