Places to Score Cool Colorado Gear
Now that you've been to the most stunning and fun part of the Rocky Mountains, you're probably looking for ways to commemorate the occasion. Everyone needs to know you've conquered the Centennial State, even if said conquering consisted of lounging on brewery decks with cold beer and petting local dogs every day of your visit. Frankly, that's just living like a local and we are here for it. Show off your love for Colorado with unique trinkets, decked out tees, local art and handmade jewelry from these top souvenir shops in the Pikes Peak region. Here's where to go for all your gear. 
Manitou Springs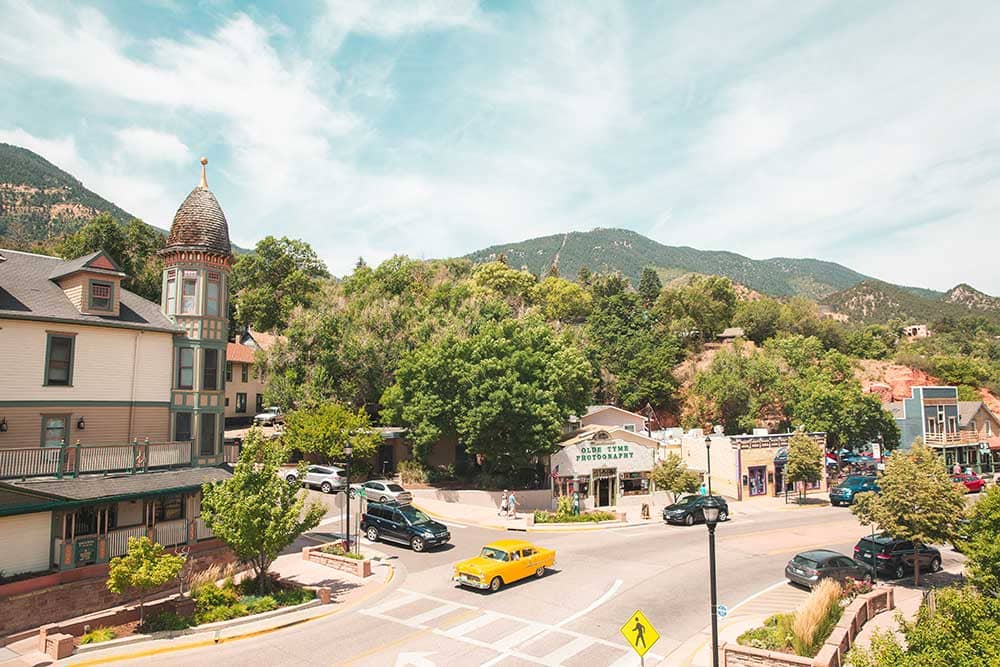 The whole town of Manitou is packed with stores dedicated to selling Colorado memorabilia for visitors (and enthusiastic locals). 
Garden of the Gods Trading Post
The Garden of the Gods Trading Post has been selling all the best Colorado souvenirs for nearly 100 years. The origins of the store date back to an entrepreneurial 10-year-old named Charles E. Strausenback. Young Strausenback began selling souvenirs to visitors to the Pikes Peak region, including photographs, art and figurines. By 1917, he opened the Trading Post that has served as a gateway to the Garden ever since. 
The store has grown enormously since its humble beginnings and it is one of the best places to find Colorado gear, local and indigenous art and jewelry, and many other great gifts. The Trading Post has a tremendous inventory of items — 90,000 according to their website. There's an entire art gallery contained in its 25,000 square feet of space. Highlights include Colorado hats, shirts, bags, keychains, magnets, jewelry and toys. You don't just have to buy gear emblazoned with Colorado flags to memorialize your trip, either. Pottery, housemade fudge, art, blankets, kites, crystals and more are also in store. 
Manitou Art Center
Want access to a diverse array of artwork crafted by Colorado locals? The Manitou Art Center is a dynamic makerspace that is homebase for many Southern Colorado artists. It has several galleries that feature the works of artists in residence, as well as rotating guest shows featuring artists from all over Colorado, the United States and the world. Discover art in multiple mediums, including paintings, pottery, sculpture and jewelry. First Fridays offer the best opportunity to score new work, listen to live music and mingle with the locals. 
6,412 Shirt Company
Does 6,412 signify the elevation of Manitou Springs or the number of shirts in one of the town's newest souvenir shops? Technically, it's the elevation, but when you step into the store, you will see exactly why we might be a little confused. This popular place is loaded with every t-shirt you could dream up to represent your CO love. 
From adorable, moose-adorned onesies to clever, grown-up tees giving cheeky nods to recreational substances, you have a shirt for every taste and style. We're big fans of their basic Colorado gear. They come in a variety of materials, cuts and sizes with broad colors choices for creating perfectly coordinated outfits. Shirts are not the only options for pro-CO customers. Mugs and other gear are also available, just in case you prefer your souvenirs sippable instead of wearable. 
Old Colorado City
As a key historic district in Colorado Springs, Old Colorado City is a key destination for visitors in the Pikes Peak region. That means they are loaded with great gifts and creative souvenirs. 
All About Colorado
The name alone should tell you what to expect when you drop in to shop at this Old Colorado City store. Their motto? "We carry Colorado!" And boy do they ever! There are so many options for trinkets, clothing, food and gear. You'll be able to select a Colorado gift for every person on your list, plus score several items for yourself. Some of their highlights include home decor: carved wall hangings, matted art, large posters and exterior artwork. They also sell a large collection of baseball hats and an even larger collection of Colorado books. 
The Honey Cottage
Who loves bees? Everyone who loves Colorado wildflowers, that's who! The Honey Cottage sells one of Mother Nature's most delicious inventions — sweet, sweet honey. Colorado honey, to be more specific. When you purchase a bottle of Honey Cottage honey, it's like taking home thousands of tiny pieces of Colorado, a little bit from every flower visited by our friendly and helpful pollinators. 
Taste honey derived from fireweed, alpine wildflowers and Rocky Ford wildflowers. Every region has its own unique flavor! The shop also sells whipped honey, honey fudge, honey jam and, get this, wildflower honey mustard. Another fun fact about the Honey Cottage is that the owners originally began as soapmakers. Yes, they still sell their flagship shea butter, beeswax and honey soaps in scents like lavender, lemon verbena and patchouli. While you're there, pick up a pack of their "save the bees" seeds and help out local pollinators with gorgeous new flowers. The seeds have been carefully selected to support the needs of pollinators and create a diverse array of options that just so happen to spiff up your yard, too. 
The Squash Blossom
For fine art and authentic, respectfully sourced indigenous art and jewelry, the Squash Blossom is a top choice for locals and visitors. Their Native American jewelry collection is colorful, with superior craftsmanship and designs that range from vintage silver to modern beading and inlay. In addition to jewelry, shoppers can find hand-carved fetch statues, paintings, katsina dolls, belt buckles and hair accessories. 
In addition to their jewelry offerings, Squash Blossom also sells fine art and furnishings crafted by Colorado artists. Dish wear, door knockers, weavings and home accents all offer tasteful souvenirs that can grace your home for decades and provide warm memories of your Colorado experience. 
Getting ready to end your vacation in the Pikes Peak region? Snag a silly tee, a classy vase or one-of-a-kind work of artwork. These local shops provide you with diverse options for harnessing your favorite Rocky Mountain memories and bringing them home forever.