Places to Host a Family Reunion in Colorado Springs
A family reunion isn't exactly the kind of event you spring on some unsuspecting Olive Garden on a Saturday night. The larger your clan, the more time (and space) you need to pull it off. These venues, attractions and hotels are pros at working with large groups for weddings and other big parties. If you're getting ready for a flock of ancestors and descendants to converge on Colorado Springs for a family reunion, these local spots stand ready to assist. 
Venues for Family Reunions in the Pikes Peak Region
Big parties need big venues! Colorado Springs has several large locations for gathering up all your favorite (and barely tolerated) relatives in one place. No matter how big your family has grown, you should be able to find a good fit for your needs. 
The Flying W Ranch
Treat your family to an evening at the Flying W Ranch. The venue boasts the ability to manage up to 5,000 guests outdoors and 900 indoors. If you can wrangle that many family members together and get them all to converge in one location, send us a photo of your miracle. The Flying W offers options for food, a full-service bar and lots of entertainment. You can hire the Flying W Wranglers to sing, as well as Native American dancers and other talent. You can even schedule a private rodeo! The ranch is a spacious venue with lots of amenities and places to hang out with your family and enjoy time together. It's worth noting that if you don't want to host your own event, you can still attend their famous chuckwagon supper. Call in advance to confirm they have space for your whole group and purchase your tickets in a block. If you want your families to pay individually, Flying W offers a notes section to help you group your party together during the meal. 
Ghost Town Museum
The Wild West Ghost Town Museum is a one-of-a-kind venue that can host up to 150 guests for a seated dinner and 200 for a standing event. Located in a spacious historic building near Old Colorado City, the Ghost Town Museum gives guests full access to the museum and the option for event planning support. The museum contains the remnants of real ghost towns and thousands of early western artifacts, giving your event an authentic western look and feel. Your group can request access to the stocked saloon and you have the option for any caterer you would like. You're not restricted to a list of pre-approved options. The museum frequently hosts weddings and corporate events, so they know how to handle a grand crew and make your event super special. This space is particularly nice for families with kids, as the arcade and museum provide built-in entertainment. 
Pro Rodeo Hall of Fame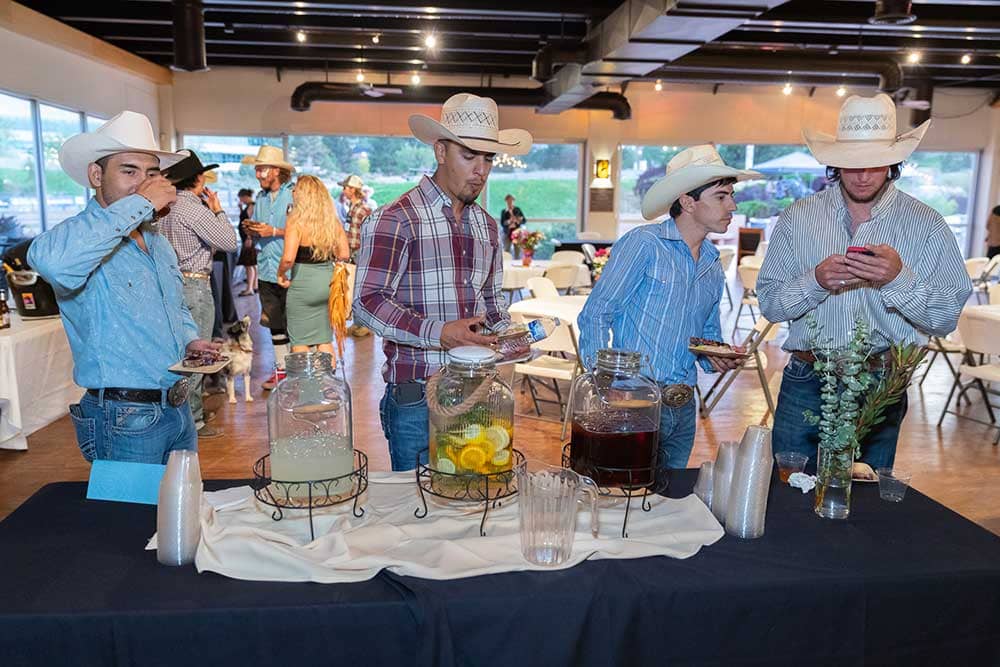 The Pro Rodeo Hall of Fame museum can seat up to 350 people in its 8,300-square-foot space. Not only that, the rental space comes with a lot of great tools for throwing your party, like multiple tables in a variety of sizes, hundreds of chairs, sound system, projection screen and coat racks. The extras you can add on to your initial contract are really cool, like the stocked selfie station. In addition to the museum, your family also has the option to host in the pavilion or a tent. Those latter spaces also come with similar options to the museum rental, including the tables and chairs. The grounds of the Hall of Fame are extremely pretty and guests are invited to check out the gardens wherever events are not in progress. Like the Ghost Town Museum, you are welcome to select your own vendors, although they do provide a list of pre-vetted businesses you can contact for support. 
Places to Stay During Your Family Reunion in Colorado Springs
Let's talk accommodations because those can really impact the success of your family reunion. Do you want everyone staying wherever they can afford? Or are you hoping to create a reunion basecamp to make it easier to gather together and celebrate? The first is pretty easy to handle. The second? It can be a bit more difficult, particularly if your family is large. Here are some top places for larger groups that are more unique than your average hotel. 
Buffalo Lodge Bicycle Resort
While Buffalo Lodge does cater to cyclists (the owner is a rad, accomplished rider, along with her kids), it has no issue welcoming non-riders. The layout of the resort is perfect for larger family gatherings, offering 46 rooms, large grounds and access to bike trails leading to Old Colorado City, Manitou Springs and Colorado Springs. You can also skip right on over to Garden of the Gods and the Garden of the Gods Trading Post, as both are practically in the resort's backyard. Many of the rooms are designed for multiple guests to stay comfortably, which means you can pack a couple extra cousins in the rooms, just like the good old days when you were kids. There are frequent events that include live music or other entertainment, which means you have built-in fun. Your proximity to so many popular areas of the city means you can find plenty of places to eat or venues for your big party. 
Avenue Hotel Bed and Breakfast
For smaller reunions or accommodations for family members who like quieter, more intimate hotels. Avenue Hotel Bed and Breakfast provides a great option. With 9 bedrooms, dining areas, seating areas and cozy grounds, the hotel can host 24 people at once. They serve a stellar breakfast every morning with new meal options each day. The hotel is experienced in renting the whole space to a single party, so you can book with confidence that your stay will be incredible. Avenue Hotel gives guests the freedom and space of an AirBNB with all the luxuries of a hotel — more, in fact. Your hot tub won't be filled with strangers and your breakfast will not include lukewarm milk or generic raisin bran (unless you're really, really into that). Give them a call to discuss your needs. The hosts are friendly and devoted to cultivating an amazing experience. Did we mention the Avenue is located in Manitou Springs? Dining, shopping, hiking, biking and some of the Pikes Peak region's most popular attractions are a brief walk or free shuttle ride away.
Kinship Landing
Kinship Landing is a family-friendly downtown Colorado Springs hotel that has set itself apart through a variety of unique features. The rooms are gorgeous and thoughtfully designed, the hotel is pet-friendly and it offers room blocks and family-friendly suites. The latter might be the most unique feature of all — besides the camp deck. More on camping in a minute. Family suites have two bathrooms (that includes two separate toilets) and really nifty bunk bed pods that give kiddos (and adults) privacy without cluttering the space. These rooms are pet-friendly, too (because pets are family). Back to that camping deck. It sleeps six in an open room overlooking the city. While you'll need a tent, you won't need to pee outside because there's a heated bathroom! And just because you're technically camping doesn't mean they ban you from amenities like the full bar downstairs (very important for family reunions). Kinship even has a bunk room with twin sleep pods and private lockers. Check out their block accommodations or give them a call to discuss your needs. Kinship has event space you can use for rent for parties and it's a brief walk to other venues downtown. 
Things to Do During Your Family Reunion
If you've ever hosted a family reunion, you know it's not all about one single event. Family reunions end up spreading across multiple days as members arrive early or leave late. That means finding fun activities that can work with larger groups. These local Pikes Peak region attractions can help you and your family enjoy Colorado with larger group numbers. 
Challenge Unlimited: Pikes Peak by Bike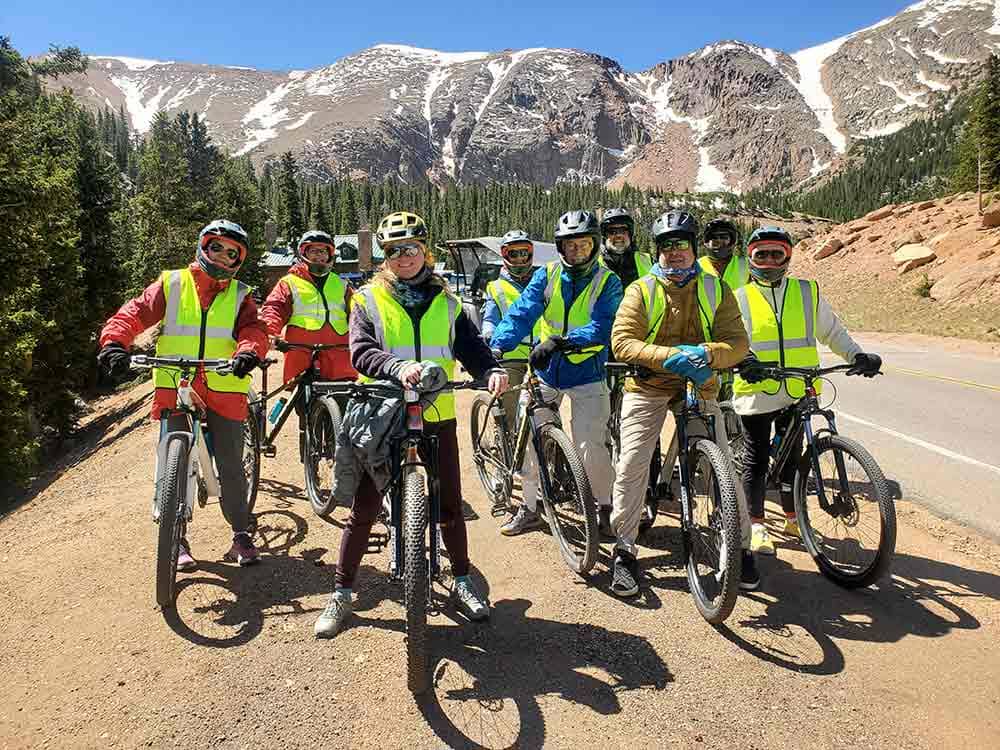 Gather up your family adrenaline chasers and hit the road — at the summit of America's Mountain. Challenge Unlimited takes adventurous riders on a thrill ride down Pikes Peak through a twisting, turning, downhill quest that covers more than 19 miles before you reach the bottom. While they typically operate parties of ten or less, they can lead groups of up to 50 riders. All bikes and helmets are provided, as is the ride to the summit of Pikes Peak. You don't need to be a professional cyclist to take the ride, nor will you find it arduous — it's all downhill. Challenge Unlimited's fleet of bikes are tuned and adjusted to fit your comfort so every mile of the journey is a good one. After the ride, guests typically have the option for a group lunch, too. 
Adventures Out West Zip Line Tours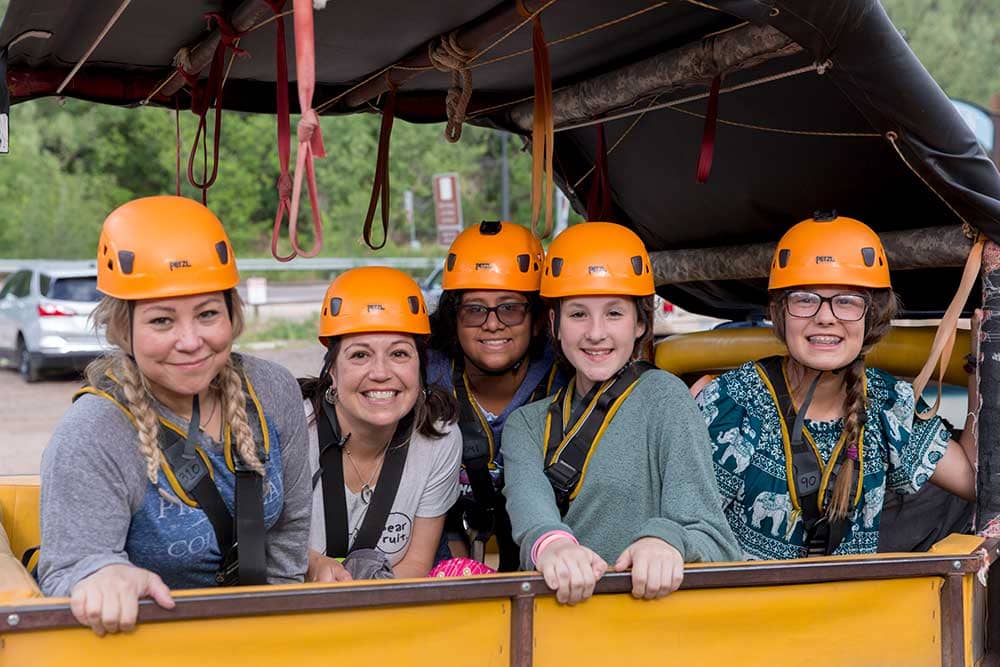 Want to experience the gorgeous foothills of the Rockies with a bird's eye view? Take the fam on a zipline tour. Adventures Out West is a popular local outfitter known for their exciting zipline rides and friendly, experienced crew. The outfitter can host groups of up to 70 riders on their sweeping zipline course near Manitou Springs and they are well-versed in harnessing group chaos and channeling it into awesomeness. Even better, groups over 15 can get a discounted rate for each rider. The course is unique in that it's all natural. You won't be climbing giant tours and platforms to start your ride. You will, however, get the chance to leap, drop and even crawl to start yourself off, which adds a whole new level of exhilaration. AOW notes that their course is rated black diamond because of the engagement required by riders. That shouldn't deter you, though. They welcome kids as young as six, so you should feel safe and confident when booking your group experience. 
Iron Springs Melodrama Theater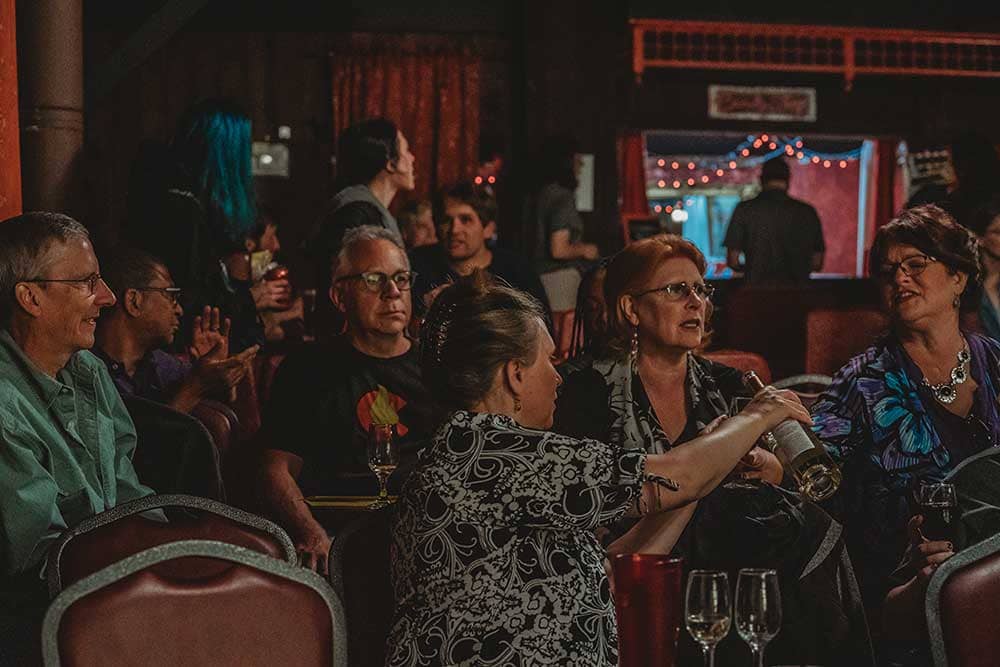 We know everyone in your family probably isn't up for zipping around the hills or careening down fourteeners. Iron Springs offers a different sort of entertainment and the only raise to your heart rate will be from laughter. The popular Manitou Springs theater practices the old art of melodrama, complete with audience participation and a vaudeville intermission. The majority of their performances are extremely family-friendly. Kids love the freedom they have to boo at dastardly villains and sing along during the show's intermission. Adults love the hilarity and old-school theatrics. The theater seats a large number of people, so call ahead if you want to try to coordinate big groups in the same showing. You'll likely be able to keep your group in the same area of the theater to amplify the fun. Bring money for the bar and for snacks for your small humans. 
We are delighted you have selected Colorado Springs for your family reunion. There's no way you'll be disappointed with a minute of your time in this beautiful region!