Celebrate International Friendship Day in the Pikes Peak Region
Celebrate International Friendship Day by hanging out and visiting some of the best places for besties in the Pikes Peak region. Our friendships are the fuel for our motivation and the glue that holds us together when times are tough. Whether you're in a gruesome twosome with one BFF, or the leader of the pack in a gang of such superb associates, you know that these are your chosen humans, the people you've curated to join you on the activities of life. It's only natural to want to celebrate this fantastic phenomena as much as possible. 
We have a list as unique and fun as your friend group, with a variety of activities you can scale up or scale down as you see fit. 
Party of Two: Small Outings for Big Friendships
Two is a magic number for friendship. Think of all the awesome twosomes you know of — Cheech and Chong, Tango and Cash, Key and Peele, Hall and Oates, Outkast, Mario and Luigi, Bert and Ernie — good things come in pairs. And so do these activities. These outings work great for groups of two.
Terror-Dactyl at Cave of the Winds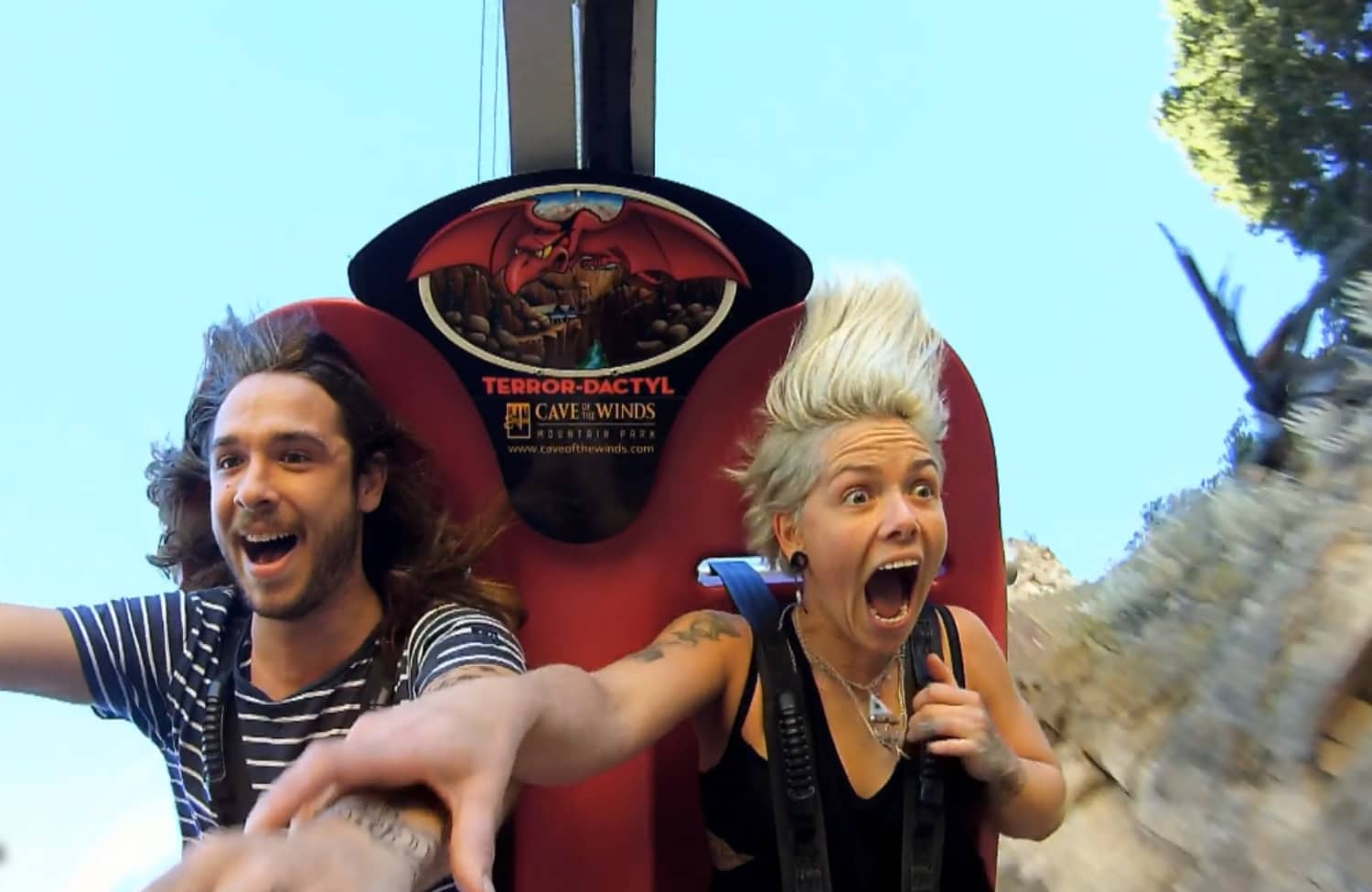 You and your bestie can put love and loyalty to the test when you take the plunge on the Terror-Dactyl at Cave of the Winds. The ride is designed for just two crazy individuals with a drive to seek adrenaline at any cost. In this case, the cost is a 150-foot freefall from a 200-foot cliff. 
The Terror-Dactyl straps you and your buddy in and then plummets you down over the canyon floor reaching speeds of up to 100 miles per hour. It really brings "ride or die" to a new level. Of course, the attraction is perfectly safe, so you'll definitely get to lean into the "ride" portion of that phrase, but leaving your stomach on the cliff as you fall might feel a bit more like you're heading into the die side of things. A word of warning, you'll want to do it again. 
Cloudscraper Zip Line and Skycoaster at Royal Gorge Bridge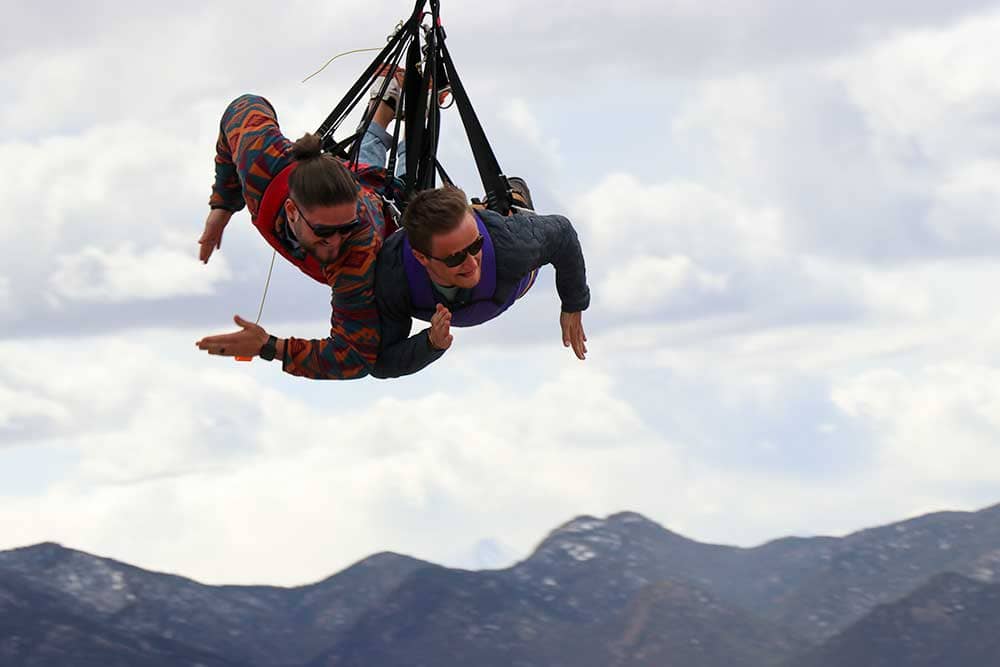 The Royal Gorge Bridge and Park ascribes to the theory that everything is better with your best friend. That's why two of the most popular rides in the park work perfectly for pairs. We'll start with the Cloudscraper Zipline. While ziplining is typically regarded as a single-player sport, the Royal Gorge has parallel lines so you can ride at the same time as your friend. The zipline features a secure harness system anchored to sturdy lines. Considering you're literally crossing the Royal Gorge, you'll be glad to have the extra feeling of comfort. 
The Skycoaster is a much bigger rush than the zip lines. Considering you're zipped 1,200 feet above the canyon, that's saying something. The Skycoaster sends you to the top of a 100-foot tower. Then they let you go. Your wild duo will hit speeds of 50 miles per hour as you drop and swing 1,200 feet over the canyon floor. There really is nothing quite like it and it's a moment that is sure to immortalize your friendship. 
Tea for Two at Miramont Castle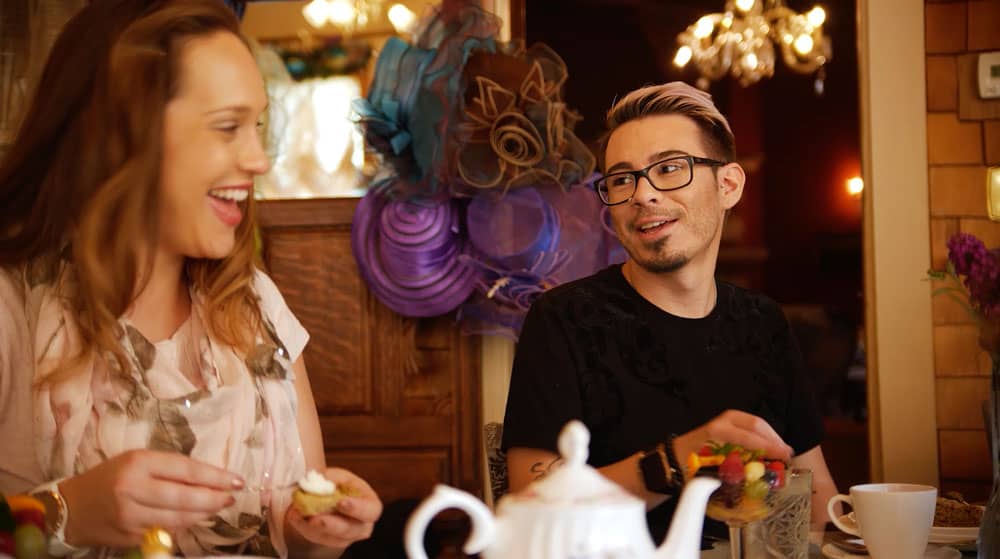 The Queen's Parlour at Miramont Castle provides an exceptional high tea experience that is perfect for best friends who like to bond without the constant flood of adrenaline in their systems. That is, of course, unless you're the kind to get excited about food. The high tea, you see, is tasty as can be. 
Your high tea experience includes a scone, tiny sandwiches, tiny desserts, fruit and your choice of teas. That's where the sharing part of friendship comes into play, because you can maximize your tea selection by trading cups. Bring an appetite, as the miniature nature of the meal belies how filling it is. Do yourself a favor and go all in. Wear the frippery hats. Hold up that pinky. Make a stop for tea in the gift shop. Tour the castle and pretend you're royalty. 
More Friends = More Merriment: Group Outings in Southern Colorado
If you think more than two is a crowd, the next few outings are not for you. But if you think a crowd is the epitome of friendship, you're going to love these group friend-ly attractions.
Echo Canyon River Expeditions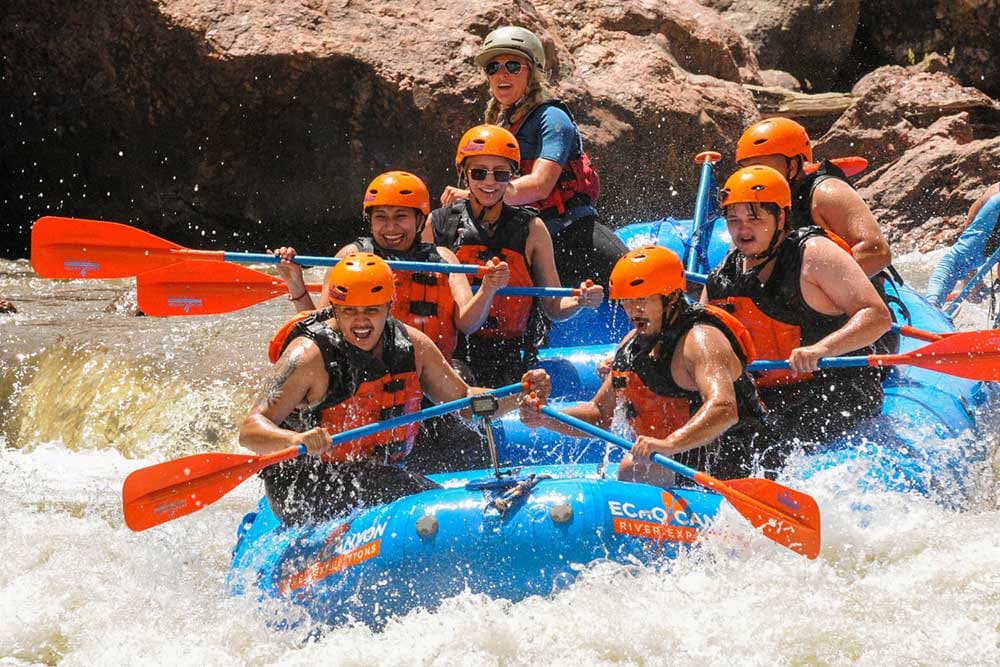 White water rafting is the quintessential group project, where everyone needs to band together to best Mother Nature and no one can slack off or make others do all the work. That's why it's perfect for friends! Echo Canyon offers multiple rafting expeditions for all experience levels, which means you can scale your trip to meet the abilities of your crew. 
Are you all experienced rafters? There are long excursions and advanced rapids waiting for you. Do you want to chill out on gentle waters and enjoy the Southern Colorado sunshine? The family float is a great option. (What are friends if not your family of choice?) Echo also has camping trips with rafting included, so feel free to rally your crew for a longer outing.
Group PikeRide Tours
How often do you explore Colorado Springs via bicycle? Do the hills and altitude make the prospect of riding discouraging? Maybe your friends don't even own bikes. That's all fine, thanks to PikeRide. The popular e-assist bikes can be found all over the west side of Colorado Springs, in Old Colorado City and in Manitou Springs. They're only a $1 to open and then charge 15 cents per minute thereafter. If you follow them on Facebook, you can even score discounts and free rides.
For a fun and unique friendly outing, gather your group and rent a whole posse of PikeRides to tour the Westside using local trails and bike lanes. Take the Midland Trail from downtown Colorado Springs and venture into Old Colorado City for drinks and lunch or an early dinner. Beat all the Manitou traffic by taking the same trail right to downtown. You're never too old for a Skee-ball showdown at the Manitou Arcade or a towering ice cream cone. There's a handy basket on your bike for toting any souvenirs you can't live without. Feel free to explore the many streets along the Westside or double back downtown for some nightclub entertainment. You're the master and commander of your own journey, so make it count!
Academy Riding Stables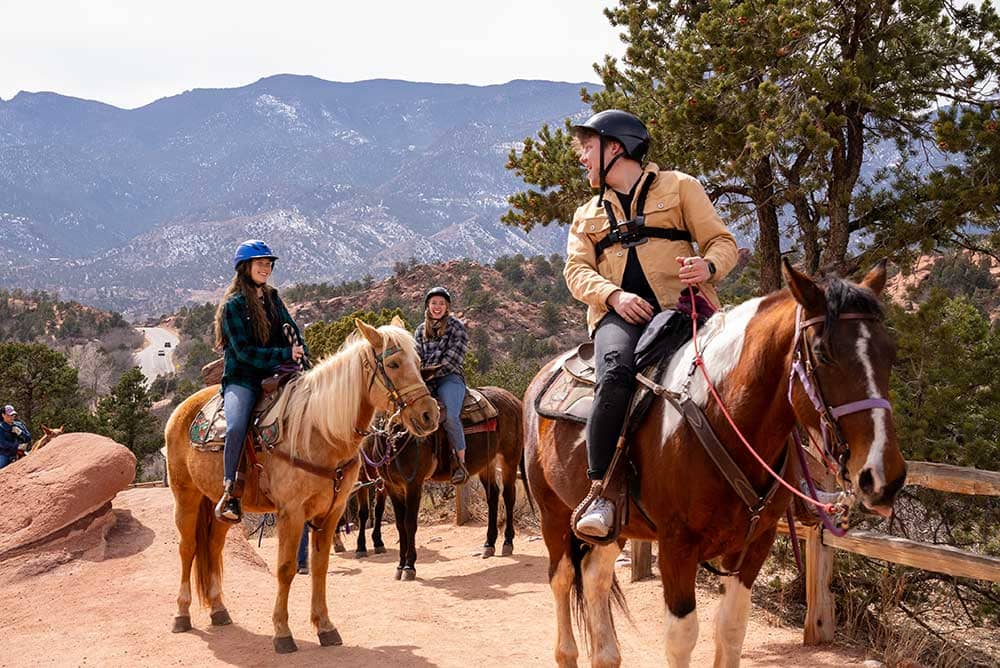 One of the coolest ways to tour any new place with friends is via horseback. It's really an amazing experience no matter where you are in the United States or the world at large. There's something magical about nature when you're on a slow and quiet ride instead of speeding through on a car or wearing yourself down on a hike. You have time to talk and really embrace your surroundings.
Academy Riding Stables offers that experience in one of the most stunning parks on earth. Mount up and ride the world-famous Garden of the Gods with your bestest friends. Select from one- or two-hour rides led by confident, friendly guides and set off into the park. You'll learn about the flora and fauna, plus have plenty of time for gawking at the formations, snapping horse selfies and chatting with your people. Call ahead to make sure you can book your whole crew on the same ride. Don't forget to dress for sunshine and altitude!
Adventures Out West Ziplining (and More)
Ziplining is an exhilarating way to hang (literally) with your friends while exploring the Rockies. Adventures Out West makes the activity even better with natural launching sites, hiking and gorgeous wilderness surroundings. Even better, the attraction has made its name as the place to go for group outings. They really know how to accommodate a whole crowd of folks and ensure that every last person has fun.
They offer hour-long tours and some of the best rates in Colorado Springs. If you have a group of 15 or more, you can really cash in on the savings. They also have a family night. If you and other families you know (with kids age 6+), this might be the friendship-building event you've been seeking. 
Adventures Out West also has Jeep tours that seat up to 6 people, hot air balloon rides and Segway tours. You can also book multiple Jeeps for the same outing to support larger groups. All of the AOW staff come highly trained in safety protocols — and making sure guests have a good time.
Challenge Unlimited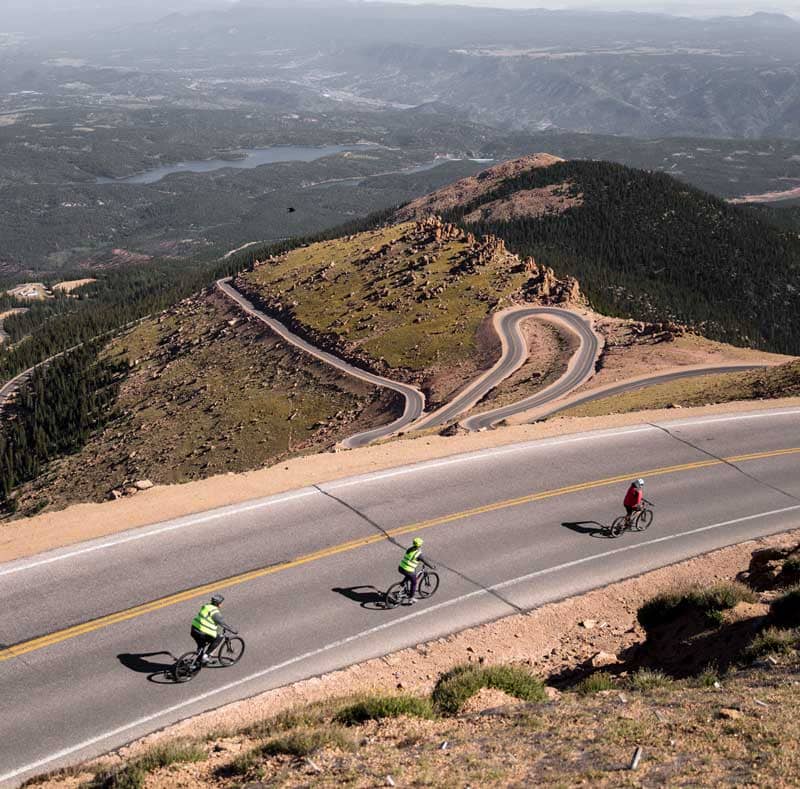 Want a wild way to explore Pikes Peak your friends will talk about for decades? How about biking down a famous fourteener? With Challenge Unlimited (under Adventures Out West), you and your friends can literally ride down the mountain via bicycle. That's 20 miles of downhill awesomeness surrounded with 360-degree views of Colorado's purple mountains majesty. 
Challenge Unlimited will outfit you with helmets, gear and a mountain bike and cart you to the summit. From there, you'll be guided down the Pikes Peak highway on your bike. Every single mile of it. You'll experience the switchbacks, the lack of guardrails, the transition from lifezone to lifezone, all with your favorite people. At the end of the ride, you'll be taken to lunch at a local Springs restaurant and have even more chances to chat and reminisce about your ride.
Are you and your crew ready to make memories with new adventures? These creative expeditions can only enhance what must be a fantastic friendship. May you have a joyful and bond-building International Friendship Day!