Featured photo by I Love Manitou Springs

It's time to have a conversation about holiday shopping. The fact is, gift giving is so much fun. You feel awesome when the perfectly chosen item is unwrapped and your recipient lights up at all the thought and care you've put into their present. But shopping for gifts? In November and December? That can be pretty chaotic. Lines and grumpy fellow customers and crowded parking lots. If you're not careful and keep putting it off, you'll end up bleary eyed and stressed out, grasping handfuls of $20 gift cards in the grocery store at midnight on Christmas Eve. Your vegetarian cousin will wonder what she's supposed to do with a steakhouse gift card and your brother will shoot you death glares as your nephew asks him what he's supposed to buy at the lumber yard. Stop. We have a solution. Turn around and drive away from the malls and the big box stores. Because we have a solution that won't kill your budget, won't make you cry under a rack of clothes and won't disappoint your family. We've got holiday shopping alternatives and we're sharing them right now.
Cool and Cause-focused: The Cheyenne Mountain Zoo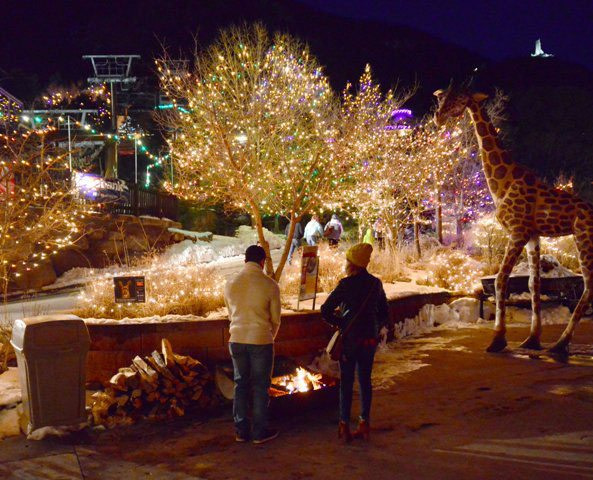 Let's talk about this one for a second, because you may be wondering how the zoo qualifies as a shopping venue. If you haven't been through the gift shop lately, you might not realize just how many awesome gifts are available. Think cuddly stuffed animals, cool Cheyenne Mountain Zoo gear, stationary — pretty much anything you can imagine. But the best part is that your purchase helps support the zoo. You may not know this, but the zoo is run entirely on donations, memberships and admissions. Your money goes to the care and feeding of the animals, conservation efforts and so much more. Speaking of memberships, that's another cool gift, and one that gives all year long (literally). Flexible options allow you to pick the membership that best fits your recipient. They get to visit the zoo anytime they want, attend Boo at the Zoo for a discount and attend Electric Safari for free. If you're looking for a family gift, this one hits the mark and gives year-round.
Unique and Small-business Focused: Manitou Springs and Old Colorado City
More and more people are looking to support their local economy by shopping local. Old Colorado City and Manitou Springs offer shoppers two perfect districts to accomplish that. Streets lined with art galleries, clothing boutiques, jewelry, accessories, handmade gifts and more provide shoppers the opportunity to find items that simply can't be purchased in big box stores. In between shopping, you can pop into a restaurant or pub for a meal or cocktail to help power you through your next hunt for the perfect gift. The streets are glittery and picturesque, adding some classy atmosphere to your excursion and making you feel like you might just be in one of those magical Christmas movies that ends with hugs and a guest appearance by Santa. Throughout November and December, both Manitou Springs and Old Colorado City offer special sales days that make shopping even better. We suggest you get a couple gift certificates while you're there. If only because you can come back with your recipient and shop, dine, and drink another day away.
Lots of Options: Garden of the Gods Trading Post
This place is a whole lot like Hermione's magic bag in that it looks small and holds a ton of stuff. No, seriously. It's utterly enormous inside and there's a bunch of Colorado magic enclosed. Not to mention jewelry, art, tasty goodness and more. Let's talk about that art for a minute. The gallery at the Garden of the Gods Trading Post is curated by discerning buyers who travel the country to find new artists to feature. But that's just a small part of the works offered. They also have a deep love for local artists, particularly those that highlight the beauty that is our fair state of Colorado. You'll find a variety of mediums, such as pottery, oil, acrylic, watercolors, rugs and more. Handmade jewelry created with natural stones and shining silver provide wow-worthy stocking stuffers and fudge is a perfect treat to bring to the 10,000 Christmas parties you'll assuredly be attending this season. P.S. There is tasty food and Colorado beer onsite, so take a breather from your shopping and have a bite and a pint!
Last-minute Gifts in Unexpected Places: The Manitou Cliff Dwellings and the Space Foundation Discovery Center
Like the Garden of the Gods Trading Post, the Manitou Cliff Dwellings has a lot of art and jewelry. Handmade, Native American treasures abound, including décor, musical instruments, jewelry, accessories and more. You can also purchase gifts for the history buff in your life, with books and DVDs focused on Anasazi culture and other tribes in the region. Or, if you are so inclined, pick up a few gifts that focus a little further from Colorado … like the universe at large. The Space Foundation Discovery Center has great stocking stuffers with an out-of-this-world focus, like astronaut ice cream and cool glow-in-the-dark stars that can transform a bedroom into a space station.
There's no reason holiday shopping must become a joyless trudge between standing in line and circling the parking lot. You can score tons of stellar gifts all over Colorado Springs with a third of the stress and all of the fun. We're inviting you to think outside the (big) box and find smile-worthy presents in corners of corners of the city that are far less crowded and way more fun. Leave the midnight gift card grab for errant siblings. Be the star (like you always are) and shop where the gifts are unique, the shops are local and a glass of wine or pint of beer is only minutes away.