48 Hours in Colorado Springs
Welcome to beautiful Colorado Springs. We have an awesome line up for you today.  Now normally we'd wait till like day three or four before we suggest jumping off a cliff, but with only 48 hours, there's no time to waste!  Let's get outside and make the most of it.  After all, you didn't come to a place as beautiful as this to sit inside, am I right?
Today's line up includes a chance to soar with the birds (if you're brave enough to jump!) Then you'll  get a firsthand view of "Colorado's Grandest Mile of Scenery." After that relaxing walk, you can enjoy the most historic trading post in our region.  Take a horseback ride through some spectacular countryside.  And end your day with a traditional chuckwagon dinner and western show.
We hope you're well rested and ready to play, because there's no time to lose!
We all know breakfast is the most important meal of the day, that's why we're sending you to Mother Muff's Kitchen and Spirits to start your day.  At Mother's, you're sure to get great food in hefty stick-to-your-ribs kind of portions.  After all, you've got a lot on your schedule for today and you're going to need the fuel!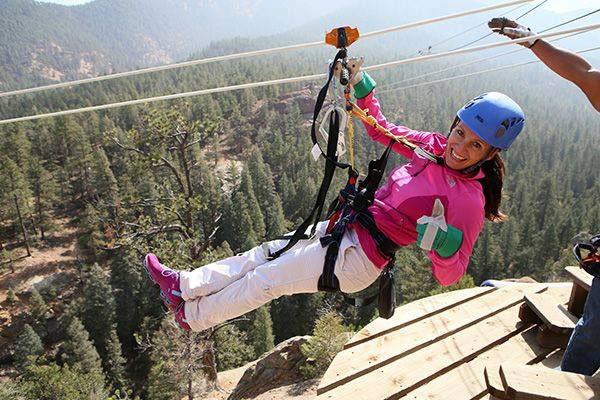 Broadmoor Soaring Adventure
Who needs coffee when you can zip line your way through the gorgeous Colorado sky first thing in the morning? Start day one in Colorado Springs at The Broadmoor Soaring Adventure, a rare and unique zip line attraction that guides you over the region's most stunning bedrock and woodlands. (If you're unfamiliar with the adventure sport, a zipline is simply a pulley suspended on a cable, and it propels you from one high spot to another.) The Broadmoor Soaring Adventure has 10 zip lines, divided between two courses — the Fins Course and the Woods Course.

The Fins Course takes you on a soaring excursion above steep canyons, craggy cliffs, and colorful rocks that make up Seven Falls. With its custom-built suspension bridges and rappel, you can safely take to the air and stroll while marveling at the canyon landscape and glistening streams below. The Woods Course takes you on an excursion high above the lush Colorado forest. You get a bird's eye view of pine trees, winding creeks, and numerous hiking trails. As you move — or should we say zip — along, the duration of each course gradually increases from 300 feet to 1800 feet. This is great if you're new to ziplining, as it allows you to ease into the process without overwhelming you. And even though you're high in the air, you still need to keep those feet protected. Closed-toe shoes (think: tennis shoes or hiking shoes) are the only acceptable footwear for the courses. Also, most of the zip lines and bridges are in direct sunlight, so be sure to bring your sunscreen and sunglasses.
You can experience The Fins Course and The Woods Course separately, or as a combination course. Either way, you and your crew will leave feeling like Batman!
Enjoy the Scenic Wonder of Colorado's Best Waterfall
You've seen The Broadmoor Seven Falls from above, but now it's time to explore the unforgettable natural wonder at ground level. As the name suggests, Seven Falls is a series of seven majestic waterfalls, located a little under a mile from The Broadmoor, and it is one of the most popular sites to visit in Colorado Springs. (It is so impressive, it even made National Geographic's list of International Waterfalls!) Known as "The Grandest Mile of Scenery in Colorado", this resplendent cascade is nestled in the sky-scraping Pillars of Hercules, a 900- foot box canyon. Though the space between the pink granite canyon is a narrow 41 feet wide, the sight of the enclosed waterfalls is unmissable. You and your crew will certainly be in awe.

Crystal clears streams of Pikes Peak water dance and leap along the towering canyon rocks, tumbling a whopping 181 feet from the top of the 224 step staircase. Enjoy captivating vistas of green forest vegetation and scenic rock outcrops while you climb the staggering 224 steps that lead you to the series of stunning waterfalls. Because of all the hiking and walking, it's wise to bring water and snacks along so you can stay hydrated and energized. And it wouldn't be a bad idea to dress in layers — even at The Broadmoor Seven Falls, the weather can change at a moment's notice.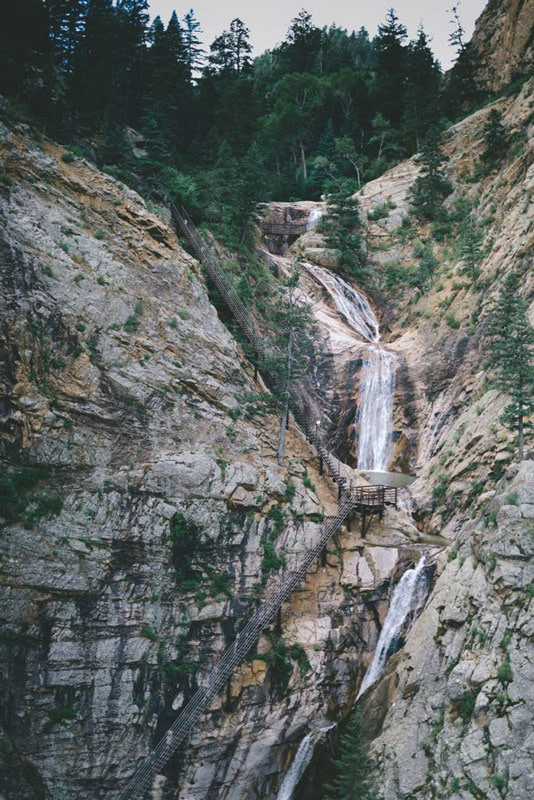 Inspiration Point, which offers a breathtaking view of Colorado Springs and the Great Plains, was a preferred nature spot of Helen Hunt Jackson. The famous poet loved it so much, she asked to be buried there!
Garden of the Gods Trading Post - Balanced Rock Cafe
Make a pit stop and refuel at the Balanced Rock Cafe. Located southwest of the iconic natural feature and inside the Garden of the Gods Trading Post, the Balanced Rock Cafe is an eatery with sandwiches, wraps, salads, and the World Famous Buffalo Burger. Bonus: The restaurant's Coffee Corner serves Starbucks coffee, frappuccinos, and an ample selection of locally- sourced ice cream. Can you say yum?
Explore Garden of the Gods in a Whole New Way
Garden of the Gods Park, a preferred hiking and sight-seeing spot for both Colorado locals and visitors alike, has been around since the early 1900s. What sets this place apart from other beautiful locations in Colorado Springs are the sandstone formations and panoramic views of Pikes Peak, which you can explore… on horseback? That's right, Academy Riding Stables gives you cowboy-guided horseback tours of the 1300-acre state park. After saddling up, you and your crew leisurely trot along trails of the majestic rock scenery, while trained cowboys from Academy Riding Stables help steer you along. Take in the splendor of the region, and brush up on stories about the park, including its history, notable foliage, scenic views, and impressive wildlife. You might even get to sneak a peek at the Rocky Mountain bighorn sheep!
Get a firsthand tour of Garden of the Gods with a one-hour or two-hour scenic horseback ride, which includes a safety briefing prior to the tour. Because you're riding through lots of dusty trails in the hot Colorado sun, covered shoes, sunscreen, and hats are a good idea. (Gotta keep that body of yours protected!) And if you're thinking about taking the family for a horseback ride, the tour is safe for kids 8 and up. Pony up and roam, partner!
You don't need to be a horseback riding expert to enjoy the scenic tours; they have tour options for both beginners and intermediate riders.
Flying W Ranch Chuckwagon
Founded in the early 1950s, the Flying W Ranch is one of most popular tourist destinations and entertainment venues in the Pikes Peak region. And we know why. All of the structures at the Flying W represent a core piece of western history, both in design and function. Plus, when you visit the ranch, you get to see live demonstrations of old west activities such as horse shoeing, silversmithing, and Navajo rug making. Naturally, as with most attractions in Colorado, there are striking scenes of red rocks and hiking trails, as well as ranch animals rambling all around the historic pioneer property.

Surrounded by thousands of rural acreage in the northwest foothills of Colorado Springs, the Flying W Ranch sits on land that was once owned by city founder, William Palmer. While the history of this cattle farm is as fun as it is fascinating, the Flying W Ranch is also famed for its outdoor chuckwagon suppers. The informal buffet features hearty home-cooked BBQ, trail beans, foil-wrapped potato, biscuits, and applesauce — all served on a tin plate. Remember we said something about entertainment? After dinner, you can catch a show by the celebrated Flying W Wranglers, one of the world's oldest western singing groups. (They were created by the ranch's original cowboys back in 1953!) The new crop of Flying W Wranglers are still dazzling audiences with their music-filled, bunkhouse comedy stage shows, but you might have to wrangle yourself a reservation to see them.
Did you know: A Chuckwagon is a covered wagon used to store and transport food. They were often used in pioneer times to feed the cowboys travelling through certain regions.
Tuck-in with a delicious three-course chuckwagon supper at the Flying W restaurant. With vegetarian and gluten-free options on the dining menu, there's sure to be a delicious bite to eat for anyone in your group. The best part? You don't even have to leave the ranch.