Manitou Springs, the heart of chill
Manitou has a vibe we can't put into words.  You'll just have to come experience it for yourself. 
Old Colorado City and Seven Falls
Old Colorado City has over 100 locally owned shops, galleries and restaurants and Seven Falls is just magnificent.
Pikes Peak & Garden of the Gods Trading Post
Today's the day to conquer America's favorite mountain — Pikes Peak, and then find the perfect souvenir to remember this great trip.
Nestled in at the base of Pikes Peak
Start your chill vacation in the heart of Colorado's coolest vibe: Manitou Springs.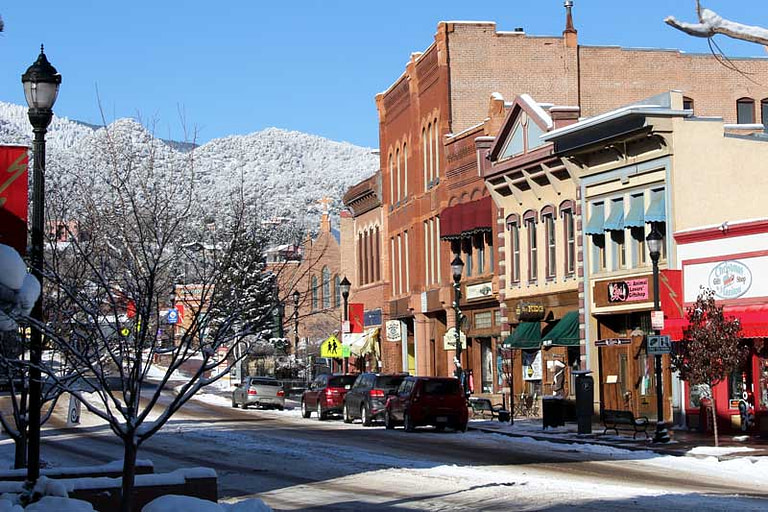 Historic Manitou Springs​
We joke that Manitou functions on a slightly slower time table than the rest of the region — we call it Manitou Time.  Where Colorado Springs may all seem like it's in a great big hurry, the attitude is generally less rushed in this lovely little town. That doesn't mean the citizens of this little berg are lazy, far from it!  These folks run up the Manitou Incline before the rest of us have even had our morning coffee, but that just happens to be how they start their day, and there's no urgency, just enjoyment.  Calm friendliness is just as contagious as stress and anxiety, so if you're looking for a place to get away from the grind, Manitou Time may be just what the doctor ordered. 
Besides a glorious backdrop and easy-going residents, Manitou Springs also has a superb downtown, perfect for shopping, dining or people watching.  All of the businesses in the historic district are locally owned, so you'll find galleries, restaurants and boutiques unlike any you've seen elsewhere.  The town's namesake, it's eight mineral springs, are also great fun to hunt down.  Think of it as a natural scavenger hunt! The springs are all cold, drinkable, and believed to have great health benefits.  Each has a slightly different mineral composition so it's fun to try them all and find your favorite.  Maps and cups for the mineral springs can be picked up at the Manitou Springs Chamber of Commerce.
Garden of the Gods Trading Post
Located on the Southwest edge of the world famous Garden of the Gods, the Trading Post has so many different facets, it literally has something for everyone in your group to enjoy.  From the moment you step out of your car, the charm of the building itself will have you intrigued.  Originally built to resemble a Native American Pueblo in 1929, complete with original murals, the first room of the Trading Post will inspire shoppers, history lovers and dreamers alike.  As you move through the different rooms of this expansive shop, you'll find everything from coffee mugs and t-shirts, to handmade jewelry and locally made art — and a huge selection of it all. There's plenty of touristy souvenir things to choose from, but there is SO much more.  Locals who are in-the-know use the Trading Post as their go-to shop for gifts, knowing they'll find something perfect and unique for every occasion and every budget.
If shopping is not your thing, never fear, there's lots for you to do here as well.  The history of the Trading Post is so fascinating there are whole books written about them.  Spend some time wandering through their history section and searching for murals throughout the building.  There's a great selection of books, including the one about their history, where you can learn all sorts of interesting things about the area.  And finally, if you just need a place to kick up your feet and enjoy the Colorado sunshine, they have a beautifully landscaped back patio.  Grab a locally crafted beer or Starbucks coffee, pull a chair up by the fountain and listen to the wind in the cottonwood trees.  The Garden of the Gods Trading Post is just the oasis your chill-seeking soul has been looking for!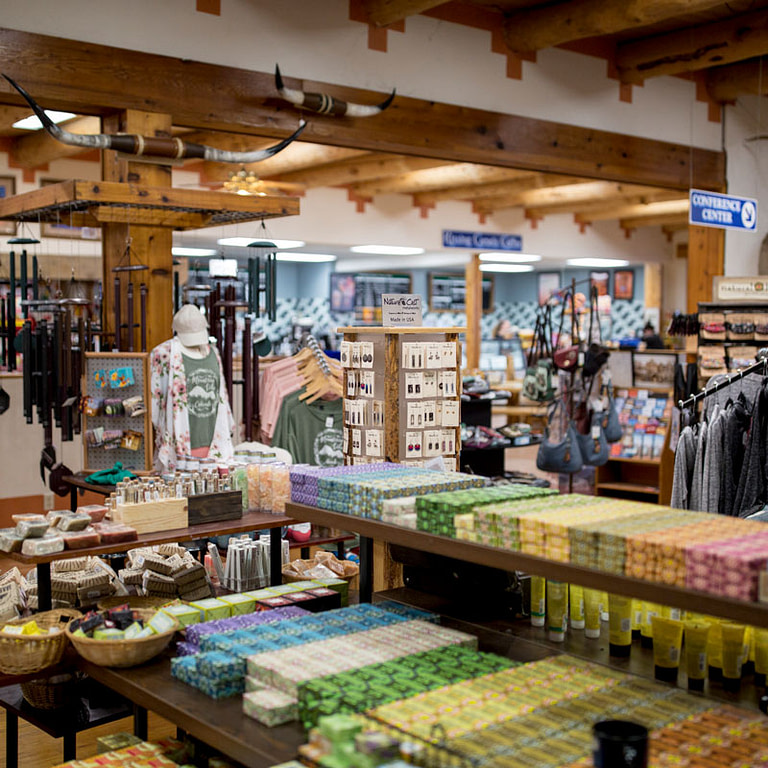 Enjoy the treelined streets
Scenery that will take your breath away.
Old Colorado City has been a hub of commerce and relaxation since the mid-1800's.  Though not as rough and rowdy as it was in its Wild West hay day, this historic district has managed to retain all of the character and flavor that made it so special, while offering plenty of modern day shopping, dining and joyful meandering. 
Home to over 100 locally owned boutiques, galleries, and restaurants, there's literally something for everyone in Old Colorado City. From Colorado t-shirts to fine art by Colorado craftsman, or escargot to BBQ, the town will surprise and delight at every turn. 
Browse the shops and galleries or find a shady spot to people watch.  Follow up your relaxing day in Old Colorado City with lunch or dinner at one of their exceptional local restaurants.  And end the day with an adult beverage and some live local music.  The keyword here is local and you'll find plenty to dig into the culture of the region in Old Colorado City.
There's just something special about a waterfall, but when you find a series of seven crashing down a 181 foot box canyon, the only word to describe it is SUBLIME! Seven Falls will absolutely take your breath away, but if it fails to impress you, the 224 steps to the top of the falls are sure to do the trick.
Colorado is chock full of views, but the canyon leading up to Seven Falls has been dubbed the "Grandest Mile of Scenery in Colorado".  You really have to go a ways to be the "grandest" here! With towering stone formations like the Pillars of Hercules and ending with that crashing expanse of falls, it's hard not to stand in awe of this place's majesty.
Across from the falls is an in-mountain elevator (cool in and of itself!) that whisks you to a platform aptly dubbed the Eagle's Nest, where can drink in the view of all seven falls at once.  Be sure to save plenty of memory on your camera, because you won't be able to get enough shots of this view.
Two great options below, a great mellow way to spend the day. Enjoy!
5A. Pikes Peak – America's Mountain
When you think of a fourteen thousand foot peak, is your first thought laid back relaxation? Well this is not your average peak.  Pikes Peak – America's Mountain allows you to get far away from it all, in the comfort of your own car. Here, you can go at your own pace and marvel at every new curve of the road and the spectacular view it offers without ever breaking a sweat.
5B. Pikes Peak Tour by Gray Line
Pikes Peak is one of the most accessible big mountains on the planet.  Most Peaks of this size would require months of training and specialty equipment, but Pikes Peak doesn't even require four-wheel-drive.  In fact, you don't even have to drive yourself. That's where the folks at Pikes Peak Tour by Gray Line come in.  They've been shuttling folks to the top of Pikes Peak for decades and they have all the great stories to prove it.  Not only will you get a stress free ride up this glorious mountain, but your tour guide will entertain and educate you with history, anecdotes and fun facts along the way. What's more, they know you really want to get out and enjoy that mountain air, so they make plenty of stops (and know all the best places for photos, snacks, Bigfoot sightings, you name it!) You owe it to yourself to see the world from 14,115 feet, and you might as well do it in comfort so you don't miss anything along the way!
More attractions like this
Share this itinerary with others