We recommend starting your chill vacation in the heart of Colorado's coolest vibe: Manitou Springs.  Manitou Springs is one of the oldest visitor destinations in the west and it's easy to see why.  Nestled in at the base of Pikes Peak, it truly takes "quaint mountain town" to a whole new level.
Adam's Mountain Cafe has always been a huge proponent of slow food, that's food made from scratch when it's ordered rather than being pre-prepared and frozen.  They also source as much as they can locally.  This intentional dining comes through in every single bite.  We recommend the Huevos Rancheros.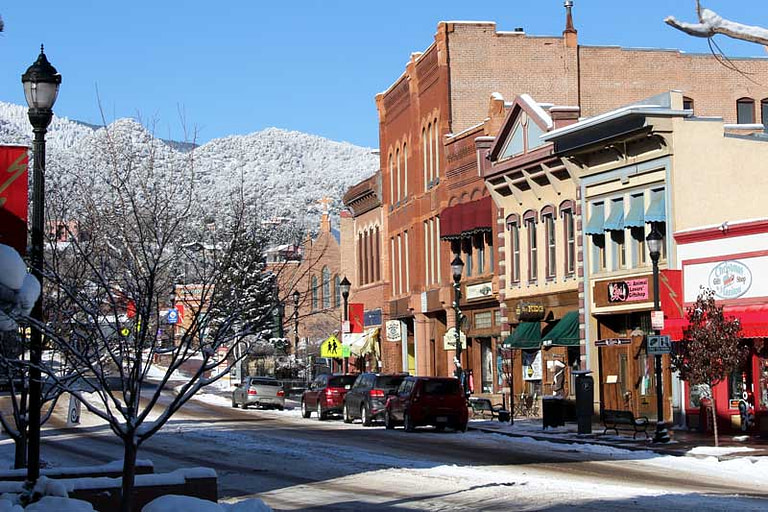 1. Historic Manitou Springs
Set your watch to Manitou Time
We joke that Manitou functions on a slightly slower time table than the rest of the region — we call it Manitou Time.  Where Colorado Springs may all seem like it's in a great big hurry, the attitude is generally less rushed in this lovely little town. That doesn't mean the citizens of this little berg are lazy, far from it!  These folks run up the Manitou Incline before the rest of us have even had our morning coffee, but that just happens to be how they start their day, and there's no urgency, just enjoyment.   …read more…read less
Calm friendliness is just as contagious as stress and anxiety, so if you're looking for a place to get away from the grind, Manitou Time may be just what the doctor ordered. 
Besides a glorious backdrop and easy-going residents, Manitou Springs also has a superb downtown, perfect for shopping, dining or people watching.  All of the businesses in the historic district are locally owned, so you'll find galleries, restaurants and boutiques unlike any you've seen elsewhere.  The town's namesake, it's eight mineral springs, are also great fun to hunt down.  Think of it as a natural scavenger hunt! The springs are all cold, drinkable, and believed to have great health benefits.  Each has a slightly different mineral composition so it's fun to try them all and find your favorite.  Maps and cups for the mineral springs can be picked up at the Manitou Springs Chamber of Commerce.
Take your time, this is a place to slow down and enjoy yourself.  Look for art on the streets or the artists that created it!
We sent you to the healthiest place in town for breakfast, so you totally deserve a burger for lunch.  Border Burger Bar, located creekside in the historic Spa Building, grinds their own hamburger to get the perfect blend of flavorful and lean meat.
Laughter really is the best medicine
A night at the theater may not be everyone's idea of rest and relaxation, but this isn't your typical theater.  Housed in one of the oldest buildings in Manitou Springs, the Iron Springs Chateau Melodrama is designed with audience participation in mind.  They want you to cheer and boo and have one knee-slapping good time. …read more…read less
Start your evening with a family-style dinner in their Goldmine Room or the Chateau Room.  Dinner consists of three courses: salad, choice of pot roast, herb roasted chicken or seared salmon, green beans, mashed potatoes and gravy, rice pilaf and fruit cobbler for dessert.  Coffee and tea are included and a full bar is available as well.
After dinner, make your way to the theater where the cast will help you find your seats.  A server will be by to make sure you have drinks and you're settled comfortably, then the real fun begins.  With titles like "One Bad Apple . . .or . . . As the Worm Turns"  or "Prairied Treasure . . . or . . . Are you Sirius?" you know the puns are about to roll.  Prepare to cheer the hero and boo the villain, and laugh till your cares just drift away. You may think your work here is done, but the fun is just getting started.  Next, enjoy a variety show and old-fashioned sing along with their fabulous piano player.
When the show finally comes to a happy conclusion, you'll get a chance to shake hands with the staff and enjoy one more laugh with your fellow audience as you head out into the beautiful Colorado evening.  Your cares will feel lighter and your joy will light up the rest of your night!
If laughter is the best medicine, Iron Springs Chateau is bound to cure you!
You're already heading to Iron Springs Chateau, make a night of it and plan on their family-style three-course dinner before hand.  You'll be glad you did!