You may have noticed that we are huge supporters of locally owned businesses here.  There are no malls or chain stores on today's agenda.  Heck, what would be the point of traveling all the way here to shop for the same stuff you can find back home?  Colorado Springs, Old Colorado City and Manitou Springs makeup a stretch of retail certified by the state as a Creative Corridor.  Along this route, you'll find hundreds of locally owned galleries, boutiques and restaurants — perfect for a great day of strolling, people watching, and treasure hunting.
You know that little diner in your hometown where everyone seems to gather?  The place where you'll see the same group of older gentlemen sharing stories over their coffee every morning?  That's the place you know makes the best eggs and isn't going to charge you an arm and a leg for them.  We happen to have two local favorites in Old Colorado City.  Mountain Shadows and Bon Tons Cafe both fall into that category.  We recommend Mountain Shadows for cinnamon rolls, and Bon Tons if you want that smothered in green chili — maybe not your cinnamon rolls, but you get the idea.
Tree-lined streets and friendly faces
Old Colorado City was one of the first areas settled in Colorado Springs and boasts a very colorful history.  That charm and legacy has been beautifully preserved and celebrated, making this historic district an awesome place to spend the day.  Shop for local art, unique gifts, modern treasures and raucous stories alike.  With over 100 local galleries, shops and restaurants, you're sure to find things you won't see anywhere else.
If their history is more interesting than their retail, there's plenty of that to be had too.  It's common to find friendly shop owners behind the counters of their stores and they're always happy to share a story or two.  If you're looking for something a little more guided and directed, check out the tours offered regularly by their historic society. 
We doubt you'll need a snack if you played your breakfast cards right, but there's locally made chocolate and ice cream you should probably try.
Garden of the Gods Trading Post
Largest, oldest and best gift shop in colorado
The Garden of the Gods Trading Post is a hard place to put into words.  On the surface, it's a gift shop with an old pueblo-style facade. When you pass through the doors, you'll find so much more lies beneath the surface.  You'll be immediately struck by the sheer size of the place — it's so much bigger than you expect from the outside.  Once you take in the massive volume of its interior, you'll start to notice cool features about the store itself.  Very old murals from world-famous pueblo artists adorn the walls.  Antique fixtures are still in prominent use.  And relics of their long history are framed and showcased in every corner of the store.
So we've established that the building is cool, and there's lots of great history, but we're no where near done.  What do they offer in the store?  I'll answer that with a question: what don't they offer?  From kitschy trinkets to one of a kind art, from allowance-level budgets to call-your-banker level finds, the Trading Post literally has something for everyone.  Peruse their kitchen section for the chef in your life, their library for your reader.  Or check out the largest selection of t-shirts in the region for the perfect "all I got was this t-shirt" souvenir.  However, our favorite is the Art Gallery, packed to the gills with locally made art, Native American crafts, and unique gifts galore. 
The morale of this story: you need to experience the Trading Post for yourself!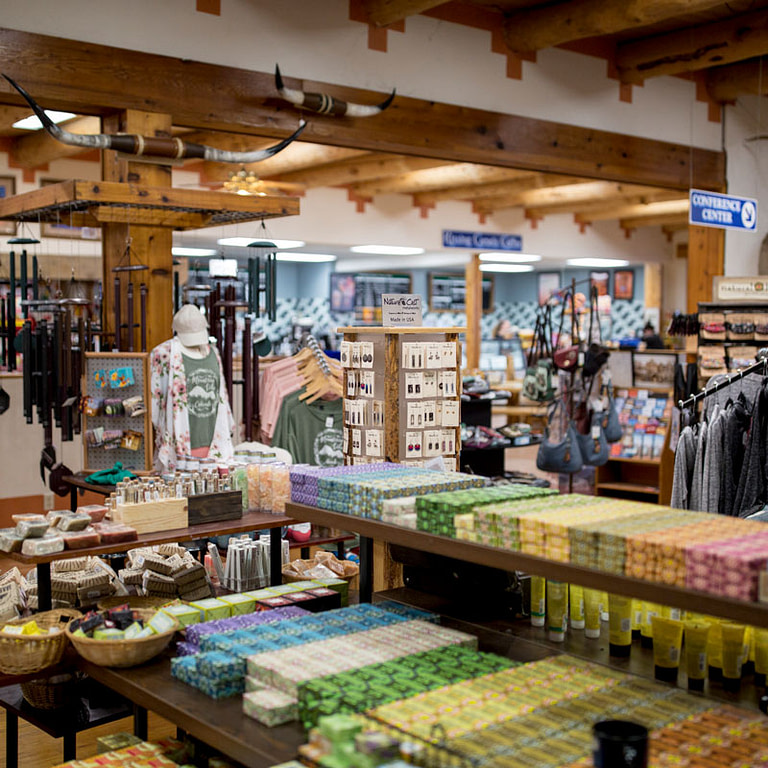 The Garden of the Gods Trading Post is so much more than a gift shop.  Do yourself a favor and check it out!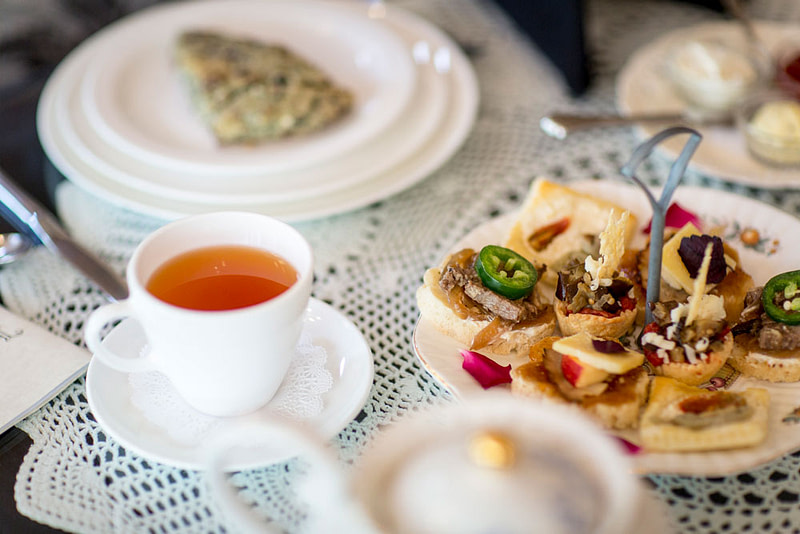 One of our favorite hidden gems is the Miramont Castle Museum, and housed within the museum is a tea room. At this moment, the lady who runs the menu in the tea room, happens to be one of the most naturally talented chefs in the Pikes Peak region. Seriously. Tea is four courses and will fill you with a cornucopia of delightful flavors! Be sure to call ahead for reservations.
Experience something timeless
If you listen closely, this place has a story to tell.  Built in the late 19th Century by a rich priest and his mother, the castle boasts nine different styles of architecture and is a feat to behold in and of itself.  However, the castle is just the beginning of the story.  Operated by the Manitou Springs Historical Society, the museum has become the beneficiary of thousands of artifacts that record the varied history of Manitou Springs and its residents.
Enjoy room after room of period furniture, clothing, household appliances and other accoutrements of Victorian life.  You'll also find a collection of antique firefighting equipment, memorabilia from decades of the Pikes Peak International Hill Climb, one resident's keepsakes from World War II, photos and journals from a Manitou judge who served on the Nuremberg trials and so much more.  Miramont Castle even boasts one of the largest collections of Charles Rockey paintings in existence.  This place has many great things to tell you if you take the time to listen.
Architecture, great food, amazing history — there's so much to experience at Miramont Castle Museum.
There's something in the water
Manitou Springs was one of the first tourism destinations this side of the Mississippi, and it hasn't lost an ounce of the magic that drew visitors way back when. This quaint little town is tucked amongst the foothills of Pikes Peak and gets its name from the multiple mineral springs throughout town.  The springs are all cold drinking springs, each with a unique mineral compound and have long been believed to have health-sustaining benefits.   
Manitou has a personality all its own.  You can feel it the moment you pass through the Manitou arch.  The people are friendlier, the architecture is fantastic in a quirky mountain way, even the side walks and street lights have an artistic flare. And as for the actual art, everywhere you look, there's art on the street, art in the store fronts, you're even likely to find folks painting on the street corner, or musicians jamming on the sidewalk. Take your time and smile a little more — it's the Manitou way.
Take your time to enjoy the character of the town and characters that live there!
Join the Slow Food Movement
If there is one restaurant that exemplifies the Manitou Way, it's Adam's Mountain Cafe.  Born and raised in this little mountain town, Adam's was started more than 30 years ago with a handful of seats and a desire to created healthy, locally sourced food.  All these years later, Adam's has grown into an iconic staple of the community.  
Tip: if you have anyone in your crew with special dietary needs, ie gluten free, vegan, food allergies, etc. Adam's is the best at accommodating those needs.
Charred Cauliflower
Toasted Almonds, chopped Dates, roasted Cauliflower, Scallions, Sesame Seeds, fresh Mint and Dill tossed in Sriracha Tahini sauce
Sticky Toffee Pudding
Sponge cake of ground Mejool dates, nutmeg, brown sugar and butter. Served warm with buttery toffee sauce and house made vanilla ice cream.