Colorado Springs is well known for our vast outdoor landscape, but we are also incredibly blessed with amazing indoor spaces.  Our museums rank amongst the top of those spectacular indoor spaces and we have a plethora of them. We've got some huge, world-class museums, and we've got little kitschy places you won't find anywhere else! 
Colorado Springs just happens to be one of the most educated cities in the United States (#12 last we checked!) Which means 1. we're a little nerdy, but 2. we really know how to make a cool museum.  We've picked out four of favorites covering everything from history to space to the downright one-of-a-kind.  So come geek out with us and learn something new!
"You gotta risk it to get the biscuit."
99% of the time we advocate for local local local.  That other 1%, we make an exception for a Colorado-based chain.  The Denver Biscuit Company is one of those exceptions.  Now you can go traditional with biscuits and gravy, or you can go pinkies up with the cordon bleu biscuit, or skip straight to the strawberry shortcake.  We won't judge.  We may be jealous, but we never judge 🙂
May Natural History Museum
Unlike anything you've ever seen before
This is possibly the most unique museum you've ever encountered.  Collected at the turn of the last century, this is the largest private collection of insects in the world!  Peruse over 7,000 of the brightest, biggest and most interesting specimens of John May's many dedicated years.  Because of the sheer age of the collection, there are many species here no longer found in the wild, but the great care with which they've been preserved is beyond reproach.  They are as vibrant and spectacular as the day they were collected.
Now if you enjoy the creepy crawlies, there are spiders, giant centipedes, and some of the biggest beetles you've ever imagined.  If creepies are not your jam, there are also hundreds of brilliant butterflies and even some of those big beetles would fall into the category of natural art.  Is it possible there's a perfect bug for everyone?  If so, they can all be found at the May Natural History Museum.
Enjoy over 7,000 of the most colorful and interesting insects the world has ever made.
Marigold's Café and Bakery is an awesome local award-winning French restaurant just a stone's throw from our next museum.  For lunch, they have all the usual soups, salads and sandwiches, but they all come with house-made bread, which in my humble opinion elevates everything.  They also have a pretty incredible menu for dinner with escargot, cowboy steaks, filet mignon and trout almondine.  What ever you do, when ever you go, be sure to save room for dessert or take something to go.  Their desserts are out of this world!
Space Foundation Discovery Center
The Pikes Peak region was built upon a foundation of very rich history.  A history of pioneers, miners, entrepreneurs and inventors.  The perfect combination of innovators to take us to the stars!
So it's only logical that a museum based in those core beliefs with an eye toward our future would exist in the foothills of the rockies.  Colorado Springs is also well known for our military installations, including Fort Carson, the Air Force Academy, Peterson Air Force Base, Schriever Air Force Base, and NORAD, with the recent addition of the regional headquarters for the Space Force and Space Command.  This region has been looking to the stars for a very long time.
 Find your inspiration at the Space Foundation Discovery Center. Peruse actual artifacts from space missions, marvel at examples of the everyday products that were made possible by space technology, watch storms blow across your favorite planet on the Science on a Sphere™, or try your hand at driving a Mars rover in their Mars simulation room.  Whether the Space Foundation encourages to work a little harder at your STEM courses, or lights your passion for innovation and invention, you'll leave the Discovery Center with wider eyes than when you entered, and a light shining on your future dreams.
Talk to the folks running Science on a Sphere ™, they have many different programs and are sure to have one that will knock your socks off.
Spirit of the American Cowboy
Here in Colorado Springs, we celebrate our western heritage all the time.  Most locals have "dress jeans," we know all the words to Rawhide, and we have a favorite event at the Pikes Peak or Bust Rodeo.  Once a year, our local cowboys drive a herd of cattle through the middle of downtown (seriously) and everyone turns out to "yip yip yip" them through town.  But nowhere is the spirit of the American Cowboy and our western heritage more celebrated than at the ProRodeo Hall of Fame.
For more than 40 years, the accomplishments, costumes, and tack of our most famous cattle wranglers have been documented and displayed at ProRodeo Hall of Fame.  Cowpokes and the occasional trusty steed are inducted annually from all over the country. In these hallowed halls, you can enjoy the history of this most American sport, and revel at the accomplishments of these fine men and women through the years.  Be sure to stop by for a visit with their livestock, celebrated as some of the most accomplished athletes in the sport.  After all, a cowboy is nothing without his horse!
Celebrate our western heritage and the spirit of the American Cowboy at the ProRodeo Hall of Fame.
Western Museum of Mining and Industry
What rocks did you eat today?
The last museum on our hit parade is the Western Museum of Mining and Industry.  In case you hadn't noticed yet, mining has been a very big part of our history here in the Pikes Peak region.  It was critical to financing the establishment of our town but the shiny mined minerals tend to get all the press.  
A lot is known about the gold taken from our mountain-scapes, but we don't really talk about the rocks found in day to day items and even our food!  You can learn all about the different minerals we mine to create household products at the Western Museum of Mining and Industry.  You can even experience the awesomeness of some of the machines used to extract those minerals.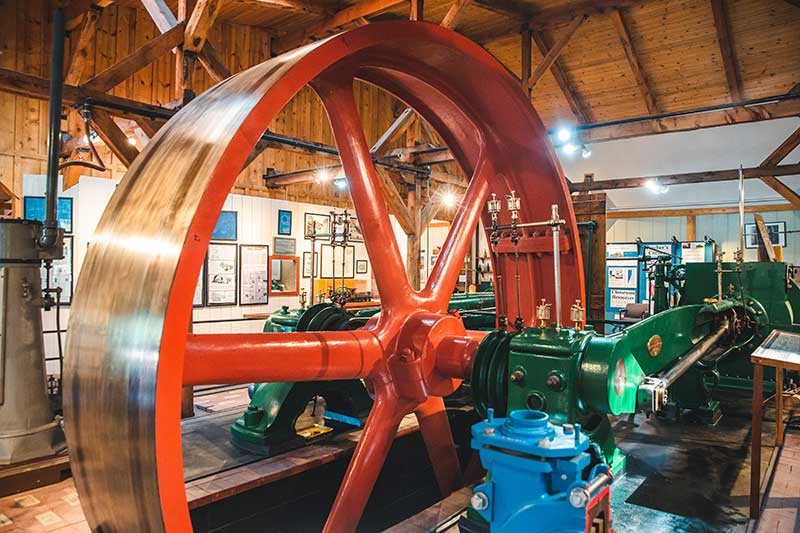 Located on a 27 acre farmstead, WMMI gives you plenty of room to explore.  Bring a picnic and enjoy the grounds while you're there!
winner winner, it's time for dinner
For your Colorado Springs food finale, we thought we'd go a little upscale. Keeping with our western heritage theme for today, tonight's selection should be the best of the range. Now Cowboy Star has things besides steaks, but don't be the guy that goes out for Indian food and orders a cheeseburger. That guy is totally missing the point.
Choose from bison, NY strip, ribeye or filet mignon. Top it with a chimichurri or a creamy horseradish sauce. Add sauteed mushrooms or crumbled blue cheese. Or stay with the OG and enjoy a really well cooked great cut of meat.
We also recommend either starting with a charcuterie board or end the meal with a cheese board because the cheeses they procure are nearly as bomb as their steaks.