If outdoor adventure is really what you crave, then you might as well start big.  Pikes Peak – America's Mountain is so massive and so iconic, they named the whole region after it!  Our favorite mountain gives you more than 14,000 feet in elevation to get out and explore. In a year where social distancing is all the rage, you can be an overachiever in this vast space!
For the afternoon, we've queued up some of the most unique-to-Colorado entertainment we can muster.  Our own slice of Santa Land, the charming North Pole – Santa's Workshop, and the Flying W Ranch for a little western hospitality and entertainment.  This will be one day you will not soon forget!
You definitely don't want to miss breakfast today.  Be sure you're well-fed, well-hydrated, and well-rested for your trip up the mountain.  The Pantry is one of our on-the-way favorites.  A cute little diner in Green Mountain Falls who's been slinging a killer breakfast for over 60 years. Be sure to try their cinnamon raisin toast!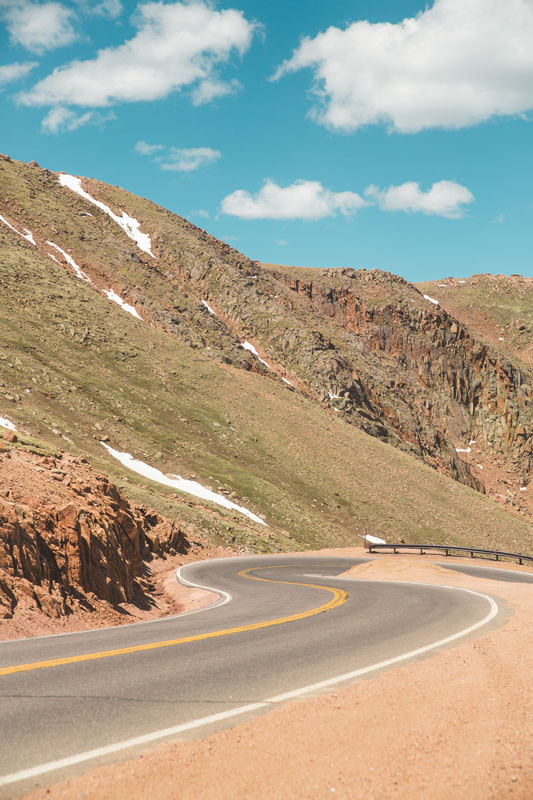 Option 1. Pikes Peak -- America's Mountain
Over 14,000 feet of social distancing
There are many different ways to experience Pikes Peak, but the most popular is by far is driving yourself up the Pikes Peak Highway.  There are a couple of great things about driving yourself.  1. You get to take the mountain at your own pace.  If you want to stop at every pull out to snap photos, cruise straight to the top, that's up to you. 2. You and your crew are safely isolated in your vehicle.  What could be safer in years that end in 20?
The highway is a total of 19 miles from the front gate to the summit and will take you about an hour drive time each way.  Please note that there are mandatory shuttles running this year to help with parking at the summit during construction of the new Summit House Complex.  You can grab a shuttle at miles 13 or 16, and if you have you kids in carseats or passengers with ADA requirements, they'll let you summit in your own car.  Shuttles will run till mid-October.
Hop in your car for more than 14,000 feet in social distancing!
Option 2. Pikes Peak Tour by Gray Line
Let them handle the drive so you can handle those views!
The trip up Pikes Peak is a must when you're traveling to the Pikes Peak region, but the best way for you to go is very personal.  For some, the drive can be a little scary, so you may be spending all your time with your eyes glued to the road and missing all the glorious scenery slipping by.  Let the experts at Pikes Peak Tour by Gray Line handle all the curvy mountain roads, while you kick back and watch for wildlife.
The Gray Line tour starts in downtown Colorado Springs, and their super-friendly guides will share history and anecdotes with you all along the way.  What's more, they've taken the windows out of their shuttles for 2020 to increase the ventilation and safety, which has made the tour even more amazing than ever before.  What's a trip up into the mountain air, if you can't smell the mountain air!?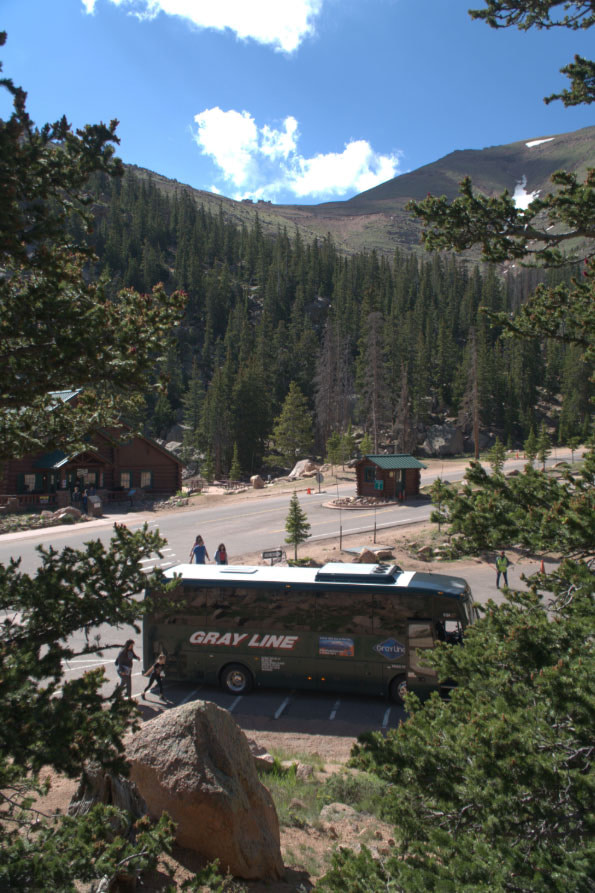 Pikes Peak Tour by Gray Line has been in business for over 40 years, so there's no one with more experience to get you up that mountain!
Option 3. Challenge Unlimited - Pikes Peak by Bike
Pikes Peak for the Thrill Seeker
We've established that there are many different ways to enjoy Pikes Peak, and frankly, you owe it to yourself to experience the Peak in some way while you're here.  This option is best of you really want to see what it feels like to FLY down the mountain. Challenge Unlimited will shuttle you to the summit, along the way you can enjoy a relaxing ride and casually take in the sites.  Up top, they'll give you a chance to enjoy the view for a bit, before they outfit you with some extra layers and hand you a mountain bike.  They bring all the gear including helmets, water and snacks.  You just have to hop on the bike and sail!
The experienced guides will stop periodically in case you need to refill your water, or toss a jacket in the van.  They'll let you know what to expect from the next section of highway, and check to make sure you're comfortable with your bike.  After you've enjoyed enough of that cool mountain air through your hair, it'll be time to stop for lunch and recap the awesome experience with your fellow riders.  After all, it'll be a trip none of you will soon forget!
This may be about as close as humans come to the sensation of flying!
Option 1. If you're driving yourself up Pikes Peak, we highly recommend taking along a picnic and stopping at one of the many breathtaking spots along the way.
Option 2. If you took the tour with Gray Line, you'll end your journey in downtown Colorado Springs.  There are many great places to choose from, but we recommend checking out one of Brother Luck's restaurants.  He's our own local foodie celebrity after his acclaim on Top Chef.  He has Four and Lucky Dumpling.
Option 3. If sailing down the mountain via bike was your perfect Pikes Peak adventure, lunch is already covered.  Remember how we told you they take care of everything?  They also take you to lunch at the end of your ride.
North Pole - Santa's Workshop
This whimsical Christmas-themed amusement park is ideal for the littles in your crew, but I dare any of the "grownups" not to giggle with delight as they take in the sites of this park.  Created by a Disney park designer in the 1950's based on a little girl's description of a dream she had about Santa's Village, the park emits charm and childish delight around every corner.
The park sits just outside the entrance to Pikes Peak, so a stop here is truly a must of you have kiddos in the car.  They enjoy a train ride, a trip down the peppermint slide, zip lining with the reindeer or even get a chance to meet the big guy himself.  You can relive this childhood joy as you experience the park through their eyes (and you're welcome on all those rides too!) Be sure you stick to the four main food groups while you're there: candy, candy canes, candy corns and syrup.  If elf-fare is not your jam, there's also burgers and hotdogs.  Or you can bring in a picnic if you prefer.
Every kid under 10 deserves the right to enjoy the North Pole.  It would be a crime against childhood not to take them!
Flying W Ranch Chuckwagon
Traditional western dinner and entertainment
Colorado Springs has become a big world-renowned city, but we were once a small ranching community where "dress jeans" and life on the range were commonplace.  That heritage is celebrated with cattle drives through the center of town, street festivals that harken back to our days as a territory, and our annual Pikes Peak or Bust rodeo just to name a few.  Flying W Ranch is our favorite way to celebrate that legacy.
The Flying W Ranch was started by Russ and Marian Wolfe in 1953 as a way to share their western heritage with visitors. Folks were able to visit the ranch, meet the animals and interact with the wranglers. Around supper time, Marian would serve a traditional chuckwagon feast, complete with smoked brisket, baked beans, chunky applesauce, baked potato and biscuits.  Followed by "boot sock coffee" and old-fashioned spice cake and western stage show performed by the Flying W Wranglers. Sadly, in 2012 the ranch was lost to a fire that raged through Waldo Canyon and leapt the ridge above the Flying W., burning everything but the small building where Marian's cookbooks were kept.  The community was devastated.
After eight long years cleaning up the aftermath, building containment ponds on the property to help protect the surrounding neighborhood from post-fire flooding, and raising funds to rebuild, the Flying W Ranch rides again!  Thanks to the tenacity of the Wolfe family and the love and admiration our community has for the ranch, they have rebuilt and reopened.  Though the buildings, picnic tables and Flying W Wranglers may be new, everything still honors the original traditions set down by Russ and Marian over 65 years ago.  You can experience the beauty of Colorado Springs anywhere, but Flying W Ranch is the best place to experience our spirit!
If you want to experience the true spirit of our western heritage, then Flying W. Ranch is the place for you!  Western wear isn't necessary, but it'll sure put you in the right frame of mind.