Colorado Springs is known for its awesome mountains and we're also known for sticking our can't-miss attractions  onto the sides of them. Wouldn't you? For your first day on vacation in Colorado Springs (or staycation, if you're local) we're going to ease you into mountain-y fun with two local attractions that are sure to wow you and your crew without wearing you out right away.
After all, there are four more days of activities to follow and we don't want you missing them because we sent you to the top of the world on the very first day (you will be going to the top of the world later, however). Grab your water bottles, good shoes, a hat and some sunscreen. We are headed to the southwest side of the city where exotic and inspiring wonders await!
Normally we like to recommend a sit-down locale, but time is of the essence today. Hit up Taco Express on 8th Street for some absolutely delicious breakfast burritos you can snarf in the car. It definitely doesn't look fancy on the outside, but the food is fabulous.
Get closer to the animals than ever before
North America's only mountainside zoo is a top spot for everyone who comes to Colorado Springs and one of the first places all the locals like to take visitors. That's why we sent you early — the parking lot fills up fast on warm days (don't fear, there's a shuttle if you need it.…read more…read less
All zoos are pretty cool, but Cheyenne Mountain Zoo works extra hard to provide the best habitats for the animals in their care and the most memorable experiences for their visitors. What do they consider memorable? How about feeding an enormous giraffe a lettuce leaf? Or meeting a beautiful peacock? Petting a wallaby? Feeding a budgie? Those are all pretty darn excellent and we're just getting started! The zoo is broken up into different areas of the world, each filled with animals. Informative plaques educate you on the species and its habitats and there are keeper talks all day long to learn even more. Hands-on is also a big theme at the zoo, with lots of places to climb, explore and play. The Big Backyard and the Loft introduce you to all sorts of neat animals, some that you're even allowed to touch, like snakes, lizards or other small creatures. There are also two really fun rides to enjoy. The Sky Ride takes you to the top of the zoo and lets you chill out in a yurt while surveying the city. The old-school carousel lets you zip around on marvelous ponies at a nice snappy pace, too.
Be sure to wear good shoes to enjoy the only mountain zoo in the US!
Don't worry, we would never!  But there's no reason to stress about finding food. Cheyenne Mountain Zoo has options like chicken tenders and burgers, not to mention pizza and ice cream. Hang out a bit longer and fill up for your next adventure.
Right next to the zoo lies a different kind of mountainside wonder, an epic waterfall cascading through a magnificent box canyon known as the Pillars of Hercules. Seven Falls is one of the most famous waterfalls in Colorado and we suspect it's because the attraction is so accessible to everyone.…read more…read less
Rather than hiking for miles or navigating long lines waiting for a parking spot to then … hike for miles, you can reach the base of Seven Falls super easily. That's because the attraction takes visitors up to Seven Falls in a tram. The tram even has a wheelchair lift so everyone who wants to visit can have a chance to check out the falls. Two hiking trails can be found once you get there and both are fairly easy jaunts that let you explore the area and see the falls from different angles. If you're not able to navigate stairs for any reason, don't worry. Head over to the Eagle's Nest, where an elevator will take you up for premium viewing and selfie snaps. The Eagle's Nest is also home to the Rock Hound, so if you're into geology, crystals and rock collecting, you've found your own personal heaven. There are lots of stairs, which means you'll get some exercise and be rocking a killer booty on the descent.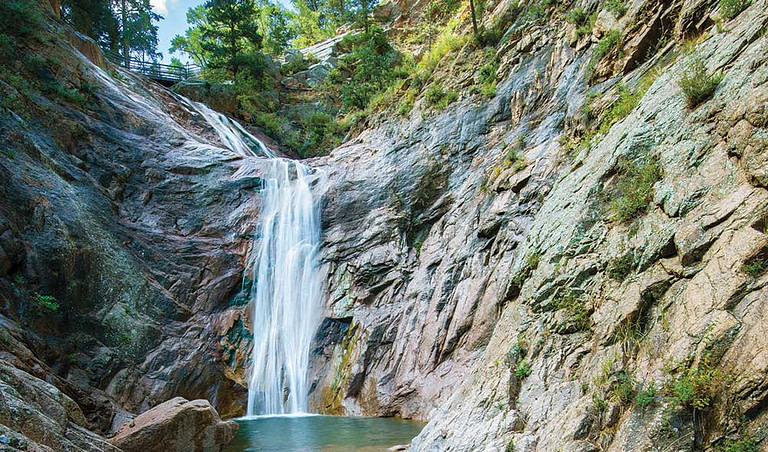 The path to Seven Falls is referred to as "The Grandest Mile of Scenery in Colorado." We recommend taking the tram up to the falls but then walking back down so you can soak it all in!
Restaurant 1858 prides itself on offering tasty fare with Colorado flair.  Enjoy the Broadmoor's Forbes Five-Star rating at an equally epic location. Dig into authentic Colorado cuisine with  the wild boar green chili and Colorado trout.
Colorado Rocky Mountain Trout
Sauteed with hickory smoked bacon, brown butter, lemon, and parsley
Wild Boar Green Chili
Pueblo green chili, corn, and tomatillo