If you're obsessed with Cheshire Cat grins, absurd conundrums and mayhem-filled tea parties, you just might want to stumble down the nearest rabbit hole and hope your fall takes you to Old Colorado City for Mad Hatter Saturday on April 13th from 10am to 4pm. What is Mad Hatter Saturday? Simply put, it's the raddest book- and movie-themed party ever! Each year, the town turns Bancroft Park into its own special Wonderland, jam-packed with whimsy, treats and all things Alice in Wonderland. We're breaking down the details of this free, popular event so you can maximize your fun (and keep your head).
The Mad Hatter Tea Party for Kids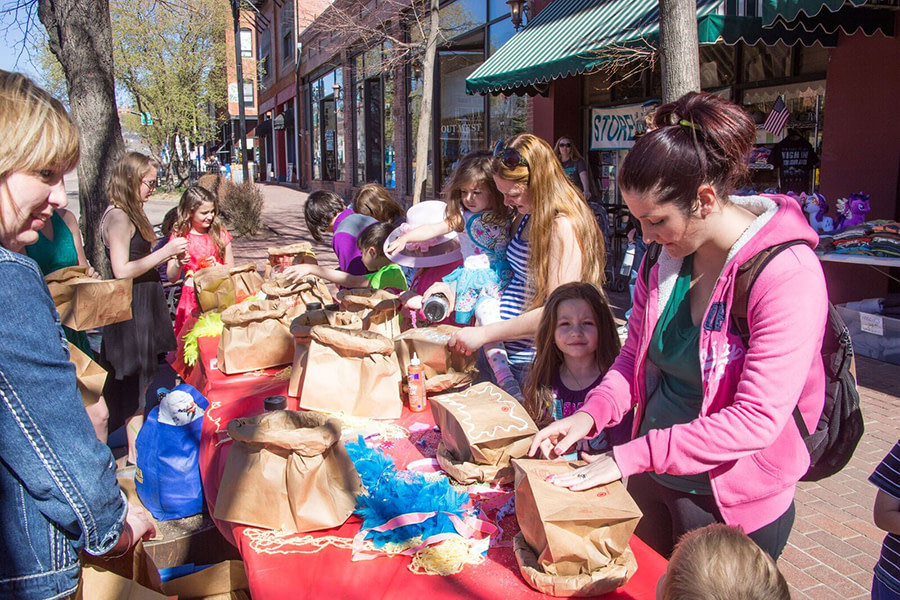 This is by far one of the most popular events at Mad Hatter Saturday — so popular that they had to implement a registration policy this year. What does that mean? If you're late, you're late, in signing up for this very important date, you're gonna be a sad hatter instead of a mad one. Don't worry, though. Click here to register right now (but come back, so you can read more about the party!). Kids 12 and under can dress up as their favorite Alice in Wonderland character and enjoy a fun and fabulous tea party that's just for youngsters. The party costs $6 and times include 11:00 (sold out), 11:45, 12:15, 1:00, 1:45 and 2:30.  Tip: Arrive 10 minutes early, because they won't allow you to interrupt the party once it begins. Another tip: Do not wait to register. These slots will fill up fast.
Other Family Activities
Of course, there's far more than just a tea party to enjoy. Mosey up the street for face painting, check out live ice sculpting just like the Cripple Creek Ice Festival or meet cool characters from beloved animated films when they begin to roam Old Colorado City at 10 a.m. Starting at 11 a.m., the White Rabbit will be hosting an egg giveaway in Bancroft Park that includes special treats and tickets. And right beside that? Well, it's a Mad Hatter hat station, where anyone can make their own special headgear for their adventures (both in or out of the looking glass). Basically, there is simply tons of epic fun to be had and it's all free.
Not Just for Kids
Alice in Wonderland hasn't endured since 1865 by appealing solely to children. There's an entire segment of pop culture devoted to the tale, including music (thanks, Jefferson Airplane), video games, movies and apparel. Lewis Carroll dreamed up a whole lot of weird things, but teens wearing Alice in Wonderland-themed hoodies to the skate park probably wasn't one of them. Anyway, we all know it's not just kids ages 5-12 buying up the cool gear, which means there's no age restriction on the fun. You (a grownup) can feel free to dress up in your favorite (appropriate) costume and wander the streets to check out the sights. Several of the local stores will be running great sales, restaurants will have cool specials, and there's a used book sale at Carnegie Library, too. Unfortunately, you won't be allowed into the tea party — that's just for humans 12 and under. However, if you're over 21, you can find plenty of adult beverages screaming "Drink me!"  in one of Old Colorado City's fine bars or restaurants.
The Boring Details: Parking & Weather
Alice was lucky she took the rabbit hole to Wonderland because there was decidedly less traffic in her fall and zero concern about parking when she got there. You're not going to be so lucky, so let us help you out. Old Colorado City has metered street parking and a lot on 26th Street. If you choose to park in the residential areas, such as Pikes Peak Ave., be courteous to the folks who live there and don't block driveways or run over their flowerbeds. Traffic into town will be heavy, so be prepared for a little congestion. Also, this event will have a ton of kids, so drive slowly and cautiously.
Speaking of caution, March 20 may have brought the first day of spring, but Colorado doesn't care what some silly calendar says and will do as it pleases. That means you bring warm clothes, just in case it gets chilly or snows and sunscreen so you don't get burned if it's hot. (Okay, okay, we're done momming you … for now.).
We highly recommend you check out Mad Hatter Saturday. It truly is a one-of-a-kind event focused on one of the most-loved tales ever told. Don't believe us? Go ask Alice. We think she'll know …