Manitou Springs: Your All-In-One Vacation Town for Beating Gas Prices
If you're looking for a vacation in the Pikes Peak region that will help you combat soaring gas prices, we'd like to cordially invite you to Manitou Springs. This charming town is located just west of Old Colorado City and Colorado Springs and has everything you could ever want in a Colorado trip. Even better, it's all within walking, biking or extremely minimal driving distance. We know everyone wants to pinch pennies wherever they can and that no one likes wasting money on things that don't make wonderful memories (like filling the gas tank). Let's take a look at all that Manitou Springs has to offer!
Outdoor Adventures in and Around Manitou Springs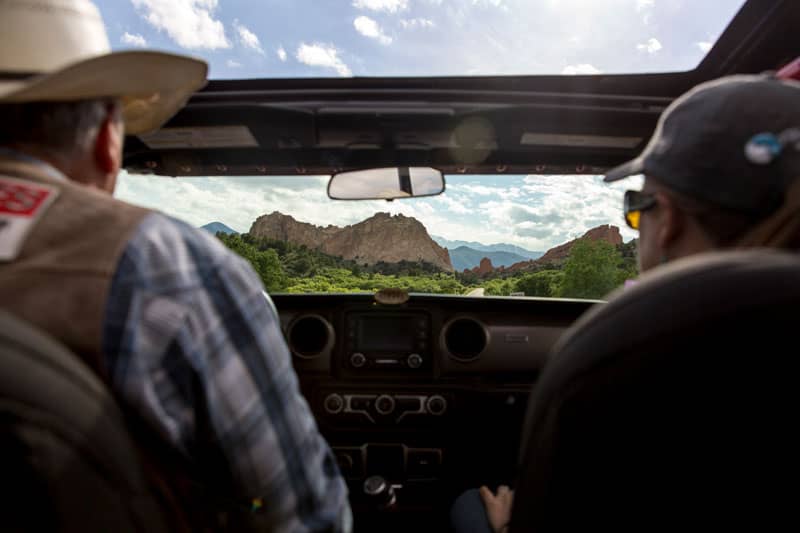 Manitou Springs is nestled in the foothills of the Rockies, creating multiple opportunities to get outside and play simply by walking to the nearby trails. Manitou backs up onto the Intemann Trail, which will lead you to a variety of other trail systems in Colorado Springs. The town is also right next door to Red Rock Canyon Open Space (there's a link from the Intemann Trail to hike to it if you're not keen on driving across the highway), which leads to the much-loved Section 16 trail and other popular systems. 
Manitou Springs is also the home base for Adventures Out West, a local outfitter that can provide experiences such as zip lining, Jeep tours, hot air balloon rides and mountain bike excursions (Challenge Unlimited). We also cannot forget the famous (or infamous if you're not a fan of stairs) Manitou Incline, located at the west edge of the city. Barr Trail, the route to hike Pikes Peak, is right next to the entrance to the Incline. You can walk to the entrance or hop on the free shuttle that runs through town all day. Don't forget to make a reservation if you decide to hit the Incline. It can get really busy over the summer!
The world-famous Garden of the Gods is also a brief drive or a PikeRide away and Manitou Springs is on the coolest side with access to the Garden of the Gods Trading Post (hello fresh fudge!) and Balanced Rock. Hike, bike and take all the pictures because it's an unforgettable journey. 
Eclectic Dining in Manitou Springs
Manitou Springs is home to some pretty amazing options for both fine and casual dining. The town is packed with local restaurant options, so you can always find a great meal with a little something for everyone. If you have dietary restrictions in the family such as allergies or vegetarian/vegan preferences, Adam's Mountain Cafe has a fantastic menu filled with tasty options that won't leave members of your group staring sadly at a dinner salad while everyone else chows down on full meals.
If you're looking for fare that's a bit more greasy spoon than health-conscious, Mo's is definitely the place to be. They have some of the best pork green chili around, great bacon and hash browns that are actually served crisp when requested. Of course, you can opt to go completely swanky and dine at the Mona Lisa fondue restaurant for a special celebration or romantic date. 
These are just three examples! Manitou is also home to chocolate shops, ice cream and custard parlors, a beignet shop, burger joints, bars, a local brewery, wine bar and … well, you get the picture. And if for some strange reason you simply can't find a place you want to dine, snag a PikeRide bicycle from the station downtown and use the Midland Trail to safely visit Old Colorado City or Downtown Colorado Springs. The point is that you could easily dine at a new, fabulous restaurant in Manitou Springs or nearby areas and they are all within walking or biking distance of your accommodations. 
Easy Access to the Best Attractions in the Pikes Peak Region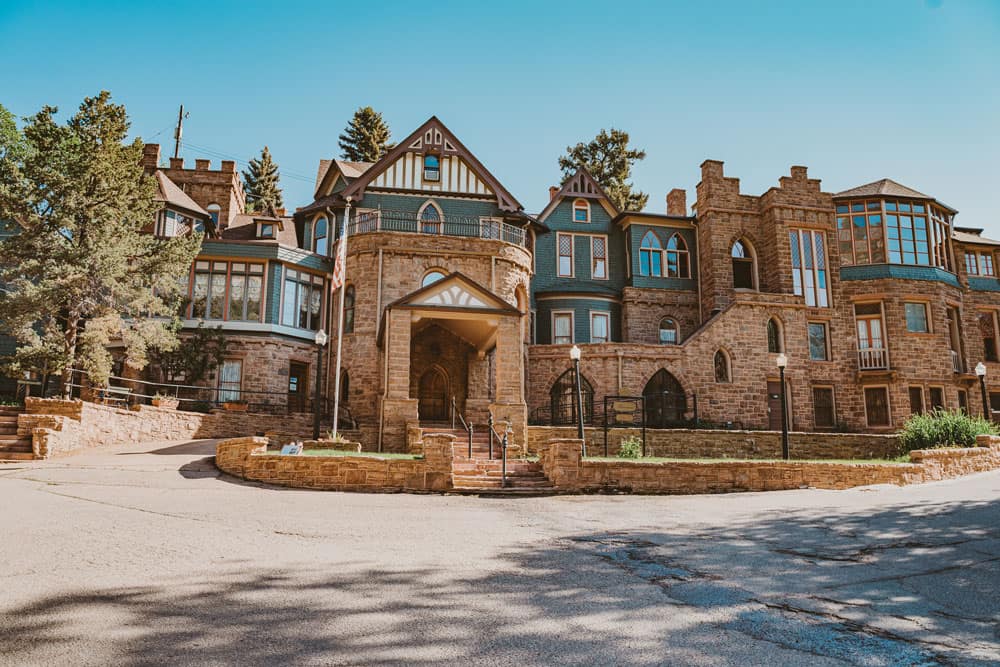 In addition to great food and outdoor adventures, Manitou Springs is the spot to be for some of Pikes Peak region's most beloved attractions. We can start with the Pikes Peak Cog Railway, the much easier jaunt up Pikes Peak (unlike Barr Trail). The station is right next to the Incline, as well as the Iron Springs Chateau melodrama theater (more on that in a moment). You can take the train to the summit for the famous high-altitude donuts and utterly staggering views. As a side note, you can also drive to the summit via the Pikes Peak Highway, but since we are all about saving gas, we'll stick with methods that don't require much driving. 
On the same road to the Cog Railway station, you'll find Miramont Castle. There you will explore the eclectic architecture and gorgeous gardens that make this hidden royal gem so special. We highly recommend making a reservation for high tea at the castle's tea room. The food and tea are delicious and the atmosphere is fun (borrow or bring a fancy hat, you won't regret it). 
The last three attractions are not in Manitou, but they are near enough that you only have to drive a short distance. First, you can visit Cave of the Winds, featuring tours of the caverns and thrill rides and obstacle courses outside. Next door to the cave, you'll discover the Manitou Cliff Dwellings, which contains ruins from Southern Colorado that you can explore and even touch. Last, but absolutely not least, you can celebrate Christmas year-round at the North Pole—Santa's Workshop. This amusement park sits at the base of the Pikes Peak Highway and features fun rides, carnival food and the chance to meet the jolly old elf himself—Santa!
Unbeatable Nightlife and Entertainment
Manitou Springs is home to art galleries, live music and fun events. Staying in town will give you access to it all without ever putting your key in the ignition. The Manitou Art Center, Commonwheel Artists Co-op and Green Horse Gallery are three galleries you can peruse for that perfect new sculpture or painting. They're open for special events on the first Friday of every month, so be sure to have a wander and check out the shows.
The local bars in manitou also love to promote local artists — of the musical sort. Lulu's Downstairs, Townhouse Sports Grill and Armadillo Ranch regularly feature live music and musicians from the Pikes Peak region. Even better, you won't need a DD at the end of the night; you can just walk back to your room or rental. 
For entertainment of the theater sort, the Iron Springs Chateau presents a variety of melodrama performances throughout the year. It's one of the last remaining melodrama theaters in the United States and it's highly entertaining. You'll have the chance to boo the villain and cheer for the hero, plus enjoy a little vaudeville intermission, too. It's another location you can get to on foot or via the shuttle to the Cog and Incline. 
In Manitou proper, you can find a classic arcade, which has kiddie rides, penny games, skee ball and more. We're partial to the horse races and the pinball machines but you will absolutely find a favorite of your own when you visit. Kids love it and it's surprisingly gentle on the wallet. 
There's so much to do in Manitou Springs that we still haven't covered it all. There are seasonal events like the Coffin Races, nifty historical tours that involve visiting all the natural springs in town, short hikes to Rainbow Falls and more! It's all within walking distance or a brief drive away, saving you tons of money on fuel that you can put toward food and entertainment. If you want to maximize your vacation budget and minimize your fuel expenses, now you know the perfect Colorado vacation destination to do it — Manitou Springs.