Nine "New to Me" Experiences in the Pikes Peak Region

A Colorado native and guidebook author gets the chance to experience the area like a tourist.

By Heather Mundt
Author of Colorado Family Outdoor Adventure

The Cripple Creek Trolley stops suddenly along Bennett Avenue as a prisoner clad in a black-and-white-striped jumpsuit runs from the former jail, now the Outlaws & Lawmen Jail Museum, and hops onto our vehicle of surprised tourists. We watch with anticipation as the Cripple Creek Sherriff appears outside our trolley door and shoots a (fake) warning shot in the air, then climbs aboard in pursuit of the escaped criminal, now cowering next to me, his bleeding right ear covered with a bandage (also fake). 

     The reenactments are what make these trolley tours so fun, 90 minutes of history led by members of the Gold Camp Victorian Society dressed in full Victorian attire every Saturday at 1 p.m. (Meet at the Train Car Welcome Center in the Cripple Creek District Museum parking lot.) Just minutes before the shootout, we'd stopped by the Homestead House, the area's famous brothel run by Pearl DeVere, where an unknowing wife caught her husband sneaking out the door. It would continue through several more stops featuring famous, historic Cripple Creek denizens, including Doc Susy, the inspiration for the television show "Doctor Quinn, Medicine Woman," and Johnny Nolon, whose saloon opened in 1891 on Third and Bennett. 

     As a Colorado native and travel writer who has visited the area many times before, I kept thinking, "How did I not know about this tour?" 

     It's a phrase I repeated often to myself as I spent a rare, full three days in the Pikes Peak Region in early June. Even though I've spent most of my life little more than two hours from the area—growing up in Longmont, where I still live—and have just completed an entire guidebook on the state, "Colorado Family Outdoor Adventure," I was surprised by how many new-to-me experiences and destinations I encountered (some I truly didn't even know about to include in said book!). In addition to the trolley tours, here are eight more: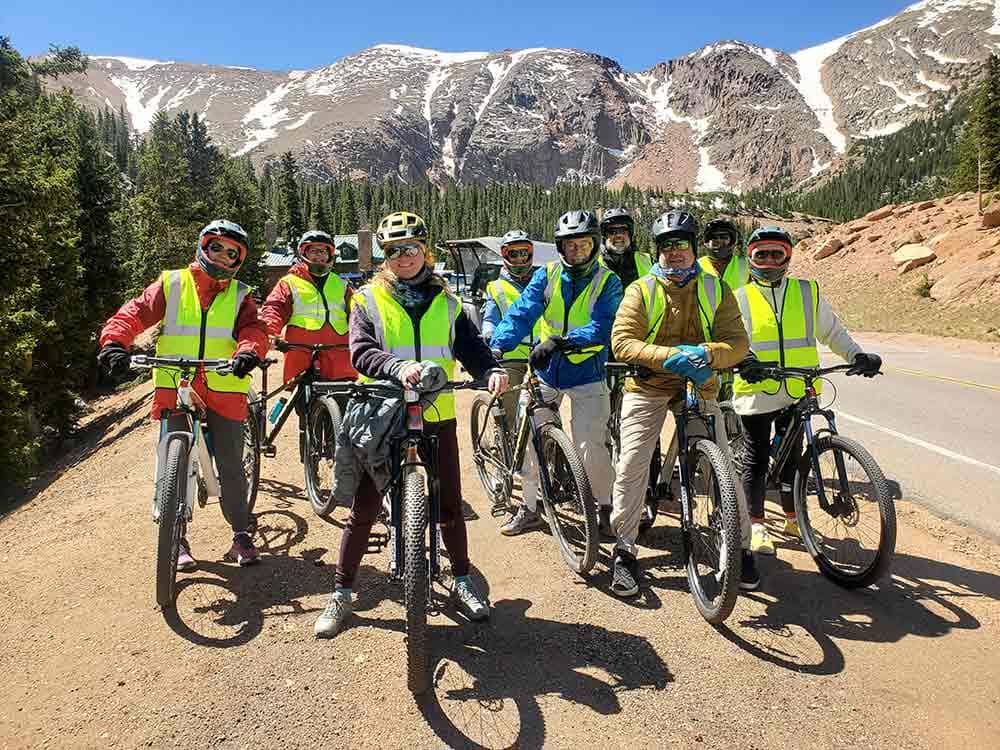 Biking down Pikes Peak
Of course I've summited and descended America's Mountain via car and even ridden the brand-new cog railway. (I've also enjoyed the legendary high-altitude doughnuts at the state-of-the art Pikes Peak Summit Visitor Center more than once.) But I've never had the chance to speed down the mountain via bike power—until now. With the help of support trucks and guides from Adventures Out West, we biked 19 miles from the windy, frigid summit of the Pikes Peak to the calm, sunny Pikes Peak entrance. A thrilling tour that challenged my fitness and riding skills, I'd do it again and again. 
Descending into the Mollie Kathleen Gold Mine
Named for the first woman in the area's Gold Camp to discover gold and strike a claim in her own name, stumbling upon gold in 1891 while stopping in Poverty Gulch to observe a herd of elk, visitors to the mine get a chance to descend 1,000 feet into America's only vertical-shaft gold mine tour. In the one-hour adventure, learn about underground mining, see gold veins, ride a tram air locomotive, and leave with a gold ore sample. 
Eating chuckwagon fare at Flying W Ranch
I knew about this family-friendly destination that's been around since 1953 but hadn't visited before it was destroyed in the 2012 Waldo Canyon Fire. Reopened in 2020, this Colorado Springs institution offers chuckwagon dinners May-Sept. (Christmas shows are offered in December.) Located in a beautiful setting surrounded by stunning rock formations, hiking trails, an extensive picnic area, and a petting zoo, you'll get to enjoy music from the Flying W Wranglers, the second-oldest Western singing band in the world (second to the Sons of the Pioneers, formed in 1933 by Ohio-born Leonard Franklin Slye) and eat a delicious chuckwagon dinner, complete all the fixins' including yummy spice cake. 
Going back in time at the Ghost Town Museum
I had no idea the treasures that awaited me inside the doors of this museum, created in 1954 to house more than 10 historic buildings as they would have appeared around Cripple Creek in the "Pikes Peak or Bust" era. Located in an 1899 building, a former Colorado Midland Railroad maintenance building, the museum features an Old West "street" that's lined with historic carriages and destinations like a general store, newspaper office, and functional bar (used for events) with a Wurlitzer Orchestrion, as well as a second building displaying rooms of a Victorian house. Kids can even pan for real gold outside. 

Immersing in the exhibits at the United States Olympic & Paralympic Museum
I was in awe at the scope and beauty of this sleek museum, which only opened in 2020. Featuring an array of interactive exhibits, from more than 100 years of Olympic history to Halls of Fame and The Lab, which illustrates science and technology's role in athletic performance, one of my favorites was experiencing the Parade of Nations, which simulates what it's like as an athlete to walk into the Olympic Games. 
Taking dinner and a show at the Iron Springs Chateau
I hadn't experienced a Melodrama before visiting the historic Iron Springs Chateau, which has been entertaining visitors in Manitou Springs for some 60 years. I loved the chance to boo at the story's villain, ooh and aaah at its heroine, and clap for the hero as the actors performed. And the food is good too, something I don't always say about dinner theaters! 
Touring the world-class May Natural History Museum
A little-known gem among Coloradans outside the Colorado Springs area, this might be one of my most-favorite destinations in the state. Nicknamed the Bug Museum, it features the world's largest private insect collection, put together by amateur naturalist James May from 1903 until his death in 1956, and established as a museum in 1952 by his son, John. Now run by a fourth generation of May family members, it displays about 7,000 insects and features the Golden Eagle Campground, with some 200 campgrounds and 12 miles of hiking trails.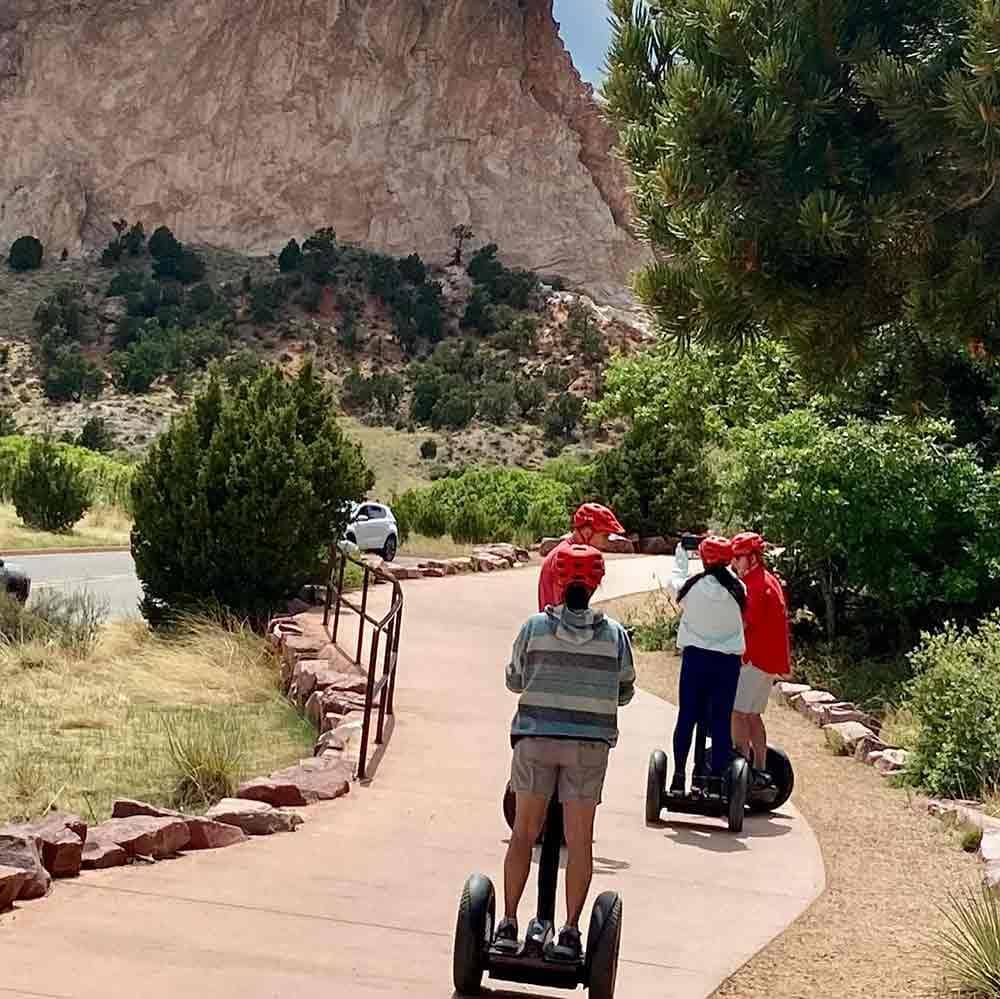 Segwaying through Garden of the Gods
Practically a rite of passage for Colorado kids, I've adventured here many times, both as a child and with my own boys. But a Segway tour with Adventures Out West was a wholly new experience for me, as I would typically choose to hike or bike. Not only was it fun to ride a Segway, however, but I must've also been doing a little bit of work because my calves were sore for days!
Check out Heather Mundt's book Colorado Family Outdoor Adventure or follow her at Momfari on Facebook.