Featured Photo: Jeremy Kabala
Fall driving in Colorado is simply spectacular. Aspen leaves yellow while shrubs redden, creating a gorgeous palette against the evergreen strewn hills and ridges. Now is a great time to take advantage of the field trip opportunities afforded by this unique school year.
Colorado Springs
Pikes Peak – America's Mountain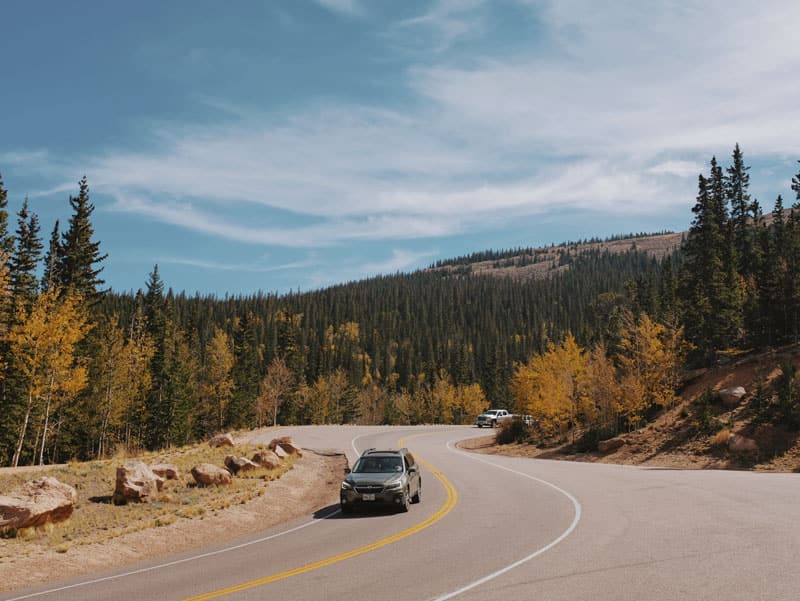 Summiting our gorgeous 14'er is a whole lot easier now than it was for Zebulon Pike back in 1806, thanks to the Pikes Peak Highway. This safe and scenic route includes multiple pull off points with chances to hike, bike and fish. Once at the top, enjoy a world famous donut while soaking in the spectacular view. If it's a clear day, you should be able to see the curvature of the Earth off in the distance. Just FYI, RV's aren't permitted up the mountain, so you'll need to use your tow car or book a bus tour at pikespeaktour.com.
Manitou Cliff Dwellings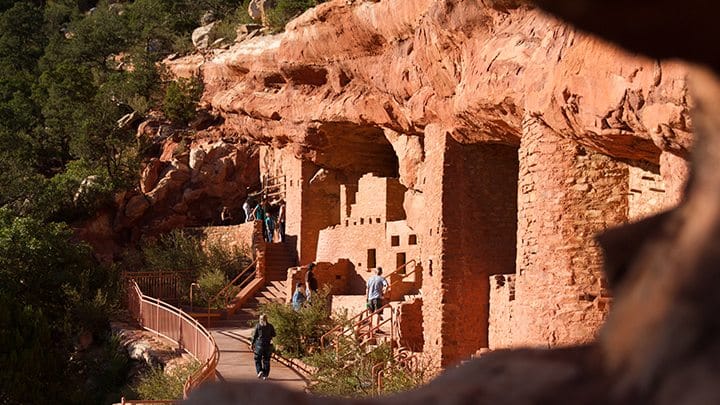 Not all museums are hands off. Touching is not only allowed, it's encouraged while exploring over 40 rooms of meticulously preserved Anasazi structures. The Manitou Cliff Dwelling structures were relocated from McElmo Canyon in southern Colorado in the early 1900s. They date back centuries and give a glimpse of what life was like for the indigenous people of the region. Discover even more in the museum filled with weapons and artifacts, and along the scenic nature walk outside.
Garden of the Gods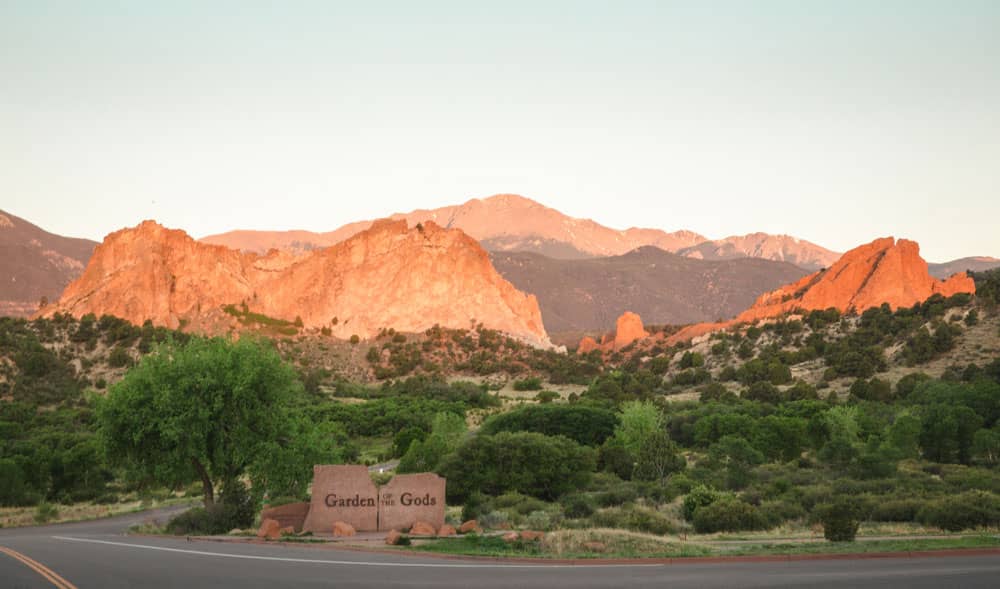 This spectacular park got its name in 1859 from surveyor Rufus Cable, who declared it "a fit place for the Gods to assemble." While Athena and Thor might not be visiting anytime soon, there's plenty for us mortals to do. Jeep, trolley, horseback, and Segway tours are available daily, as are guided nature walks. Grab a free trail map at the Garden of the Gods Trading Post (also a great basecamp with cafe, bathrooms and the best selection of souvenirs in the region!) The trails are all easy to moderate, with a few paved paths near Kissing Camels, making the Garden accessible for all.
Places to park and/or plug in
Electric car plug ins:
City parking garages at
Colorado and Nevada
Kiowa and Nevada
Bijou and Cascade (Tesla only)
Canon City
The Royal Gorge Bridge
About an hour's drive from Colorado Springs, Canon City is an easy and scenic day trip. Once there, cross the Royal Gorge Bridge on foot, then take the Gondola back, soaring 1000 feet above the gorge. If that's too tame, try the Cloudscraper Zip Line or the Royal Rush Skycoaster, a free-fall over the Arkansas River. Or scale the granite Gorge walls on a guided climbing tour with the Via Ferrata, the newest Royal Gorge attraction. Enjoy a snack or lunch from Café 1230 before perusing the gift shop for the perfect souvenir.
Got a budding paleontologist? Canon City is a well-known fossil area—check out these sources for more info.
Skyline Drive – a razorback ridge drive to a display of dino tracks in the cliff face–not for the faint of heart!
Garden Park Fossil Area – a productive fossil location for the Late Jurassic period.
Royal Gorge Regional Museum & History Center – explore the history of the region and see an array of prehistoric items.
Places to plug in
Cripple Creek
Fall is a great time to make the 60-ish minute drive from Colorado Springs to Cripple Creek. Winding through pockets of gold aspen trees, you'll think you've hit the jackpot well before you've even set foot in town. Descend into the working Mollie Kathleen Gold Mine and view exposed gold veins in their natural state. Enjoy a scenic ride through hills and forests on the Cripple Creek and Victor Gauge Narrow Railroad (May through September). Or tour the town's original jail cells and view old mug shots in the Outlaws and Jail Museum.
With plenty of dining and tons of natural beauty, you're sure to enjoy your time in this eclectic, historical town.
Places to plug in
As you enjoy all the beauty Colorado has to offer, don't forget these simple travel tips.
Never leave your pets in a car alone. Temperatures rise quickly even on modestly warm days.

Steep mountain passes and highways could spell trouble for your brakes. Fortunately, most have multiple pull off points. Stretch your legs and snap a few pics while waiting for your brakes to cool off.

Weather can change quickly at higher altitudes. Bring a hoodie or light jacket with you but don't forget the sunscreen either! At higher elevations, the sun is more intense so it's not unusual to get a sunburn here in October.