School in the time of COVID-19 has been interesting, to say the least. Many schools have opted to start the year virtually, providing a unique opportunity for families to travel during the school year.
Take advantage of these sweet spots around Colorado that will give you and your kids space to move and explore, build memories. They also provide free Wi-Fi so they can still submit that geography report.
Pikes Peak – America's Mountain
Getting to the top of our majestic claim to fame is something everyone should have on their bucket list. One option is to hike up Barr Trail, a somewhat strenuous trek that will take most of the day. Families might prefer the safe and scenic driving route up the highway. Either way, you're in for a treat.
Traveling by car, your first stop up the mountain is Crystal Reservoir, located in the North Slope recreation area. Biking, hiking and (licensed) fishing are encouraged in the 2000+ wooded acres and three reservoirs. (Grab your free parking pass for the reservoirs online or at the Gateway on your way up.) Stop in at the gift shop for a snack and log in to free Wi-Fi so the kids can stay current on their assignments.
Next is the Historic Glen Cove Inn, located at 11,450 ft. Despite the name, there's no lodging but you can eat at the Timberline Café (free Wi-Fi), hike or even mine for minerals before continuing up to the Summit.
Due to construction, you'll have to park and take a free shuttle up to the top, from either Mile 13 or Mile 16. Don't forget your laptop—you'll want to log in at the Summit House while enjoying a world famous donut, surrounded by incredible views. Maybe your student will even be inspired to do some extra credit work while looking out over five states in the distance. Hey, it worked for Katharine Lee Bates when she wrote "America the Beautiful" atop Pikes Peak – you never know when inspiration will strike.
The Royal Gorge Bridge
What better vantage point to do homework than on one of the world's highest suspension bridges? OK, maybe not on the actual bridge, but the outdoor deck or indoor café provide free Wi-Fi and spectacular views. When they're ready for a study break, take a ride on the Gondola soaring 1000 feet above the gorge. Get PE credit on the Cloudscraper ZipLine or the thrilling Royal Rush Skycoaster, a free-fall over the Arkansas River. That's sure to keep your heart rate up for hours after! Be sure to check out the newly renovated WaterClock and, for the younger set, the Tommy Knocker Playland.
Make it a long weekend and rent a cabin or glamping tent across the street at Royal Gorge Cabins. Both great options come with free Internet access and views for miles. When the kids are done with schoolwork, log some family bonding time playing corn hole or making s'mores. Whether you stay for a day or a weekend, it's sure to be a field trip they won't soon forget.
The Broadmoor Hotel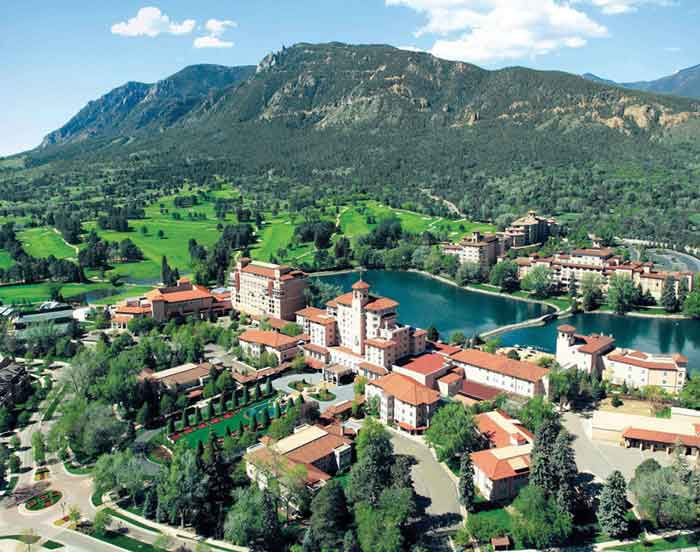 If you've never stayed at our city's iconic resort, this strange school year could be the perfect time for a family vacation. Choose from a variety of room options including suites, cottages and brownstones, all of which come with free Wi-fi plus a host of other amenities. Stuck on a tough math problem? Bowling, horseback riding and swimming are just a few distractions at your disposal. For the thrill seeker, ask your 24-hour concierge to hook you up with Broadmoor Outfitters. A team of expert guides are waiting to show you any number of adventures including falconry, fly fishing and zip lining. Dine at award winning restaurants, get pampered at the spa, or just wander the beautifully kept grounds.
On second thought, you might want to book this one for a long weekend and forget about keeping up with schoolwork. 😉
Restaurants with WIFI
When you need a change of scenery but can't be gone all day, head out to one of these local spots. All offer free Wi-fi with places to sit and work. Don't forget your mask!
Businesses in Old Colorado City with WiFi:
Bon Tons
Front Range BBQ
Garden of the Gods Cafe
The Mason Jar
Alchemy 
Mother Muffs
Thunder and Buttons ll
Trails End Taproom
Carnelian Coffee
Paravicini's Italian Bistro
Sopra
Jake and Telly's Greek Taverna
La Baguette Bakery
TAPAteria
City Nights Urban Rentals
Fat Squirrel Airbnb
Old Town Guesthouse B&B
Businesses in Manitou Springs with WiFi:
| Business | Phone # |
| --- | --- |
| Manitou Springs – Bed & Breakfast | |
| Agate Hill Inn & Cottages | 719-685-0685 |
| Avenue Hotel Bed & Breakfast | 719-685-1277 |
| Blue Skies Inn | 719-685-3899 |
| Sun Mountain Center | 719-205-8516 |
| Manitou Springs – Cabins & Vacation Rentals | |
| A Creekside Casa | 808-895-7267 |
| At the Springs | 719-332-8218 |
| El Colorado Lodge | 719-685-5485 |
| Green Willow Motel Cottages | 719-685-1645 |
| Homestead Haven | 719-685-1690 |
| Keithley Pines | 719-330-2488 |
| Manitou Lofts | 719-337-7732 |
| Manitou Vacation Homes | 719-339-1876 |
| Town-N-Country Cottages | 719-685-5427 |
| Walton's Mountain Lodge | 719-499-0572 |
| Manitou Springs – Motels & Hotels | |
| Villa Motel at Manitou Springs | 719-685-5492 |
| The Cliff House at Pikes Peak | 719-685-3000 |
| Days Inn Manitou | 719-685-1312 |
| The Dillon | 719-685-5485 |
| Eagle Motel | 719-685-5467 |
| Magnuson Grand of Pikes Peak | 719-685-5455 |
| Magnuson Hotel Manitou Springs | 719-685-5991 |
| Park Row Lodge | 719-685-5216 |
| Pikes Peak Inn | 719-685-5616 |
| Red Wing Motel | 719-685-2248 |
| Silver Saddle Motel | 719-685-5611 |
| Colorado Springs – Bed & Breakfast | |
| Holden House | 719-471-3980 |
| Old Town Guesthouse B&B | 719-632-9194 |
| Spurs N Lace | 719-227-7662 |
| Colorado Springs – Cabins & Vacation Rentals | |
| Rainbow Lodge | 719-632-4551 |
| Timber Lodge | 719-636-3941 |
| Colorado Springs – Motels & Hotels | |
| Buffalo Lodge Bicycle Resort | 719-634-2851 |
| Mountain Properties – Cabins & Vacation Rentals | |
| Cascade Escapes | 719-684-9442 |
| Eagle Fire Lodge & Cabins | 719-687-5700 |
| Lone Duck Family Campground & Cabins | 719-684-9907 |
| Mariposa Cabins | 719-352-1612 |
| Rocky Mountain Lodge | 719-684-2521 |
| Royal Gorge Cabins | 800-748-2953 |
| Stauffer in the Pines | 719-684-9630 |
| Mountain Properties – Motels & Hotels | |
| Adobe Inn at Cascade | 719-684-2194 |
| The Little Beaver Inn | 885-463-2557 |
| Outlook Lodge | 885-463-2557 |
| Pikes Peak Area Campgrounds | |
| Garden of the Gods RV Resort | 719-475-9450 |
| Goldfield RV Park & Campground | 719-471-0495 |
| Lone Duck Family Campground | 719-684-9907 |
| Pikes Peak RV Park | 719-685-9459 |
| Rocky Top Campground | 719-684-9044 |