Shopping Magic in Manitou Springs
Manitou Springs is beautiful 365 days a year, but there's something extra special about this quaint little town when it's dressed in its holiday best. The frosted trees and the twinkling lampposts add a sparkle to the store fronts and the eyes of the friendly folk you pass. The smell of perfectly mulled wine, spiced nuts, and homemade fudge waft through the air, reminding you to stop and do something nice for yourself, too. From stocking stuffers to one-of-a-kind art, from the youngest among us to the greatest great grandparents — Manitou Springs has the perfect gift to tell them just how important they are to you. They have kitchen gadgets, locally made art, handmade jewelry, Christmas ornaments, handblown glass, clothing from t-shirts to boutique, world sourced specialty shops from Ireland to the spice routes and back again. 
However, we know shopping can be stressful, even in a place as lovely as Manitou Springs (well, not if you keep reading). We've got you covered with tips for ensuring you day is all fun and no frowns. We've also highlighted some great deals and provided need-to-know info on Manitou's loaded event calendar. Ok, are you ready? Got your money organized and your list finished? Then it's time to lace up your shopping shoes and top off that thermos of cider and get ready to shop like Buddy Elf in a candy store with a million dollars.
Holiday Deals in Manitou Springs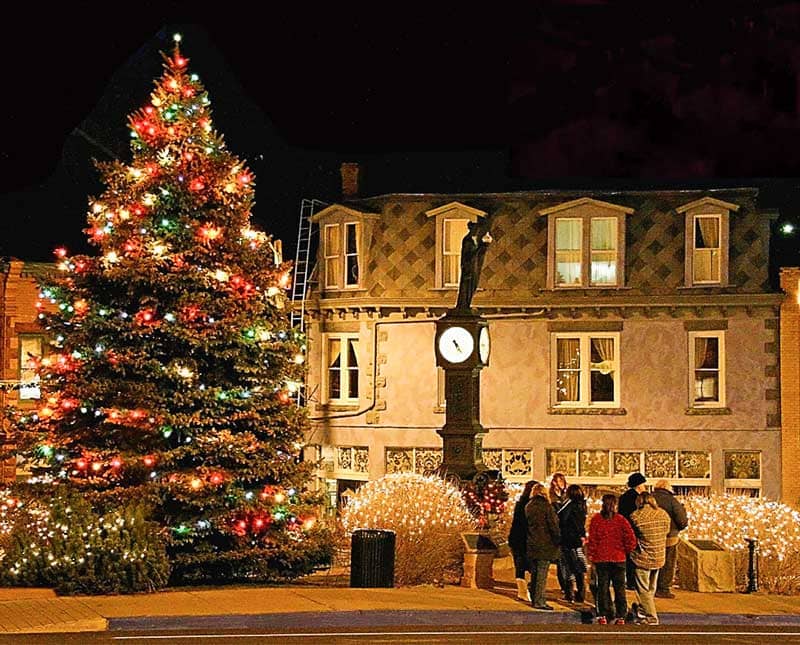 Let's talk deals, folks, because everyone is looking to save a little money. Everyone leaves with a smile when they know they got a great gift for a good price!
All Season — Shop Manitou, Ski Monarch: Yes, in addition to everything else that makes the Pikes Peak region, we are just an easy 2-hour drive from some great skiing with minimal lines and affordable lift tickets. And it's even cheaper when you shop Manitou (hence the name). Present $75 in Manitou receipts to the Chamber of Commerce (354 Manitou Ave.) and you'll get 40% off an all-day adult lift ticket (some black-out dates apply).
November 16 —

Commonwheel Holiday Market: Arts and crafts items from local artists are what you'll find at the holiday market. Lovingly crafted and always unique, the treasure you'll find are also priced with holiday budgets in mind.

November 16-17 —

Community Congregational Christmas Sale: Bake sale, chili lunch and cool stuff to purchase? Oh yes, that's happening. You can also get some great gently loved Christmas décor to deck those halls!

November 17 — Manitou Springs Craft Fair Manitou Springs High School:

Pick up cool art and fun crafts at the annual school sale!

November 24 — Shop Small Business Saturday: In response to Black Friday and Cyber Monday, local shops all over the United States have banded together to create their own special shopping day, Small Business Saturday. Enjoy savings and specials and stop in for a bite to eat or live music in many of the local bars and restaurants. All of the shops in Manitou Springs are locally owned. Buy some happiness and do some good by supporting your community while you're at it. Win-win. And if you pair it with that Monarch deal, it's a win-win-win!
December 7 — First Friday: December is the last month for the shuttle bus that will take you all over Manitou Springs, Old Colorado City and downtown Colorado Springs to enjoy the works of our talented local artists. Make someone else do the transporting as you seek the perfect piece of pottery or whimsical painting for the art lover in your life. There's a lot to choose from, so you won't leave empty-handed!
Holiday Events to Enjoy While Shopping

 

in Manitou Springs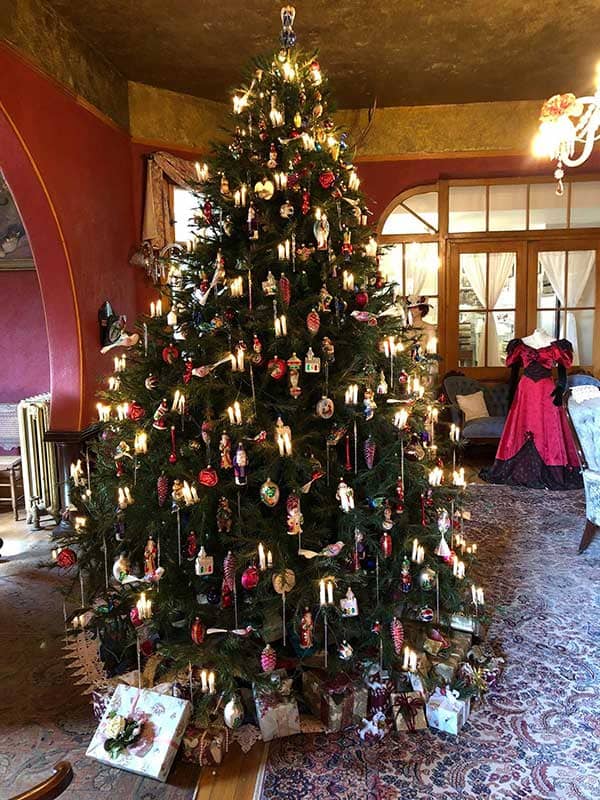 Maybe you're the kind of person who likes to maximize a day out on the town. If that's your thing, we think you should check out Manitou's holiday events so you can time your shopping trip with whatever you think is the most fun. Check out the famous Victorian Christmas at Miramont Castle on Nov. 23, 24 and 25. The next day, double back and watch the town tree get all fancy and lit up with Santa. Speaking of Santa, that rascally old elf will be available for photos on Nov. 23-24 and Dec. 22-23 at the Spa Building. Hello memories! You may even catch him at the Christmas parade on Nov. 30. Maybe it's the altitude or the cold weather, but that dude really seems to enjoy visiting Manitou Springs.  And, from Thanksgiving through Christmas, your shopping stroll down the streets will be serenaded by carolers and musicians.
Be sure you take a spin through the Mountain Illumination Festival at Cave of the Winds.  They're installing a quarter of a million lights high atop Williams Canyon.  Enjoy a walk through the sparkling wonderland, or stop and warm your hands by the bonfire with hot chocolate and s'mores.  The gift shop will be open with a variety of unique gifts, so you can start checking off your list. A great way to kick off the holiday season and add a new tradition for you and your loved ones.
Shopping for those who have it all?
Shopping for a guy or gal who already has everything? Sometimes the best gifts aren't things, but a chance for a new experience, a delicious meal or a night away from the kids! We've got you covered.
Restaurant Gift Certificates: Fancy fondue, magnificent Mexican, or sturdy ol' steak and potatoes, there's a local restaurant offering gift certificates for your hard-to-shop-for friends.
Fancy or Funky Hotels: Sometimes the best gift is a chance to get out of the house for a night. Get your giftees a great getaway!
Local Adventures: There's so much to get out and do in the Pikes Peak region, why not add tickets for one of our local attractions to your stocking stuffers?
A Few Quick Tips to Keep Your Shopping Stress-Free
Finally, we know that there's a lot going on with Manitou's roads these days, but that's simply the consequence of being so amazing that everyone wants to visit all the time. Don't let the growing pains on some of the roads keep you away, that would be super sad and you'd really miss out. There are several ways to head into town and it's actually really easy to leave on the main route, which means you won't miss the shops along the way. Once you're in, you'll be looking to park. The cheapest option is to park in Hiawatha Gardens and take the shuttle. You can also park along the street at the edge of town near the Briarhurst Manor for free and take the shuttle. (Read all signs and look for meters before you head out!) Metered parking is cool, too, and if you want, you'll get text reminders so you won't miss your time. There are pay lots for those of you who hate parallel parking in front of people (raises hand). With those two items crossed off, you'll be one happy shopper!
All sorts of fun, savings and one-of-a-kind gifts await when you venture out for holiday shopping in Manitou Springs. Even better, you'll never have to set foot in the mall and you'll be supporting the local economy, local retailers and local makers. Everybody wins!