The pioneer spirit has always infused the state of Colorado—and the Pikes Peak region in particular—operating as a hub for fortune-seekers and explorers alike. While the city of Colorado Springs and the forests that surround it are no longer considered uncharted territory, this land is still filled with explorers. Instead of westward, their eyes are turned upward, seeking new discoveries in the stars that grace our wide-open skies each night.
The Space Foundation Discovery Center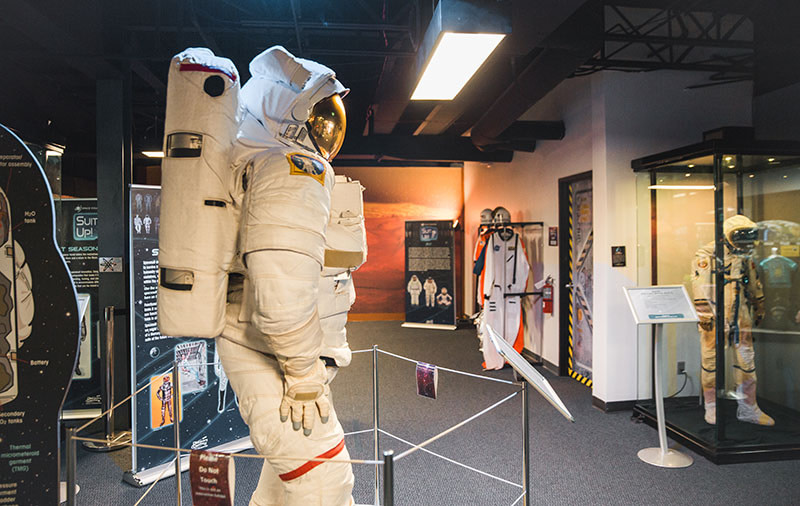 The beloved series Star Trek refers to space as the "final frontier" and we think there is no better place from which to explore it than a city that has rapidly made itself home to the nation's top science and aerospace innovators. One of those amazing innovators is the Space Foundation Discovery Center, which operates as both an homage to the nation's fascinating history in space exploration and as a space education center for all the current happenings out there in the galaxy. As the leading authority on all things space in Colorado Springs, they have seized the reins in celebrating one of our nation's crowning scientific achievements: landing humans on the moon.
Apollo 11 Takes Its Epic Journey
Fifty years ago this week, a breathless nation watched in amazement as Neil Armstrong and Buzz Aldrin planted their famous footprints and our nation's flag into the moon's foreign soil. The Apollo 11 mission remains one of the most astounding achievements in human history and represents the power of science, innovation and determination in helping mankind become exceptional. It is a feat that has not yet been replicated by the United States and one that has inspired countless individuals to enter the field of science, not to mention imaginative works of artists, writers, filmmakers and yes, even conspiracy theorists. Each year, the nation has celebrated the moon landing, but 2019 is particularly special, as it marks the 50th anniversary of Apollo 11's epic journey.
The Discovery Center's Apollo 11 Space Party
Like we said above, who better to celebrate the 50th anniversary of the Apollo 11 moon landing than the museum dedicated to all things space, the Space Foundation Discovery Center. After all, they celebrate the past, present and future of space exploration every day, not just anniversaries. They have monthly star parties that allow families and community members to check out the skies above via high-powered telescopes. They also have grown-up parties with spirits and space talks, so that adults can enjoy an evening of science without worrying about littles underfoot. They have home school days, special guests, science events, crafts and yes, cool space parties. This party aims to please all space enthusiasts with a variety of activities devoted to the moon landing.
Real-life astronaut Duane "Digger" Carey will preside over a sold-out breakfast at the beginning of the day — don't despair if you didn't get tickets, he's going to make two awesome presentations at 11 a.m. and 12:15 p.m. as well.
In addition to meeting an astronaut, visitors to the Space Foundation Discovery Center will also get to be part of the United States Post Office Apollo 11 stamp reveal at 10:45 a.m.
The United States Air Force Academy will present "Engineering the Chemistry of Rockets at 11 a.m., 1 p.m. and 3 p.m. as well — you won't want to miss that, it's incredibly cool.
In addition to these highlights, you'll also get to:
Build rockets

Play along with Apollo virtual reality

Check out Science on a Sphere® presentations

Drive a Rover in the Lockheed Martin Mars Robotics Lab

Get your face painted space-style

Explore space memorabilia in the regular exhibits

And more.
A Few Final Space Party Details
Now, we hope it goes without saying that this is an all ages event and it's going to be educational as well as super fun. If you're looking for a day out with the smaller humans, this is an event that can't be beat. But, as any space enthusiast will tell you, the universe is for everyone, adults included. Did we mention there will be food trucks? Because there will totally be food trucks. Think ice cream, Hawaiian ice, hot dogs, tacos and basically all the delicious things that make sticking to earth worthwhile. The price of this event is included in regular admission and it will run all day. It's $10 for adults, $7.50 for students and seniors, $5 for kiddos 5-17 and $2 for the 4 and under set. There is a military and first responder discount, so don't forget your ID. The first 25 military families in line will receive FREE admission, too. Individual events and presentations have specific start times so be sure to review the times we shared above so you don't miss out.
You won't find a better place to celebrate the final frontier and our nation's amazing foray into it via the Apollo 11 mission than the Space Foundation Discovery Center. Gather your fellow space fanatics and make your way there for a party you won't soon forget.