The Best Attractions for Large Groups in Colorado Springs
Do you have a large group you want to show the wonders of Colorado Springs? Whether you're having a Colorado-based family reunion (we approve), a wedding, a bachelorette party or just a night out with the guys, you need a space that can manage a big group of people. This list of local attractions that cater to large groups will help you find the perfect venue for your event or activities. Take the stress out of planning and let these Colorado Springs attractions help you herd cats so you can focus on enjoying time with the group. 
The Flying W Ranch Goes All in at Their Home on the Range
Sometimes the best place to take a large group is a place already used to accommodating them — like the Flying W Ranch. The chuckwagon crew at Flying W has been serving up meals to thousands of folks for decades, so it's safe to say they know how to feed a crowd. An evening at the chuckwagon supper is a definite treat for large groups and it's a relief for the planners because they really only have to plan the date and time. 
The Flying W can manage crews of 20-900 inside and up to 5,000 outside. No, that is not a typo. You can get a staffed bar, hire the Flying W Wranglers and other artists to perform, enjoy farm demonstrations and even add on animal encounters. Essentially, you can build an exciting experience all of your large group will enjoy. To all the teachers reading this, they can also help with school trips, and they have multiple education angles that may fit your curriculum. Last, if you just want to book a large group for their traditional chuckwagon suppers, you can do that, too. They'll seat you together as long as you all buy tickets under the same group name. 
Party Like it's 1899 at the Wild West Ghost Town Museum
The Wild West Ghost Town Museum is a gem of a venue that does not get the recognition it deserves for its large-group options. Groups of 10 or more can score a $1 off each ticket but there's more. The museum can also be booked for parties and events and boy is the setting cool! The authenticity of the Wild West surrounds your group as you dine or dance the night away. The photo opps are endless. Not only that, but you also get that ghost town feel in the comfort of a covered building with heat and air conditioning. 
Still reading teachers? The Ghost Town Museum is another cool place for school field trips. They only charge $3 a student and include a booklet/guide for your trip and a scavenger hunt. There are thousands of artifacts in the museum that would be great to show as part of learning about Colorado history and the west. 
Get Wild at the Cheyenne Mountain Zoo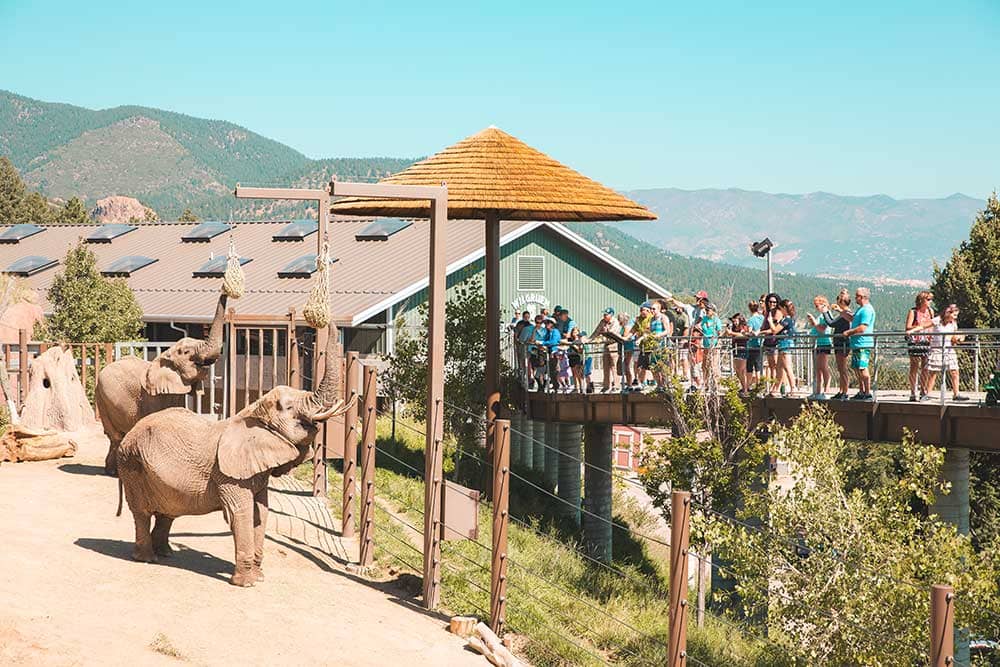 The zoo is an excellent place for large groups, with lots of space and lots of activities. You can pre-book online and save money with groups of 15 or more or you can check out a zoo party pack. Party packs bundle activities, food and animal encounters for large groups. You can build your own or sign up for the Jungle Jubilee party pack hosted by EdVenture staff. Those can be booked for up to 30 people and include a zoo tour. 
Now maybe you want to go big. Like, get married to your best friend and feed a giraffe big. Like rent out the entire zoo to say thanks to every person in your company big. The zoo can easily accommodate large parties — and they're really good at it. You can get catering and arrange for animal encounters, plus offer experiences like a ride on the carousel. Larger events like the latter do take a bit of pre-planning. The zoo is popular for weddings and birthdays (in addition to being open every day of the week) so be sure to contact the zoo early on in your event to make sure your date is open for the style of event you want. 
Adrenalize Your Crew with Adventures Out West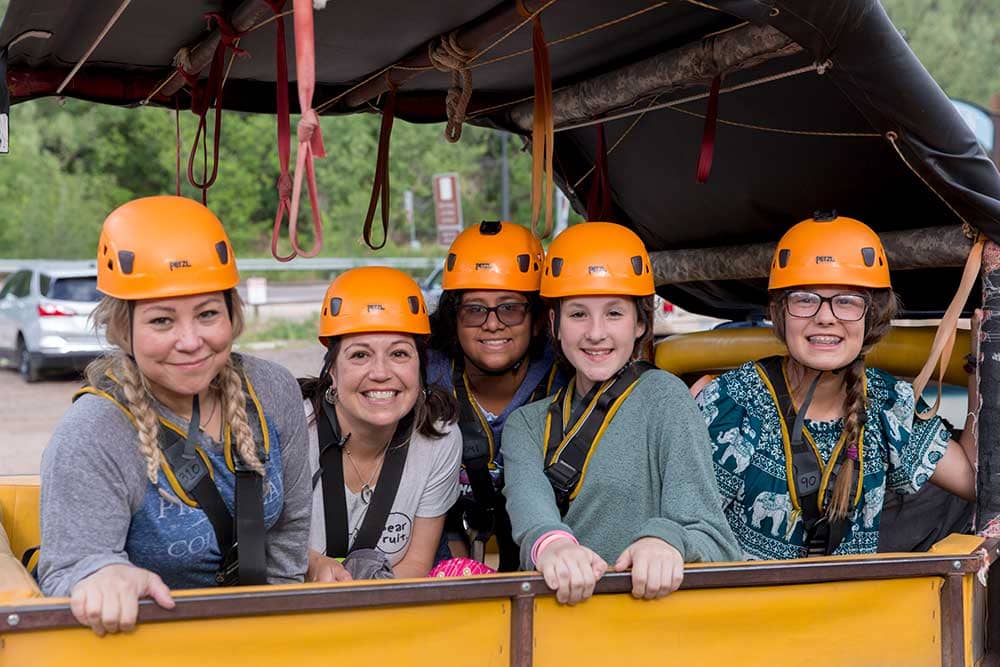 Local Colorado Springs outfitter Adventures Out West is a pro at providing excellent large group experiences. Those are some big bragging rights when you consider that one of their top activities is ziplining. You and your party of 15 or more can zip your way across the five-line course led by trusty and patient guides. It's great for family fun, professional team building, scouting and so much more. Adventures Out West can manage groups of up to 70 people (they specify you must be the last tour of the day or pay an additional fee). Their zip lines launch from natural bases, not platforms, making the experience unique compared to other outfitters.
Adventures Out West also leads group hikes for team building or just getting a large group of friends together. Their hikes are especially great for groups who want to explore but worry about getting lost or making a mistake. The hike divides your group by skill and stamina so everyone can go at a pace that works for them. All of the groups have a 6:1 guide ratio so you don't have hikers getting separated. 
These four Colorado Springs attractions are known for their large group options and experiences. If you have a large event coming up, or simply plan to go out with a crowd, give them a call to help you plan your experience. And remember, just because an attraction doesn't directly host large groups doesn't mean they don't offer a group discount. Check out the website of your favorite attraction or give them a call to find out if your group qualifies. It never hurts to ask!