The Best Places for Ice Cream in Colorado Springs
Are you wondering where to find the best places for ice cream in Colorado Springs? The hottest days of summer have arrived in the Pikes Peak region, and everyone is scrambling for ways to stay cool as that high-altitude sun beats down upon us every day. Fortunately, our area is a veritable paradise for the rich and creamy dessert known for its magical cooling properties — ice cream. Oh yes, we have a bounty of ice cream shops from the foothills to the plains and everywhere in between. We're here to help you find your favorite new frozen confection palace (or several) by sharing some of our all-time favorite places for ice cream in Colorado Springs.
Colorado City Creamery in Old Colorado City
2602 W. Colorado Ave., Colorado Springs, CO 80904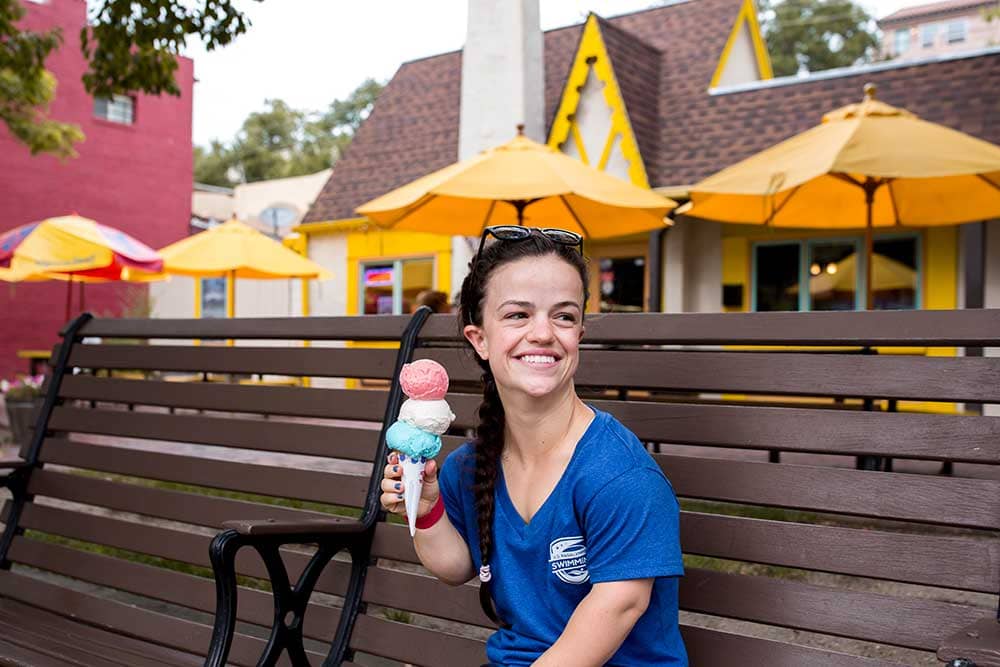 The Colorado City Creamery is a tiny, traditional ice cream parlor located along the main drag in Old Colorado City. This beloved shop makes their ice cream on site every day, offering 32 different flavors. They weigh their scoops to make sure you get a healthy heap of their tasty awesomeness and their homemade cones are oh-so-crisp and lovely. CCC also offers smoothies made with fruit puree, a variety of ice cream floats and amazing milkshakes. While you're there, consider ordering one of their amazing ice cream cakes. If you think you can beat the heat to take it home before it melts, we highly recommend one for any or all of your special occasions. Or, stick around and grab a cone to accompany you as you stroll OCC or hang out on their handy benches out front and watch the world go by. 
Josh and John's in Downtown Colorado Springs
329 N. Tejon St., Colorado Springs, CO 80903
This famous ice cream shop has new digs on North Tejon in Colorado Springs, plus shops in Flying Horse and Mountain Shadows. Josh and Johns uses locally sourced ingredients and hand-churns their ice cream here in Colorado. If you want to rate how good their ice cream is, we suggest you do a brief drive past the shop to check out the huge lines that build up all day long. Don't let it discourage you. Go and see what the fuss is about. Josh and Johns also has a super cool option to bypass the line and purchase pints of their famous flavors with a self-serve register. This is a favorite option for locals on the go. We recommend the Salted Peanut Butter Cup and the Almond Joy flavors. For something even more unique, go for the Purple Mountain Majesty — it's flavored with Taro root!
The Drive-In Tasty Freeze in Old North End
2309 N. Weber St., Colorado Springs, CO 80907
While many people love hand-scooped, traditionally churned ice cream, some just can't quit soft serve treats. We don't blame you one bit. Those towering cones are certainly worthy of everyone's time. For these frozen fans there is the Drive-In Tasty Freeze in Old North End just north of Downtown Colorado Springs. Featuring chocolate or vanilla soft serve, multiple toppings and sprinkles and even options for hot food, this Old North End tradition is a mere PikeRide or scenic walk away on Shooks Run Trail. They even provide a water bowl for dogs, so feel free to bring your furry bestie along for the ride. A little ice cream won't hurt, right? 
Colorado Custard Company in Manitou Springs
906 Manitou Ave. UNIT 100, Manitou Springs, CO 80829
Manitou Springs is no stranger to great ice cream shops, but the Colorado Custard Company is really something special. Their custard is rich, thick and creamy and made fresh all day long. The shop serves vanilla and chocolate custard, which serve as excellent vehicles for the absolute madness they call a topping bar. We're talking chocolate, cookies, gummies, the whole thing. The Colorado Custard crew can hand-scoop your ice cream into cones, too. However, we think the best bet is to go with their signature Avalanche. No, not the Stanley Cup-winning Colorado Avalanche but we promise you'll still be completely stoked. They blend their custard with your favorite fillings and toppings and serve it up in a handy cup so you can keep on Manitou-ing as you wolf down your treat. Best of all, the prices are a steal. No joke, it feels like theft to pay $1.83 for a single scoop in a cone. But crime sure does taste good. 
Frozen Gold in Downtown Colorado Springs
80 E. Moreno Ave., Colorado Springs, CO 80903
Located just south of the United States Olympic Museum in Downtown Colorado Springs, Frozen gold feels more like a nightclub than an ice cream shop. Glowing neon pink and upbeat music create an atmosphere for dancing as you wait in line to consume their decadent concoctions. Frozen Gold offers chocolate and vanilla soft serve, which they mound onto your choice of cones and then roll heavily in toppings. They even have vegan soft serve. Yes, that means egg and dairy-free, so bring along your lactose-intolerant buds and your no-animal-product bestie and have the best time ever. They even have a whole fancy vegan concoction called Samoa Samoa, which has all the bang for your buck that its dairy brothers do. No skimpy single scoops of plain vanilla here (unless you want that! No judgment!). Non-non-dairy folks can go simple with the Basic B (sea salt, vanilla, chocolate dip) or go hard in the paint with Thick Mint: Chocolate soft serve rolled in Andes Candies and filled with brown sugar fudge. 
We hope you find these selections for amazing ice cream in Colorado Springs as cool as we do. Try one, try them all and then try them all again. We'll probably see you there.