The Best Places to Stay Cool in Colorado Springs
The dog days of summer are in full swing, and the sweltering heat has everyone scrambling for places to stay cool in Colorado Springs. Many people imagine snow when they think of Colorado, but our state is no stranger to long, hot days and triple-digit heatwaves. It may be a "dry heat" but the operative word there is still heat. And boy are we feeling it. If you're melting into your office chair or, worse, working outside in this toasty atmosphere, we've got a prescription for chilling you can take as needed. Let's take a look at some of the top spots to cool off in the Pikes Peak Region. 
Paddle Boarding in the North Slope Recreation Area on Pikes Peak
The North Slope Recreation area offers a double whammy of cool in that its higher elevation  (9200 feet) along the Pikes Peak Highway already ensures cooler temps. The other reason to love the area is the icy cold reservoirs that are completely wake-less and primed for a perfect paddle boarding experience. Now, you can't swim in these reservoirs, but we can assure you that you will feel markedly cooler as you float. And remember, splashing is not technically swimming, so there's no reason you can't cool down with an errant paddle flip or two (or five). You can also take canoes or kayaks if that's more to your liking. Make sure to bring a life jacket — they're required for all people on watercraft. You can also fish up there if you have a license, mountain bike and hike, so there's truly a little something for everyone to enjoy. There are three reservoirs and it's a good idea to check and make sure there are no restrictions before you head out. The cost will run you $5 per person. 
Julie Penrose Fountain in America the Beautiful Park
Just across from the brand-new Unites States Olympic and Paralympic Museum is an epic spiral surrounded by fountains that rain down upon grateful children (and adults). America the Beautiful Park is a fan favorite for its water feature and also for the nifty play structure alongside it. While you'll find the swings and such that a normal to any playground, this park also has a lot of experiential structures kids can use to climb and play. But back to the important stuff … staying cool. The splash pad is open from 11 a.m.-5 p.m. and does close when there are concerns about lightning. It's surrounded by hills, benches and grass, which makes it a premium picnic locale, too. By the way, we have it on good authority that the AC at the Olympic Museum is excellent. However, we recommend visiting before you go in the fountain. We're pretty sure Michael Phelps is the only person who could get away with walking into the museum soaking wet. 
The Manitou Pool in Manitou Springs
We know that indoor pools aren't always the preferred body of water in the summer, but Colorado isn't exactly a state where you can swim outside year-round. We think most people would especially object to outdoor pools when the negative cold snap comes along each February. The wise folks of Manitou Springs understood this fact and created a lovely indoor swim space complete with an area for lap swimming, a rec pool and a kiddie pool. You can go online and reserve your slot ahead of time or try for a walk-in reservation for $8.75. The pool is a local favorite and it does also offer the added benefit of reducing your chances of sunburn (there are windows, you should still be cautious). You can also rent the indoor lap pool on Sundays for $239 for a maximum of 25 swimmers. You get exclusive use of the pool and multi-purpose room, plus you can access the outdoor deck. If you can wrangle up enough swimmers, it just might be worth your while to host a pool party to celebrate … well, we're sure you'll think of a reason. 
Jeep Tours with Adventures Out West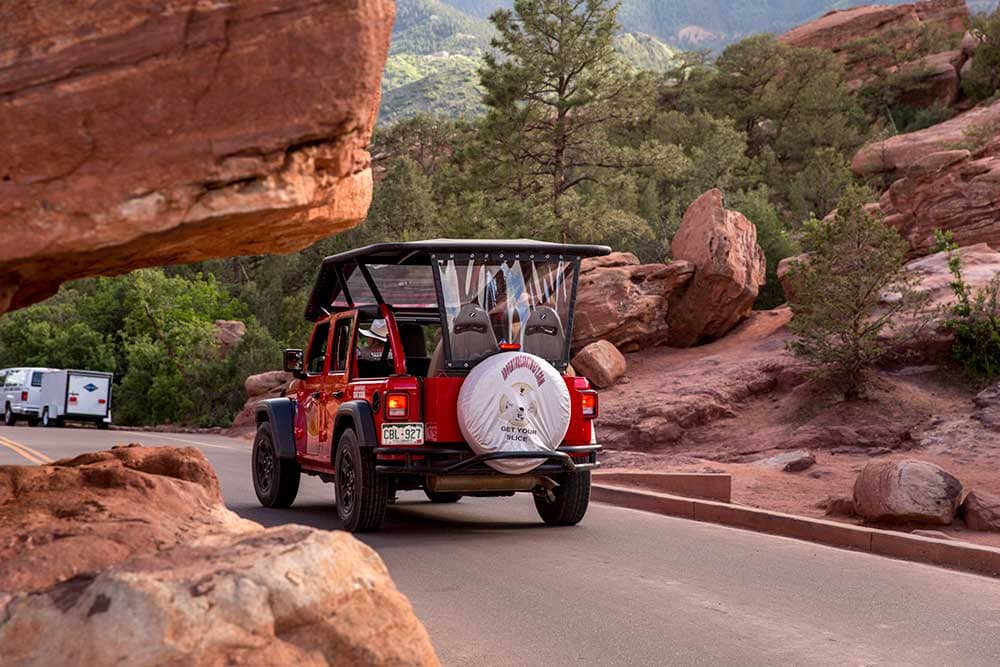 You might be asking, what if I am not a water person? We say hit the road, Jack! Don't leave, though. We just mean it's time to escape the heat with a Jeeping adventure led by the awesome guides at Adventures Out West. The company has several Jeep tours available, but in the interest of keeping you cool as promised, we highly recommend the High Country Old West Jeep Tour. The 3-3.5-hour tour takes you on a 4×4 Jeep ride along some of the most beloved backroads behind Colorado Springs. The company has a specialty permit that will allow your guide off-roading privileges so you can explore ghost town remnants and maybe ford a creek or two (or is it Jeep?). This tour is a major chiller! You get to relax as someone else takes the wheel, cool off at the higher altitude and snap all the photos your phone's memory can handle. As our stay-cool Jeep tour honorable mention, we also recommend the Pikes Peak or Bust Summit Tour. Like the other tour, you can hop on in and let someone else navigate those hairpin turns, and you don't have to hassle with reserving a drive time. 
That's Part One of our list for places to chill in Colorado Springs. Stay tuned for even cooler goodness next week when we take you near and far, high and low, to find the best places to stay cool in the Pikes Peak region and beyond. And remember kids, wear a hat, apply sunscreen and drink lots of water (but not from the pools or lakes).