Top Outdoor Attractions in Colorado Springs
One of the key reasons that people visit and live in Colorado Springs is the plentiful outdoor fun. We have miles of hiking and biking trails. We have acres of open space. We have clear lakes. To sum it up succinctly, Colorado Springs is an outdoor oasis. However, not everyone wants to be a super planner, mapping out hikes, managing timing, herding all the cats you call family to get them moving … Sometimes you just want to show up and let someone else take care of all the hard work. 
We've created a list of outdoor attractions that do just that! These outdoor attractions are fun and easy to plan. You just have to get there! You may notice that some of the attractions are in more than one category. That's okay. It just means they have more than one avenue for excellence. Are you excited to come out and play? Here are the top outdoor attractions in Colorado Springs and parts beyond. 
Zippin' Through the Rockies: Top Zip Lines in Southern Colorado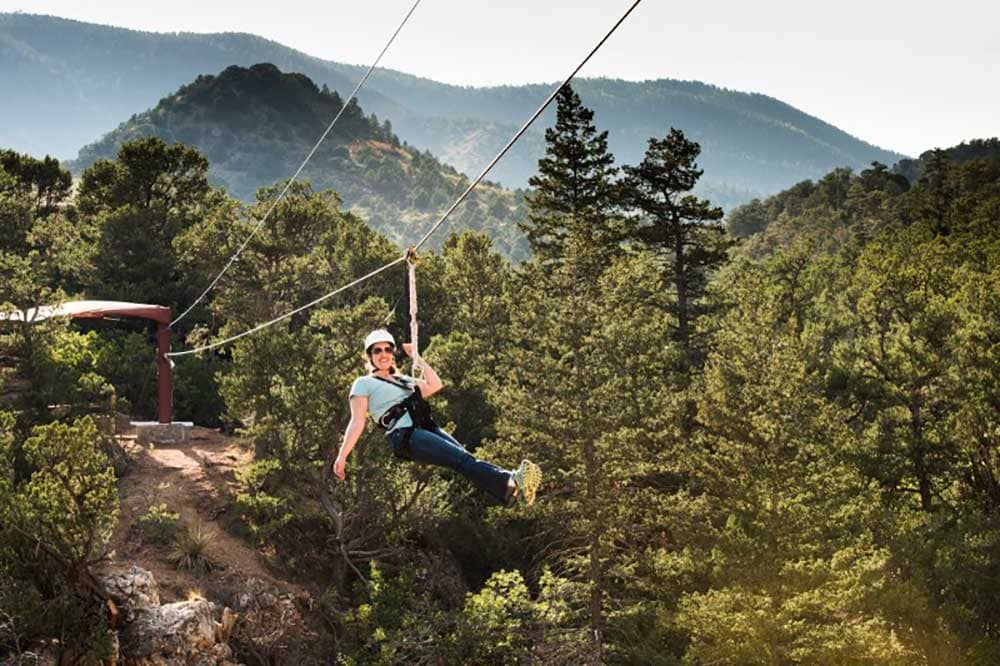 Zip lines are all the rage in areas throughout the United States, including Colorado Springs and the Pikes Peak region. Our nifty list contains four different places that offer zip lines, and each has its own unique twist. The Royal Gorge Bridge and Park (near Canon City) is home to the highest zipline in America, the Cloudscraper Zip Line. You'll swoop 1,200 feet above the Arkansas River on a super safe, hands-free system that allows you to feel comfortable on the ride. It is an incredible rush and not for those with a fear of heights. A little closer to home and also just south of Colorado Springs proper, you'll find the Broadmoor Soaring Adventure zip line experience. Their course consists of 10 different lines, rope bridges and short hikes. There's even a course that includes a view of Seven Falls and a rappel to the canyon floor. 
You can find two more zip lines west of Colorado Springs in Manitou Springs. The first is operated by outfitter Adventures Out West. Their zip lines are cool because they all have natural launch pads. You won't be leaping from towers; you'll be stepping from natural platforms and hiking between lines. Our final zip line recommendation is located at Cave of the Winds. No, you won't be zipping through caves. However, you will be traveling more than ¼ of a mile 90 feet above the canyon floor. If you can't handle a 1,200 drop, this might be a better option that still offers an adrenaline rush. 
Adrenaline Adventures in and Around Colorado Springs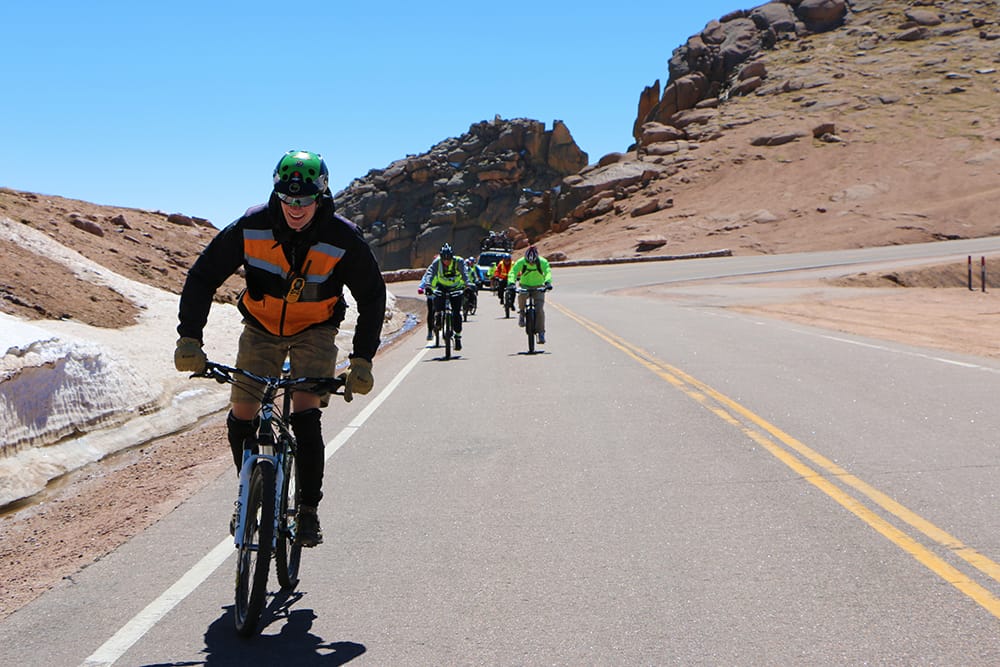 If you like your adventures a little more hands-on, we've got too adrenalizing attractions you won't want to miss. We'll start right in our own backyard — biking down Pikes Peak. Challenge Unlimited is famous for its Pikes Peak biking experience, taking enthusiastic riders to the summit of our famous fourteener and then unleashing them on 19 miles of downhill hijinks. Challenge Unlimited provides bikes and gear and can give you a ride up in the group van or via an open-air jeep (for an additional fee). You won't find a more exhilarating way down the Pikes Peak Highway unless you're in the Pikes Peak Hill Climb.
South of Colorado Springs, you'll find another exciting outdoor attraction — if you don't mind a lot of water. Echo Canyon River Expeditions provides white water rafting, multi-day excursions and gentle family floats for anyone who wants a day of fun on the water. These rafting excursions cater to multiple skill levels, including a route designed for those who dig a chiller outdoor experience. Remember the Royal Gorge zip line we noted above? One rafting adventure will take you right beneath your fellow thrill seekers. 
Friendly Animal Encounters in the Pikes Peak Region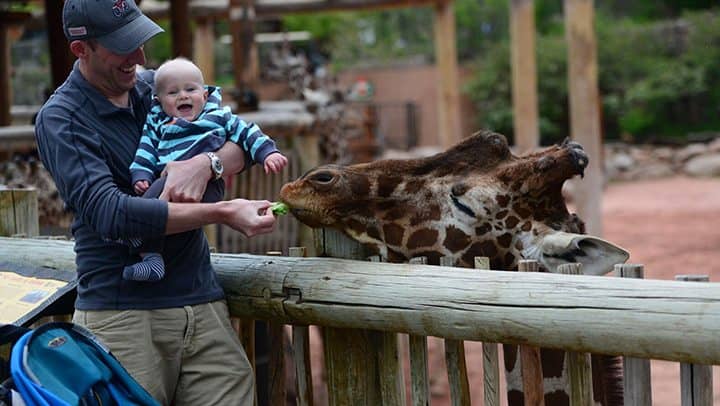 Meet some of the coolest animals in the city with these unique outdoor attractions that allow you to get up-close and personal with nature. We'll start with the Cheyenne Mountain Zoo, the coolest mountainside zoo in North America. You'll wander paved paths to unforgettable animal encounters, like feeding giraffes, meeting wallabies and amusing the resident peacocks. The zoo is an engaging experience with lots of hands-on activities, interactive exhibits and education on conservation. 
Our next outdoor attraction recommendation featuring critters is a horseback expedition through Garden of the Gods. You and your favorite aspiring cow folk can take a one-hour or two-hour horseback ride through the world-famous red formations, learning about the flora and fauna of the region and hanging out with your new equine BFF. Academy Riding Stable guides are funny and kind and the horses are well-trained. It's a completely unexpected way to explore the popular park and one you won't forget. 
Our last outdoor animal encounter is probably the most interesting of them all. We're talking about falconry. You can take real falconry lessons from the Broadmoor Outfitters. This age-old sport may not be as popular as it once was, but there is still a huge and devoted following committed to keeping the art alive. Your first class will let you meet birds of prey and learn some basics about birds and the sport as a whole. Your second class is where the claw meets the glove — you'll get a chance to launch a bird of prey and call it back. 
Via Ferrata: Colorado Rock Climbing for Newbies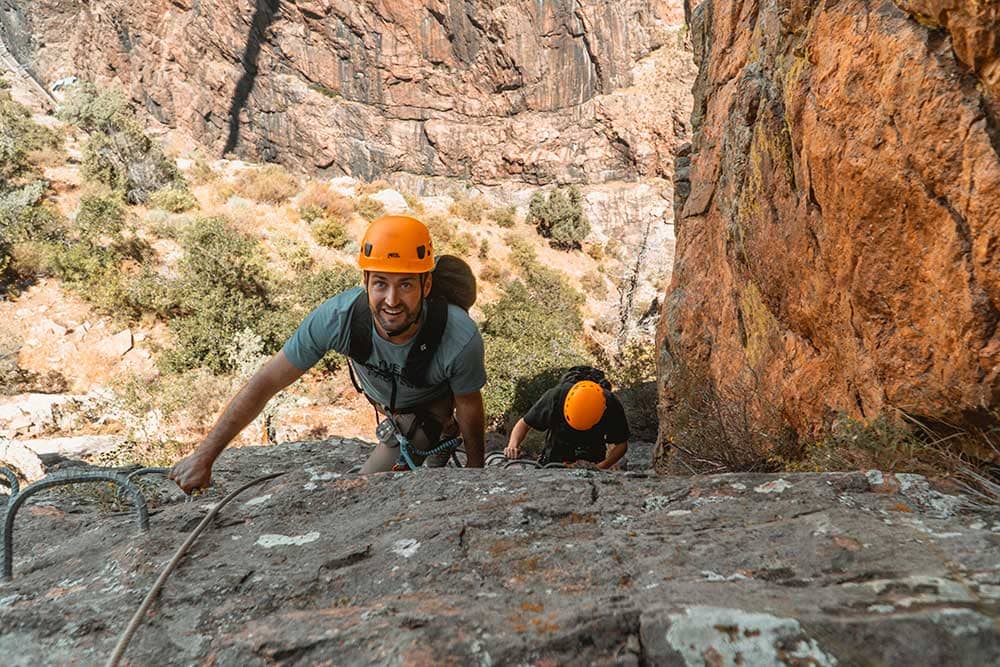 Rock climbing on your own takes a lot of time, gear and practice to be a safe and enjoyable experience. If you've always wanted to try it but didn't have the time to invest in the sport, we have an alternative we think you'll love: via ferrata climbing. Via ferrata is a safer, more secure way to experience climbing and we just so happen to have a thrilling option. The Royal Gorge Via Ferrata in the Royal Gorge Bridge and Park is an exhilarating climbing experience that gives you a taste of the endorphins that makes seasoned climbers keep coming back. You'll scale the granite walls of the canyon with breathtaking views of the bridge, Arkansas River and distant land beyond. Via ferrata uses rungs, cables, carabiners and harnesses to help you traverse the route, so you always feel safe and secure. 
If you love the great outdoors, but you prefer your adventures with a little more structure, we think these Colorado Springs outdoor attractions will help you find your perfect fit. Think of it as your roadmap to organized awesomeness. Happy exploring!