Unique Colorado Springs Attractions
Are you looking for unique Colorado Springs attractions for an experience that's a little … outside the ordinary? The Pikes Peak region has lots of fun historical attractions and science attractions, but it also has its share of fun places that do things just a little bit differently. If you're the type to turn off the highway to check out the "World's Largest" whatever, you're going to love these unusual Colorado attractions. We see you and we relate to you on a cosmic level. There's nothing better than following road signs to some unknown destination to explore what has everyone so excited they needed to create an entire highway campaign to share it. This one is for you avant-garde adventures. We're proud to be home to these fun and fabulous places and we can't wait to share them with you!
Weird Science: Two Unusual Pikes Peak Science Attractions
Just south of Colorado Springs, you'll be delighted to drive past an enormous Hercules beetle as you journey to a slightly creepy, absolutely intriguing attraction: the John May Museum Center. His name is Herkimer and he's a foreshadowing of the awesomeness to come — a museum packed with one of the largest private insect collections in the world! There are 7,000 insect specimens in this nifty attraction and the museum rotates them in and out of the viewable collection. James May was a prolific collector, and you will be able to see specimens from all over the world: giant walking sticks, spiders, butterflies, beetles, bees, wasps and so many more. You won't regret checking this attraction out. 
For more unique and fun science activities in Colorado Springs, we take you from the teeniest, tiniest creatures on earth to the vast, enormous universe above. The Space Foundation Discovery Center is a space- and science-themed attraction just a few minutes north of Garden of the Gods. The experience is highly engaging for kids, with hands-on activities, awesome atmosphere and a cool robotics lab. This attraction is an excellent experience for space enthusiasts where you can check out items that have returned from outer space and pick up a nice block of astronaut ice cream for an afternoon snack. . Check out their calendar of events before you go, as they have themed days, special guests and family star parties. 
Unique and Immersive History Attractions in Colorado Springs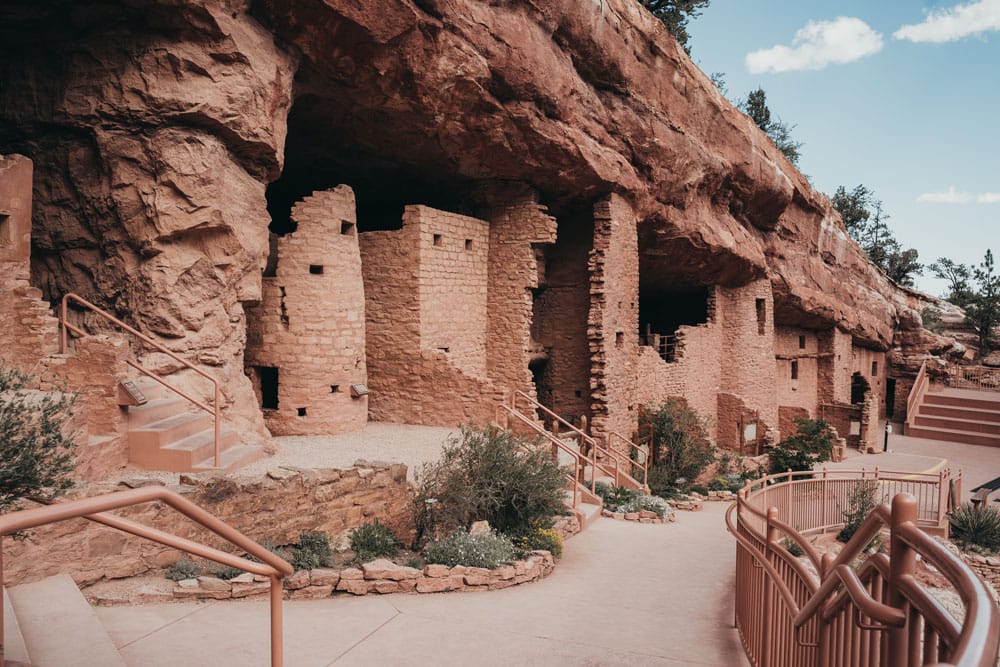 The next two unique attractions in Colorado Springs involve history — hands-on history. The Manitou Cliff Dwellings are located west of Manitou Springs on Highway 24 and contain historic ruins you can touch and explore! You will learn about the indigenous peoples of what is known today as Southern Colorado. The dwellings were transported here over 100 years ago and have been reinforced to allow visitors to look through them without fear of damage. The attraction also has a large museum where you can see authentic artifacts and read about indigenous history. 
Just east of the Manitou Cliff Dwellings is an attraction that explores a different type of ruins — Colorado ghost towns. The Ghost Town Museum contains real remnants of Colorado towns from early pioneers and thousands of artifacts from the time period. You can check out old fashioned dishes, clothes and tools, antique wagons and other historic items. The museum also contains a fun arcade and shooting gallery. While you're there, be sure to try your hand at gold panning. Maybe you'll find your fortune, or at least something sparkly. 
Interesting Outdoor Adventures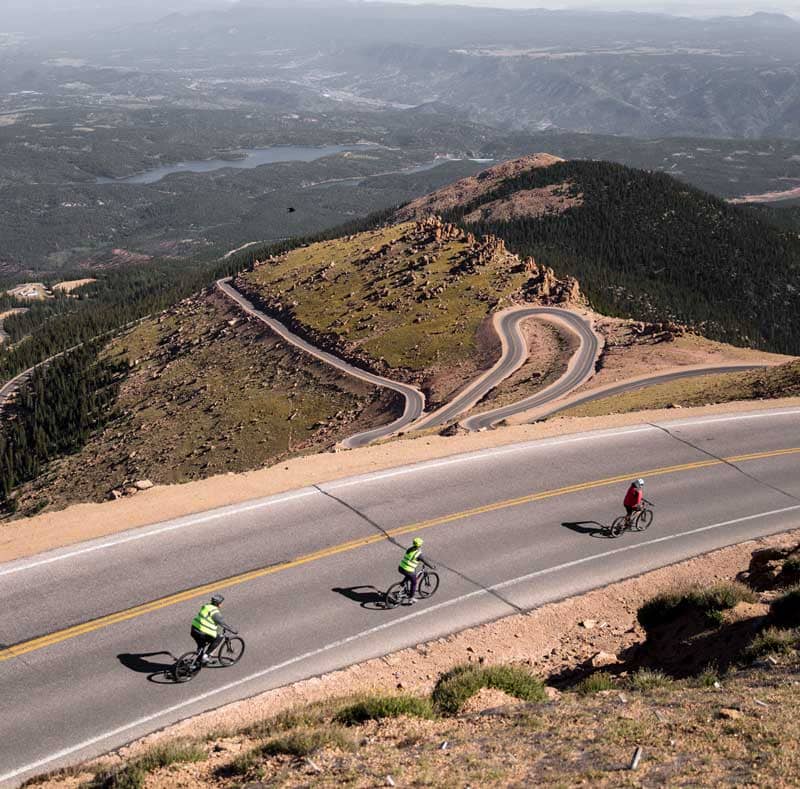 What's an outdoor adventure you can only have in Colorado Springs? Riding down a fourteener on a mountain bike. Challenge Unlimited will pick you up, drive you up the highway and deposit you at the summit with a mountain bike and safety gear. After a brief perusal of the new Summit House, you'll be given a thorough safety briefing and set loose to ride 19.5 miles downhill to the base of Pikes Peak along the Pikes Peak Highway. The road is completely paved and rides are observed and escorted throughout the trip. The views are unlike anything you will ever see on the average bike ride. Breathtaking views, unique wildlife, five separate life zones and even more views. It's exhilarating and unforgettable. 
You don't have to ride down a fourteener to experience the outdoors in an entirely new way. You can also visit the Broadmoor Outfitters and explore their unique excursions. You don't have to be a Broadmoor guest to try these adventures, they are open to everyone. The most unusual offering is the falconry experience, where you will get to meet real birds of prey and learn about this ancient art. If you take their second class, you'll get to cast one for yourself and call it back. The second unusual option is their Wild West Experience, which lets you sample archery, axe throwing and air rifle shooting. 
Royal-Tea in the Pikes Peak Region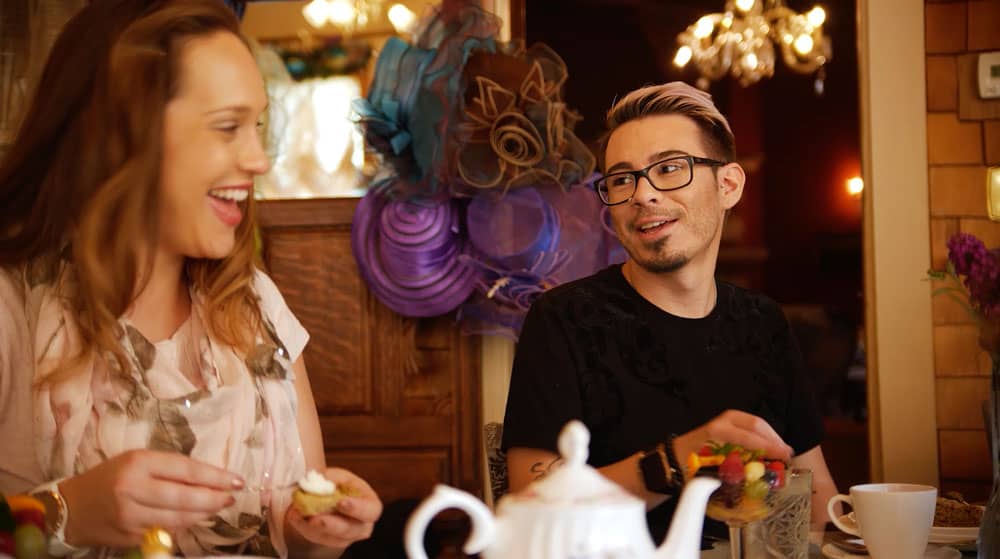 Manitou Springs is a quirky town filled with interesting people, lots of lore and one cool castle. Built in 1895, the castle has over 14,000 square feet of history on four floors. But it's not your average castle. The architecture is not your standard four-wall fare. There are nine separate styles of architecture. There are 8-sided rooms, a 16-sided room, an old solarium and so many tiny and unique details. It also contains a real tearoom. The Queens Parlour Tea Room is a beautifully appointed Victorian tearoom where you can relax and enjoy hot tea, tasty scones and excellent service. The high tea is the best option, as it contains four courses of delicious teatime treats. However, the Parlour also has lighter teas or solo tea options. If there's a tea you love, the gift shop has all of the teas on hand so you can take them home. 
We hope you'll find these unique Pikes Peak region attractions as interesting and fun as we do. Snap photos, make memories and be weird — you're in good company!