What's New in the Pikes Peak Region
Well, it's still 2020, so everything is new.  I've been proud to watch all of our member attractions working to figure out how to keep you and their employees safe in this new version of normal.  I won't lie, it's also been a little scary for us all.   There have been some hurdles to overcome and many more ahead.  What makes me so proud though, is watching this group of people band together, helping each other find masks, hand sanitizer and small business loans.  Our attractions are all technically competitors, but you've never seen a group that sticks together the way they do in tough times. 
It's literally what started our association.  Back in the early 70's, before I was even born, a handful of them got together, pooled their resources and started Pikes Peak Region Attractions Association.  All of those original attractions are still members.  Their spot on the board has been replaced by a son or a granddaughter, but they're all still here.
They are resilient and innovative, and they stick together through thick and thin.  Check out what they've been up to during all the hullabaloo.
Adventures Out West
Adventures Out West opened for private tours on May 1st for Jeep tours, Segway tours, zip lines and balloon rides.  One party per passenger compartment, eight guests max.  Face covering required. If you don't have a face mask, you can pick up one of these cool AOW exclusive tubies for just $5.
AOW continues to keep its people employed and busy and they're helping to clean up the city while they do it.  On May 14th they're hosting a Canyon Cleanup to clean up North Cheyenne Canyon.  Meet at AOW at 8:30am.  They will provide trash bags. Bring your own gloves.
Free zip lines tours are being offered May and June to folks who have lost their jobs, grocery store workers, supply store workers and delivery people.  Info is listed on their zipline page here.
Last but not least, Adventures Out West has been doing virtual Jeep tours live on Facebook.  Follow them  to catch live shows or peruse their video archives.
Echo Canyon
Masked and properly socially distanced, Echo Canyon staff meeting.
Echo Canyon
Keeping folks busy and employed
Echo Canyon River Rafting Expeditions 
 Echo Canyon has kept busy cleaning up the property and researching innovative ideas to keep their guests safe. They have formulated a dynamic plan for social distancing during check in by implementing outdoor tents, and cleaning solutions for buses, rafts and paddles.  What really wowed us was their use of sanitizing baths for their more permeable gear like wet suites and life jackets.  As always, Echo Canyon is leading pack when it comes to innovative solutions.
They were also able to keep their folks busy (and employed!)  Employees have been helping with plans to execute their new cleaning regiment, and generally cleaning and polishing the property. Always at the forefront of safety and innovation, Echo Canyon continues to set a high bar.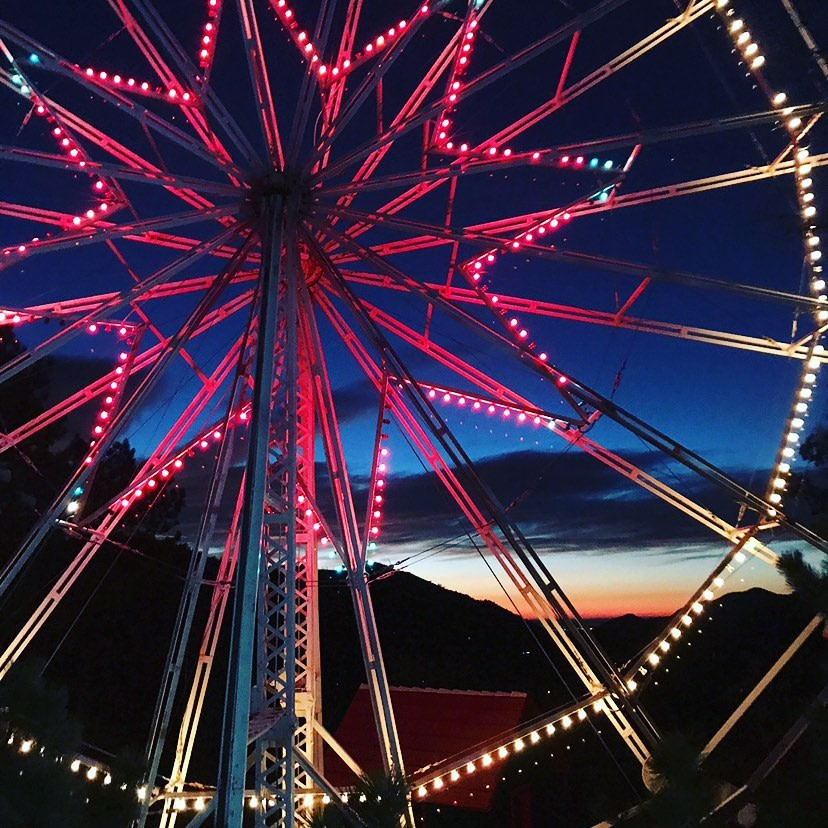 North Pole — Santa's Workshop
Colorado's Howl at 8pm, has become a cry of solidarity in these difficult time.  Every night, the residents of Colorado in every corner of our great state, head outside and howl together.  They howl for our brave heroes on the frontline of this medical crisis.  They howl for friends and family who are sick or vulnerable.  And they howl to let each other know we're all in this together, no one is alone.
Our dear friends at the North Pole have been lighting their beautiful ferris wheel at 8pm to show their support.  The park remains closed until they have guidance to open from the governor.  They've taken this opportunity to give everything a deep cleaning, repaint buildings, and even repaint murals on some of their rides.  It's going to be a treat to see all their hard work when their gates reopen.
Ghost Town Museum
Oh deer!  (I know, I know, I couldn't help it!) For many many weeks now, Ghost Town has actually been true to its name.  Inhabited only by the artifacts of a bygone age while we sheltered at home, some of the four-legged residents have been keeping them company.  As of May 1, Ghost Town's retail facility has reopened, observing all the safety practices recommended by the state of Colorado.  
During their moment of relative calm, Ghost Town managed to keep all their full time people employed thanks to the small business PPP loans.  They have been very industrious, cleaning, painting, duct-taping things that move and shouldn't, WD40ing things that don't move but should.  Or maybe a more professional version of that last part — there's a reason I work mostly on the computer.
Ghost Town, like all of our attractions is looking forward to seeing you this summer.  They have lots of hard work they'd like to show off.
Jail Museum, Ghosts Only During COVID
Historic Cripple Creek
Known as one of the most haunted towns in the US, Cripple Creek has returned to the ghosts for a moment.  It's given their great historians a chance to do cool "Then and Now" photos of their fantastic historic buildings.  We can't wait to see more of these photos and wonder if there may be a book available with them all in the weeks or months to come.
The Outlaws and Law Men Jail Museum is a well known haunt of the 'permanent guests' of Cripple Creek.  They currently have the run of the place, making us wonder what kinds of shenanigans they're getting up to.  We'll have to wonder for the time being, but you might be able to find earlier recordings on your favorite ghost shows on Netflix.
Finally, the most popular residents of Cripple Creek continue to 'shelter at home' in their winter pasture.  They miss their fans and can't wait for selfies and treats from the visitors who enjoy an encounter on main street.  Try as they might, they just can't seem to teach them how to social distance (and they keep licking things!) Reminder, when Cripple Creek opens to visitors, don't be an a$$, social distance and wear your face masks!
Looking Forward
We're following all the latest news about this darn virus and preparing for your return.  We're anxious to see you, but even more anxious that we can all gather safely again.  Our folks are doing everything they can to be ready to welcome you.  For now, check out all the ways you can interact with us from a safe distance.  Check out our Bringing the Mountain page for more ideas.  Even though we're apart, we're always together.  #StrongerTogether
Stay strong, stay safe, stay sane!
~Your friends at Pikes Peak Region Attractions