Wild West Weekend in Colorado Springs and the Pikes Peak Region
Colorado Springs and the Pikes Peak region are home to some pretty rad history, especially when it comes to the days of the Wild West. Our city and the surrounding areas are filled with stories about the early days of cowboys and pioneers and visitors love to learn all about those early days. If you're one of those visitors, we've got a whole list of the best places to learn about Colorado history. We're here to help you have a Wild West weekend packed with entertainment, interesting history and much more. Let's saddle up and get a move on, shall we? 
1. Explore the Pro Rodeo Hall of Fame and the Museum of the American Cowboy
Willie Nelson and Wayland Jennings once advised mothers everywhere to never let their babies grow up to be cowboys — if the Pro Rodeo Hall of Fame is any indication, mothers have not had much success with that in the past or present day. Cowboys still exist; the rodeo still thrives, and kids still dream of growing up to live that country lifestyle. You can learn all about the history of the rodeo and the contribution of the American cowboy in the early days of western migration at the Museum of the American Cowboy at the Pro Rodeo Hall of Fame. 
Whether you've grown up in the saddle or in the stands of the local rodeo, you'll be thrilled with the amazing number of artifacts this museum has been able to collect. Thousands of photos, cowboy gear, belt buckles and fascinating stories fill the halls of the Pro Rodeo Hall of Fame, making it a premier stop on your Wild West adventure. Don't forget to take a gander at their gardens if you're visiting in the summer. They're some of the prettiest around. Sometimes their stables have guest stars, so be sure to mosey out that way as well. 
2. Giddy on Up to Academy Riding Stables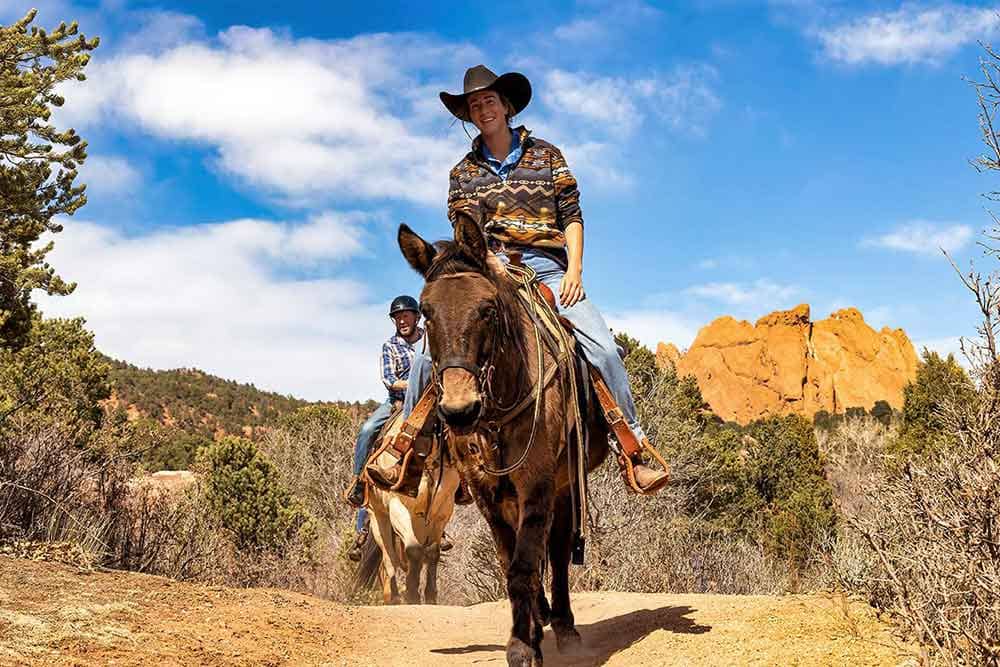 Once you've learned of all the fabulous exploits of the cowboys of old, you can get a sample of the horseback life for yourself at Academy Riding Stables. Not only do you get to ride a horse, but you also get to do it in the world-famous Garden of the Gods. Academy Riding Stables is the only outfitter allowed to operate within the park and we cannot stress enough just how cool it is to check out the Garden's towering formations via horseback. Your tour is led by a real cowboy who knows all there is to know about the plants and animals you'll encounter on your ride, plus local history. The horses are well-trained and friendly, and the outfitter tries to match you to a horse that fits your desire for a riding experience. There's a one-hour scenic ride for less-experienced riders and a two-hour ride for folks with more time in the saddle. There's also a pony ride for those who are keener on letting their babies grow up to be cowboys than Mr. Nelson and Mr. Jennings. 
3. Tour the Early Days of the Wild West in Historic Cripple Creek
If there's one town in the Pikes Peak region that has still held fast to its Wild West roots, it is the small and charming mining town of Cripple Creek, CO. Located about an hour west of Colorado Springs (via 45 miles of gorgeous mountain scenery), the town was once a hotspot for fortune-seekers and all the infrastructure and support businesses and strange characters that came along with them. You can explore the town on foot to check out the historic architecture and pop in to try to find your own fortune at one of the gaming establishments. However, Cripple Creek has much more to offer. You can get a glimpse of the life of a miner at the Mollie Kathleen Gold Mine, where you'll be deposited 100 stories below ground (that's a few stories shy of Willis Tower in Chicago) to explore a real gold mine. There's even still a touch of gold inside! 
The other attraction in Cripple Creek you won't want to miss is the Cripple Creek and Victor Narrow Gauge Railroad. The open-air train takes you back through the mountains and past old mining infrastructure. Along the way, you'll learn about the region and the miners of the past, plus have ample opportunities to snap unforgettable photos. Cripple Creek is home to some super rad events so try to time your visit to the Donkey Derby Days or one of their weekend fairs.
4. Expand Your Mind at the Western Museum of Mining and Industry
Speaking of mining, you might have guessed from your visit to Cripple Creek that mining is an important industry in Colorado. It may have started with a few wilderness men, a stream and some tin pans but today it is a key industry in the creation of all the things we love, from computers and gadgets to jewelry and art. The Western Museum of Mining and Industry explores the history of mining in the Pikes Peak region. 
You can visit the museum and tour on your own anytime during business hours or you can take one of their daily tours, which are free with admission. Your admission also includes gold panning, which is super popular with both kids and adults and a terrific way to enhance your visit. "What's Mined Is Yours" features a cool display of minerals and rocks for your crystal collecting fans and the mine drift exhibit appeals to those who love the idea of exploring the unknown. Outdoors, you'll find machinery and other historic pieces of mining equipment. 
5. Visit the Past at the Wild West Ghost Town Museum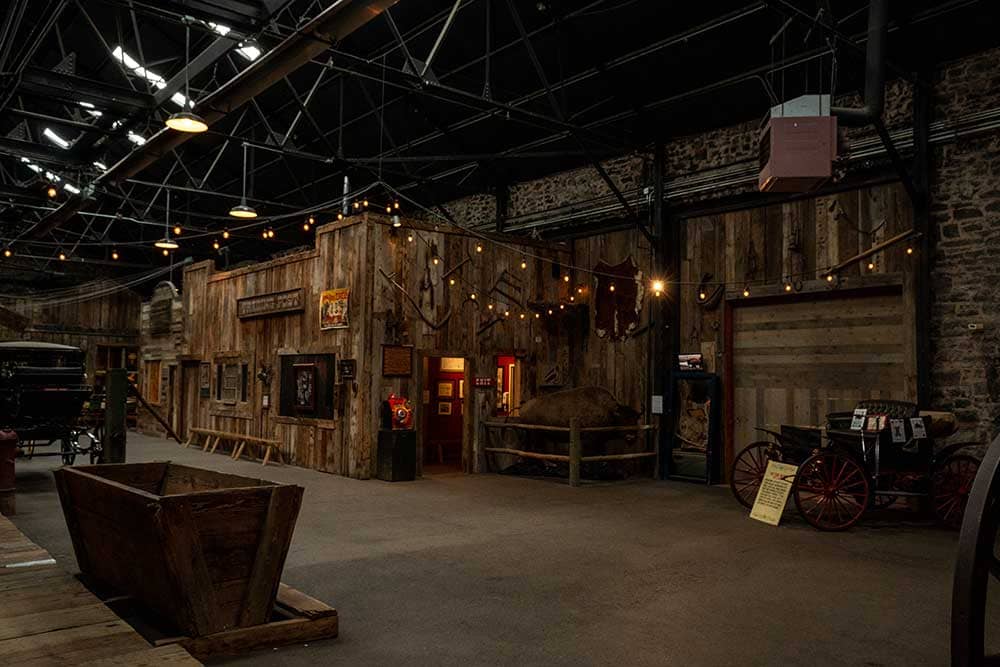 Cripple Creek has withstood the test of time, but there are lots of towns throughout the state of Colorado that fizzled out and disappeared when people moved on. These ghost towns are often dangerous to explore and located in hard-to-reach places. The Wild West Ghost Town Museum has created a safe and fun way to explore these towns of the past by reconstructing real structures and dwellings for the past in an indoor exhibit right here in Colorado Springs. 
Instead of getting tetanus or a black widow bite, you can peruse real structures from history in the comfort AC. The Ghost Town has thousands of Wild West artifacts that show how people lived in the past — what they ate, what they wore and what they did for fun. And since we mentioned fun, it's worth noting that the Ghost Town Museum has a lot of that, too. There's a shooting gallery, a small arcade and gold panning! Be sure to visit the gift shop on your way out and pick up an old-fashioned soda or some specialty candy. 
6. Dine Country-Style with the Flying W Ranch
There's no better way to finish off your Wild West weekend than at an authentic chuckwagon supper at the Flying W Ranch. This attraction has weathered floods, fires and other adversity to stay in business providing one of the best western experiences in the state of Colorado. This year they are celebrating their 70th anniversary, so it's an extra festive time to visit. 
The gates to the event open at 5 p.m. and you are allowed to explore the open areas of the property and enjoy any of the activities going on including watching the Sweetwater Plains dancers or visiting the animals. At 6:30, dinner begins and it's a real chuckwagon supper complete with choice of smoked meats, beans and cornbread, of course. The cook can accommodate a few dietary restrictions so be sure to mark your reservation carefully. After dinner, you'll gather around for songs and entertainment from the Flying W Wranglers. It's an utterly unique experience and the perfect feather in the cap of your Wild West adventure.
Whether you can try one or all of these fun events in Colorado Springs and beyond, we hope you'll have an amazing time learning about the history of the Wild West in our beautiful state. And if you happened to miss out on one or two of them then we guess y'all will have to come back now, ya hear?