Your Colorado Springs West Side Restaurant Breakdown
Are you looking for a great restaurant on the west side of Colorado Springs? When it comes to cuisine, atmosphere and cost, the west side is a veritable cornucopia of great places to eat. In fact, it's not hard at all to find a good place to eat. What's hard is choosing where to go! We've compiled some of our most beloved Colorado Springs, Old Colorado City and Manitou Springs restaurants to give you a bit of a west side sampler. We've broken them down into a few different categories to help you decide further. 
Best Brunch for Your Buck on the West Side
There are multiple ways to dine west of downtown Colorado Springs, so we'll start with the basics: greasy spoons with hearty breakfasts. In Old Colorado City, you can chow down on pancakes, omelets and hash browns at Bon Tons (2601 W. Colorado Ave., Colorado Springs, CO 80904). Go a little further west into Manitou Springs for some stunning green chili at Mo's Diner (108 Manitou Ave., Manitou Springs, CO 80829). They make killer bacon, too. 
If you'd like a slightly more eclectic menu, we recommend you hit up Cerberus Brewing (702 W. Colorado Ave., Colorado Springs, CO 80905) on the east side of Old Colorado City. In addition to their weekend menu (order the grits), they offer beer slushies throughout the weekend, while supplies last. Head in early because they don't last long. 
Real Meals for Vegans and Vegetarians
The west side won't tolerate forcing herbivores to dine on carrot sticks and salad. Your first awesome vegetarian restaurant is Adam's Mountain Café (26 Manitou Ave., Manitou Springs, CO 80829), a Pikes Peak region classic. Their vegan ramen and vegan Thai noodle bowls are a true delight. Even better, they do have options for other diets, making it a place where everyone can go and feel satisfied. 
Pop into Babu's Kitchen and Bar (915 Manitou Ave., Manitou Springs, CO 80829) for a variety of vegetarian dishes that are flavorful and filling. Like Adam's, this restaurant has meat dishes as well, making it another great compromise when everyone has different preferences. 
Fine Dining in Colorado Springs and Manitou Springs
Sometimes you just want to do it up right with a delicious meal in a luxury setting. Our fine dining options on the west side are a small sample of the options you have available for a special date night or weekday celebration. While we often brag on the Broadmoor for its Broadmoor Outfitters adventure offerings, the resort is also home to Ristorante Del Lago (1 Lake Ave., Colorado Springs, CO 80906). You'll find an excellent spirits menu, pasta made in-house and gorgeous atmosphere. 
Another popular locale with excellent food and atmosphere is the Briarhurst Manor (404 Manitou Ave., Manitou Springs, CO 80829). Their five-course dinners are the best option to sample all of their tasty options and their special holiday brunches cannot be beat. Not to be outdone, just up the road in Manitou proper, you'll find one of the most romantic of the options, Mona Lisa Fondue (733 Manitou Ave., Manitou Springs, CO 80829). It is a unique dining experience with fine fare and great service. No matter how full you feel, get dessert. You'll find room. 
Two for Tea: Party It Up in Manitou and OCC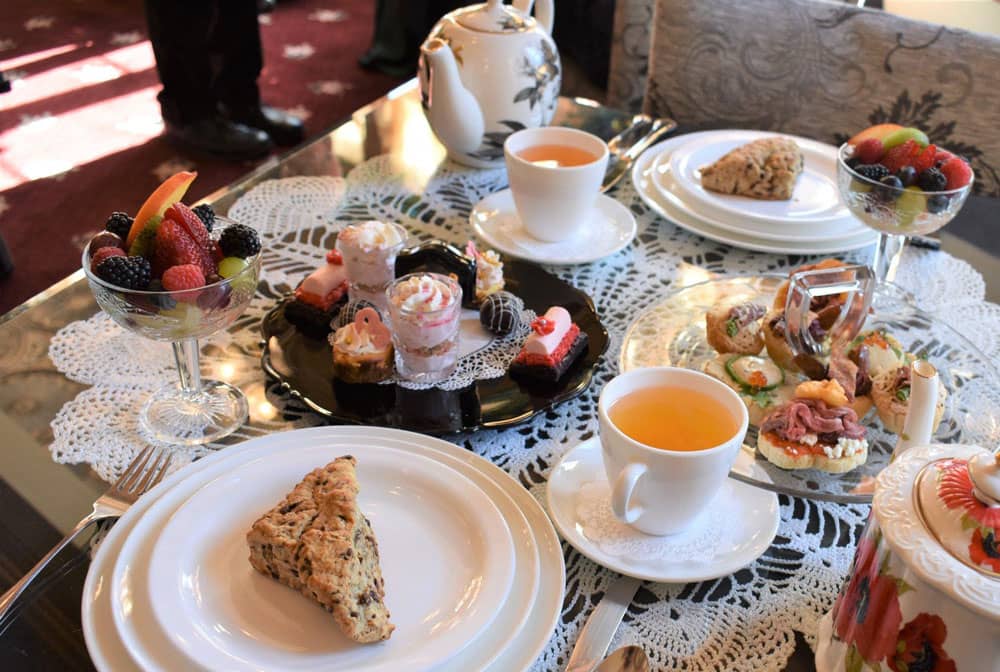 You never really outgrow a passion for a fancy tea party. Thankfully, our next two restaurant recommendations feel the same way. The British Pantry and Tea Room in Old Colorado City offers a casual-but-delightful tea with seasonal options and a rotating menu. Even better, the pantry portion of the name is legit. You can pick up a jar of clotted cream and a package of frozen pastries to recreate your tea party at home.
Miramont Castle (9 Capitol Hill Ave., Manitou Springs, CO 80829) in Manitou Springs is also home to a pretty awesome tea party. You can visit the Queen's Parlour Tearoom for the filling and fantastic high tea. It comes with scones, sandwiches, pastries, fruit and, of course, your choice of tea. We also have it on good authority that they offer a variety of mimosas, so maybe make your tea a brunch.
Light and Easy Lunches and Dinners
Sometimes you don't want to bulk up too much before a hike or you just want a light lunch to temper the massive Colorado summer heat. That's where our light and easy selections can save the day. We'll begin with La Baguette (2417 W Colorado Ave., Colorado Springs, CO 80904). You might be wondering how a place that sells such delicious bread can be considered light, but we're not telling you to go in and eat a whole baguette. Instead, we recommend the French onion soup, fresh fruit and an éclair (for later). 
Our other favorite lighter selection is Salad or Bust (1604 S. Cascade Ave., Colorado Springs, CO 80905) in the old Ivy Wild School. You can get hefty portions of leafy greens and vegetable goodness, plus multiple options for proteins. These salads come stacked, so consider splitting one if you don't want leftovers. 
Meat and Potatoes
Some traditions never fail and the dynamic duo of meat and potatoes is almost as iconic as peanut butter and chocolate. It can come in a variety of forms: corned beef and hash, steak and a baked potato or burgers and fries, to name a few. The epitome of meat done right is good old-fashioned barbeque — Front Range Barbeque to be more specific. Their daily smoked meats are accompanied by your choices of sides (oh yes, potatoes are plentiful). Wash it down with the unique and fabulous barbeque Bloody Mary. 
For a great burger-and-fries meal, Alchemy in OCC is a great stop. The bar makes you feel right at home with a friendly and casual atmosphere and the portions are delicious and plentiful. Check out their drink menu for some fun add-ons to your average bar favorites. 
We close out meat and potatoes with a steak house, of course. Located on Tejon in Downtown Colorado Springs, MacKenzie's Chop House (128 S Tejon St., Colorado Springs, CO 80903) is a traditional steakhouse with dark, leathery interiors and lots of scotch. Their steaks are cooked perfectly to order and come with a variety of options for sides (like potatoes). This is the place to go to celebrate that big promotion or hang out for a happy hour wind-down. 
We hope this list of west side restaurants will help you narrow down your options for your next meal out. Whatever you choose, whatever your mood, you'll be sure to enjoy some of the best dining in Colorado Springs.