Hours
9 a.m. to 4 p.m. daily (weather permitting) 
*Please note there may be capacity restrictions during COVID.
Can we go inside the cliff dwellings?
Yes, you can! You can walk around or through all the rooms (though it isn't appropriate or possible to go down into the kiva). Visitors who are slender and short enough can actually slip into some of the smaller rooms and get a feel for Anasazi apartment house living.
The Preserve is the cliff dwellings, themselves, which have been preserved for the education of present and future generations.
Yes. We get bus tours all the time. Our lower group rates apply to parties of ten persons or more. By the way, bus drivers and tour guides are admitted free.
Can I buy Indian artifacts?
Actually, buying ancient Indian artifacts might get the Antiquities Police on your tail, and you wouldn't want that to happen, would you? However, in our well-stocked Gift Shop you can legally buy reproductions and photographs of ancient artifacts or purchase modern Native American-made pottery, jewelry, flint-knapped knives, and artifacts. You will also find a great selection of Colorado and USA made products.
Are the cliff dwellings accessible to people in wheelchairs?
Because of the slope of the dwellings, the steps and the narrow passages inside, the dwellings, themselves, are not accessible to wheelchairs. The entrance to the cliff dwellings – is wheelchair accessible by ramp from the parking lot. From that point the entire front of the dwellings can be seen. By the way, people in wheelchairs are admitted to the Manitou Cliff Dwellings for free.
Yes, as long as your pet is leashed, they can go wherever you go including the ruins and the museums. Please be sure to clean up after your pets.
Unique gifts from our attractions
Support local shops in Colorado Springs with some of the most unique gifts in the region for this holiday season.
10 Unique Museums in Colorado Springs
Colorado Springs is the proud home of a variety of museums, many of them with unique features you won't find anywhere else in the world.
10 Attractions Under $15 in Colorado Springs
Get the most out of your Colorado Springs vacation with these 10 attractions under $15. The more you save, the more you can do -- that's what we always say!
Road Trip to Colorado Springs
Take advantage of these road trip opportunities afforded by this unique school year in Colorado Springs and the Pikes Peak region!
Exploring Colorado Springs While You're Pregnant
Whether you're a local pregnant mama or a visiting one, we've got the agenda to help you have a safe, amazing time in Colorado Springs.
Locals Discount with Colorado ID
Participating attractions are giving a Locals Discount with Colorado ID. You can save money at a number of our attractions! See complete list here.
More attractions like this
U.S. Olympic & Paralympic Museum
Flying W Ranch Chuckwagon
Pikes Peak Tour by Gray Line
Cave of the Winds Mountain Park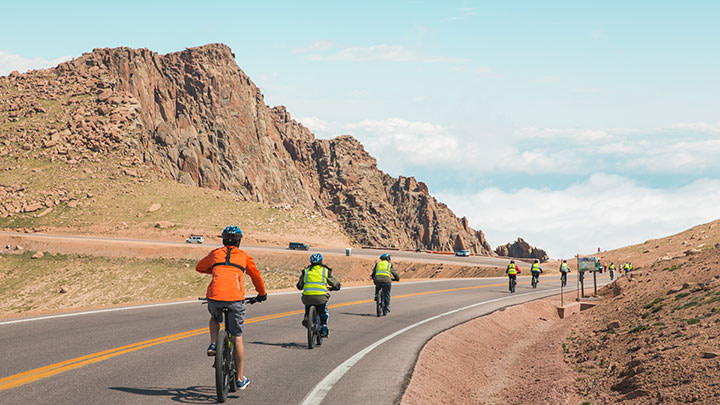 Challenge Unlimited- Pikes Peak by Bike
Cripple Creek and Victor Narrow Gauge Railroad