***We do not represent, endorse or help maintain the trail up Pikes Peak.  We provide this info simply as a resource, and do not have additional info or trail conditions.  Please investigate further before attempting this hike.***
Colorado is a state that was built on conquering mountainous terrain, so it's really no surprise that a much-loved activity in Colorado Springs is hiking Pikes Peak. After all, the majestic mountain dominates the scenery no matter where you're at in the Pikes Peak region (yes, so much so that the region is named after it), calling out to adventurers to conquer it. However, there are many things you must know before you decide to hike Pikes Peak — this is an honest-to-goodness fourteener, the 31st highest of Colorado's 54 14,000-foot-plus peaks and it is not a simple Sunday morning hike. Let's find out if you have what it takes to make Pikes Peak the next feather in your hiking cap!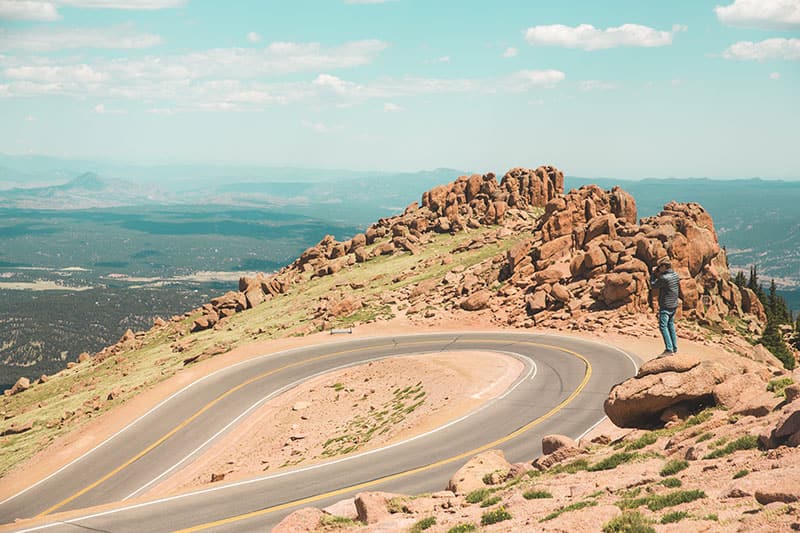 Hiking Pikes Peak is not for everyone
We never want to discourage anyone from pursuing their dreams, but we definitely want you to be prepared for the type of challenge this is. It's a long, hard, 13.5-mile climb uphill with a gain of about 7,400+ feet in elevation. Basically, it's a half-marathon in hiking form. Please only attempt hiking Pikes Peak if you are healthy, able to hike long distances, able to navigate difficult terrain and able to perform high-cardio activity with low oxygen. If you think you fit that bill, here's a look at the journey!
Hiking Pikes Peak via Barr Trail
Barr Trail is the main route to hike Pikes Peak and the only trail that will take you to the summit. Built by Fred Barr over several years in the 1900s and re-done by the U.S. Forest Service in the late 50s, it provides a well-maintained route that takes you 13.5 mile to the top from its starting point in Manitou Springs. Here's what to expect on your Barr Trail hike to the Pikes Peak summit:
MILES 1-6.5 (4-7 HOURS)
Trailhead begins in Manitou Springs (Elevation: 6,707 feet)

There are not a lot of signs to guide you on the trail; the trail itself is clear to follow, but you should have a map with you just in case

Miles 1-6: You will gain nearly 4,000 feet in elevation in these first six miles. The first three miles will be the hardest of this leg, with lots of gain and tight switchbacks.

Past the Fremont Experimental Forest sign, make sure to continue on the single-track path, not the wide path on the left
Make a stop at Barr Camp (we'll talk more about that later) for a rest or for an overnight (Elevation: 10,186 feet)
MILES 6.5-13.5 (4-7 HOURS)
The first two miles are gentle out of Barr Camp, which is a great way to launch the second leg of your hike

Mile three is steeper and has a lot of switchbacks that are similarto the initial climb from the trailhead. You'll find the A-frame at this point, which is an unmanned, first-come, first-served, six-man shelter (Elevation: 12,098 feet)

At the "Three Miles to the Summit" sign, take the sharp right onto the narrow trail, where the most difficult part of the hike begins

Oxygen is thin. Breathe slow and steady with strong exhalations. Switchbacks are tight and terrain is often uneven and rocky

Hello summit! You've reached the top! (Elevation: 14,115 feet)
A note about the Incline: Yes, you can absolutely include the Incline in your summiting of Pikes Peak. However, the Incline is its own grueling journey and we do not recommend adding this challenge unless you are incredibly fit, experienced and properly outfitted with an appropriate amount of additional water. Please do not attempt this on a whim.
Barr Camp is open year-round and makes an excellent halfway point for Pikes Peak hikers to stop and rest, be it an overnight stay or a simple picnic. If you reserve your overnight ahead of time, you can even get breakfast and dinner (dinner service is limited to certain nights; dry meals are available for purchase when dinner is not available). There are hostel-style cabins, lean-tos and tent camping available at Barr Camp and we're going to stress again how critical it is that you make reservations. Other things to note on Barr Camp:
There is no potable water. Bring your own or bring a filtration method/system

Bring your own tent and camping gear if you plan to camp outside

There is no heat, so bring a sleeping bag, especially during colder months

Bring a flashlight, it's dark after the sun goes down!

Bring cooking utensils if you need to prep your own meals
You can learn more about the accommodations at Barr Camp here.
Hiking the popular Crags Trail, by "Hiking Bob" Falcone
One of the most popular trails in the Pikes Peak region, the Crags Trail (Forest Service Trail 664) in the Pike National Forest is an easy/moderate hike of less than 6 miles round trip; it offers stunning views of the lower part of Pikes Peak and the surrounding areas. The trail also serves as the starting point for the Devils Playground Trail, an alternate route to the summit of Pikes Peak.
The Crags trail starts on Forest Service Road 383, a little over 3 miles from Colorado Highway 67. FS 383 is a dirt road that can be a bit washboardy and bumpy at times, but except for after heavy rainfall or when snow covered, can be travelled by almost any vehicle.  The trail starts across from a large parking lot just before the Crags Campground. The first half-mile from the parking lot, and the last half-mile before ascending to the rocky prominence of the Crags, are most difficult parts of the trail, but in reality are not very difficult. The trail is easy to follow, and in the spring and summer offers lots of wildflower viewing and in the fall is a nice place to see fall foliage change colors. In the winter, it's a great trail for snowshoeing or cross country skiing. Back country camping is allowed along the trail corridor, but campsites must be at least 300' from established trails and waterways.
To get there: From Colorado Springs, take U.S. 24 west through Woodland Park to the town of Divide. In Divide, turn left (south) on Colorado Highway 67 and travel south for about 4 miles.  Forest Service Road 383 is on the left side of Highway 67, just past the entrance to Mueller State Park.  Seasonal use pit toilets are available at the trailhead.
Other tips for hiking Pikes Peak
So, you've determined you've got the stamina, you've reviewed the trail and you've mapped out your journey. Go you! This is going to be awesome. We've compiled some final bits of mountaineering wisdom to help you ensure this feat is pulled off with minimal issues.
Weather: The weather on Pikes Peak can change drastically from hour to hour. Bring clothing to accommodate blistering heat at the trailhead and snow or thunderstorms at the summit. There's a good chance you could encounter both in a single hike. Rain gear is also recommended, as is sunscreen, sunglasses and a lightweight hat or hiking umbrella. All of this will add weight to your body, so account for that in the intensity of your climb (check your local mountain outfitter for lightweight versions of this gear). Check in at Barr Camp to verify favorable summit conditions.
Water: There is no place to stop for potable water on Pikes Peak. You will need to bring your own water (use a CamelBak-style system) and a filtration method/system. A purifying system will allow you to turn stream water into safe drinking water and refill your pack. You will want to hydrate frequently along the way, as the climb can quickly dehydrate you, which is a great way to end up at the hospital instead of the summit.
Food: Bring high-protein snacks such as energy bars and beef jerky. Salty snacks like peanuts and crackers are also lightweight boosters, as is trail mix. Be sure to consume sweets with care so you don't get a sugar rush and the resulting sugar crash. That energy drop is no fun when you have four miles of climbing still ahead.
Clothing: As noted above, the weather changes all the time. Dress in layers and bring extra clothing like a warm hat, gloves and an insulating layer in the event that you hit cold weather. If for some reason you're stuck outside overnight, you'll be glad you have the gear, we promise. It should go without saying that good shoes are necessary. Please don't try this in flip-flops.
Altitude: We've mentioned before how much harder it is to breathe when your 10,000+ feet above the clouds. If you've never hiked at high altitudes, take a few smaller practice hikes in places like Cripple Creek to understand how your body responds. Conserve energy and hike smart—this isn't the Pikes Peak Marathon!
Timing: It is highly recommended that you leave early in the morning for your hike to give yourself plenty of time to reach the summit or Barr Camp. In the winter, the days are far shorter, so build that into your decision to hike. In the summer, you'll want to plan your hike around peak heat hours, leaving earlier in the day so that you reach the cooler areas of the mountain during high noon. Leaving earlier will also help you to reach shelter before the notorious Colorado afternoon storms, where lightning makes hiking extra dangerous.
Parking: Parking is available at the trailhead with reservations or at the Cog Railway lot (when available) and Iron Springs Chateau Melodrama.  Many lots do not allow overnight parking, so be sure to plan ahead if you're planning to camp on the mountain.  Go here for more info.
Once you get to the top of Pikes Peak, you're going to have to find a way back down. In the past, many hikers have used the Cog Railway. With that out of commission, here are your options:
Get a friend to meet you at the summit and drive you down (fees apply). If the Highway and/or summit is closed to visitors, parties will not be able to pick up hikers for transport.

Hike back down—this is hard on the knees and will take several hours. A stop at Barr Camp may be necessary, so make reservations accordingly. This will make your total journey 27 miles, so you must be capable of that level of intensity in a period of one or two days.

Buy a oneway ticket on The Broadmoor Manitou and Pikes Peak Cog Railway. Tickets are available for purchase with the conductor of the train if there is room available. To reserve your oneway ticket ahead of time, please call 719-685-5401 to arrange.

Use a ride share service, where applicable (fees apply). :

Rocky Mountain Ride offers oneway rides, please call ahead to arrange

:

719-362-6332 | info@myrockymountainride.com | myrockymountainride.com
We don't recommend relying on the kindness of strangers to take you down the mountain. A. That's dangerous. B. You'll look super strange. C. If it doesn't happen, you're in some deep trouble. You MUST have your route back planned before you climb.
If you will not make the summit by the posted hours, turn around. Requests for transport will be subject to transport and rescue fees:
$20/person Transport during normal operating hours: emergency transport only, not a transport service
$100/person After Transport: If the Pikes Peak Highway is closed but staff is still on site, this is the minimum charge based on circumstances.
$500/person After hours recovery/rescue response: If hiker requests rescue or assistance after hours, this is minimum charge based on circumstances.
**PIKES PEAK STAFF WILL ONLY TRANSPORT AS A MATTER OF EMERGENCY OR SAFETY. PAYMENT DUE AT TIME OF TRANSPORT.**
Reaching the top of a 14er is a proud accomplishment. With lots of planning, you'll likely achieve your goal and be able to retain all the bragging rights you deserve. Good luck to you on your adventure!
Not sure you're quite ready to hike Pikes Peak? Drive, bike down or grab a jeep or shuttle up Pikes Peak! There are plenty of ways to explore the mountain.