Pikes Peak Tour by Gray Line
Hours
Running daily tours, call 719-465-1871 for schedule.
*Updated with daily COVID info
Where does the tour start?
Pikes Peak Tours by Gray Line will pick you up from your hotel and take you up the mountain. 
Is the tour kid friendly?
Yes! The tour is educational and fun for the whole family!
What is an open air tour?
Following guidelines set forth by the state and local health departments, Gray Line has removed the windows from their shuttles this year to increase ventilation. Passengers have loved this new open air tour and many have suggested they keep it this way in future years!
Are there restrooms on the shuttle?
While there are no restrooms on the shuttle, there are several stops along the drive for your convenience.
We recommend you bring a jacket and a camera.  The temperature on the summit will be much cooler. Their gift shop is fully stocked with snacks, beverages and souvenirs.
What can I expect to see?
Breathtaking views, Colorado wildlife and possibly, even snow in July.  We can guarantee an experience you will never forget!
The tour is approximately four hours long.
Road Trip to Colorado Springs
Take advantage of these road trip opportunities afforded by this unique school year in Colorado Springs and the Pikes Peak region!
Exploring Colorado Springs While You're Pregnant
Whether you're a local pregnant mama or a visiting one, we've got the agenda to help you have a safe, amazing time in Colorado Springs.
Pikes Peak Region Attractions Welcomes Two New Members
We are so excited to share how Adventures Out West & Pikes Peak Tours by Gray Line can make your next vacation — or staycation — in Colorado awesome!
More attractions like this
Flying W Ranch Chuckwagon
Cave of the Winds Mountain Park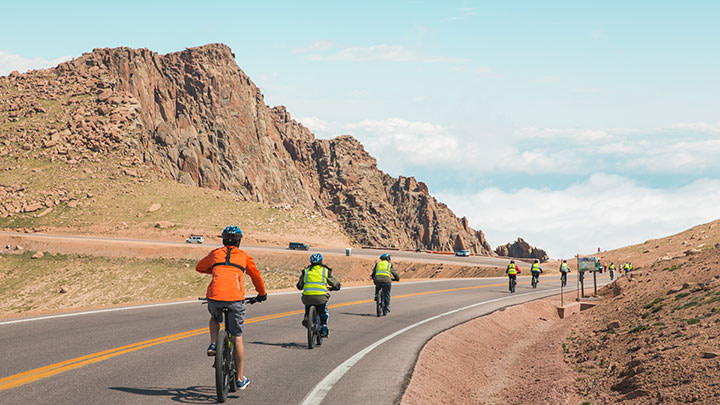 Challenge Unlimited- Pikes Peak by Bike
Cripple Creek and Victor Narrow Gauge Railroad
Echo Canyon River Expeditions
Garden of the Gods Trading Post