Our uniquely-colorado slice of heaven
What's Garden of the Gods really about?
"Is it just like nature and stuff?" We get this question all the time, and yes, it's just like nature and stuff. But it's the kind of nature that will turn the most uninterested of your crew into a junior geologist. Seriously. It's some of coolest nature you've ever seen!
Garden of the Gods was an area so beloved by Charles Elliott Perkins that his family gifted it to Colorado Springs under the conditions that it be free to all visitors forever after his death. It's a Pikes Peak Region treasure that has made visitors and locals alike swoon time and time again from the moment its red rocks first peek into view.
This Rocky Mountain playground is especially Colorado in that it doesn't have slides or swing sets or seesaws — no sir. Instead, it's packed with miles of multi-use trails that wind amongst the towering formations and beyond, treating hikers, mountain bikers and leisure walkers to sweeping views of Pikes Peak and the foothills. Catch a glimpse of Colorado wildlife, get boots-on along some of the park's specialty trails or bring along the camera and fill your memory cards with magic. With horseback rides, segway tours, jeep tours and even a trolley, there's literally a perfect adventure for all. Offering paved and dirt trails and disability access, there's something for everyone in the park.
Ways to explore Garden of the Gods
You have lots of options when it comes to enjoying Garden of the Gods, it's not one of America's favorite parks for nothin'!  Whether you want to do a quick self-guided drive, a trek through it's scrub oak, or a find place to kick back and drink in the view, we've got you covered.
Start at the Garden of the Gods Trading Post
Retail therapy and relaxation
Consider this base camp. The Trading Post has Starbucks coffee, bathrooms, every Colorado souvenir known to man and free maps of the park. It's the perfect place to get your bearings and ask for honest local advice. Ask the clerks their favorite trail, their favorite rock formation, their favorite vehicle for enjoying the park — and grab a free sample of fudge while you're at it. You're on vacation, where calories don't count!
When you've finished exploring, they're also a great place to grab lunch on their beautiful back patio. Or pickup gifts and souvenirs — their selection can't be beat, which means they have the best prices too! Whether you're into t-shirts and coffee mugs, or local fine art and handmade jewelry, you'll be sure to find it there.
The best place in town for gifts and souvenirs!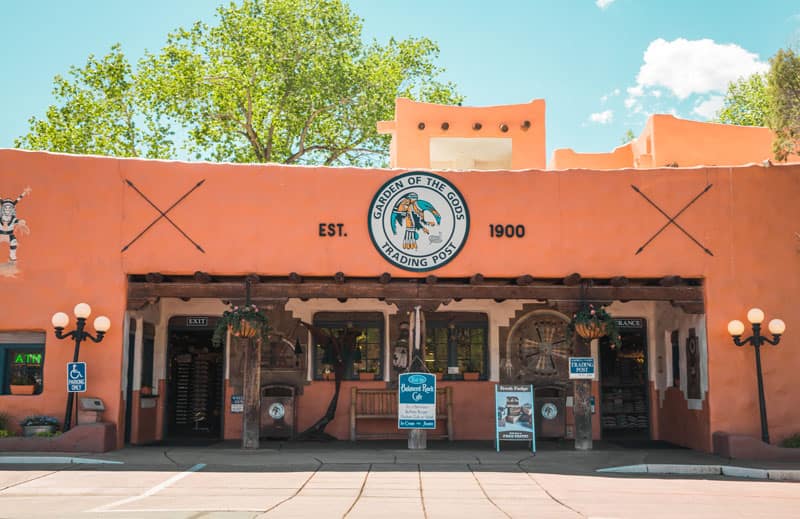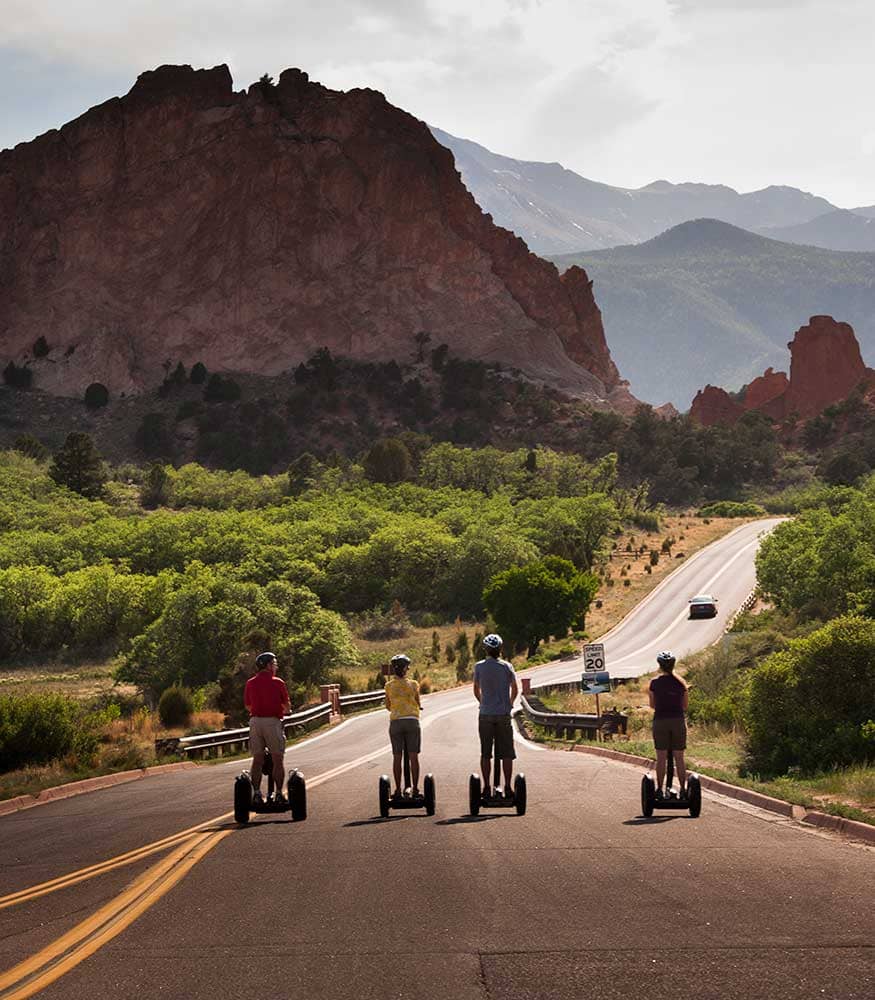 Add a little adventure to your trip
If you're looking to slow things down, but don't like it too slow, the Segway Tours with Adventures Out West are right up your alley! The tour starts with a training lesson that will have you zipping to and fro in no time. The tour guides, each with their own fun cowboy nickname, will share stories about the park, point out wildflowers and wild-critters, tell you about each of the rock formations you pass and give you lots of opportunities for photos. The perfect combination of wind-in-your-hair and history lesson.
Book ahead of time by calling 719-578-0935
Best if you don't want to miss anything!
Driving through Garden of the Gods is fantastic, but the driver doesn't really get to look around and take in all the sights. We suggest you try a trolley or Jeep tour with Adventures Out West. They know all the secret spots and the lore behind them to give you an insider peek at the park. They take it slow, and make frequent stops so you can grab photos or just soak in the view.
Be sure to call for reservations! 719-578-0935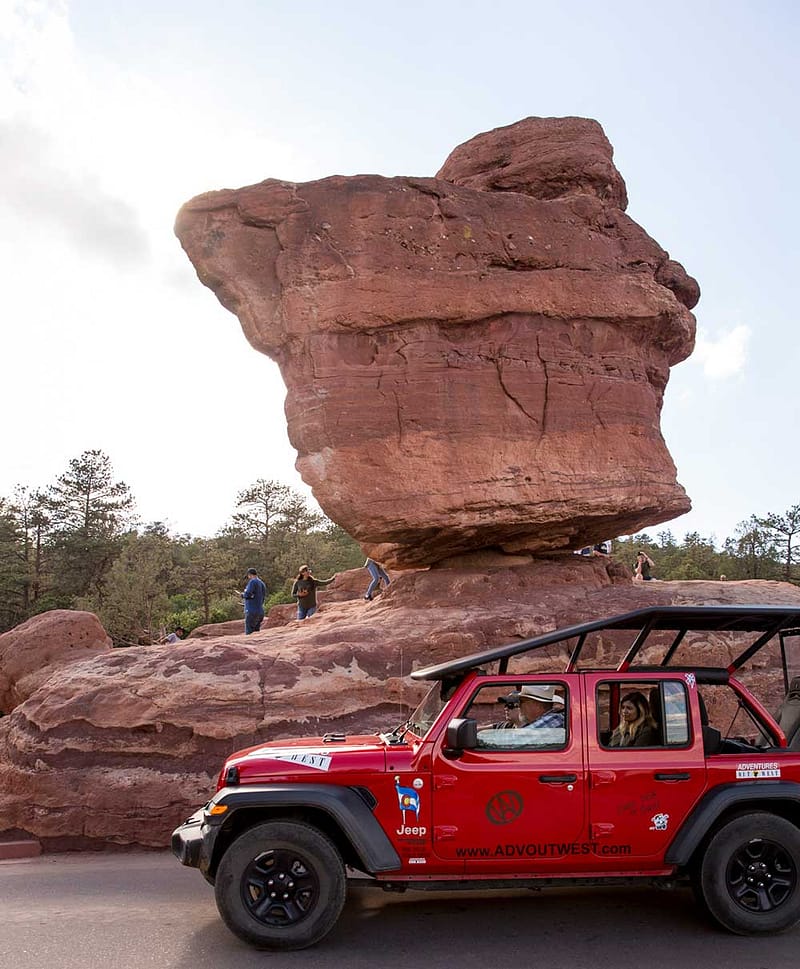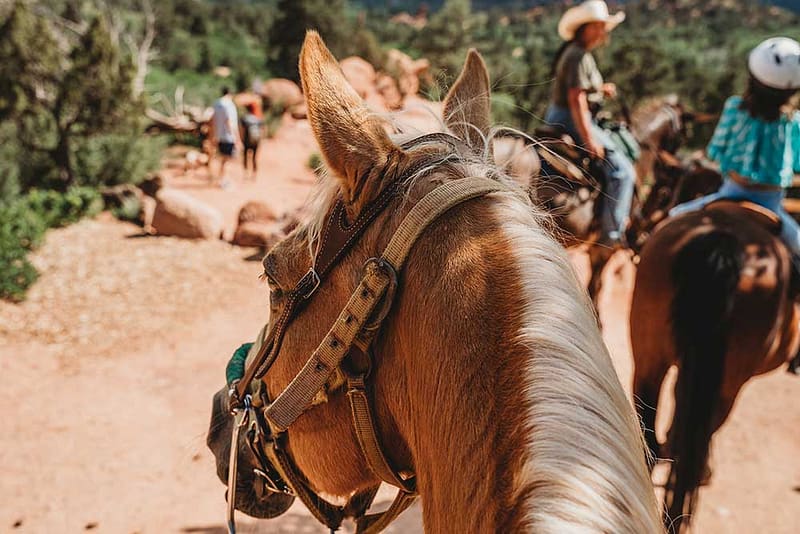 Best if you want to explore the trails without having to hike them
We are super big fans of Garden of the Gods and we HIGHLY recommend getting out of the car and exploring more of the park. If hiking is not your thing, then a guided horseback ride might be perfect. Led by real cowboys and cowgirls who share the flora and fauna with you as you saunter the trails on beautiful, well-trained horses. This is a real taste of the west you can't find just anywhere. Giddy up cowpoke!
Call 888-700-0410 for reservations.
If you're short on time, this is the way to go. Driving yourself through Garden of the Gods is free and only takes about 20 minutes (depending on how fast the car in front of you is going!) We still recommend you stop by the Trading Post for a map, but the loop is pretty easy to follow and most of the main formations are visible from the road. The speed limit is only 25, so it's really designed to be a chill cruise through all this beauty. Stay out of the bike lane for the safety of your fellow visitors, and keep a sharp eye out for wildlife. One often overlooked spot along the road is High Point, we highly recommend you check out the view of Pikes Peak from there!
Stop at the Garden of the Gods Trading Post to get a map of the roads and rock formations!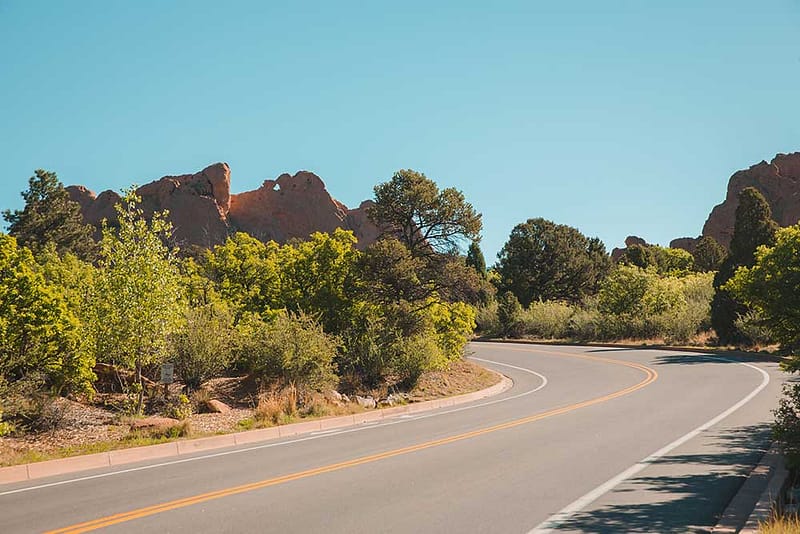 Regardless of how you explore the park, it's important to know before you go. Here are a number of questions we get asked all the time, but if you don't see the answers you're looking for, click on the chat bar in the bottom left corner of your screen. We're here Monday through Friday to answer your questions and help you plan the perfect adventure for you!
Yes, they love dogs in Garden of the Gods! Please keep your dog on a leash at all times, be courteous and pick up after them.
Mountain biking is allowed only within the designated mountain biking area on marked trails and in the bike lane on all roads. Remember, the mountain biking trails are multi-use, so watch for other visitors including horses. Please obey speed limits and remember all the drivers are also checking out the view.
Yes! Garden of the Gods Park is free and always will be.
Camping is NOT permitted in the Park.
Yes, however, all climbers are required to register at the Garden of the Gods Visitor Center. Proper climbing gear is required.
Acres in Garden of the Gods
Garden of the Gods land was purchased
The history of Garden of the Gods Park
ANCIENT HISTORY
Many thousands of years ago, a huge sea covered much of what is now Colorado. Sediment from the bottom of that ancient sea settled, hardened and formed both red and white horizontal sandstone. The same uplifting event that pushed Pikes Peak to all its grandeur also tipped the rocks on their sides. During the Pleistocene Ice Age, glacial forces helped erode and carve the rocks into the amazing sandstone formations you see today.
Keep an eye out for ripples on the rocks, a sign of water lapping at the shore. Sea shells and sea fossils are often found in the Garden of the Gods. In 2016, park staff found the fossil of a shark tooth!
THE EARLY PEOPLES OF THE REGION
Garden of the Gods has been a sacred space since the first people peeped its awe-inspiring rock formations. Several tribes were known to travel this area, Apache, Cheyenne, Comanche, Kiowa, Lakota, Pawnee, Shoshone, and Ute. Conflicts among various tribes were common, but when they entered the Garden, weapons were laid aside and peace was respected on this holy ground. The Ute, who were most commonly in the area, tell of their creation in Garden of the Gods. Interestingly, they are one of the only Native tribes in the Americas whose early stories don't include travel to their land. They have been here since the beginning according to their beliefs. Archeological evidence shows prehistoric people visited Garden of the Gods as early as 1330 BC.
EARLY SETTLERS
In August 1859, two surveyors were here helping to setup and establish Colorado City (now Old Colorado City). They took a day to explore the park, then known to the Europeans as Red Rock Corral. MS Beach had visited Germany's beer gardens and exclaimed, "this would be a capital place for a beer garden!" His companion and fellow surveyor, Rufus Cable felt a greater sense of awe and admonished Beach saying, "Beer Garden! Why, it is a fit place for the Gods to assemble. We will call it the Garden of the Gods."
A GREAT GIFT
Charles Perkins purchased 480 acres of Garden of the Gods land, in 1879. His dear friend, William Jackson Palmer had built Glen Eyrie just a few years earlier and Perkins planned to build nearby. Perkins decided to leave the land in its natural state and was always generous with the space, allowing locals and visitors alike to enjoy this majestic place. When he passed in 1909, his family deeded the land to the City of Colorado Springs with the provision that it would be a free public park in perpetuity.
TODAY
Garden of the Gods became a National Natural Landmark in 1971 and has continued to grow in popularity. Between other local donors and smart acquisitions by the Parks Department, Garden of the Gods has grown to 1,367 acres. It's estimated that about 6 million visitors enjoy this scenic wonderland each year, but through education and fine stewardship, the park is being looked after as never before.
Remember, we live in a high alpine desert here in Colorado Springs. The habitat is delicate and slow to return when damaged. Help us, as you enjoy these wonders, preserve it for future generations. STAY ON THE TRAILS! Leave no trace. Do not litter or toss cigarettes. And if you're feeling really ambitions, check in with the folks at Friends of the Garden of the Gods to see how you can help!
Thinking about visiting the Pikes Peak Region but not sure where to start? We're here to make the planning process easier.
If you're ready to start planning your ultimate adventure, there's no better place to start than our free Vacation Planner.
Have a burning question you need answered now? We're on chat Monday-Friday (when we're not in the mountains).
Once a month, we'll send you a brief synopsis of upcoming events, stories about the area and attractions, special deals, and