Thank you first and foremost for your partnership in this amazing industry.  We are grateful for you and your help to make this one of the best places to vacation in the country!
We have several resources available to help you help our guests enjoy their time here.  Check out our Attraction's Page for detailed info about all our great attractions, or our Prices Page for quick info on prices and hours.  We also have printed price lists we create seasonally, map pads and passes for you and your employees to give you a first hand experience at the attractions.  Let us know what you need and we'll get it to you as soon as we can.
Here's to another great season!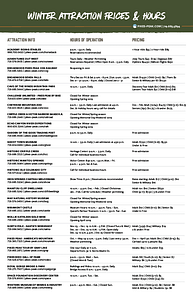 Industry partner attraction price lists
Websites, phone numbers, hours and prices of the top attractions in the Pikes Peak region all in one convenient place. Printed on heavy stock, they're perfect for display or stashed behind the front counter.
Industry partner flat maps
These flat maps of the Pikes Peak Region are great tools to help you show folks how to get around the area. The 11 x 17 maps are padded in groups of 50 and are a perfect way to put them out on your front desk for people to take and use at their leisure.
Industry partner VIP passes
"What's there to do here?" Answer this question like a champ with some first-hand experience. Reserved for front-line staff and volunteers, the Industry VIP Pass is a free pass that gets you and your staff into most of our attractions to experience all the great things to do!
If you have any help or have questions or concerns, please reach out to us at  adventure@pikes-peak.com or 719-685-5894.
Thank you for your partnership and here's to another great season!
Get featured on the WHERE TO STAY page
Visitors need to know three things when they're traveling:  Where are they going stay? Where are they going to eat? What are they going to do? We've got #3 covered but we need your help and expertise on the other two. Get your share of over 3 million page views from folks planning their trip to the Pikes Peak Region.