Top things you need to know about
The Pikes Peak Highway will require a reservation for visitors wishing to drive themselves to the summit from Memorial Day weekend until September 30th. If you do not have a reservation, you will still be able to drive to mile 16 of the 19 mile highway. Make reservations at drivepikespeak.com.
Please note you cannot leave a vehicle on the summit overnight. All vehicles must be completely off the mountain by close of business.
You have lots of options when it comes to enjoying Pikes Peak, this is America's Mountain after all. We're here to help you find the perfect one for you and your crew. Whether you want to test your endurance or kick back, relax and breathe it all in, we've got the adventure for you!
Best if you want to take in the view
If we mapped out the options for enjoying Pikes Peak on a scale of ease and affordability, driving your own vehicle would be the perfect apex where the two converge. By far the most popular way to summit, driving gives you the freedom to take things at your own pace. Stop at every curve of the road, or cruise straight to the clouds, you're in charge and can spend as much time as you like during the highway's daily hours.  Bring a picnic, fishing poles, and hiking boots to make a day of it!
Be sure to pick up some summit house donuts at 14,115 ft.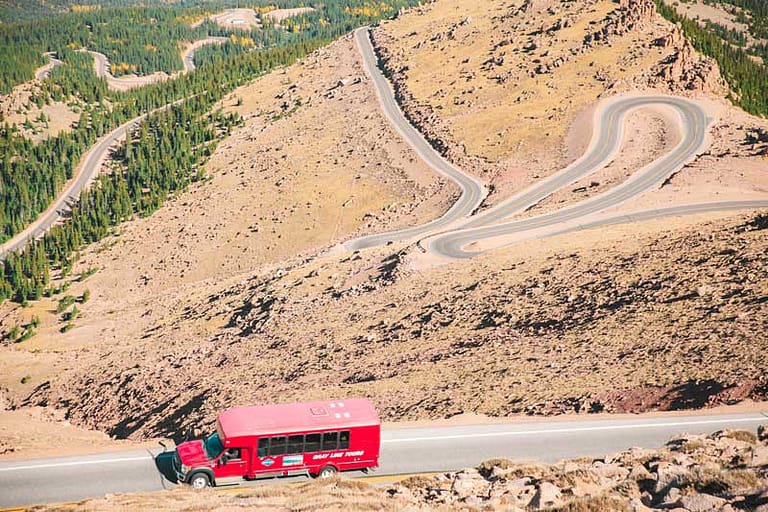 Best if you want to sit back and relax
The drive up Pikes Peak is awesome, but the driver has to keep their eyes on the road and not the view. Plus, if you're not used to mountain driving, the top of the Peak can be a little intimidating. Lucky for you, there are two very experienced tour companies who make the drive everyday and know it like the back of their hand. Adventures Out West Jeep Tours are perfect for those looking for a bit of adventure (it's in their name!) Their custom Jeeps are specifically built to optimize your view, and they've taken every effort to ensure your comfort along the way as well. Pikes Peak Tours by Gray Line specialize in luxury shuttles and friendly knowledgable tour guides that will be your new best friend by the end of the trip. Take your ride in style — let them keep an eye on the road while you keep an eye on those views!
***Please note, Pikes Peak Tour by Gray Line is not currently running individual tours but is available for large chartered tours.
Be sure to call for reservations!
Great to enjoy the back country
Broadmoor's Manitou and Pikes Peak Cog Railway will get you back into some of the more rugged areas of this glorious mountain without having to lace up hiking boots.  This relaxing ride will take you through several biomes, past quaking aspens, towering boulders and if you're lucky a critter or two.  All from the comfort of their completely remodeled, refurbished, and brand new trains.  Be sure to make reservations early, the train sells out about 2 weeks in advance during the summer season.
You'll get about 40 minutes at the summit so plan accordingly and use your time wisely!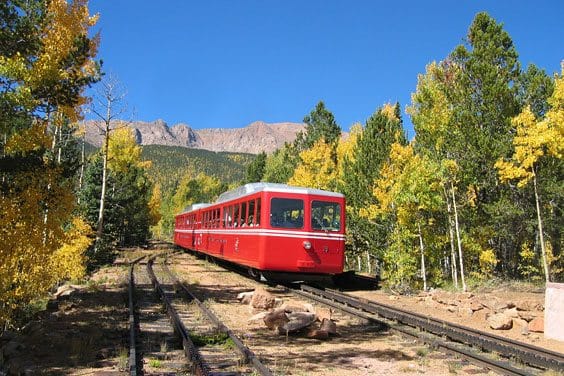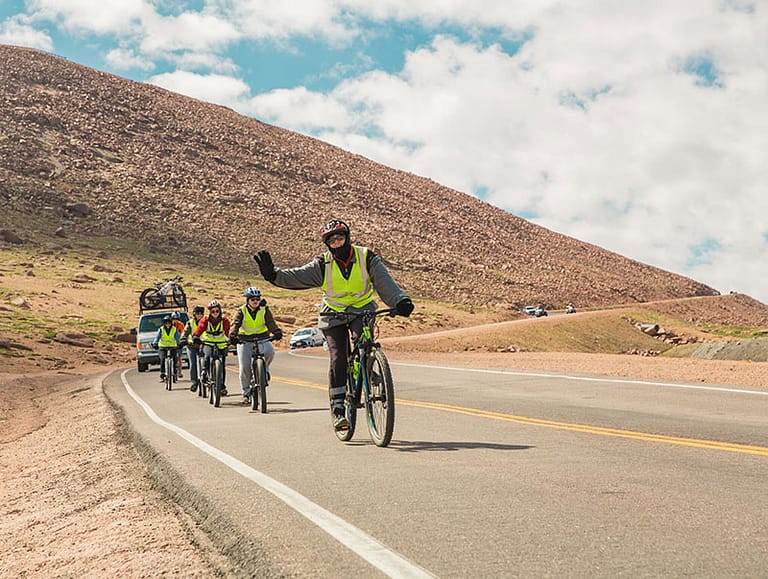 Best if you want to feel the wind in your hair
Remember the joy of riding your bike down a big hill as a kid? Well this is one of the biggest hills around and Challenge Unlimited is the original outfitter to guide you down. Hop in one of their jeeps for a beautiful drive up America's favorite mountain. At the summit, they'll gear you up, including bike, safety gear, and warm layers for that cool mountain air. After some pointers from the guides and a little time to practice shifting gears, you'll be ready for the ride of your life! Sail through different biomes, watch for wildlife, and laugh like a child with the wind in their face.
Call 719-633-6399 for reservations.
Best if you want to get your adrenaline pumping
Pikes Peak is one of many mountains in Colorado over 14,000 feet in elevation, and one of the tougher ones to climb. If you haven't hiked a 14er before, we highly highly highly recommend you do your homework and PREPARE! This hike is 13.5 miles with an elevation gain of 7,400+ feet — and that's just up. If you're from a lower elevation, spend several days in Colorado Springs to acclimate before you go. Bring plenty of water, there's nowhere to fill up along the trail. And make sure you have a plan to get back down. This one is a real "glute-kicker"! Be prepared so you can conquer this climb and not the other way around.
One of the best sources for hiking tips are our local outdoor outfitters.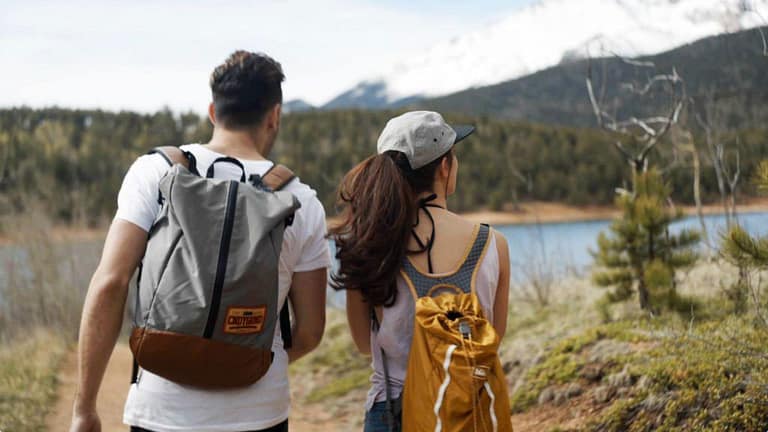 Regardless of how you conquer the mountain, it's important to know before you go. Here are a number of questions we get asked all the time, but if you don't see the answers you're looking for, click on the chat bar in the bottom left corner of your screen. We're here Monday through Friday to answer your questions and help you plan the perfect adventure!
The summit of Pikes Peak is typically 30-40 degrees colder than it is at the base.
A lot of folks are bothered by the altitude and there doesn't seem to be much rhyme or reason to it.  We recommend giving yourself a few days to get used to the elevation of Colorado Springs before you head up the mountain.
Be sure to drink lots of water, and even start a couple of days ahead of time. Dehydration is the leading component of altitude sickness.  Eating before you go up is a good idea too.
The highway is open year-round, depending on weather. We recommend you call 719-385-7325 for road conditions before heading out for the day.
Official elevation of Pikes Peak
Feet above the city of Colorado Springs
Altitude gain of the Manitou Incline in 3/4 of a mile
Difference between the top and base of the mountain
Pikes Peak – America's Mountain
Pikes Peak, located in the Rocky Mountains west of Colorado Springs, is one of the most famous — and most attainable — 14ers in the country.
Clocking in at a magnificent 14,115 feet, Pikes Peak is one of the 53 mountains in Colorado that achieves a height of 14,000+ feet, offering it further bragging rights as one of the top 100 mountains in the United States. Talk about altitude!

The history of Pikes Peak
THE EARLY PEOPLES OF THE REGION
Pikes Peak, which is proudly listed as a national historic landmark, was once home to the Ute Indians and — even earlier — to the Clovis Culture. (According to the official Pike Peak website, the Clovis Culture consisted of early peoples who made their way onto the continent during the last ice age.) Back in the time of the region's first peoples, the mountain was referred to in many different ways, including Sun Mountain, Sun Mountain Sitting Big and Long Mountain (which was the name given by the Arapaho, who came to Colorado in the 1800s). The Spanish explorers who came to the region referred to the mountain as El Capitan.
THE FIRST ATTEMPT
In 1806, many different exploration parties were sent out into the territories to explore the country by President Thomas Jefferson. One of those parties was led by Zebulon Pike (you can see where this is going). Pike and his party "discovered" the mountain in the early fall, referring to it as Grand Peak. Unfortunately for Pike and company, it gets rather cold in the Rockies and the team's unfortunate decision to attempt to summit the mountain in November resulted in a mission failure.
The First Successful Summit
Pikes Peak would not be summited successfully on record until 1820, when naturalist Edwin James climbed it in much more pleasant weather. It wasn't exactly easy, but they got it done in two days.
For a brief time, the peak would be named after James. Ultimately, though, Pike's legacy endured. For a while, it was Pike's Highest Peak, then eventually Pike's Peak and finally, the simplified Pikes Peak we call it today.
Creating the Accessible 14er — The Early Years
After settlers came into the Pikes Peak region, it wasn't uncommon for them to ascend the peak by foot or by burro. A road of sorts was built in 1887, allowing a much more pleasant way to travel up to the summit. Most folks preferred a wagon to a donkey if given the option. In 1890, another option came into play as the Cog Railway began to be laid (it was completed in 1891).
Meanwhile, if visitors wanted to avoid the tolls on the road or the cost of the railway, they could travel up the now-named Barr Trail, which was a barely passable prospector route at the time. While you couldn't fit a donkey on the trail back then, it was affordable (free). Fred Barr, for whom it is now named, would fancy it up from 1914 through 1924. (In the 1940s, it was improved even further to the trail that is so popular for Incliners and hikers today.)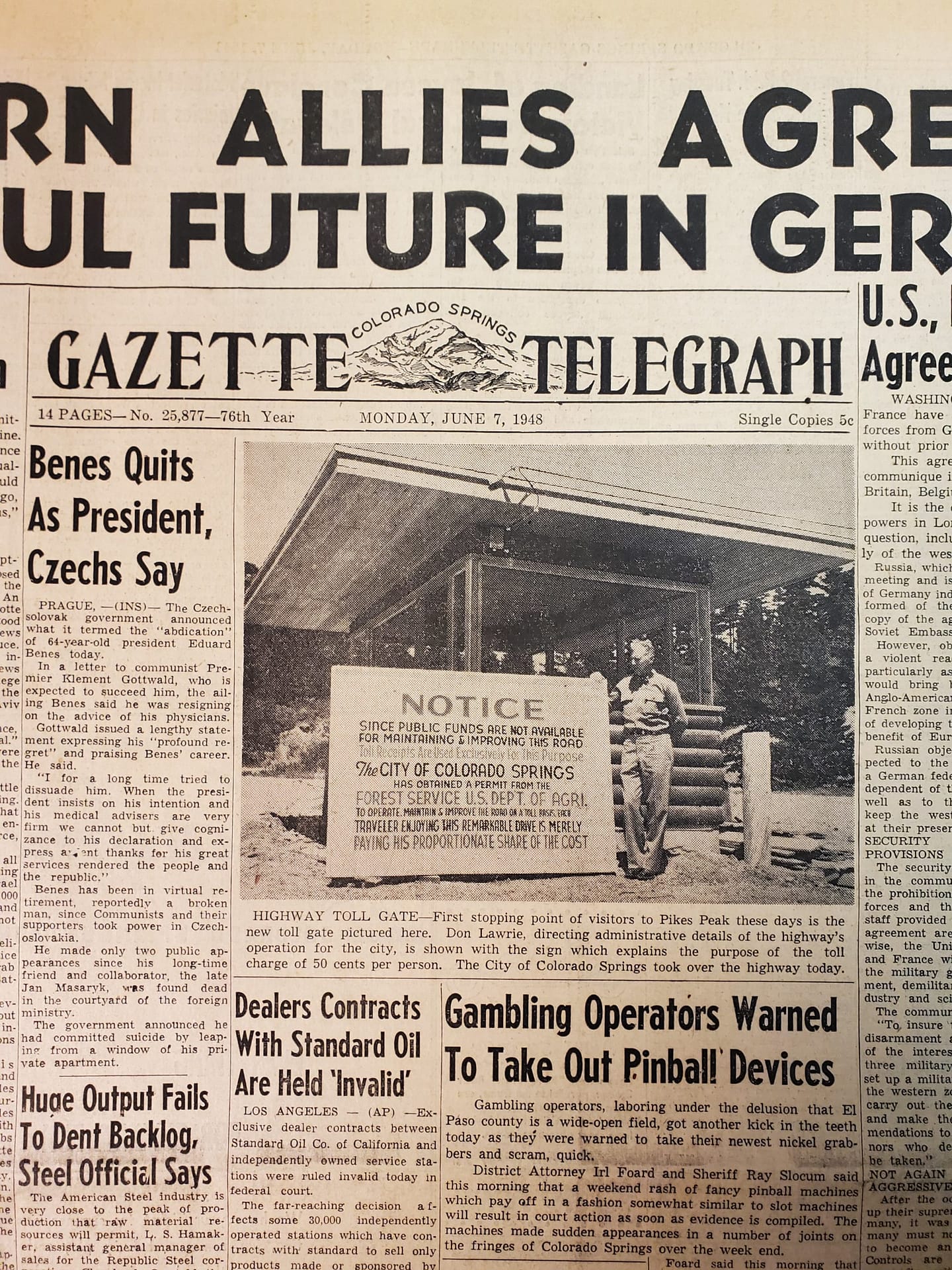 The Accessible 14er — Today
Today, Pikes Peak can be ascended via the Pikes Peak Highway, Barr Trail, or The Broadmoor Manitou and Pikes Peak Cog Railway. The mountain is home to a recreation area with three lakes, hiking trails, mountain biking trails, and the new Summit Visitor Center, where visitors can enjoy a hot, fresh donut and a majestic view. 
Pikes Peak is also home to the Pikes Peak Marathon and Ascent, the Pikes Peak Hill Climb and the Pikes Peak Cycling Hill Climb. Hundreds of thousands of people travel to the peak year-round to ascend by vehicle or on foot, making it one of the most accessible mountains in the world!
Thinking about visiting the Pikes Peak Region but not sure where to start? We're here to make the planning process easier.
If you're ready to start planning your ultimate adventure, there's no better place to start than our free Vacation Planner.
Have a burning question you need answered now? We're on chat Monday-Friday (when we're not in the mountains).
Once a month, we'll send you a brief synopsis of upcoming events, stories about the area and attractions, special deals, and