Fishing in the Pikes Peak Region
Does your idea of the perfect day start and end with a fishing pole and a body of water? Welcome to Colorado, a dream location for those of you who always keep a tackle box in the backseat (you know, just in case). Whether you're a constant caster, a fly-fishing wader or a shoreline snoozer, there's a body of water filled with fish just waiting for your lure skills to entice them to bite.
Here's a quick breakdown of the fishing rules for Colorado:
Your license is valid from

March 1 though March 31

of the following year. It doesn't matter when you buy it, it is not a rolling year, so it's best to get it early.
Kids under 16 fish for free, which is pretty awesome (although they have to pay $5 for a second pole).
Residents 16-17 can get a 1-year license for $10.95, and seniors 64+ can score one for the same deal.
Non-residents can get a 1-year license for $111.03 or a 5-day for $36.
Only have one day to fish? You're golden. Colorado has a 1-day license for $19.
Find the most up-to-date rates and rules from Parks and Wildlife

here.
Places to buy a fishing license in Colorado Springs:
Although you can purchase your fishing license online, sometimes you don't want to wait for it to be mailed. The first option is to write down or memorize your temporary ID number. But if you're not comfortable with that, here are a few locations you can purchase a license:
Angler's Covey near Old Colorado City
11 Mile Sports
11 Mile General
Walmarts throughout the city
Big 5 Sporting Goods
The Peak Fly Shop in Woodland Park
Fishing in Eleven Mile Canyon or Eleven Mile Reservoir
Where can you experience the joy of river fly fishing or lake fishing with minimal travel betwixt the two? Try Eleven Mile Reservoir or Canyon. In the canyon, fish along the South Platte River and experience challenging and exciting fly fishing amongst boulders, cliffs, trees and curves. In the reservoir, you can take a boat out (or hang on the shore) and catch some big bad fish that will give you a heck of a fight. There's shady spots, camping spots, picnic pavilions and more along either location, making it another great location to spend the whole day. Things to know: The reservoir has had some struggles with invasive species, so review the website carefully to ensure your boat doesn't bring in new problems (or take their current issues to your next lake stop).
Fish Types: Trout, salmon, pike and carp.
Head to the Plains for Eastern Colorado Lake Fishing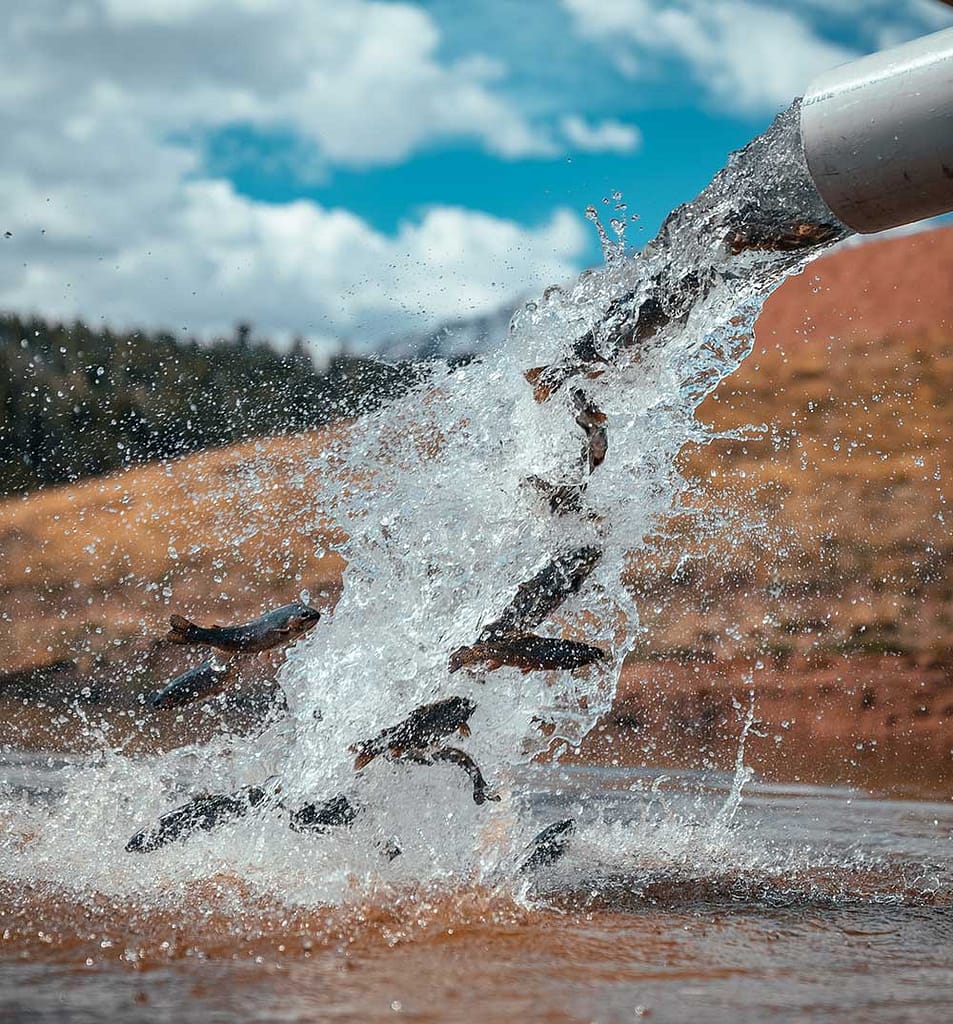 East of Colorado Springs, you'll find quite a few lakes of varying sizes offering multiple types of fish. These lakes are rustic little spots with limited amenities (if any). Think driving down dirt roads over cattle grates to hang out in the grass. Bring good sun coverage, 'cause there ain't a lot to be had, as well as water and snacks (because services are few and far between). You're going to want to watch for sticks, grass and turtles while your line is in the water. Great lakes include Hugo/Kinney and Karval. The best part? Their distance and more minimalist atmosphere means you'll find a lot of peace and quiet. (Like any lake, holidays are still busy).
Fish Types: These lakes are stocked, so the catch can vary. Generally you will find bluegill, trout and catfish.
Fish Pikes Peak — America's Mountain (Note 2024 Closures)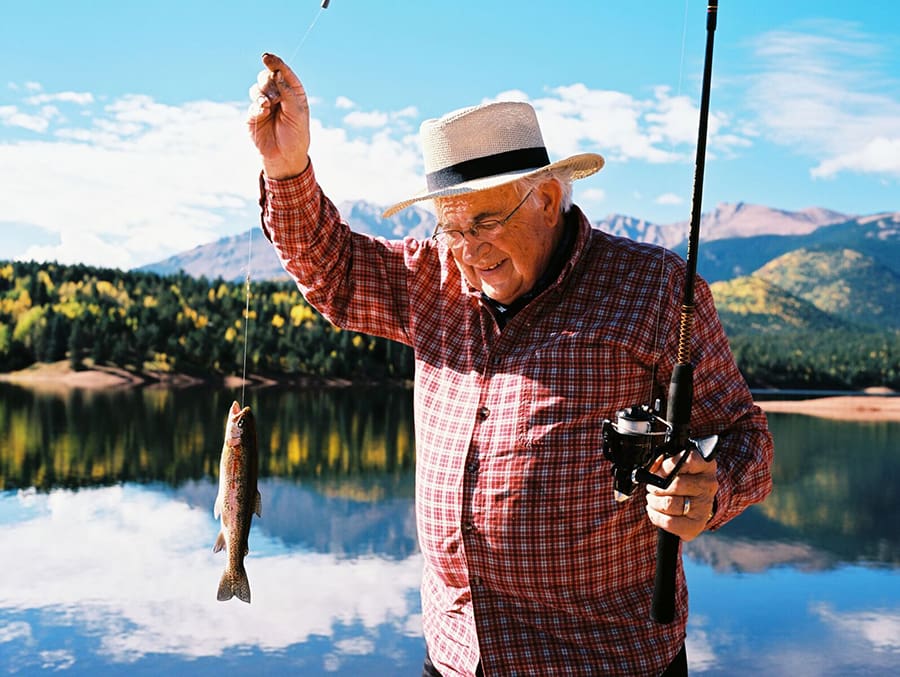 There's only one summer left to enjoy the entirety of Pikes Peak's recreation area before two of the reservoirs close for extensive restoration. In 2024, road access to the North and South Catamount reservoirs will close while Colorado Springs Utilities performs mitigation and repair in the popular spaces. That means you'll want to get poles in the water right now so you can enjoy them. Because of the pending closure, we'll share the good news about the Peak's other popular reservoir, Crystal Creek Reservoir. Clocking in at about 136 acres (bigger than South Catamount, smaller than North), Crystal Creek reopening in May of 2023 after a dam repair project required shutdown. Since reopening, Colorado Parks and Wildlife has stocked a whopping 4,000 brown trout fingerlings and 15,000 of those glittering rainbow trout that are so popular with anglers. There are 103 first-come, first-served parking spots, developed picnic spots and lakeside nature trails. The reservoirs are all low, so be prepared to navigate steep slopes in some areas.
Fish Types: All the trout.
Flying High in the Arkansas River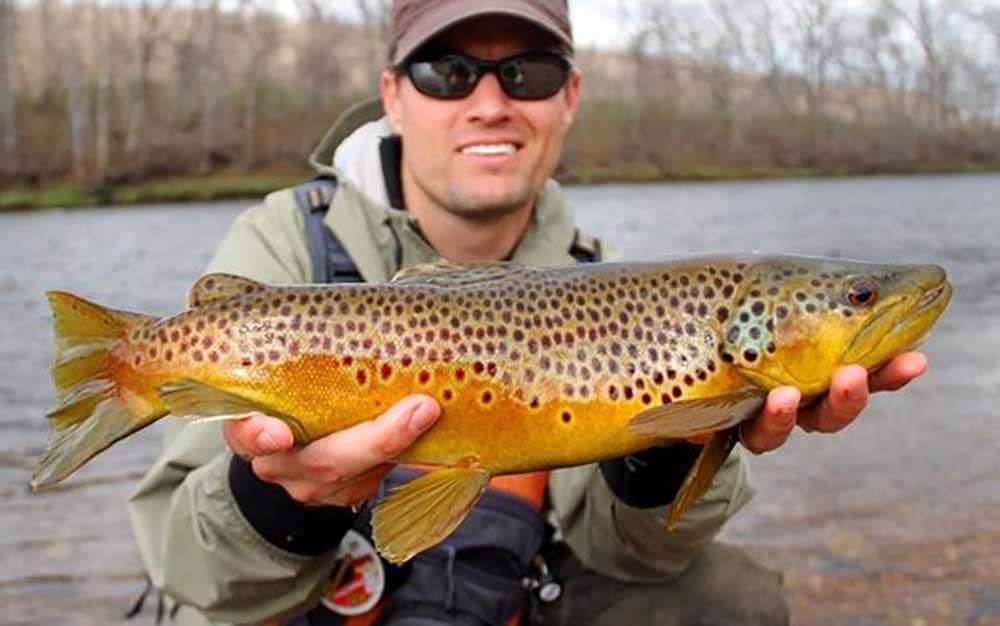 Bodies of water are plentiful in Colorado, but few places have the designation of being the sixth longest river in the United States. It begins in Leadville and travels 1,469 miles through Colorado, Kansas, Oklahoma and Arkansas before meeting up at the Mississippi River. Fly fishing is the most popular way to fish the rapidly flowing water and anglers looking for the best spot will be delighted to know it's barely an hour out of Colorado Springs to hit up some of the best stretches of the river in the state. Brown trout can be found in the Royal Gorge and in waters leading down from Salida. The flies start hatching like crazy in May and the fun doesn't stop until well into fall. Caddis and stoneflies hatch early in the season, so caddis and nymphs are a great option for fly patterns. Some areas of the river have catch and release restrictions so take care to learn the sections before you go.
Fish Types: Brown and rainbow trout
These locations are just a sample of what Colorado and the Pikes Peak Region have to offer fishing enthusiasts. Gather your poles, lures, flies and waders and hit the water for days of fishing and fun.