Father's Day Activities in Colorado Springs
Father's Day is here already and we know you cannot wait to celebrate the dads in your life with a fun day out. We know that there are all kinds of fatherly figures out there (and we're not talking about dad bods), so we've broken down our dadly activities by adventure type to make it easy for you to find things to do this weekend.
Free Father's Day Activities in for Frugal Fathers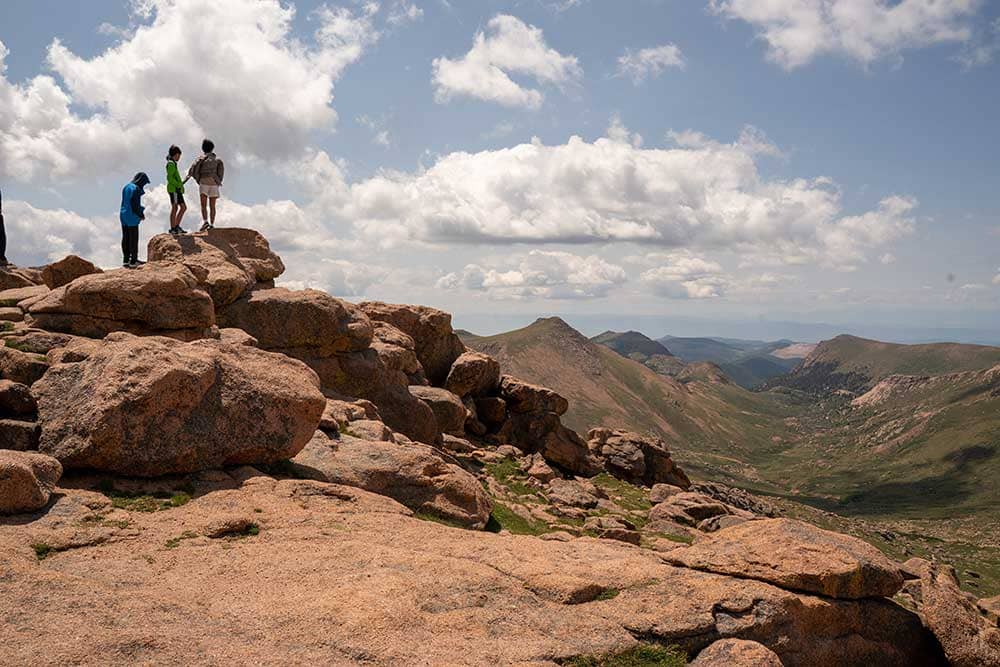 Everyone's on a budget these days and if your pops is like most, he'll try to get out the wallet to help pay, no matter how much you protest the fact that this is supposed to be his day. Some dads just can't seem to stop wanting to take care of their kiddos, even when those kiddos have wee ones, careers and money of their own. This Father's Day, you can say "no way!" to his attempt to pay at these awesome attractions that offer free admission for dads. He won't even be able to feel bad — 'cause he's free!
Free Admission for Dads on Pikes Peak
Free Admission for Dads at the North Pole—Santa's Workshop
Free Admission for Dads at the Rocky Mountain Dinosaur Resource Center
Garden of the Gods (this place is free for everyone)
Free Admission for Dads to the Fine Arts Center
The Rocky Mountain Mustang Roundup
Your dad can take his pick of destinations for this automotive event featuring an American classic — the Ford Mustang. On Wednesday, June 14, your father can take his pony for a ride on the open track at the Pikes Peak International Raceway. Reach speeds that would normally earn drivers a hefty ticket all on a safe track. Details for driving can be found here. On Thursday, your pops can also join up for the PPIR autocross session with timed courses that will challenge his skills as the family's master of driving. Friday gives dads the chance to roam in packs, traversing through Canon City and up Skyline Drive and via a stretch on the Gold Belt Tour leading into the iconic mining town of Cripple Creek. There, everyone can mix and mingle at the Cripple Creek Heritage Center. The social is free to all registered drivers. On Saturday, it's time to scrub off the bugs from Friday's cruise and show up for the Show n' Shine in Cripple Creek. You'll find some of the prettiest 'stangs ever to grace the road, including classics, modern models and souped-up mods. Stay the whole weekend if you want to maximize the time with dad. We have some ideas for activities below.
Nature Experiences for Outdoorsy Dads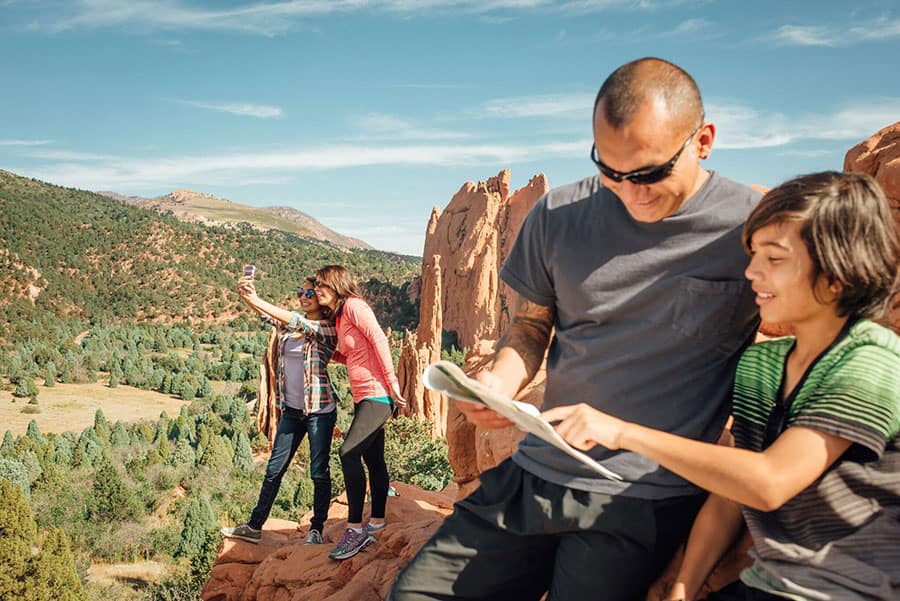 If your dad is the sort who prefers his leisure under bright blue skies, we've got some fun ideas. Up above, we noted that Pikes Peak is free for fathers. That means you and your dad have access to lakes for fishing, trails for hiking and multiple places to stop for a picnic. Snag him a hot and fresh donut at the summit for extra brownie (donut) points. Or perhaps you'd prefer to tackle some of the many beautiful hiking trails in Garden of the Gods, which has easy walks on paved paths and more difficult routes that overlook the formations and surrounding hillsides. Academy Riding Stables can take you along those same trails via horseback if your dad wants a unique way to explore the world-famous park. You can even buy dad a burger at the Garden of the Gods Trading Post when you're done (don't forget to score fudge for dad, too). If the Garden is too crowded, there are great trails at Red Rock Canyon Open Space that weave through the quarry and connect to more challenging, lengthier hikes. Right next to the space are breweries in Old Colorado City, Manitou Springs and downtown Colorado Springs to enjoy a post-hike beer with your pops.
Adrenaline-Pumping Activities for Thrill-Seeking Patriarchs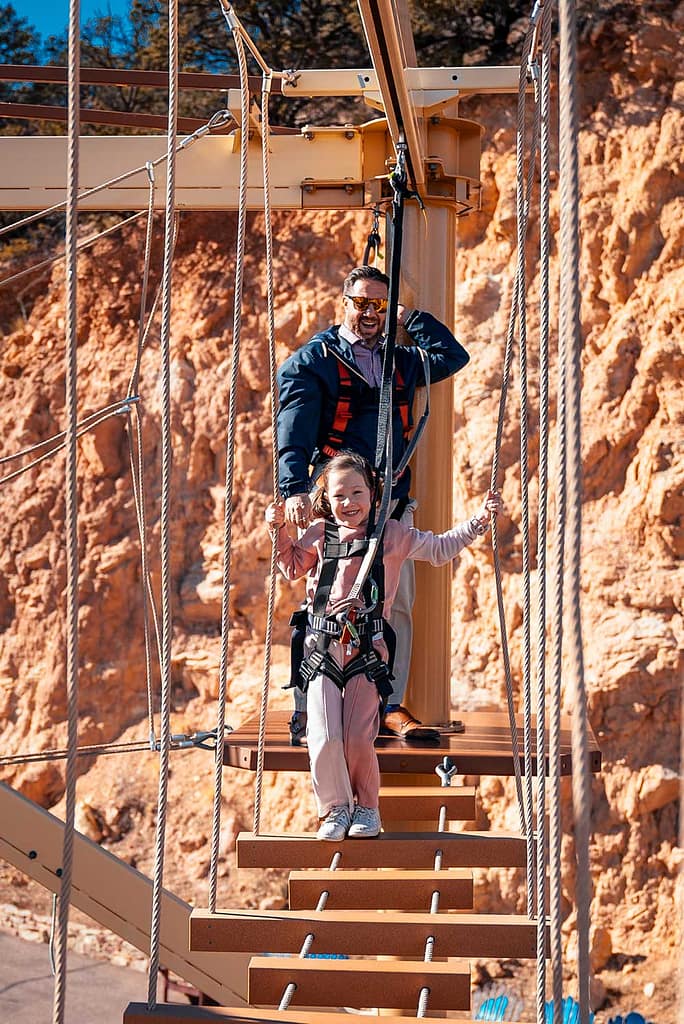 For the fathers who settled down, but never really "settled down" there are many heart-pumping activities to be found in the Pikes Peak region. Over at Cave of the Winds, there two exhilarating rides outside the cave tour (which is also rad), the Bat-a-Pult and the Terror-dactyl, both of which allow you to soar over the canyon side-by-side with your dad. A little further from Colorado Springs, you'll find more thrills at the Royal Gorge Bridge and Park, which has the Skycoaster and the Cloudscraper ZipRider. For excitement that's a bit closer to the ground, but not closer to sea level, Challenge Unlimited will send you and your dad up Pikes Peak in a van, then down Pikes Peak on a bicycle for 20 miles. Last, but not least, on our fatherly thrill list, is a white water rafting trip with Echo Canyon River Expeditions. They have short trips, long trips, easy family floats and pulse-pounding adventures that are sure to create fun memories that your dad will love. Back here in Colorado Springs, Adventures Out West can also provide some heart-pumping fun with dad, from ziplining and Jeep tours to hot air balloon rides over the Pikes Peak region.
The Pikes Peak Celtic Festival
If there's something more dadly than a day of whiskey, kilts and feats of strength, we are open to your suggestions. In the meantime, you'll find all of those activities and more at the Pikes Peak Celtic Festival at the Western Museum of Mining and Industry. The event begins Friday, June 16 and runs through Father's Day, giving you three days to choose from (or take your old man to all three). The Pikes Peak Highland Games will feature classic events (dad can still sign up to participate if you act fast) like the hammer and the caber. There is a whiskey tasting with a few spots that are still open. No tickets will be sold at the door, so sign up for whiskey spots right away here. In addition to the games and the whiskey tasting, you'll also find Irish food vendors and live music, plus bagpipe and drumming competitions. 
Relaxing Fun for Chill-Chaser Padres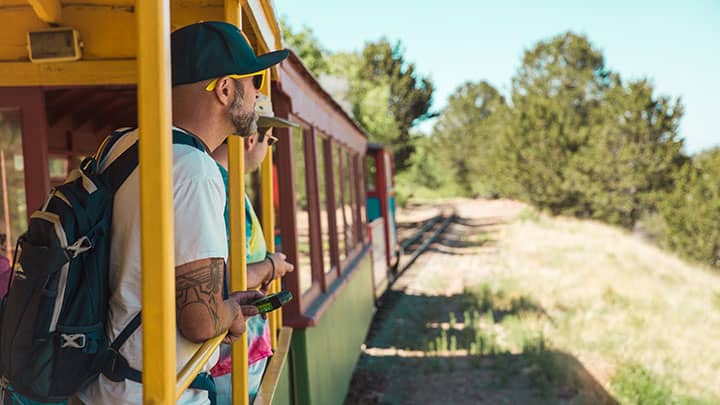 If your pops is more of a sit-back-and-relax sort, we suggest you take a relaxing Sunday drive to Cripple Creek, where you can hop on the Cripple Creek and Victor Narrow Gauge Railroad. It's a scenic journey through the mountains with great views and lots of family time and when you're done, you can visit the Cripple Creek District Museum for a tour of historic buildings and artifacts. The Saturday before Father's Day includes the Mustang car show we outlined above if he's a car buff. The Flying W Chuckwagon is another easygoing, relaxing way to celebrate dad, with hearty food, cowboy songs and plenty of bad jokes … er, dad jokes. Closer to home, you can take a leisurely stroll through Manitou Springs, where you can wine and dine your dad in multiple local restaurants, play a few rounds of Skeeball at the arcade, sip from the many mineral springs and just, well, chill-ax.
The Pikes Peak regions is bursting with activities for fathers of all sorts. Gather up the dads in your life and take them on an adventure this weekend!