Colorado Springs Fireworks (and More) this Independence Day
It's time to celebrate our nation's birthday with festivities and fun. Yes, that's right, Independence Day is nearly here, and we are stoked! It's time to party ladies and gentlemen, and there are very few places in the country that can do it quite as spectacularly as Colorado Springs. This year, we're sharing more than just fireworks celebrations, just in case there are hot and dry conditions that result in cancelations. Fingers crossed we stay in the yay zone!
The Star-Spangled Symphony & Fourth of July Fireworks in Colorado Springs
This is the best evening of the year for fans of explosions (but definitely a rough one for our pets). Colorado Springs has an especially cool way to celebrate, by bringing you the symphonic jams of the Colorado Springs Philharmonic via terrestrial radio in tandem with multiple shows in the Pikes Peak region. You can attend the longer version of the concert for free in-person  at the Pikes Peak Center by registering at this link. You must be registered to attend the in-person event. The music begins at 9 p.m. with fireworks launching around 9:15. You can tune in via the following radio stations:
Sunny 106.3 FM
Y96.9 FM
KCME 88.7 FM
AM 740 KVOR
92.9 Peak FM
Now that you know where to listen, let's break down where to ooh and ahh.
Fireworks in Cripple Creek (Free)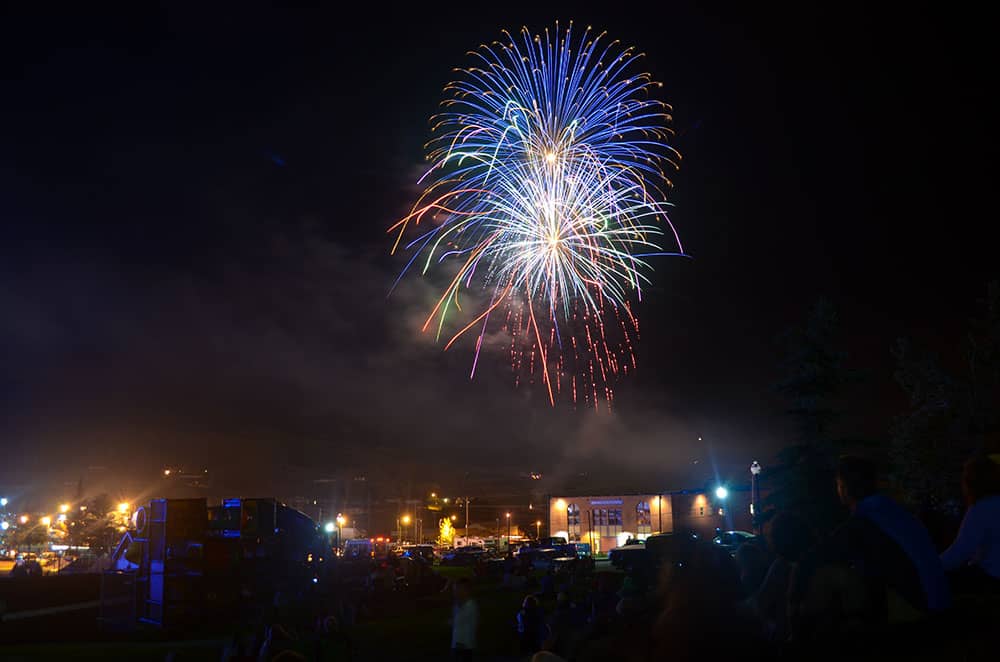 Cripple Creek is hosting a spectacular fireworks display on the Fourth of July about 20 minutes after dark. Make your way into the mountains for high-elevation entertainment with a slightly smaller crowd. The entire day is dedicated to celebration and the event is very family friendly. You can meet with the Cripple Creek wild donkey crew, hang out and jam to live music and dine and drink from noon-8 p.m. The show aims to be impressive, considering the open skies and mountain backdrop! Head up early in the day to beat the traffic and enjoy some of the town's cool attractions like the Mollie Kathleen Gold Mine Tour or a ride on the Cripple Creek and Victor Narrow Gauge Railroad. The fireworks will begin at 9:30 (they don't have the luxury of the mountain to darken the sky earlier) and can be viewed from points in and outside of town.
Fort Carson Freedom Fest — June 30 (Free)
Fort Carson is welcoming the public for an unforgettable event. Starting at 5 p.m. attendees will be able to hang out and drink, dine with multiple food trucks and listen to a rad line-up of live music, including Exit West, William Michael Morgan, Josh Gracin and Tenille Arts. There's an absolutely crazy bounce house park your kiddos can enter with a $10 wristband. Last report noted 17 bounce houses including a zone for bitty kids to avoid getting suplexed by rowdy big kids. Vendors will be at the event with crafts, food, art and other items for purchase. The key to getting in is to apply for a pass online before the event. You'll get a text confirming you are approved and all you have to do is bring your driver's license to get. We highly, highly recommend that you do not wait until the day of the event because you will be cranky when you are stuck waiting. It goes without saying to leave drugs, weapons and other contraband at home. Get the details for parking and such here.
Celebrate with the Switchbacks ($33+)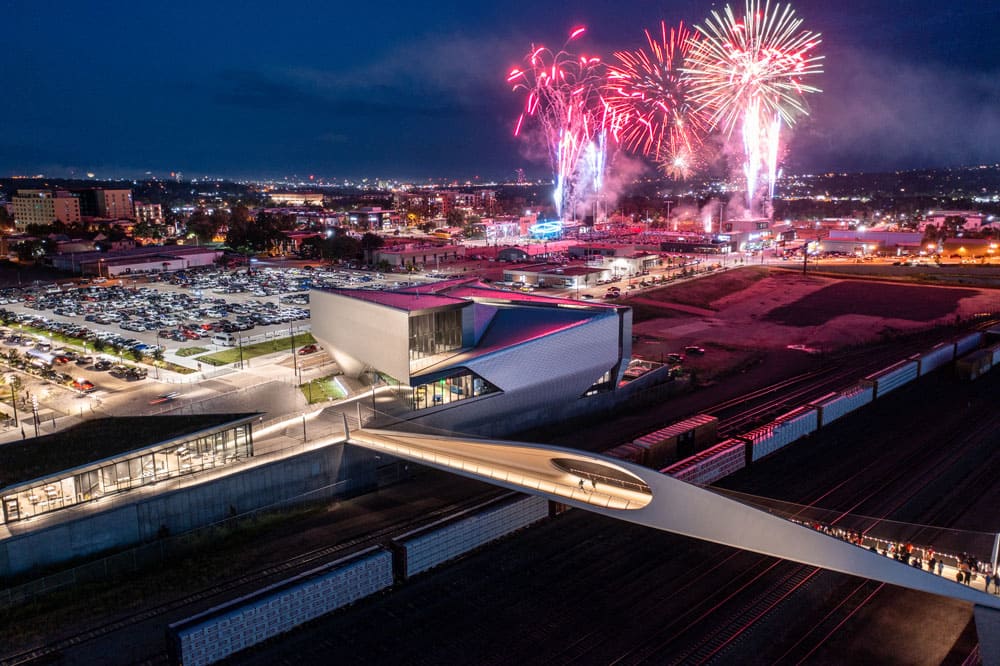 You have to buy tickets to catch this special firework spectacular, but you're not going to mind. Weidner Field puts you right in the heart of Colorado Springs' nightlife and they put on one heck of a show. You may have even caught a glimpse of one of their Friday night displays if you've passed through downtown at the right time. Tickets are about $30, but you'll have a guaranteed seat and instant access to food and beer at vendors throughout the stadium. The Switchbacks will be playing Monterey Bay beginning at 7 p.m. If you can't score a ticket, score a safe spot in the nearby park or near the U.S. Olympic Museum and Paralympic Museum and get all the explosive sparkle for free.
Vibin' with the Rocky Mountain Vibes ($15+)
If soccer is not your favorite pre-firework sport, what about the great American pastime? Head over to UCHealth Park on the east side of Colorado Springs and watch as the Vibes take on the Owlz. Like Weidner, you'll have lots of food and drink to choose from, including hot dogs, burgers, beer and ice cream. Pretty darn American if you ask us. The fireworks will follow the game and the Vibes firework crew puts on a very cool show. Just ask the neighbors. Tickets start at $7 and there's even an option for field seating. It's on a big hill, so you can lay out a blanket and look straight up at the sky once the show begins.
Independence Day Events in Colorado Springs without Fireworks
Not everyone is a fan of fireworks, so we also like to make a list of places for people to visit that won't light up the sky. We can't guarantee that people in surrounding neighborhoods won't have any fireworks, but we can tell you that they won't be the point of these events. Let's look at your options for a firework-free Independence Day.
Music in Old Colorado City
Old Colorado City has proudly offered residents and visitors the chance to check out live music each week with their Classic Tuesdays concerts held in Bancroft Park. Bring a lawn chair and a blanket and settle in for this week's feature performer, The Moldy Figs and the PPSEL Jazz Band. Both bands are beyond awesome at jazz and swing, which means what? That you can dance, of course! The show begins at 6 p.m. and runs through 8 p.m. which means you can be safely back home before the fireworks displays begin all over Colorado Springs after 9 p.m. We suggest you pack a picnic dinner or stop at an OCC restaurant and make a whole big thing of it. It's our birthday, after all.
Manitou Springs Ice Cream Social and Pie Baking Contest — July 3
It's a picturesque event simply perfect for the small-town charms of Manitou Springs — a community ice cream social and a good old-fashioned pie baking contest. Competitors bake up two copies of their favorite pie, their old family recipe or their latest experiment and present it for rigorous judging. Why two pies? So you and your friends can buy a slice of what's left after the judges have their sample! The cost of the pie slices supports the ice cream social, which serves up icy confections in the park. You can bake up a recipe of your own and enter the contest if you're inclined. Registration is found here. Last, and absolutely not least, you can catch a free show by Little London Winds at 7 p.m. Sounds like a postcard of an evening.
Independence Day Weekend at the Royal Gorge Bridge and Park
The Royal Gorge Bridge and Park has always offered lots of fun and exciting activities to help guests celebrate Independence Day in the Pikes Peak region. This year is no exception, with musical entertainment by Deja Bluz, plus face painting for the kiddos and all the other magical park activities available for purchase like the aerial gondolas, Skycoaster and Tommy Knocker Playland. You can even zipline or try out the cliffside Via Ferrata, led by confident, knowledgeable guides. Of course, there's also the wonder of the Royal Gorge Bridge to enjoy, plus good eats in the park café.
Green Box Art Festival Block Party
This free party won't have fireworks, but it will have the flame! Hosted in the stunning town of Green Mountain falls, you'll have an opportunity to spend the evening of the Fourth immersed in poetry and dance. The block party begins at 5 p.m. with a poetry workshop that will then flow into a swing dance lesson. You'll want to jump in on that lesson because the evening also has two bands performing, the Lili Lewis Trio and Carlos Washington's Steel Horse Swing. Now, you're probably wondering, what about the flame thing? Instead of fireworks, attendees will launch lanterns on Gazebo Lake from Green Mountain's adorable gazebo. It's a different kind of evening for folks who like their party with an extra dash of chill. Learn about it here.
We hope this list sets you up for a fabulous Fourth of July in Colorado Springs, whether it's spent barbequing and dancing to live music, oohing and aahing to stunning fireworks or all of the above.