Colorado Springs Fireworks (and More) this 4th of July
It's time to celebrate our nation's birthday with festivities and fun. Yes, that's right, Independence Day is nearly here, and we are stoked! It's time to party ladies and gentlemen, and there are very few places in the country that can do it quite as spectacularly as Colorado Springs. This year, we're sharing more than just fireworks celebrations, just in case there are COVID-19 restrictions in place or if hot and dry conditions result in cancelations. Fingers crossed we stay in the yay zone! 
Fireworks Displays in Colorado Springs
Last year, the Pikes Peak region tried something a little bit different to celebrate Independence Day and it was a huge hit. Gorgeous fireworks displays lit up the city in strategic locations, allowing many residents to safely view a show from the convenience of their porches, parking lots and rooftops. It was so popular that the city is bringing the tradition back in 2021, meaning that you may not have to leave the comforts of home to be a patriotic participant in this year's festivities. 
You can check out this fun map over at Colorado Springs Sports Corp. to find out if your neighborhood is in the sphere of awesomeness. There are going to be surprise treats awarded to five lucky neighborhoods and the Fort Carson Black Hawks will do a community flyover between 5-6 p.m. Even Falcon is in on the action out in eastern El Paso County, so there's a good chance you'll find your own display or one close by without too much effort. You can tune in to the following radio stations for all those favorite American jams past in present at:
Sunny 106.3 FM

Y96.9 FM

KCME 88.7 FM

AM 740 KVOR

92.9 Peak FM
There will also be displays at Sky Sox and on Fort Carson on Friday, July 2, but restrictions may be in place and admission may be required to attend. 
Fireworks in Cripple Creek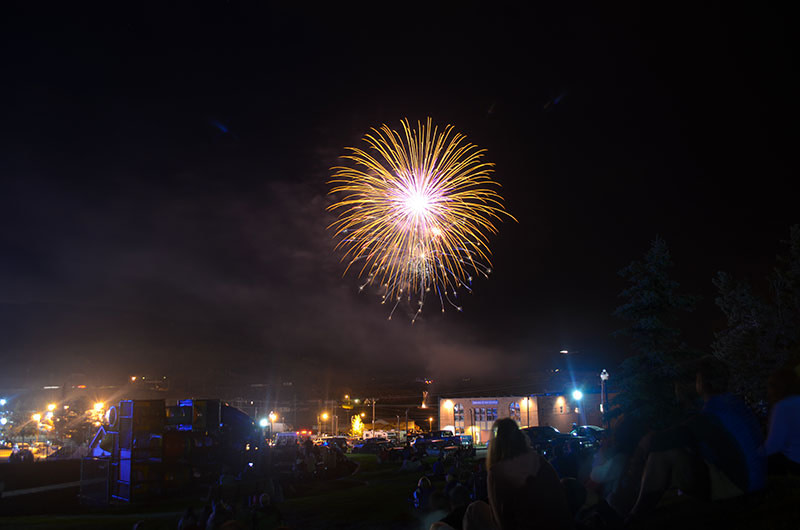 If you have your heart set on the traditional Independence Day experience, Cripple Creek is hosting a spectacular fireworks display on the Fourth of July about 20 minutes after dark. Everyone will be welcomed to town to enjoy the show from their vehicle (to maintain social distancing). The show aims to be impressive, considering the open skies and mountain backdrop! Head up early in the day to beat the traffic and enjoy some of the town's cool attractions like the Mollie Kathleen Gold Mine Tour or a ride on the Cripple Creek and Victor Narrow Gauge Railroad. There's also going to be a fantastic art show you can check out while you're up above the clouds waiting for the fireworks. Local Teller County artists have their work on display at Cripple Creek Art Alliance through July 11 and there is so work that really puts the "rad" in Colorado. 
Independence Day at the Royal Gorge Bridge and Park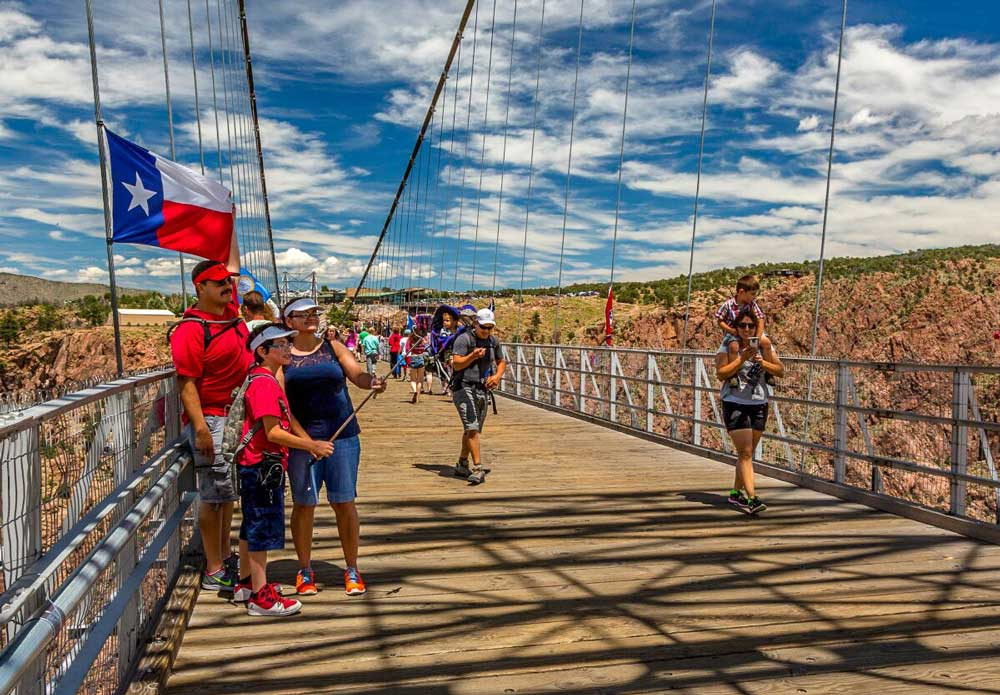 The Royal Gorge Bridge and Park has always offered lots of fun and exciting activities to help guests celebrate Independence Day in the Pikes Peak region. This year is no exception, with musical entertainment by Deja Bluz, plus facepainting for the kiddos and all the other magical park activities available for purchase like the aerial gondolas, Skycoaster and Tommy Knocker Playland. You can even zipline or try out the cliffside Via Ferrata, led by confident, knowledgeable guides. Of course, there's also the wonder of the Royal Gorge Bridge to enjoy, plus good eats in the park café. On Sunday, July 4, the Cheyenne Mountain Zoomobile and the Nature's Educators program will also be there, bringing cool animals and conservation education to visitors in fun and hands-on fashion. 
Manitou Springs Free Concerts
While Manitou Springs has hosted fireworks displays in the past, this year the city will be staying cautious for the safety of guests and residents. You can still get your fill of this favorite foothills town, just sans explosive sky flowers. At 7 p.m. on July 1, you can hear the sweet strains of Tenderfoot Bluegrass live at the Bud Ford Pavilion. On July 5, the Pavilion will welcome All Aboard and give you something to dance about. Like the other Independence Day events in the Pikes Peak region, it's worth showing up earlier in the day to explore. Manitou Springs has lots of cool shopping and delightful restaurants, not to mention the famous Penny Arcade, the natural springs and the charming locals. 
We hope this list sets you up for a fabulous Fourth of July in Colorado Springs, whether it's spent barbequing and dancing to live music, oohing and aahing to stunning fireworks, or all of the above.