6 Ways to Beat the Weather
Colorado weather is about as unpredictable as it gets — and in Colorado Springs, where we are nestled in the cloud-catching Rocky Mountains — it's even more so! Growing up here, you always have two things in your car: a jacket and a pair of shorts (flip-flops are worn year-round, that's how you spot a native). Summer welcomes its share of afternoon showers here in the Pikes Peak region, but a little bit of precipitation doesn't mean your vacation is ruined! You may have come to play outside, but we've got plenty of indoor attractions to pass the damper hours with a healthy heaping of the Colorado fun you love so much. We've found the perfect places for you and your family to go when the weather stinks in Colorado Springs. Of course, you can also visit these places to beat the summer heat or escape winter's chill, too. After all, an all-weather state should have all-weather fun, right?
Check out our Dressing for Winter Weather in Colorado blog, too.
1. Explore Cave of the Winds
Ok, so Cave of the Winds is actually outdoors, but it's going to be difficult for the rain to soak through millions of years of rock, so consider it a … multi-purpose space, ya dig? Cave of the Winds is the perfect place to take the whole family during an afternoon shower. Adults, kiddos and even too-cool teens will have a great time touring this magnificent network of caverns, stalactites, stalagmites and other rockin' features in temps that sit at a comfy 50 degrees year-round. The Discovery Tour takes 45 minutes so it's perfect for that stray thunderstorm. During certain months, there are also more intense tours, like the Lantern Tour, complete with spooky stories and hands-on fun, or the Caving 101 Tour, which lets you and yours get your hands (and knees and shoes) dirty in some of the paths less traveled in the cave. And the gift shop is the perfect place for the rock hound in your life — every family has at least one. You can buy your tickets right here!
2. Visit Ghost Town Museum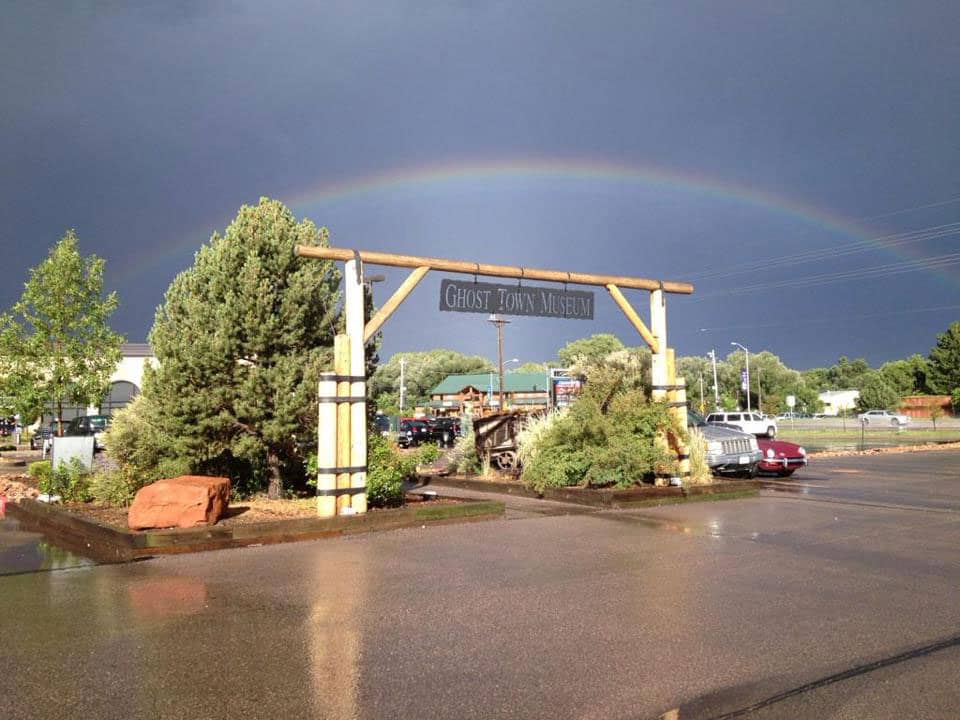 It may have "ghost" in the name, but this museum is not at all spooky — it's just plain cool, with a super rad shooting gallery and lots of fascinating pioneer history. Explore real relics of Colorado's Wild West past as you wander the wooden walkways of actual structures that once dotted the hillsides and valleys of the Rocky Mountains. The whole state is filled with the remains of these once-thriving towns, but you won't have to travel further than the outskirts of Old Colorado City to check them out. There are literally thousands of artifacts to peruse, like stagecoaches, furniture, clothing, tools and so much more.  You'll get to relive the days of the wild, wild west, watch a nickelodeon and have your fortune told at Ghost Town Museum. Here's a coupon for your visit.
3. Go Back in Time at Miramont Castle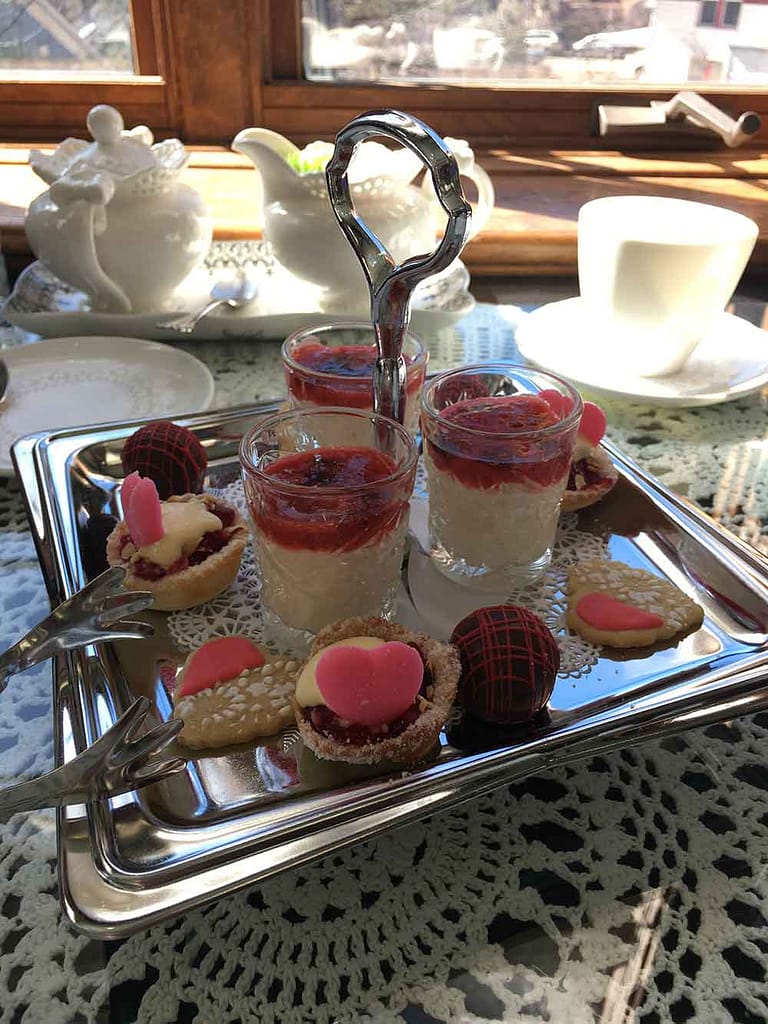 What's a little rain when there's a real-life castle to visit right in the hills above Manitou Springs? Miramont Castle is a true gem resting on Capitol Hill Avenue like a jewel on a crown. Built in the 1800s, it has some awesome architecture, with rooms that turn the same old four-sided square firmly on its head. You'll get to take a self-guided tour through Miramont Castle, checking out its beautiful halls, neat features and Manitou history. While you're there, we suggest you make reservations for a spot of afternoon tea in the Queen's Parlour. The knowledgeable staff can serve you your choice of delightful teas as you sip in the sumptuous Victorian décor, surrounded by lace, fine china and other elegant touches. There's also a high tea complete with scones, finger sandwiches and other tasty treats that will fill you up for your next adventure post-castle. We aren't even punning when we say that a fancy tea at Miramont Castle is a royal treat. Preorder your tickets here!
4. Bug Out at the May Natural History Museum
(Memorial Day through Labor Day only)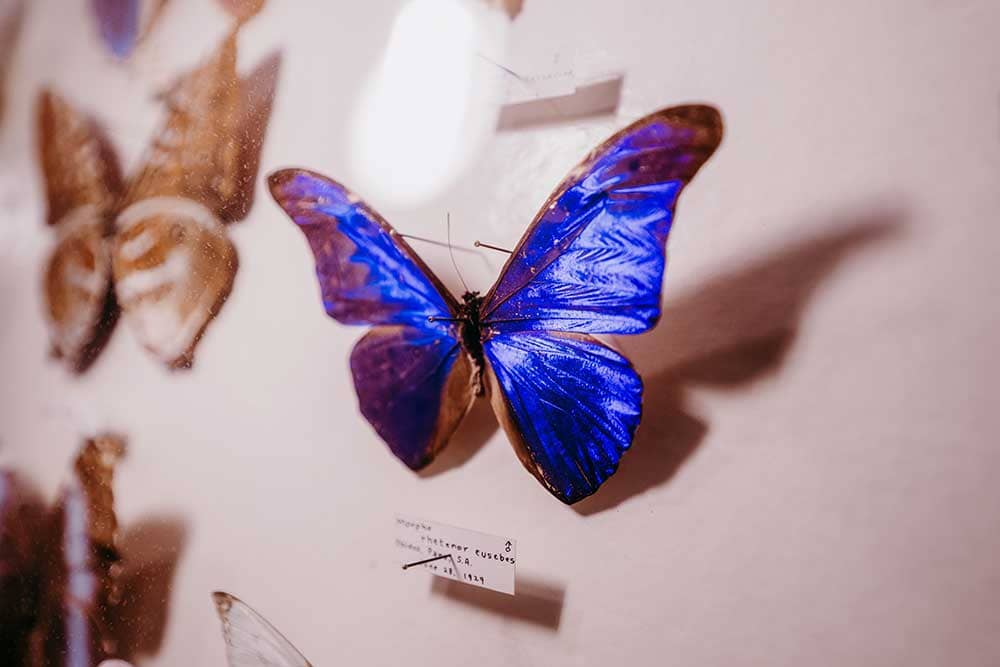 Want a rainy-day adventure that's way different than anything you've tried before? It's time to get off-the-beaten-path with a trip to the May Natural History Museum. Featuring one of the largest privately owned insect collections on the planet, this little museum packs a big bang for your buck! From May-September, you'll pay only $6 for adults, $5 for children and kids under six get in for free. Once you're inside, you'll find more than 8,000 creepy-crawlies on display! Giant butterflies, a walking stick bigger than your hand, spiders, moths, beetles and so much more. Speaking of beetles, you'll know you're on the right track when you see the giant Hercules beetle that guards the entrance to the museum — they call him Herkimer. These bugs come from all over the world, painstaking collected and preserved for your oohing and aahing and photo snapping fun.
5. Travel the Universe at the Space Foundation Discovery Center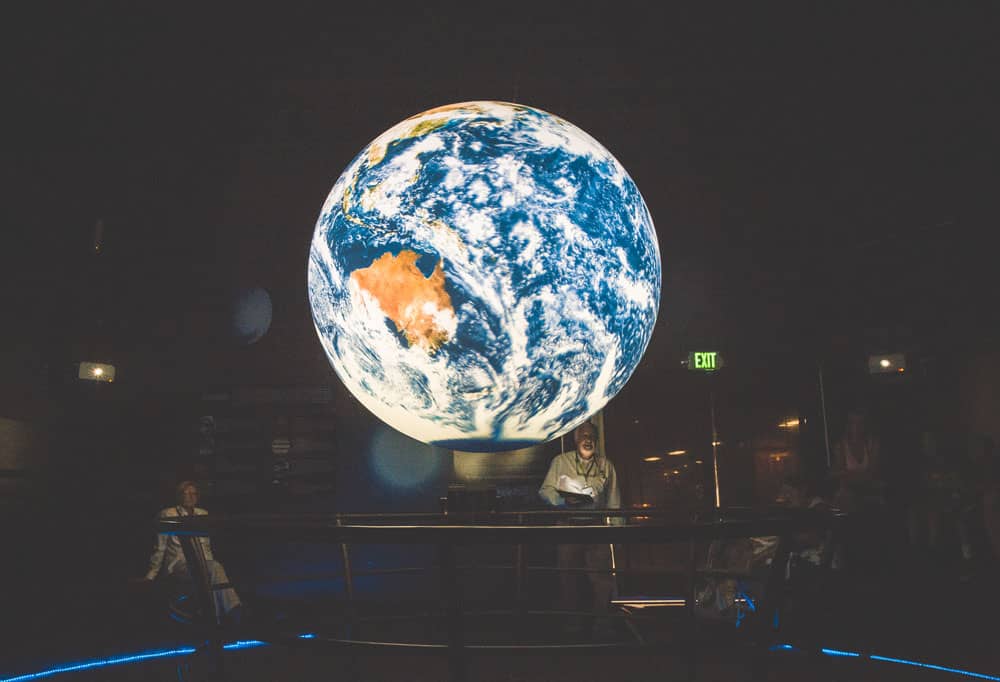 Where's the best place to keep a museum devoted to the final frontier? Well, Colorado, of course, where pioneers once traveled to explore a new frontier right here on planet Earth. Nothing beats the Space Foundation on a rainy day in Colorado Springs. When you walk through the doors, you're instantly greeted by exceptional space-themed walls and halls that lead to all sorts of hands-on experiences and actual tools and materials from real space expeditions. We're talking space suits, robotics and more! You'll also get to experience Science On a Sphere, a three-dimensional rendering of our Earth and the rest of the universe. It's out of this world (this pun intended). And did we forget driving a rover? Or the special days featuring crafts and space-themed activities? Oh yes, they have those, too. Bye rainy day blues! We're going where clouds can't touch us!  Buy your tickets to space here.
6. Get Hands On at the Western Museum of Mining & Industry
If you're a little further up north when it's raining in Colorado Springs, stop by the Western Museum of Mining & Industry for even more hands-on fun! Like we've said before, Colorado was the place to be during the epic Gold Rush days — but its rich mineral resources go far beyond that fancy-pants metal. Indeed, this state is packed with vital metals and minerals that are critical to the items you use every day. The mining museum will tell you about all of that and more through hands-on fun! You'll get to practice your gold panning skills, learn about how the miners once lived and even get to see some of the heavy machinery come to life. It's an easy, warm and dry adventure that's affordable, too. You'll come away with a lot of knowledge about Colorado's mining magic and wile away the rainy hours in style. Get your tickets now.
Rainy days in Colorado Springs don't have to make you miserable! We've got all sorts of indoor fun just waiting to be had. If you see storm clouds gathering or a rainy forecast on the morning news, pull up this list and save the day with this fabulous list of Colorado Springs attractions, perfect for rainy day fun.