Sustainable Travel in the Pikes Peak Region
Are you excited about an upcoming trip to the Pikes Peak region and looking for sustainable travel tips? You're in the right place. As passionate purveyors of all things Colorado, we're always stoked to help visitors not only enjoy our state, but keep it enjoyable for their fellow future visitors. Sustainable travel isn't just about carbon offsets and transportation choices; there are dozens of small ways that you can be eco-conscious when you visit Colorado Springs and the Pikes Peak region this season. Let's take a look at some ideas that will help you have all the Colorado fun imaginable while still caring for our beautiful state. 
Take the Road Less Traveled to Hidden Pikes Peak Gems
One of the best ways to lesson your impact on the destinations you visit is to venture off to places with a little less foot-traffic. If everyone spreads the love to more diverse locations, it means the super popular trails and attractions get more time to heal and recover. For example, the Pikes Peak Highway and the summit of Pikes Peak might see brisk business throughout the year, but the trails around America's Mountain tend to be a little quieter, particularly the further out you go (check out our tips for hiking at altitude here). Since you're already on the highway, start with a visit to the new Summit House and then find one of the trailheads on your way back down and explore all the flora and fauna contained in those incredible views. 
While trails around places like the world-famous Garden of the Gods do fill up in peak season, there are other areas in the Pikes Peak region that offer an easy hike or stroll with fewer people (although we do recommend you pop into the Garden of the Gods Trading Post for a snack and gifts while you're out and about). For a more pedestrian or cycling-type experience, check out the Pikes Peak Greenway trail, which cruises along the creek behind Downtown Colorado Springs and even connects you to the Midland Trail, which runs through Old Colorado City and Historic Manitou Springs. For hiking, check out the trails in North Cheyenne Canyon Park near the Broadmoor Seven Falls.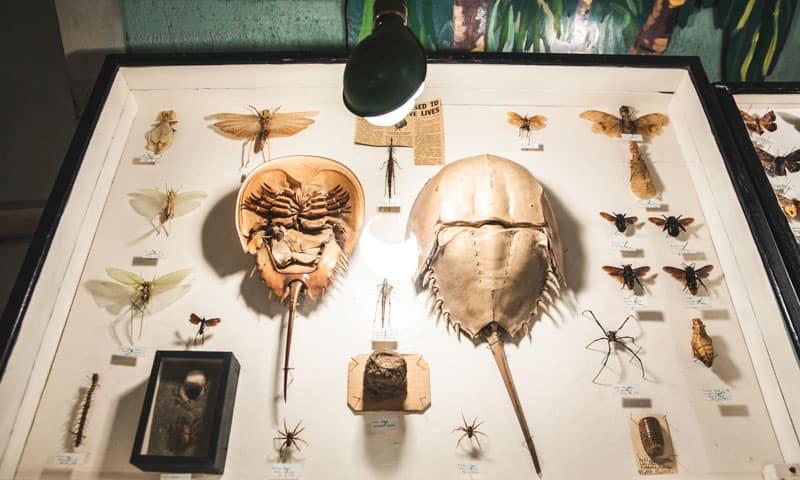 Outdoor recreation isn't the only place where you can lessen your impact. We've got plenty of fascinating attractions that are worthy of your time and relatively chill The May Natural History Museum is one such hidden gem, featuring one of the world's largest private insect specimen collections tucked into a rather unassuming little complex south of Colorado Springs. Peruse thousands of carefully preserved specimens from all over the world, including a walking stick the size of your arm. The Western Museum of Mining and Industry is an equally unique and interesting attraction on the opposite side of Colorado Springs, and you can learn all about mining and minerals in Colorado and get the chance to pan for gold. 
Travel to Colorado During Off-Peak Seasons
One of the reasons Colorado tourism spikes in the summer is the belief that it's the only time the weather is good for outdoor recreation. That's not actually true. Despite our annual snowfall numbers, winters in Colorado — and in the Pikes Peak region in particular — tend to be mild. It's not uncommon to see people on bikes on a sunny day in December or trailheads crowded with cars on a breezy November afternoon. Even our local amusement park, The North Pole—Santa's Workshop, stays open long after others tend to close to offer visitors a little Christmas cheer on mild winter days.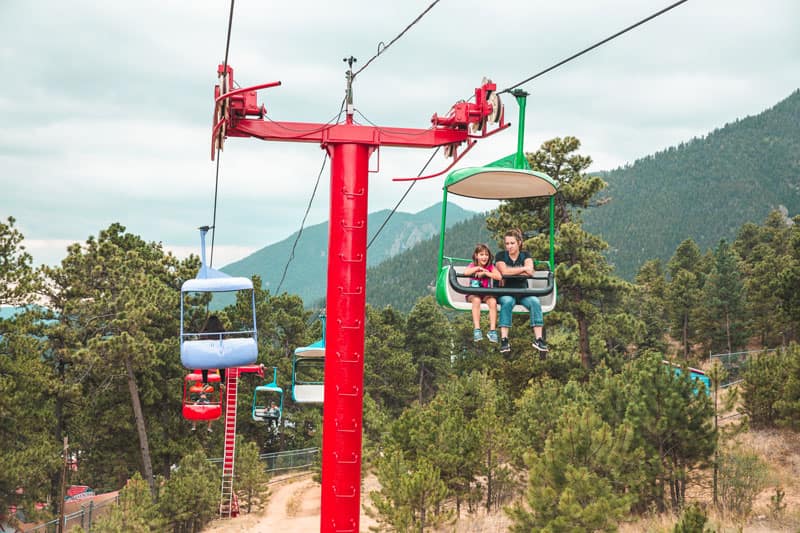 Even if it is a bit colder on occasion, the region boasts lots of cool winter events, too. Coloradans don't hibernate when the days get shorter, they bundle up. (Some of them, anyway. There's a militant flip-flop n' shorts population in the Pikes Peak region.) If you come for some winter hiking or a few days on the ski slopes, there's lots to entertain you in between conquering hills. Manitou Springs hosts an annual Emma Crawford Coffin Race in October, its fruitcake toss in January and a Mardi Gras celebration in February. Cripple Creek hosts an ice festival in February, too, and they also have holiday light displays during December. Sure, you might have to wear a few extra layers, but your low-impact, "off-season" visit will be just as fun in a hat and gloves, we promise. 
Leave No Trace
One of the best mantras you can recite when traveling anywhere, even your own hometown, is to leave it better than you found it. If your favorite reason to visit the Pikes Peak region is the beautiful scenery, we hope you'll be an enthusiastic steward of that beauty by helping keep it clean and pristine. 
Trash the Trash: The first rule to live by is to pack out your own trash wherever you go. That includes pet waste. It's not the most fun ever to carry a bag of dog waste for several miles, but it is the best way to help keep the natural ecosystem balanced and the local waterways clean. Keep all your butts, bottles and baggies with you while you hike, bike and camp and then throw them away or recycle them in proper receptacles when you leave. Our trails see huge numbers of visitors and the occasional wrapper or bottle can easily become mounds of hard-to-access trash within a few weeks. Remember, there are no janitors in the woods (unless they're hiking on their day off).

Know Before You Go: While it's certainly a liberating idea to galivant off into the woods without a care, it's also a really bad idea. Before you head out on an outdoor adventure in the Pikes Peak region, it's really important to plan your trip. If you're hiking or biking, that means surveying a map and bringing one along in case your phone goes out of service. You should also check the weather and then assume the worst anyway. Make a plan for how to find cover if there is lightning or hail. Tell someone where you are going and what time you expect to be back. Keep your phone turned on and charged so there is a potential for you to be located in the event you are injured. 

Stick to the Trails: Erosion and environmental destruction are two more big baddies that come along with maintaining an epic trail system. To be an eco-friendly visitor, stay on marked trails — don't make new ones, cut switchbacks or follow unregulated offshoots. This damages the environment, creates flooding, and causes trail damage. If you get led astray on a non-designated trail (sometimes it's difficult to tell), just do your best to get back on proper track as quickly as possible. It's also important to follow the rules for designated use. Don't take mountain bikes on restricted pedestrian trails or hike on restricted biking trails. And everyone should give the trails a break when they are muddy. Today's muddy footprints become tomorrow's bone-jarring ruts real quick when the sun comes out to play. 

Be Careful with Fire: Unless you are camping or picnicking in a designated area with clearly stated permission to start a fire, just … don't. Fire is one of the biggest, most dangerous threats to Colorado's outdoor spaces and the damage it can cause is catastrophic and long-lasting. Pay careful attention to all fire advisories in any season you are visiting, even when it is rainy or snowy. Do not be deceived by seemingly safe locations (near lakes or rivers) or ideal conditions — decades of drought mean that our trees are poised to burn with even the tiniest of sparks. Always monitor your fire the entire time it's burning and put it out completely when you leave. Keep cigarette and cigar butts in your vehicle or on your person and leave the fireworks to states that haven't been engulfed in flames every summer for the last decade. 

Leave it How You Found It: In the Girl Scouts, the phrase is enhanced to say, "leave it better than you found it," and we think that's pretty good advice. What does that mean, exactly? For the original phrase, it means to leave every area you visit looking pristine and untouched. Don't tear up trails and trees. Don't push over boulders or dig trenches. Don't throw your trash out or leave scraps of toilet paper everywhere. Don't leave a trail of cigarette butts behind you like some demented Hansel. If you want to go Girls Scout, it means correcting the damage other people do when you see it. Pocket that stray candy wrapper you find, throw that empty water bottle in your pack or call park services when you find graffiti or destroyed property. If you're so inclined, you can even collect the poop bags people inexplicably leave behind. 

Keep Wildlife Wild: When you're out and about in the woods, or even some of Colorado Springs' local parks, there is a lot of wildlife to witness. The keyword being "wild." The animals of the Pikes Peak region have created a fragile ecosystem that allows them to live and function. When humans disrupt that by attempting to tame wild animals, feed them or otherwise harass them, they are effectively shortening the life of that animal. Bears that don't fear humans, for example, are often euthanized when they become aggressive or respond like, you know, a bear. Deer that are fed by humans can become ill from the improper diet in addition to being hit by cars as they try to hunt for more food in heavily populated regions. In addition to not feeding animals, don't try to befriend them, either. You're not Snow White and you aren't going to charm that raccoon. You're going to get rabies and a lot of well-deserved humiliation. 

Share Our Trails and Parks: Our beautiful Colorado Springs parks and open space are for everybody! That means we all need to do our best to be polite and kind. Share the trails and pay attention to your surroundings so you don't end up cutting off fellow walkers or hikers. Mountain bikers should make prolific use of their bells and their words when sharing multi-use trails. In return, hikers and walkers should keep one ear open — that means no full headphones blasting that 90s hip hop as you obliviously get run over by a frantic, bell-ringing biker. Keep parks clean and share non-reserved spaces like pavilions and tables so everyone has a chance to rest. If you're local and you see a visitor struggling, give them the benefit of your knowledge. Parks and open space are a group project, so we all have to work together to keep them special. 
Stay at Sustainable Hotels
One of the hardest parts of sustainable travel is accommodations. Visitors don't have a lot of options when it comes to finding a place to stay. You can camp, stay with family and friends, stay in a rental or stay in a hotel. The latter is the easiest option, but it's probably the hardest on the environment. Hotels have to use a lot of resources to provide reasonable accommodations for their guests and their footprint can, unfortunately, be pretty big. Fortunately, there are sustainable hotels in Colorado Springs. Kinship Landing, for example, began by renovating an existing property and filling it with eco-friendly furniture. They also use as many local vendors as possible and utilize LED lamps or green heating and cooling methods. They watch their waste, recycle and invest in long-lasting textiles to minimize waste. Another option is SCP (Soul Community Planet), which provides green space, relies on sustainable items and has a targeted method for reducing or eliminating waste commonly associated with hotels.
Eat at Farm-to-Table Restaurants
Believe it or not, this snowy, mountainous state has plenty of awesome, home-grown food. Colorado is known for having excellent lamb, beef and bison meat. The state is also home to apples, peaches, watermelons, potatoes, sweet corn, broccoli and much, much more. Farm-to-Table isn't just a gimmick. It lowers the amount of travel required to transport food. It supports local farmers and businesses. It just makes good environmental sense. Local restaurant Adam's Mountain Café is a vegetarian leaning locale that loves to provide guests with as much local product as possible, as does Pizzeria Rustica. For these establishments, the commitment to Colorado-grown goods is part of their brand and part of being a good environmental steward. You can also select Colorado-grown products from restaurants that don't tout mostly local items.
What Our Area Attractions Are Doing
Colorado Springs is home to several sustainable attractions that are working hard to keep our beautiful state thriving. The recently completed Pikes Peak Summit Visitor Center, for example, was built under the strict requirements of the Living Building Challenge. It has net positive energy, net positive water and net positive waste. The goal of the complex was to fit within nature instead of fighting against it. The Cheyenne Mountain Zoo donates to wildlife conservation projects, recycles, uses green energy and teaches visitors about protecting wildlife. Not to be outdone, the Garden of the Gods Trading Post donates to Friends of Garden of the Gods, to help protect the park that attracts visitors to its shop all year long. 
Ride Green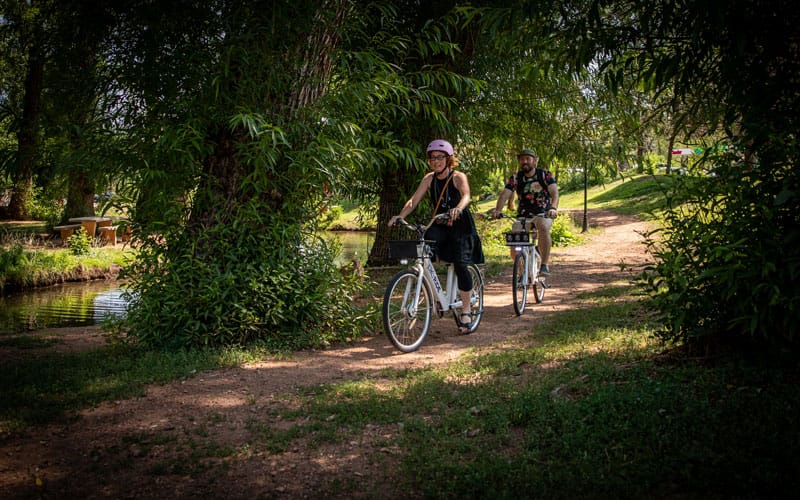 The Pikes Peak region still has work to do to make traveling around the city more sustainable, but it is moving in the right direction. Visitors can now check out PikeRide bicycles to tool around the west side of the city using the many paved trails and bike lanes. The bikes have a special motor that gives riders an extra boost of power, so they won't be huffing and puffing at altitude. While they program is still in the trial phase, you can also check out motorized scooters, which are allowed in the bike lanes and on some sidewalks. Both of these options are excellent for the environment, not to mention allowing you to see the city in a whole new way. 
Whatever you do to make your travel more sustainable this season, one thing is certain — we are extremely excited to welcome you to our inspiring, beautiful state and share all it has to offer!