Hours
Call for individual business hours.
Visitor Center: 8:30 a.m. - 5 p.m. Mon-Fri 9 a.m. - 4 p.m. Sat & Sun
*Please note masks are required in all indoor public spaces.
How far is Manitou Springs from Colorado Springs?
Manitou is just west of Colorado Springs, about 6 miles from one downtown to the other. Plan on about 10-15 minutes for the drive, depending on traffic.
Being tucked up against the mountains and a slightly higher elevation, Manitou Springs enjoys pretty mild weather year around. The highs in the summer average around 85 degrees, and though there are cold, snowy winter days, there are many beautiful, sunny 50 and even 60 degree days.
What's the nightlife like?
Manitou is a great place to spend an evening out. There are over 20 locally-owned restaurants, ranging from locally-sourced vegetarian, to one of the best burgers you'll ever have. Enjoy Mexican, Middle Eastern, Italian or good old meat and potatoes. The bars and pubs have just as much variety, whether you're looking for a place to belly-up, or wine replete with sommelier.
What is there for kids to do?
You have to check out the Penny Arcade, for both the kids and your inner child. There are also several great parks, or take them on a walking tour of the mineral springs and decide which is your favorite.
Fall Leaves in Colorado Springs—and Beyond
It's time to leaf it up my fall foliage aficionados! We've got all the best places for outdoor autumn fun and photo ops.
Best Time of Year to Visit Colorado Springs
There's no shortage of fun to be had anytime you visit Colorado Springs and each season offers its own special benefits to visitors.
Explore Colorado Springs with PikeRide
Traveling around the west side of Colorado Springs has gotten a whole lot more awesome thanks to PikeRide, the city's first and coolest bike share system!
4th of July Fireworks in Colorado Springs and So Much More
We hope this list sets you up for a fabulous 4th of July in Colorado Springs, whether it's spent barbequing and dancing to live music, oohing and aahing to stunning fireworks, or all of the above.
Red Rock Canyon Open Space in Colorado Springs
Red Rock Canyon is great for outdoor enthusiasts in Colorado Springs, providing one of the most versatile, beautiful and fun open spaces.
More attractions like this
Flying W Ranch Chuckwagon
Pikes Peak Tour by Gray Line
Cave of the Winds Mountain Park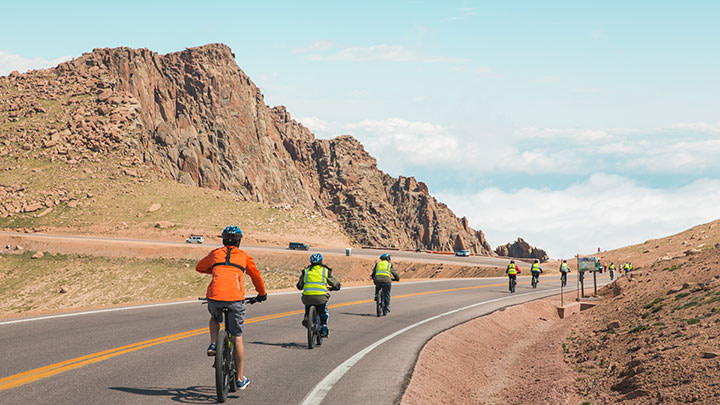 Challenge Unlimited- Pikes Peak by Bike
Cripple Creek and Victor Narrow Gauge Railroad
Echo Canyon River Expeditions