Traveling around the west side of Colorado Springs has gotten a whole lot more awesome thanks to PikeRide, the city's first and coolest bike share system. Launched in the summer of 2018, this non-profit organization provides more than 250 bicycles for rent at dozens of hubs around the west side of Colorado Springs and near popular Pikes Peak attractions. The recent inclusion of Manitou Springs into the coverage area has upped PikeRide's already impressive bike share game considerably. Riders can now explore downtown Colorado Springs, Old Colorado City and Manitou Springs via bicycle, avoiding traffic and construction and getting a view of the city that is quite different than the one you get from a car. If snagging a PikeRide sounds like your jam for your next Colorado Springs adventure, we've got tips and recommendations to help you navigate the ins and outs of riding a PikeRide. 
Anatomy of a PikeRide
Let's get started with some basic info about using a PikeRide bike.
Cost
A PikeRide will cost you $1 to open and then $0.15 per minute thereafter. That translates into $10 for the first hour and then $9 each additional hour. If you plan to ride beyond that or want to hop off and on throughout the day, you're better off buying a 24-hour pass. The 24-hour pass will cost you $20 and give you unlimited 4-hour rides. 
For those who are here visiting, or locals who want to use PikeRide for more than the occasional trip, a monthly membership will give you 90 minutes of ride time per day for a 30-day period. An annual membership with the same rules will cost you $150. PikeRide even has a discounted pass for those who are experiencing homelessness, have financial difficulties or are unbanked. Referred to as WeRide, the membership costs $20 and provides riders with one 90-minute ride per day for one year. An in-person or virtual meeting and proof of income is required. There are also other discounts offered year-round that you can usually find by following the PikeRide Facebook page.
Bikes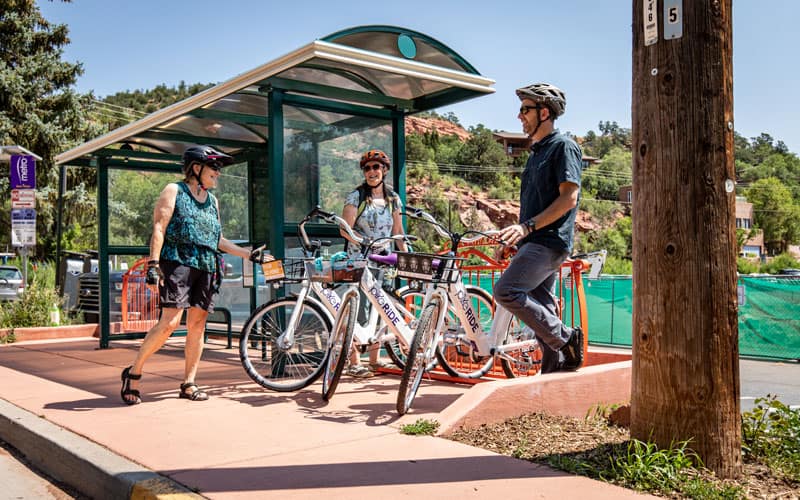 PikeRides are built for urban wandering, with a step-in frame, a wide basket and a set of meaty tires that will allow you to use both dirt and paved trails. They're also built to navigate Colorado terrain, with electric assist to help give you the boost you need to get up the many steep and lung-straining hills that make up Colorado Springs and the Pikes Peak region. The e-assist feature ensures that everyone can have a good time, from novice or rare riders to trail-bombing mountain bikers and swift-moving road bikers. The point of a PikeRide is to facilitate travel for everyone and make it as fun and easy as possible. Even if you're an avid cyclist, a PikeRide is a perfect way to slow down and enjoy the city — to ride like you did when you were eight years old, and a bike ride meant freedom and exhilaration. 
Rides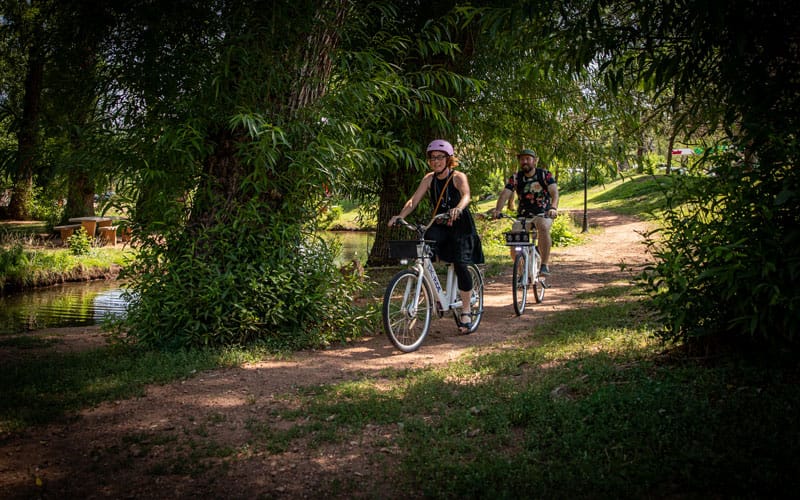 The coverage area for PikeRide continues to expand in the Pikes Peak region. East of I-25, PikeRide runs from Fillmore Street to E. Las Vegas Street and from Union Boulevard to I-25. West of I-25, the coverage area narrows slightly, running from Cimarron Street to Uintah Street, then narrowing further to following Colorado Avenue and the Midland Trail through Old Colorado City all the way into Manitou Springs. 
Things to Know Before You Ride
If you want to make sure you have an excellent PikeRide experience, here are a few tips to increase the fun quotient. 
Download the PikeRide app ahead of time and link to your choice of payment. You won't be stuck punching in your card number in the middle of a public space. PikeRide relies on your smartphone Bluetooth for most of the transaction, as well as stopping, starting, locking, and unlocking but you can close the app while riding.
Bring a portable charger.

If you plan to ride for a few hours, it's a good idea to have a portable charger to keep your phone going all day. If you're alone or break off from your group, you won't be stuck hunting for an outlet, or end up sitting awkwardly next to one waiting for a good charge.

 
Check the battery life of your bike

and pick one with the most charge. The app will tell you how charged every bike in your area is. On busy days, it's smart to check a few of the nearby hubs to see which one has the most bikes with the most charge.

 
Check your head and taillights.

If you're riding at night in Colorado Springs, your lights are critical to your safety. You need your headlight to help you mind potholes, cracks and other road obstacles. Your taillight makes you visible to other cyclists and vehicles.
Review the map of your route to ensure there are other PikeRide hubs in the vicinity. That way, if your bike has mechanical issues or your battery gets low, you'll be able to easily trade out for a new bike. You can end your trip outside of a hub in the service area at a community rack or post for a $1 convenience fee, but if you end your trip outside of the service area you will be charged the minimum of a $20 recovery fee. You can also ride a PikeRide outside of the service area just be certain to end your trip back inside the service area to avoid the recovery fee.
Make sure your smartphone camera is working.

You'll need to take a photo of the bike after you've locked it up.

However, if you have any issues ending your trip you can always contact PikeRide via the app and let them know.
Watch where you park your bike.

You will incur a $5 fee for blocking pedestrians or handicap access areas. Always lock your bike to a PikeRide hub or to a fixed post or community bike rack.

 
Check Facebook for PikeRide discounts. PikeRide offers free and discounted rides all the time. Tuesdays have regular specials. Certain events in the city, like soccer games, parades, art walks and street gatherings also usually inspire discounts like getting your first 30 minutes for free or free unlimited 15-minute rides for a certain time period.

 
Where to Go on Your PikeRide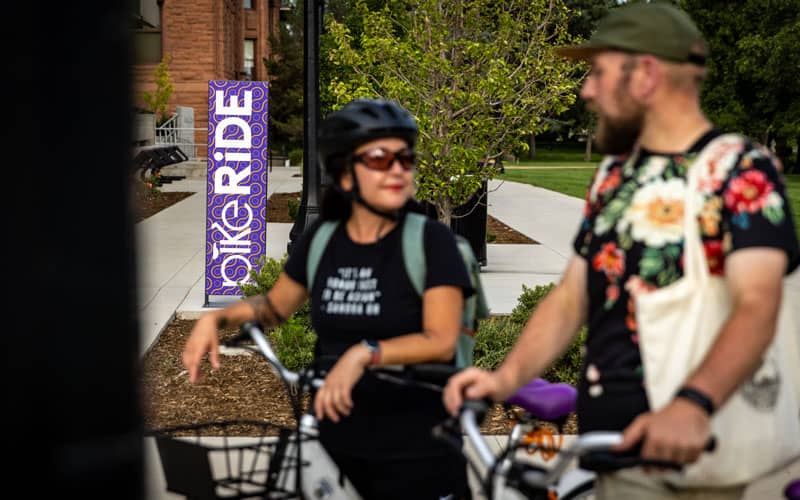 Wondering where to go on your PikeRide? Navigating a new city can be scary. Heck, even locals can become lost if they are not used to traveling via bicycle. It's a different world when you're on two wheels and let's face it, riding in traffic is scary, even for avid riders. Fortunately, the downtown Colorado Springs area has been expanding its bike lane footprint, making it safer and easier for you to navigate the area. 
Here are some routes downtown you can take:
Legacy Loop: This 10-mile loop will get you acquainted with many of the Pikes Peak region's most loved trails and several safe city street routes that contain bike lanes. The Legacy Loop is one of the best ways to get used to your ride and discover future routes. Cool spots to check out: 
America the Beautiful Park

 

United States Olympic and Paralympic Museum

 

Downtown dining at locally owned restaurants
Shopping
Sightseeing
Santa Fe/Greenway Trail: Running right along with I-25, this stretch of trail contains both gravel and paved portions. While it runs for dozens of miles in both directions, the PikeRide area ends at Fillmore Avenue to the north and Cimarron Avenue to the south, so be sure to keep an eye on where you end up. Your bike won't die or explode if you cross the invisible line, but you will be responsible for fees if you have an issue with bike or lock it out of the coverage area. The trail is scenic, running along the creek and passing through several beautiful parks. It can also connect you to the car-free gateway to the west, the Midland Trail. 
Midland Trail: Cruising through Old Colorado City and Manitou Springs can get a bit precarious during peak visitor season. Fortunately, you can take the Midland Trail which begins near I-25 and Cimarron and runs all the way to Manitou Springs. It's a steady and gentle climb (not that you'll feel it with e-assist) and it allows several jump-off points to go and explore the city. It's worth stopping in Old Colorado City for an ice cream break at Colorado City Creamery. While you're there, take some time to shop or stage an impromptu art walk through the area's many galleries. Hop back on the trail to visit Manitou Springs. Cool spots to check out:
Shopping
Dining
Ghost Town Museum
Garden of the Gods Trading Post
Mineral Springs
Miramont Castle
Iron Springs Chateau
Cog Railway
Hiking trails
You don't have to spend every minute of your time in Colorado Springs on a bike, but everyone should take at least one PikeRide and see what life in the Pikes Peak region is like outside the car. You won't be disappointed.