Fall Leaf Viewing in Colorado Springs and the Pikes Peak Region
While you may be devastated that summer is slowly shuffling its way out the door, Colorado Springs fall leaf viewing season is swooping in to save the day. Every year, beginning in mid- to late- September, the parks, foothills and mountains transform from summer's luscious green into fall's golden mantle.
Are you a super leafing fan? Do you start stalking the nearby aspens at the first sign of a chill in the air? We're right there with you holding cider and wearing scarves in weather that is still entirely too warm. As fellow leaf peepers, we are sharing our three favorite ways to view the fall leaves in Colorado Springs and other areas of the Pikes Peak region. Slip on that scarf. Order that pumpkin spice latte. This is your time to shine as gold as those aspen-covered hills.
Strike It Rich with the Gold Belt Tour in Cripple Creek
We're going to kick off this list with one of our favorite fall leaf peeping drives in Colorado: The Gold Belt Tour Scenic and Historic Byway. This popular fall drive draws Colorado residents and visitors from as close as Colorado Springs and as far out as Trinidad, Denver and Kit Carson. The Gold Belt Tour consists of 4 major roads with 9 possible itineraries. Your self-guided tour will take you along historic travel routes that once served as the highways for Gold Rush traffic. In September and October, the region becomes a goldmine of a different sort — the changing of Colorado aspen trees from summer green to autumn gold.
The tour can begin in multiple locations, but we highly recommend Cripple Creek for your starting point. Not only is the drive to Cripple Creek from Colorado Springs a super stunner, but the town of Cripple Creek is also just plain fun to visit. Download a handy map from the Gold Belt Byway website and get ready for an adventure. Please check travel conditions ahead of time. Some routes may be unpaved. If you're feeling super adventurous, we recommend you cruise along Phantom Canyon Road to Penrose and then come down through Cañon City and pay a visit to the Royal Gorge for some Southern Colorado fall foliage.
Mile-High Leaf Viewing from the Summit of Pikes Peak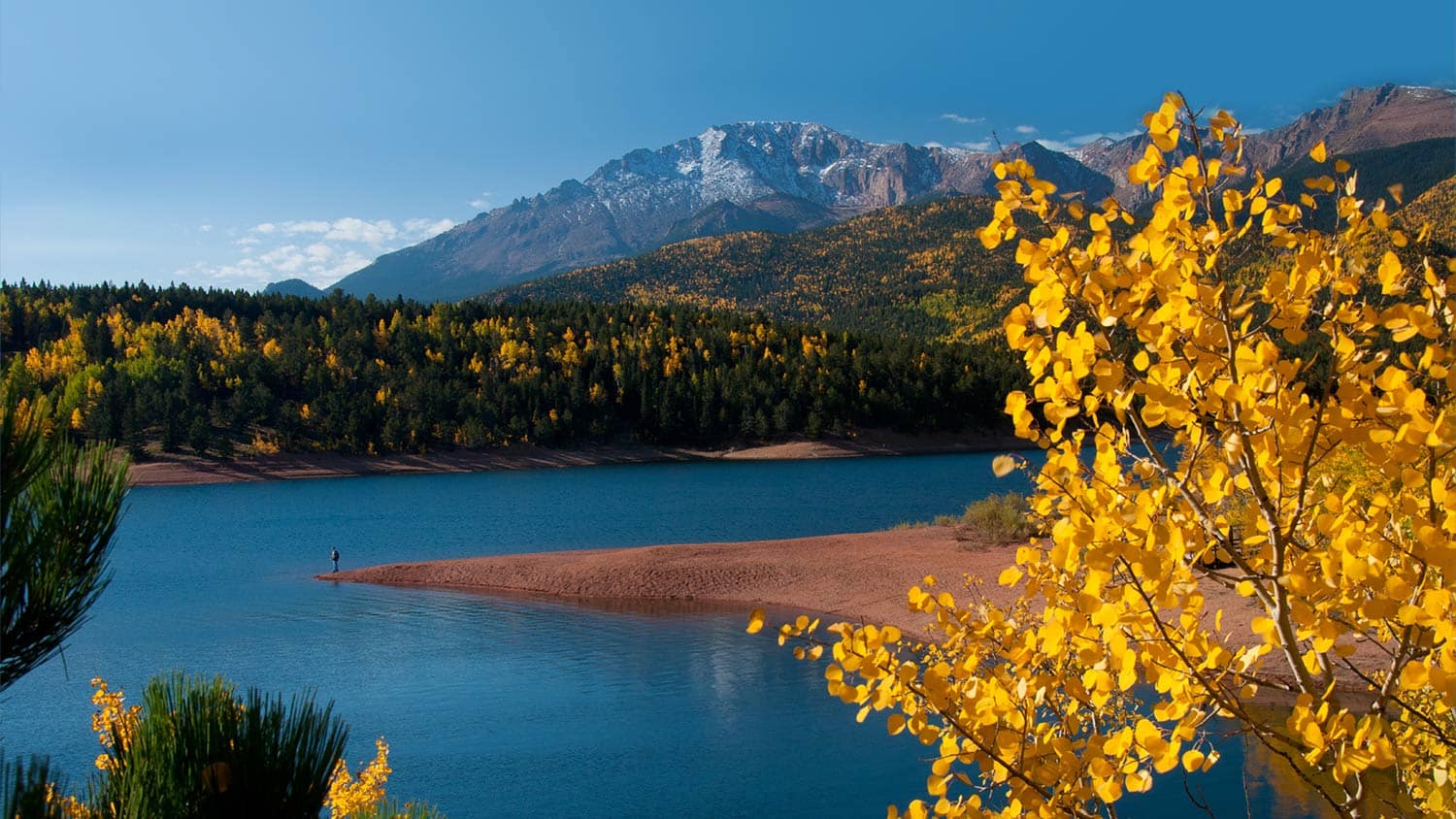 The summit of Pikes Peak is another popular place to check out the fall leaves in the foothills in Colorado Springs and across the Rocky Mountains. Technically, you'll be viewing the fall leaves in up to five states, but that's probably only beneficial if you have eagle-eye vision that can zoom in on Kansas or New Mexico. On any given day, the views from the brand-new Summit House on Pikes Peak are awe-inspiring (literally, it inspired "America the Beautiful"). In fall, however, they are even more magical, broadly illustrating the results Mother Nature's autumn wardrobe change.
There are several ways to get to the summit of Pikes Peak for fall leaf peeping. The most popular is the Pikes Peak Highway. The highway has recently begun allowing sunrise entry once again. Talk about color! If you're not an early riser (and we don't blame you), you can go any other time during the day when the highways is open. Another beloved option for ascending the fourteener is the Pikes Peak Cog Railway. You'll make your way to the top in style along a route that is seldom seen by anyone by hikers and Cog riders. Gray Line Tours offers another way to get to the top without driving, taking visitors up in climate-controlled coaches with options for stops and photos along the way.
The last two options are the most physical and the most weather-dependent. The first is to ride down the Pikes Peak Highway by bicycle with Challenge Unlimited. That is a popular fall choice because it lets riders experience the exhilaration and full autumn experience. The other option is to hike the peak using Barr Trail. This option should only be done by experienced hikers, especially in the fall. It may be warm in Colorado Springs, but Pikes Peak is a different world the higher you climb. We've got more tips on that here.
Garden of the Gold … Gods
Autumn in Garden of the Gods is not the aspen-heavy affair of higher elevation locations. However, the fall foliage is still spectacular. The hills surrounding the rock formations are painted with the palate of fall, golds, red-browns and orange, all scattered against the backdrop of evergreens and vast mountains. Whether you drive through or pause and hike, this is a not-to-be missed fall leaf experience.
You can start your adventure at the Garden of the Gods Trading Post. We always recommend this as an opener because you can snag a cup of coffee and snacks for your time in the park. Of course, it's also fine to pop in when you're done. They have lunch and beer, as well. There are multiple routes through the park once you've passed the Trading Post and plenty of places to stop and snap photos. It's also worth noting that Academy Riding Stables will still be offering trail rides during fall. Like biking down Pikes Peak, a horseback ride makes the experience more tangible — the breeze in your hair, the smell of the leaves and the last bits of summer sunshine.
There are so many ways to get your fill of fall leafing in Colorado Springs. Which one is your favorite? Do you have a secret route you never miss? However you travel, stay golden. It won't be hard during a Colorado fall.