Where to Find Fall Leaves in the Pikes Peak Region
Fall is finally here, and we know you are thirsting for opportunities to check out fall leaves in Colorado Springs. Face it, you were ready the minute pumpkin spice everything started gracing the shelves in August. We can't blame you. We are fall fanatics too, hence our impractical scarves and sweaters in the still 90-degree days. It's time to leaf it up autumn addicts! Right? However, just because the calendar says it's fall doesn't mean the leaves in Colorado Springs have gotten the memo. The climate here can be confusing for the poor trees and may take them longer to go for the gold. If you are completely unsatisfied with the smattering of autumn leaves starting to flow through Colorado Springs and simply cannot wait another week or two to get your leaf on, a good way to cheat the system is to ascend. The leaves start turning just a touch earlier at higher elevations, giving you lots of options to get your fall foliage fix as soon as possible. 
Autumn in Cripple Creek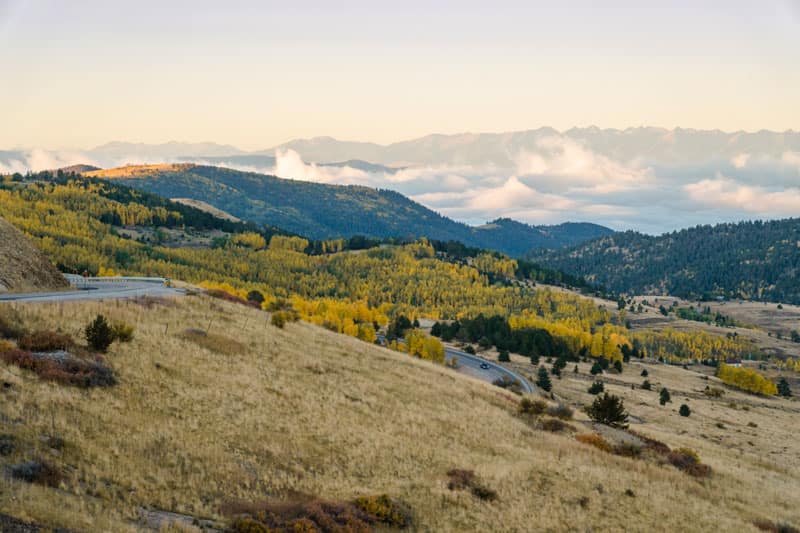 In the Pikes Peak region, Cripple Creek is a shining gold star for fall scenery, made so by the enormous swaths of brilliant yellow aspens that flow out over the hills. The drive alone is worth the experience! Cripple Creek itself is charming, filled with historic buildings, fascinating mining history and more than a few fun attractions. Explore the town on foot and keep an eye out for its adorable wild donkeys — they're fun to find and a little bit too cute for words. In September and October, you can find fun events like ghost/cemetery tours. September is your last chance to ride in the open-air cars of the Cripple Creek and Victor Narrow Gauge Railroad which takes you back in the hills and will give you ample photo opps including shots of old camps. There's also the famous Mollie Kathleen Mine tour which drops you 1,000 feet underground and allows you to check out Cripple Creek's other famous gold — the real deal. 
Golden Panorama on Pikes Peak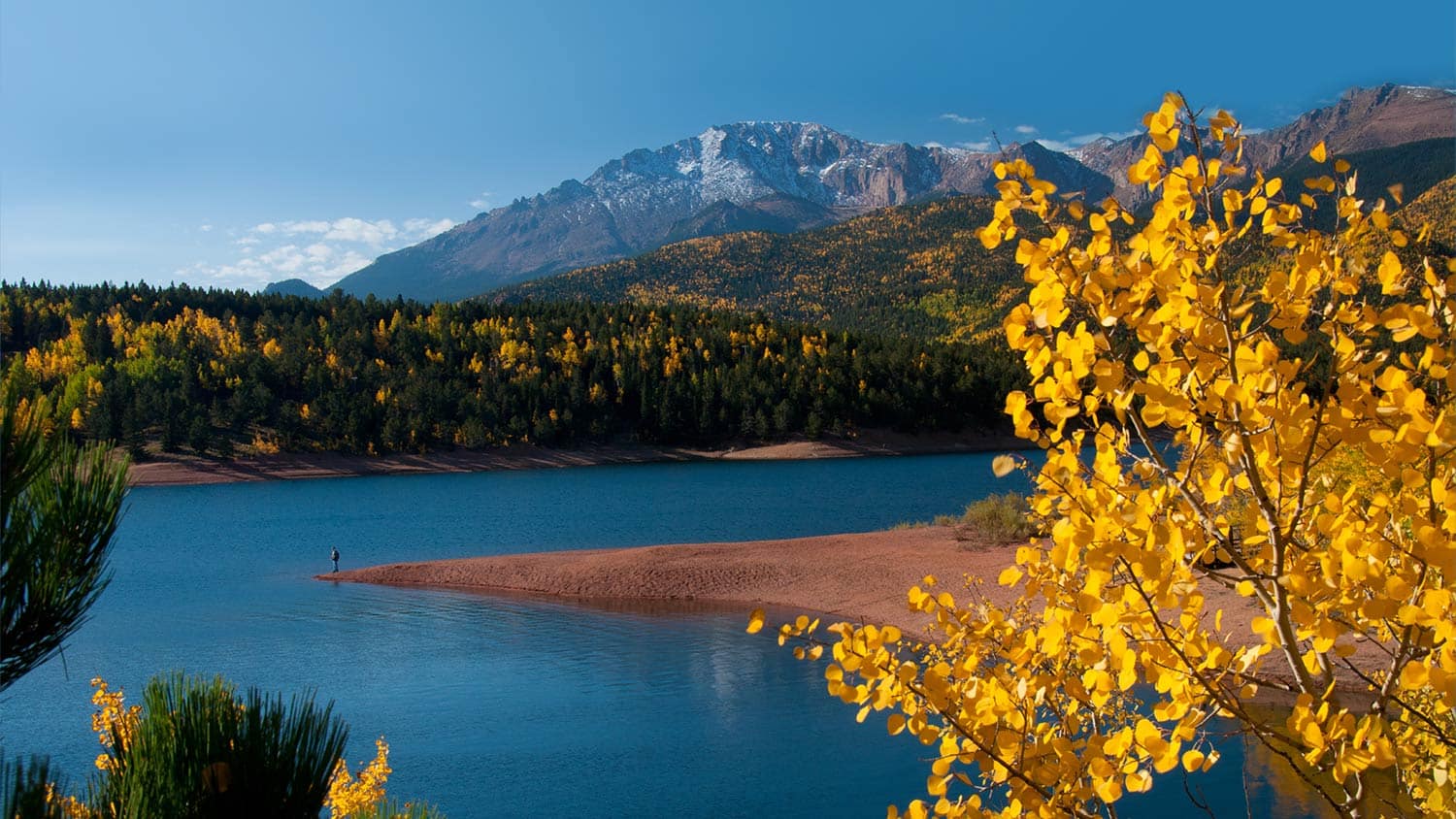 Heading back east toward Colorado Springs, Pikes Peak endures as a fantastic favorite in the leaf-lovin' business. At 14,115 feet, you get to survey fall's loving embrace from mountains to plains and, on a clear day, in distant states. Not only that, you get to see its impact on 5 different life zones. You can go up on your own Via the Pikes Peak Highway or hop on one of the popular Gray Line Shuttle tours, freeing up your eyes for leaf-gazing instead of road-watching. There's also the fabulous and newly renovated Cog Railway, which will take you into the less-travelled wilderness. However you get there, the brand-new Summit House offers you incredible views and hot and fresh donuts to accompany your best fall ever.
Fall Leaves in Colorado Springs
Eventually, autumn comes for us all and if the trees have started turning in Colorado Springs, you'll want to get out and roam close to town, too. If you prefer fall on foot, you're fortunate to be in a city packed with open space, hiking trails and, of course, trees. Truly, the hardest part is picking a place (and parking, parking is always a little tough). Palmer Park off of Maizeland Road and Academy Boulevard has a nest of easy-to-hike and bike trails filled with beautiful trees and open fields, plus a dog park and a few places to picnic. Head west and you can venture out on Section 16 (Gold Camp Road), which weaves through some stunning scenic landscapes and can even connect you to another famous (and fabulous) hiking destination, Red Rock Canyon Open Space (Highway 24 and West High Street). The rock formations there look absolutely breathtaking against the backdrop of the changing leaves, and you'll absolutely need to take a million fall photos. The park also has a dog run, so feel free to bring your fuzziest BFFs. The Manitou Incline is also a great hike to witness fall splendor, although a bit more strenuous (make sure you make a reservation). The climb is a tough one but when you hit the top and gaze at the glory that is the Pikes Peak region while filled with endorphins and accomplishment, you'll be so glad you made the effort. By the way, seasoned hikers can also make their way to the Pikes Peak summit from Barr Trail which starts right by the Incline (we don't recommend going by way of the Incline unless you're a very strong hiker acclimated to hiking at altitude. It takes a bit of the wind out of your sales for the remaining miles). 
Small-Town Autumn in Manitou Springs and Old Colorado City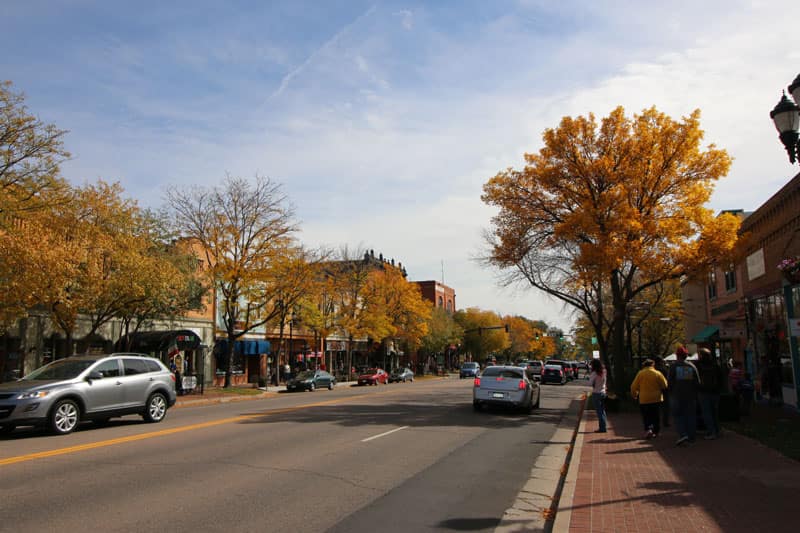 Speaking of Manitou Springs, you can also do fall from the comfort of city streets lined with yummy restaurants and great shopping. The benefit of being nestled in the foothills and surrounded by mountains is that you'll get all sorts of autumn awesomeness from any viewpoint in Manitou Springs, so you can have your cake and eat it, too. Snag a pumpkin spice anything from one of the local coffee shops and then stroll your heart out collecting cool fall gear like scarves and gloves, checking out the gorgeous autumn art from local artists and just enjoying a day with less cardio. 
Fall is also a time for festivals, and no one does it better than Old Colorado City. In addition to more delicious fare from local restaurants, galleries packed with unique creations from Colorado artisans and tons of shops offering unique gifts, the town throws a welcome back to fall celebration like no other, including the Falliday event at the end of October. Sidewalk sales, outdoor and indoor art demos, live music and family-friendly fun are found all over OCC during this fall celebration. Fill your closet with autumn apparel, sip on brews from local breweries and take the kiddos along for face-painting, balloon characters and a scoop of ice cream. 
Fall is one of our four favorite seasons in the Pikes Peak region.  For more information on other times of year to visit, check out this blog about the best time of year to visit Colorado Springs.