3 Colorado Springs Pumpkin Patches (and One to Grow On)
The pumpkin spice is popping, the fall leaves are flying, and everyone is wearing sweaters way too early because they just. can't. wait. for all the fabulousness that is fall. Sure, other seasons have their moments, but what season can really hope to compete with spiced apple cider, hearty stews filled with the harvests of summer, cozy throw blankets and hills filled with trees that would make Midas drool with envy? 
Colorado does fall right, from our golden aspens to our bursting farmers markets and everything in between. That includes helping you celebrate the season. We may be mountainous but we're also the fruited plains and right now those plains are bearing they ultimate symbol of fall — pumpkins. The pumpkin has become synonymous with the season: lattes, muffins, pies, decor, carving … heck, we even make the kids carry hollow plastic pumpkins to trick-or-treat on Halloween. The magical squash is special, and we want to help you find as many as possible for all your pumpkin needs (and there are many; see above). We have a list of the best pumpkin patches in Colorado Springs and we're quite sure you'll want to visit them all. Gather your wagons, your adorable matching autumn outfits and your falliday spirit. We're going pumpkin patching.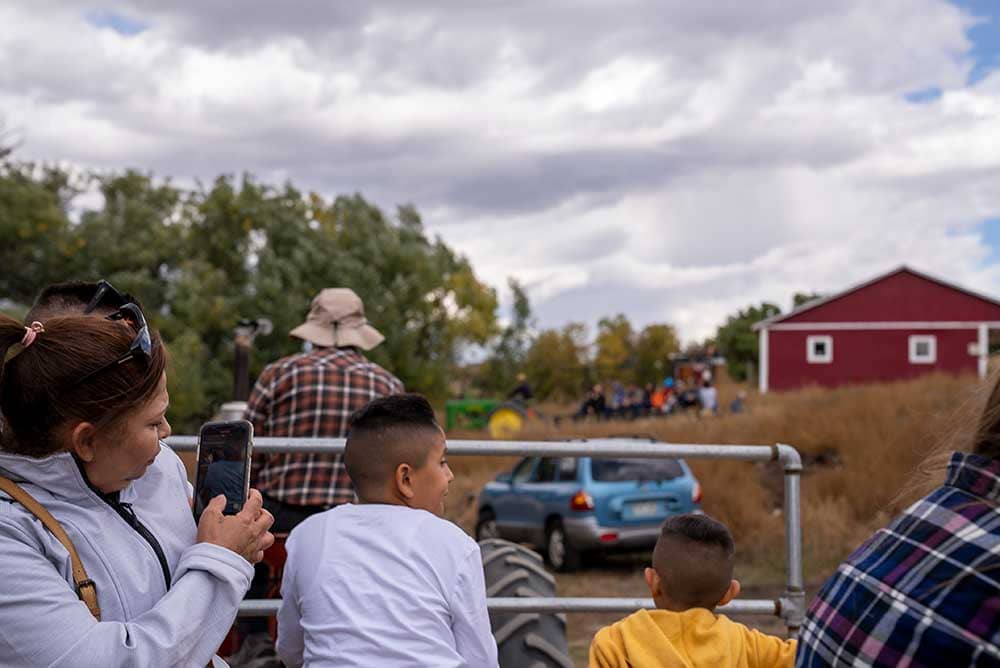 Miners Pumpkin Patch: Western Mining Museum
Every Saturday in October, the Western Museum of Mining and Industry hosts one of the coolest pumpkin patches in the Pikes Peak region. The Miners Pumpkin Patch is a longtime family favorite in Colorado Springs, and it just seems to get better every year. This year, visitors can enjoy a lot for their $10 admission ($12 at the door). There's a tractor-pulled hayride around the museum grounds, gold panning, animal encounters and plenty of yard games that are perfect for families. There's music, a farmers' market, food trucks and face painters, too. 
The museum also holds different demonstrations that are super cool. The first is the vintage cider press. You can learn how the tasty beverage was made long ago and try a sample. You can also check out demos of the pumpkin catapult. As much as we all love pumpkins, we also seem to love destroying them. It's almost profoundly human. Machinery demonstrations are held throughout the day, so if you have a kid who can't get enough of construction equipment, you won't want to miss out.

And, of course, we cannot forget the reason for your visit — the pumpkins. The pick-your-own patch is packed with a variety of sizes and shapes so that everyone can find the perfect pumpkin. This patch runs Saturdays, October 8, 15, 22 and 29. Cost is $10 per person or $12 at the door. Pumpkins cost $6 with advance purchase and $7 the day of your visit. More details at www.minerspumpkinpatch.com.
Longneck Pumpkin Farm
Colorado Springs has grown so much over the years that you don't even really have to leave the city to visit the farm. If you head east along Woodmen Road in northeast Colorado Springs, you'll see what we mean. Tucked away on the edge of the growing subdivisions, Longneck Pumpkin Farm still operates as a beloved pumpkin patch every fall. The farm is adorable and packed with family photo opps, fun farm activities and, of course, pumpkins. The pumpkin patch is pretty big and so are many of the pumpkins they grow. It's not uncommon to watch adorable toddlers struggling to roll pumpkins as large as they are to the wagon. 
Longneck also has a hayride that will take you around the back of their property. It's comfy and there is a lot of room even when the patch is crowded. They host duck races each weekend, which are unintentionally hilarious, and they have cute farm animals you can visit (no petting zoo — they get too many visitors and it stresses the animals out). 

The yard games and corn bins give kids a lot of time to play. Fortunately, your admission lasts as long as you want it to, so you'll have ample hours to try everything you like. The traditional farm slides stand ready to shoot you out onto the ground below and the pedal cars and tractor swings are a hit with any kid who is not too big to use them. The farm also has a little craft store filled with decorations and a grill where you can get hot cocoa and a snack while you're hanging out. Like our other suggestions, photo opps abound, so it couldn't hurt to spiff up the kids before you go to try to capture the perfect fall photo. 
This patch runs Friday-Sunday every weekend through Oct. 30. Cost is $17 per person, paid in advance online. Pumpkins are $7, heritage pumpkins are $10. Cash is preferred for pumpkin purchases. They also offer other décor and items for purchase during your visit. Purchase your tickets and reserve your slot at www.longneckpumpkinfarm.com.
Venetucci Pumpkin Patch
If there's one name that everyone in Colorado Springs associates with pumpkins, it's Venetucci. The Venetucci Pumpkin Farm has existed in the Pikes Peak region for almost 100 years, and it has sold pumpkins for 50. It has drought, deer, hail and other disasters to stay open and continue providing pumpkins to children in Colorado Springs. You would be hard-pressed to find even one local who has not visited the farm on a field trip or with their family. 
This year's patch promises loads of pumpkins that are ready to rock your fuzzy fall socks off. There are also photo displays, a hayride, snacks for purchase, a hayride and lots of games for the kids. Venetucci's admission is an easy $5, which makes it a bargain for families that want pumpkin patch fun without the hefty price tag.
Pre-purchase tickets and reserve a time before you go. The Venetucci You-Pick patch is open 10 a.m.-2 p.m. Saturdays through Oct. 30. The patch will be closed Oct. 9 for a private event. Admission is $5 and kids 8 and under get in free. Pumpkins are $10 each. To learn more and make your reservation, go to www.venetuccifarm.org/pumpkins.
Pumpkin Patches Outside Colorado Springs
The more is the merrier when it comes to pumpkin picking, so we've included one more cool location located a little outside the city. And it won't be a lie when you protest, "But they have different pumpkins." At this next gem, it's the honest truth.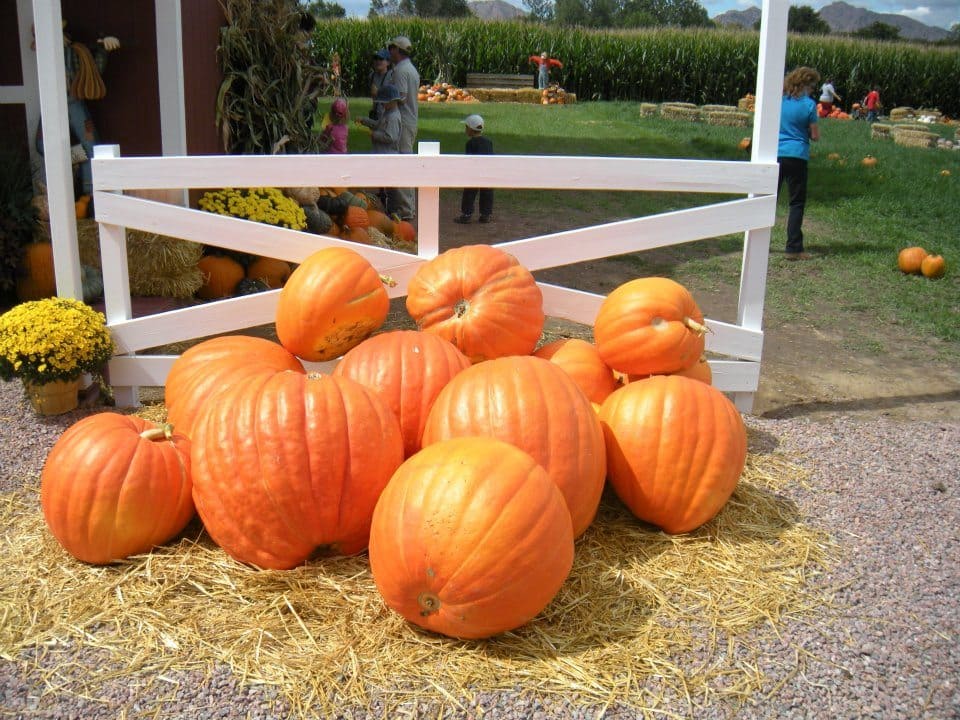 Diana's Pumpkin Patch and Corn Maze
Diana's Pumpkin Patch has the distinction of hosting one of the only (and coolest) corn mazes in Southern Colorado. With densely packed corn stalks climbing to a whopping 8-10 feet, you truly feel like you are wandering through tunnels of corn with no end in sight. There is an end, though, we promise. The maze is included in admission to the pumpkin patch, and it includes a really neat scavenger hunt you can play as you solve it. Outside the maze you can find a hayride, climbing wall, slide and yard games. 
The pumpkins at Diana's are like no others you can find anywhere else. They have about a dozen different heirloom pumpkins in addition to their vast pick-your-own pumpkin patch: Knobby pumpkins, absurdly shaped squash, pink, pale green, white and black pumpkins and so many more. They even have a bin of 2-for-$1 mini pumpkins and squash that would make amazing décor all the way through to Thanksgiving. 
We've mentioned photo opps before because the colors of fall and milder temps give families lots of opportunities to snap memorable shots. Diana's Pumpkin Patch knows what you want, and they have delivered. There are displays all over the property with bales of hay and scarecrows and pumpkins that allow you to take amazing photos. There are so many displays that you really never have to wait your turn unless you have your heart set on a specific set-up. The use of these displays are included in your visit. This patch runs 10 a.m.-9 p.m. Friday- Saturday and 10 a.m.-6 p.m. Sundays through Oct. 30. Cost is $13 a person. Pumpkins are $4, $6 and $8 for traditional pumpkins. Heirlooms are priced at the pile. More details at www.dianaspumpkinpatch.com.
It looks like there is a lot to do in the month of October, so you better get a move on! Remember: sweaters, cider, wagons, camera and a festive fall spirit. Hope to see you somewhere amongst the pumpkins soon!