Hike Like a Local: Tips for Hiking in the Pikes Peak Region
Need a little help planning an amazing hike in the Pikes Peak region? When you want the best advice for venturing out into a new place, the greatest resource is the people who live there all year long. We're here with some top tips for hiking like a local in Southern Colorado, from finding more peaceful hiking spots to dressing properly for a more comfortable experience. We've hiked these trails, made the mistakes and lived to share our lessons learned so you can have the best hike ever. 
Locals Stay off the Beaten Path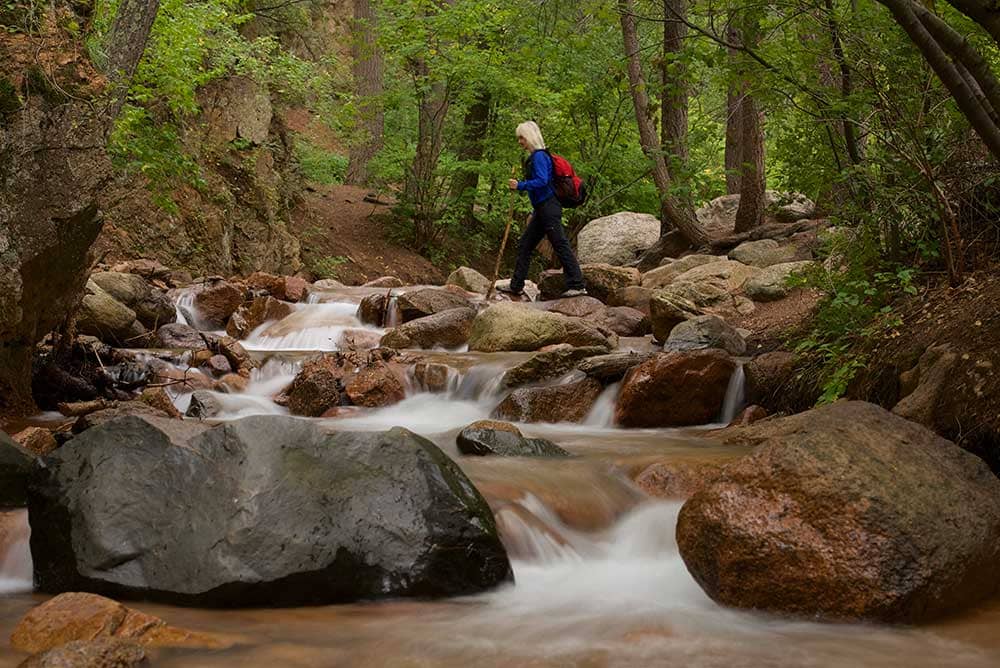 Now let's be clear that we don't mean cutting switchbacks or wandering from the trail into the wilderness. What we do mean is hiking on the less popular trails and during less popular times. Locals know where everyone wants to be and we try to avoid those spaces during the busy season, and on weekends in particular. There is a reason the Incline has a sign-up requirement and that some national parks require reservations. Colorado is the place to be!
The reality is that all of the Rocky Mountain terrain is beautiful and there are many wonders on less popular routes in the Pikes Peak region. Some hikes may take a bit longer or require a little more effort, but the quieter stroll is a big pay-off. We have a few suggestions to get you started:
Red Rocks Trail in Woodland Park
Located off of Forest Road 335 near a campground called the Red Rocks Group, this brief and easy loop takes you to a wonderful and random group of formations that do not draw the same crowds as Garden of the Gods and Red Rock Open Space. It's a really lovely 3.2 mile hike that will take a little over an hour to complete. 
Raspberry Mountain
At 10,605 feet, Raspberry Mountain is a bit shorter than her neighbor, Pikes Peak. It won't be a fourteener feather in your cap, but it will be a quieter, more chill hike that gives you a stunning view of America's Mountain. Head south on Highway 67 like you're on your way to Cripple Creek. Take a left on Teller County Road 62 where you'll spot the trailhead on your left. If you pass Raspberry Mountain, you'll eventually hit the Crags, another cool spot that can be a touch more crowded. The trail is moderate and clocks in at just over 4.5 miles. 
Ormes Peak
With a trailhead that begins in Blodgett Open Space, this 7.9 mile out-and-back trail provides hikers with a 3,000-foot elevation gain. The trail to the summit is faint in many spots, which bodes well for hikers trying to find more privacy in one of the most popular states in the country. Ormes is not a massive fourteener, but it gives you ample views to gawk at them in wonder while still feeling accomplished. 
Timing is the other factor to consider. Weekends and holidays are the most busy times to hike and the more mild the weather, the bigger the crowd in popular spots. Hiking super early in the morning can also help and you can beat the heat on hot summer days. Fall is one of the best times to hike because temps have chilled enough to remove a good portion of hikers, leaving you miles of empty trails filled only with golden aspens. 
Locals Live to Layer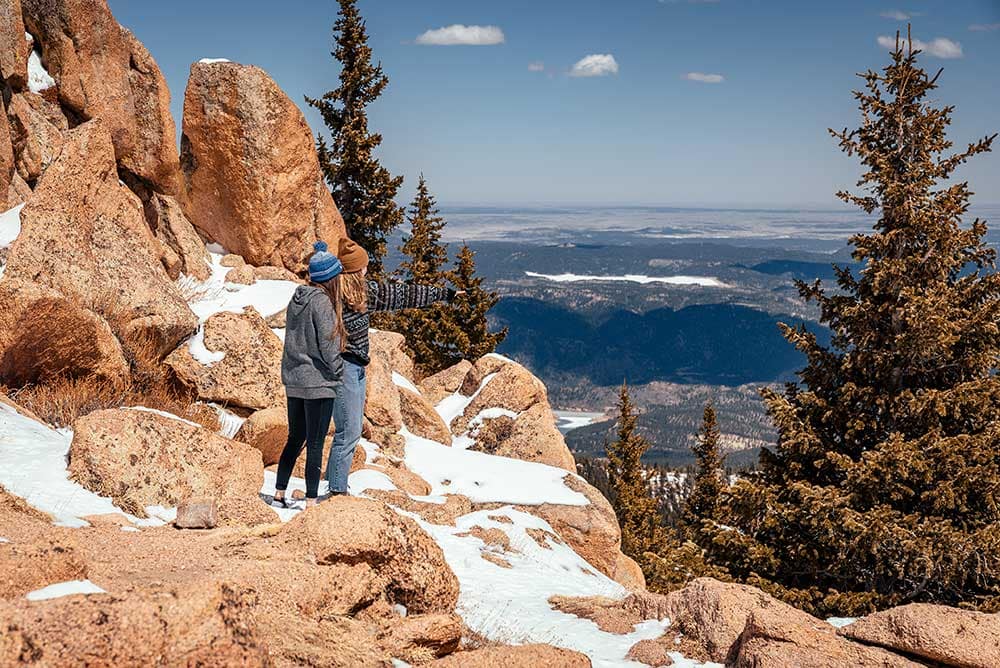 Just like your mom telling you to wear a seatbelt and your dad telling you to bring a coat, a local will always recommend that you dress in layers. We've all been conditioned to expect anything and everything when it comes to Colorado weather. The temperature swings, unexpected precipitation and random bouts of blistering heat can leave any unlayered visitor with a bad case of climate whiplash. 
In the summer it means packing a pair of pants and a light jacket in lower elevations. Higher elevations might require a heavier coat or thermal layer and a beanie cap. Just because you leave the house in shorts and a tank top does not mean you'll come back that way. In the winter, you want to be able to strip down to lighter layers because you will overheat. That means zipping up in heavier gear with lightweight thermals or even a t-shirt. Check out any ski slope in Colorado on the coldest of days and you'll still see snowboarders and skiers bombing down runs in t-shirts or thermals because their own body heat has made their full winter gear unbearable. 
Layer tricks to remember:
The higher the altitude the more layers you'll need for comfort. It's colder the higher up you go, which is why it snows on Pikes Peak in the summer. 

Lighten up! Pick lighter layers designed to trap heat without weighing you down. 

Always pack a beanie cap. Leave it in the car, throw it at the bottom of your bag, whatever you need to do. You lose a lot of heat through your head and a beanie can help you conserve that warmth. Even in the summer, you ask? Even in the summer. 
They Wear the Right Footwear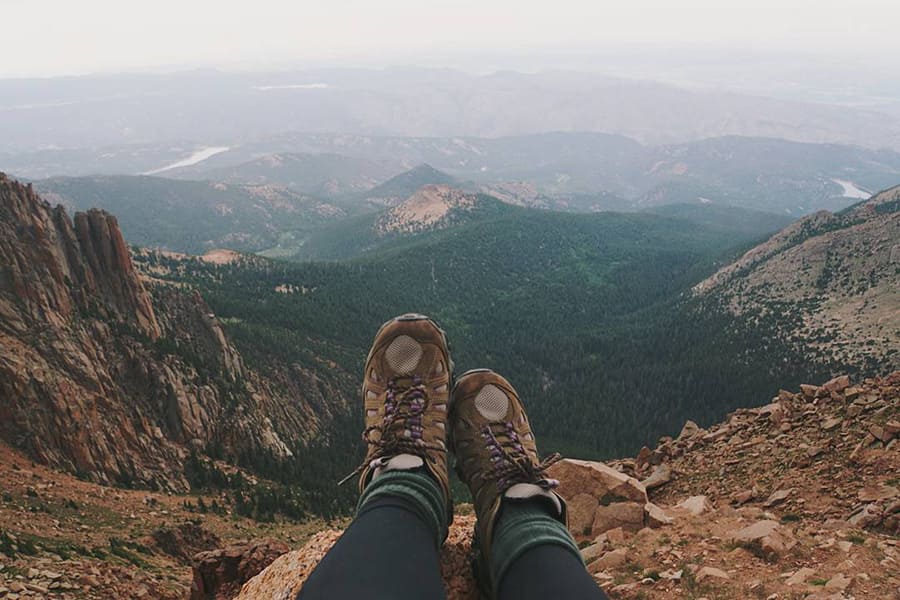 Can you hike for miles in flip-flops? A day outside in Colorado might make you think so. We see folks in them all over Colorado Springs trails in every season. Do we recommend that? No. We don't want you to ruin your visit with sore, blister-covered feet or roll an ankle navigating a washout because your foot slips. Good footwear equals more fun for everyone. Wear a well-fitting shoe with good tread. You don't have to wear expensive hiking boots, but you do want to have good support for your feet. If that means wearing your favorite running shoes, do it. 
Proper socks are also really important. Sweaty feet blister easily and crest hot spots on your feet that can wreck your hike. Get a pair of thicker, properly sized socks in a natural fiber like wool or cotton. These help your feet stay dry and protect them from rubbing against your shoes when your feet swell. It definitely helps to powder your feet before you put on your socks. It's one more layer of dryness to combat blisters and sweat.
The last thing you need with regard to footwear is a little foot triage kit. Bring moleskin, specialty barrier blister bandaids and antibiotic gel. Moleskin can help protect hot spots on your feet, while blister bandages create a thick, protective barrier over the blister so you can get back to hiking. They truly are a tiny miracle.
For a Perfect Hike, Just Add Water
There's nothing worse than finding yourself several miles into a hike and realizing you are not going to have enough water. Water is essential on any hiking trip and a little 16 ounce bottle is not likely to cut it. You really need the equivalent of one bottle for every hour of your hike. If it's hot, you probably want to bring even more. Yes, water is heavy. Your unconscious body is heavier, though, so let's not do that to your friends. 
Water backpacks are a helpful way to transport water during your hike. With their handy straws, you can even hydrate mid-hike. So hikers prefer bottles with handles or straps, but those can get clunky and make it harder to maneuver over boulders and through brush. Another great tool is a filtered water bottle or filtration straw. Read carefully to ensure your bottle or straw can protect you against harmful impurities and microorganisms. These small purifiers are very handy for longer hikes. However, it's still important to bring some water. Streams dry up; waterways become polluted beyond the capabilities of your filter; the unexpected can — and should — be expected. 
Last, water purification tablets can create drinking water in a pinch. The reason we say "in a pinch" is that the water is not going to taste that great. (Some filters may also purify without improving taste.) 
Weather: When in Doubt, Don't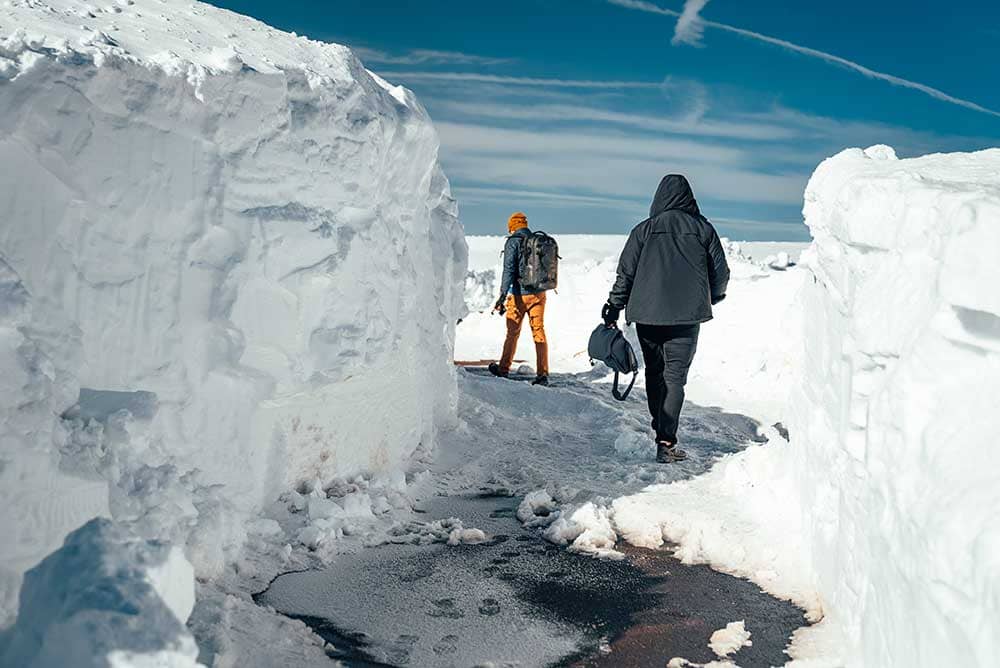 The last tip for hiking like a local is to not tick off Mother Nature by traipsing around with no regard for the weather. She takes that as a challenge and she's a grumpy force when she's offended. Colorado is home to several types of potentially hostile weather. In the summer, that means triple-digit heat, golf ball sized hail, snow storms, flash floods and torrential rain. In the winter that means sub-zero temps, blizzards, ice storms and bomb cyclones. 
It's really important to check the weather conditions before you hike. We know it's disappointing to plan a big day of exploring and see rain and lightning in the forecast. One of the luxuries of being a local is knowing there's always another day to go again. When you're visiting, you have limited days to enjoy the outdoors and every missed day can be frustrating. However, it's really important that you don't take risks, particularly when advised of lightning, hail or blizzards. When in doubt, stay in town. Go and explore indoor attractions with less risk of concussion or electrocution.