5 Trails You Can Hike Without Leaving Colorado Springs
You do not have to leave Colorado Springs to experience some of the best hiking in Colorado. Our city is filled with incredible parks and ample open space, each packed with trails of all lengths for hikers of every experience level. We are not quite sure how we managed to get so lucky, but it is quite possible explore for miles along the western side of Colorado Springs without doing much more than picking a trailhead and hitting the trail. We've got a list of five popular hiking trails you can explore without leaving the city
1. Barr Trail
Difficulty: Intermediate to Expert | Length: Up to 25 miles out and back | Directions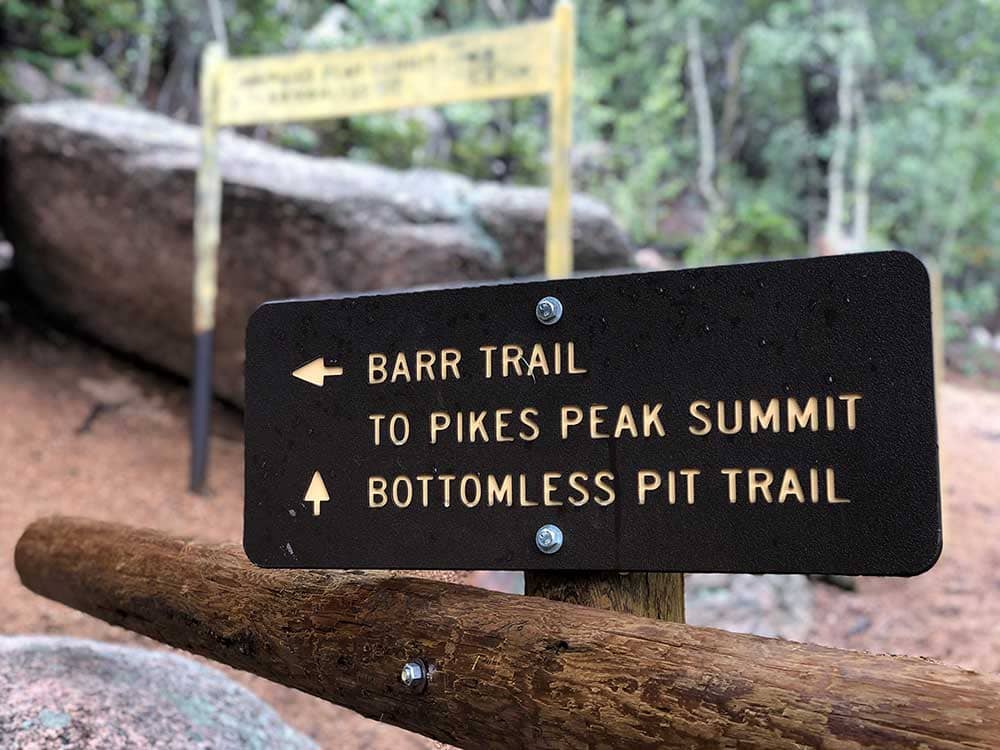 To give you an idea just how easy it is to access our trail system from within the city, you can hike our famous fourteener, Pikes Peak, right out of Manitou Springs. Barr Trail is not just an off-ramp for the Manitou Incline. In fact, the portion of the trail that connects to the Incline's summit is just a small segment of the adventure that lies ahead. This challenging, 12+ mile trail leads experienced hikers all the way to the summit of America's Mountain. For those who are less inclined or athletically gifted to make a 25-mile round-trip journey, there are multiple shorter legs you can hike. For example, a 6.5-mile hike will bring you to the famous Barr Camp, a waypoint for many hikers who want to break up their trip to the summit over two days or take a rest mid-journey. All parts of the hike are beautiful, even the areas above the tree line. You may encounter marmots, deer, squirrels and even bighorn sheep. It really is a breathtaking experience.
If you do decide to hike to the summit of Pikes Peak, it is imperative that you are prepared for an arduous and potentially dangerous climb. The issues with the trail are not necessarily the terrain (which does get more challenging as you ascend). Altitude can sap the energy of even the most well-trained athlete. You must also ensure you have adequate water, appropriate clothes, sun protection and a willingness to quit for your own good. What does that last part mean? Typically, it means that you are willing to turn back if you run out of resources or encounter one of the Pikes Peak region's infamous storms. Lightning is a real killer, and you are at extreme risk on the mountain. If you think you have what it takes to make the hike (no, that is not a challenge), we have some additional tips to help you here.
2. Intemann Trail — Manitou Springs
Difficulty: Beginner | Length: 1.5 miles | Directions
Some sections of Intemann Trail can be challenging, but we're only going to share an easy side fork of the trail that wraps around Manitou Springs like a warm hug. Clocking in at under two miles, this brief segment explores the foothills above Manitou, wandering behind the high school and middle school and ending with two possible outcomes — more challenging hiking along Red Mountain or Iron Mountain trails or a stroll down the hill into town for a cold beer or icy margarita.
This short hike begins in a rather awesome location, Crystal Valley Cemetery. It is totally worth your time to respectfully peruse the gravesites of Manitou's dearly departed. Some of the stones are extremely old and incredibly unique. Parking in the cemetery area is not really recommended. Park along Manitou Avenue near Oak Place and head up the hill and into the cemetery. The trailhead is located in the back of the cemetery. Proceed to the right, walking parallel to Manitou Avenue in the direction of the town. From there, the trail is easy to follow and fairly level, with the occasional hill. The trail will eventually cross Pawnee Avenue. You can turn left and proceed to where the trail picks up once more or turn right and weave your way down to the shops and restaurants. If you take the first option, the trail will pass Red Mountain Trail (a challenging hike) and let you out on Ruxton Avenue right next to the trailhead for Barr Trail.
3. Red Rock Canyon Open Space Trails
Difficulty: Beginner to Advanced | Length: ¼ mile to ?? | Directions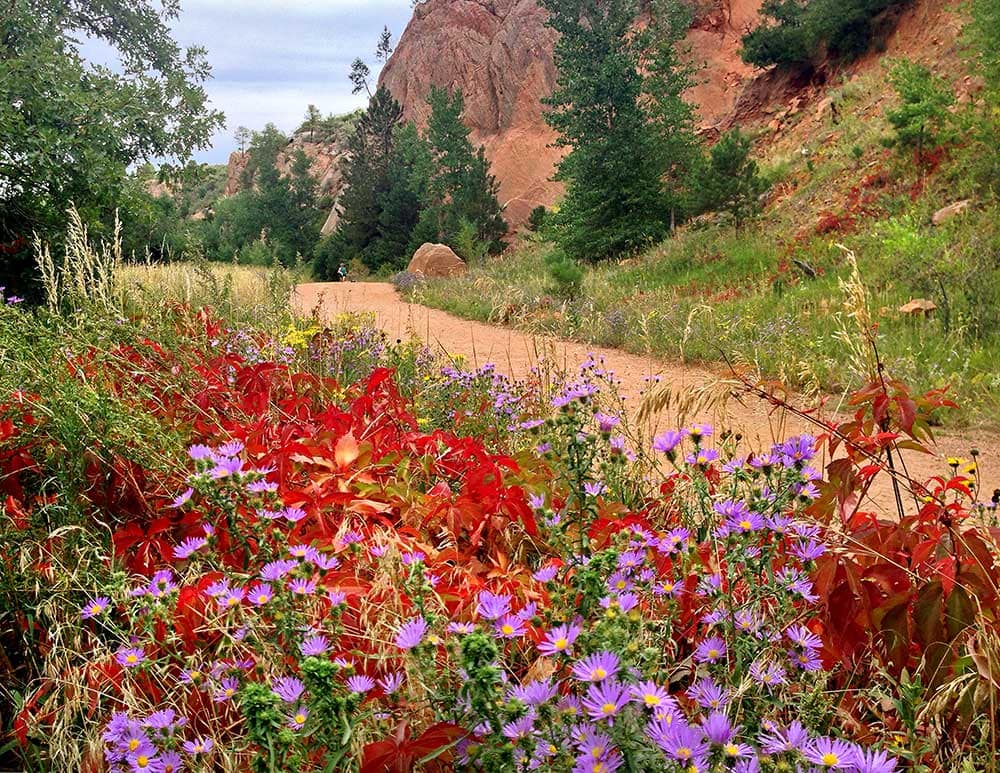 Just outside of the Old Colorado City historic district, Red Rock Canyon Open Space has an entire system of trails ranging from easy strolls to more challenging hikes. They also have two off-leash dog trails where Fido can roam free. Most of the shorter trails will take you through some of the formations, around the quarry or deeper into the park. Both the Mesa and Greenlee Trail are great for beginners, with plenty of lovely scenery and moderate terrain. In the summer, it is an extremely popular destination, so arrive early or visit on weekdays if you prefer more solitude.
If you continue further in, you'll find some of the longer trails that will connect you to even larger trail systems. For example, if you hop onto the intermediate Sand Canyon Trail, you can eventually connect to the aforementioned Intemann Trail that runs through Manitou Springs. The leg of the Intemann Trail from that intersection is designated as advanced, so plan accordingly. There is also a connection to Section 16; however, a portion of the trail is currently closed due to a rockslide. Hiking Lion Trail to Ridgeline Trail will lead you to the intersection that crosses Section 16 Trail when it is open. Most of the trails are mixed use, so be prepared for bikes and horses.
4. North Cheyenne Cañon Park and Stratton Open Space Trails
Difficulty: Moderate | 7.6 miles out and back | Directions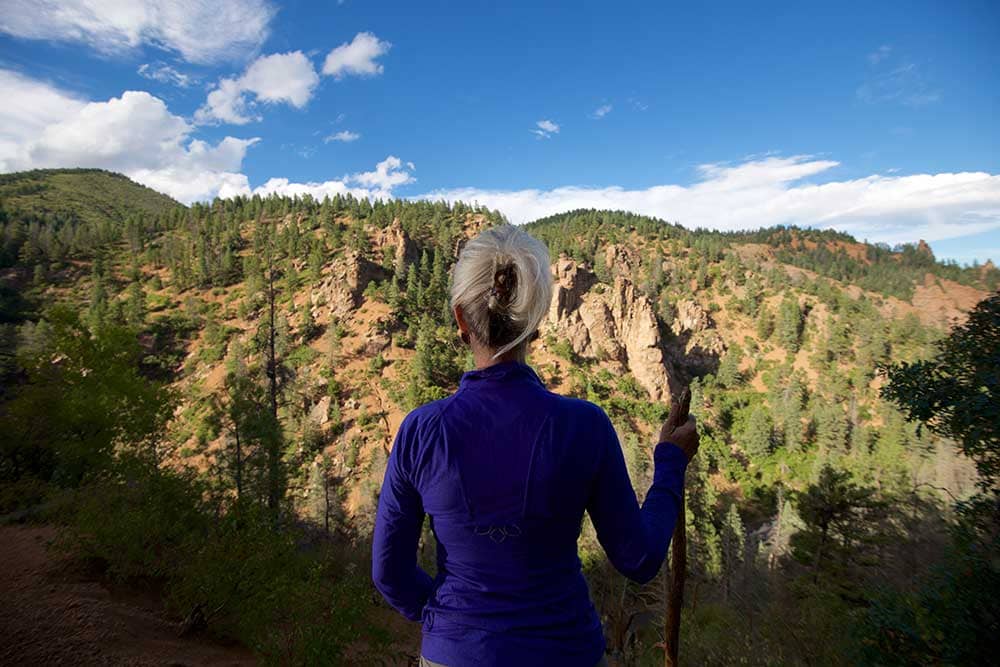 North Cheyenne Cañon and Stratton Open Space have a little bit of everything hikers love, like a bubbling creek, gorgeous terrain and rushing waterfalls. Oh yes, you can even get to real waterfalls from trailheads located right in the city. For a route that touches on several key points of interest, you can't beat Columbine Trail. Beginning behind Starsmore Discovery Center, the 7.6-mile out-and-back trail is rated as moderately difficult, with lots of level spurts mixed with steeper climbs. One of the best parts of this trail is that it lets you out at Helen Hunt Falls. Helen Hunt Falls are a very pretty reward for your efforts, we promise. Even better, you won't have to wait for its extremely crowded and limited parking.
If you've still got enough fire in the lantern to go further (and still make it back to your car), Silver Cascade Falls are located just .25 miles southeast of Helen Hunt Falls. An additional 6.3-mile out-and-back trail leads to Saint Mary's Falls. You can also take either of those hikes on their own by driving up to the parking area for Helen Hunt Falls. As noted above, that's a pretty big gamble in the summer. Your best bet is always to arrive early in the morning or to hit the trail on a weekday morning if you want to make those hikes from the parking lot.
5. Bear Creek Regional Park Trail
Easy | 7.6 miles out and back | 8th Street and Motor City Drive
Bear Creek Park is one of the most diverse parks in the Pikes Peak region. In addition to their plentiful hiking trails, they have a huge dog park, pavilions, playgrounds, an archery range, a community garden, a nature center and multiple courts and fields for a variety of sports. The 573-acre park really is a one-stop location that the whole family can enjoy — including hikers. Bear Creek's terrain is gentle, with lots of flat stretches and low grades that make them excellent for young kids or beginner hikers.
Bear Creek Regional Trail will take you from one side of the park to the other. Start in Bear Creek East, parking at the trailhead right before Motor City Drive off of 8th Street next to Old Colorado City. This will save you the hassle of fighting for parking. Hop onto the trail and begin your hike. The initial walk covers a lot of prairies and rolling hills before leading you into a very pretty creek area near the community garden. You can stop for the day or explore even further by crossing 21st street near the dog park. If you want to explore Bear Creek West, continue to follow the trail to the other side of the park. That area has more trees than the east side and you'll also be able to take a fork over to the nature center if you like.
Are you feeling excited about all of your options for hiking right out of Colorado Springs? Strap on your hiking-appropriate shoes (no flip-flops), fill up your water and hit the trails for an epic season of exploration that is, quite literally, right in our own backyard!