5 Ways to Reach the Summit of Pikes Peak
There's something about momentous mountains that drives humans to conquer them. Pikes Peak—America's Mountain is unique in that it is a mountain that is surmountable by people of many different ages and abilities. It is a truly accessible fourteener, with multiple routes to the top. Do you want to challenge yourself and test your strength by ascending the mountain on foot? Or would you prefer to let someone else do the work as you relax and watch the world go by? Both are valid options, and both are available to Pikes Peak visitors. We've created a list of five different ways to reach the Summit of Pikes Peak, ranked from difficult to easy. Pick your favorite or try all five — the mountain is not going anywhere anytime soon. 
1. Hike to the Pikes Peak Summit Via Barr Trail
Difficulty: Hard | Time: 6-10 hour
The most difficult way to summit Pikes Peak is to hike to the top. There are multiple routes to the summit, including a route via the popular Crags located along the route to Cripple Creek. The most popular route by far is Barr Trail in Manitou Springs. This route is challenging, with a 7,000-foot gain in elevation and 13.5 miles of uphill hiking. The benefit of the trail's popularity is that you are very likely to encounter help if you find yourself injured or ill along the trail. It also decreases the likelihood you will get lost. 
If you want to make the climb, it is highly recommended that you park in a free parking area and shuttle to the trailhead. Extended parking is extremely limited during warmer months and all rules and meters are strictly observed. You will need at least 2 liters of water for your hike, adequate shoes, sun protection, snacks and layers of clothing. Get an early start no matter the time of year you go and always, always, have a back-up plan to get down the mountain. 
A Note About Combining the Incline with Your Pikes Peak Ascent
If you want to complete your Colorado campaign in Legendary mode, we are certainly not here to stand in your way. However, we will caution you that the Incline itself is a lengthy and intense workout. Hiking to the summit after ascending 2,000 stairs may not be the best decision unless you are in peak physical condition. 
Even in the best condition, you risk injury, exhaustion and altitude sickness when pairing two such challenging activities together. If you insist, do not go in the winter, bring adequate water and fuel, dress for inclement weather and tell a buddy before you leave. Take a realistic assessment of your strength at the Incline summit. It won't be nearly as painful to your pride to hike down Barr Trail and go another day as it would be to be airlifted off the mountain with an injury. 
2. Challenge Unlimited: Pikes Peak by Bike
Difficulty: Intermediate | Time: 4-5 hours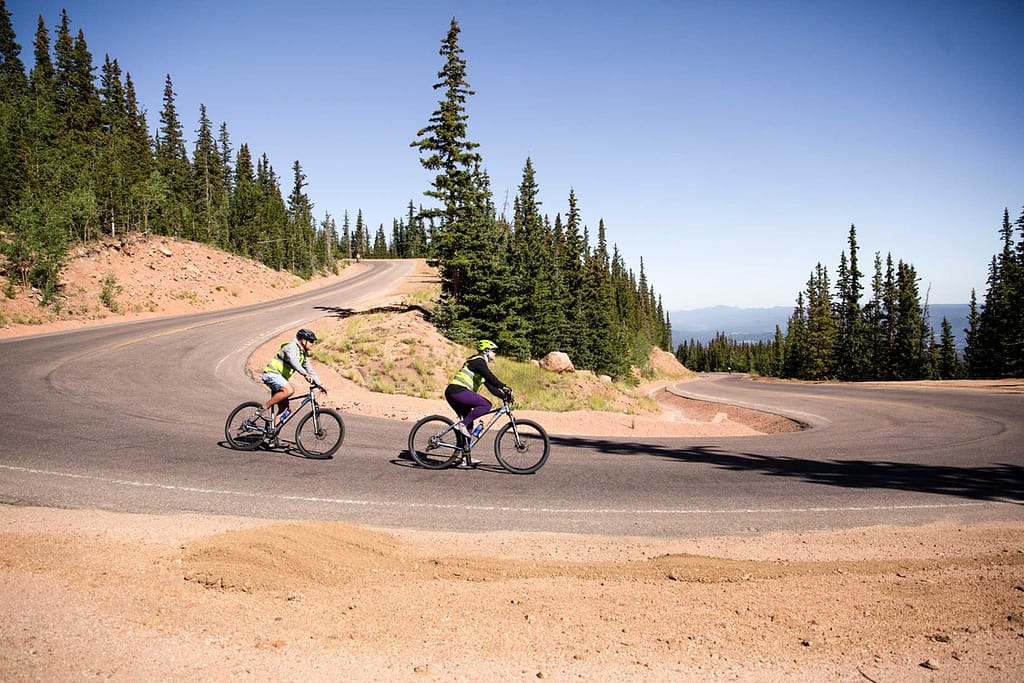 Challenge Unlimited is arguably one of the cooler ways to tour the Pikes Peak Highway. The seasoned outfitter takes riders to the summit via van or private Jeep rides (Jeeps cost additional $) and then unleashes them to ride down the 19.5 mile highway at their own pace. Despite the ride to the top and the fact that the ride is pretty much all downhill, we've listed it as an intermediate challenge because it does require you to balance, pedal, brake and steer for all 19.5 of those miles. 
Challenge Unlimited books tours in advance and riders meet at a central location before hitting the highway. The ride is for individuals ages 12 and over and the outfitter can accommodate up to 40 riders in an excursion. Challenge Unlimited provides the bikes and the gear, you provide the pedaling and determination. 
3. Driving to the Pikes Peak Summit Via the Pikes Peak Highway
Difficulty: Easy-Intermediate | 2 hours
The Pikes Peak Highway is an extremely popular route to the summit of Pikes Peak. In fact, the highway is so popular that the attraction now uses timed entry during peak Peak season. The entirety of the highway is paved, with lots of options for stopping to hike, take photos of incredible views or simply take a breather from driving. Ascending the highway is safe, but some drivers find the switchbacks and limited guard rails to be quite intimidating, hence the intermediate part of the difficulty rating. Descending the mountain on the Pikes Peak Highway also takes care so you don't overheat your brakes or rear-end another driver who has stopped to snap a photo from the middle of the road. 
The entrance to the Pikes Peak Highway is located west of Manitou Springs off of Highway 24. There is ample signage to direct you there. Purchase your timed entry and your tickets ahead of time and have them ready on your phone. We recommend that you save your registration offline or screenshot/print a physical copy, as you never know how well your phone will connect at the base of the mountain. 
4. Summiting Pikes Peak Via the Pikes Peak Cog Railway
Difficulty: Easy | Time: 3 hours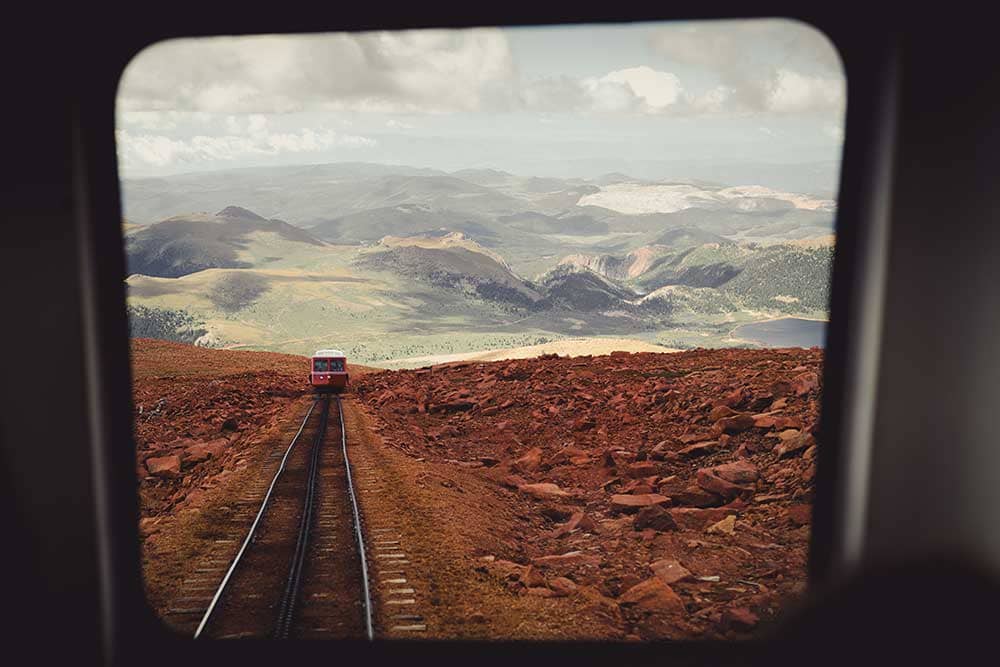 The Pikes Peak Cog Railway is the oldest mobile route to the summit of America's Mountain. Construction began on the famous route in 1889 and the first tourists made it to the summit in 1891. The route begins in Manitou Springs and ascends nine miles, traveling through Pike National Forest past historic landmarks and across multiple life zones. Your ride includes interesting facts on the local flora and fauna, historic points of interest and a 40-minute stop at the summit to allow you time to take pictures, stretch your legs and try out the hot, fresh donuts that are cranked out daily. 
Book your ride on the Cog Railway in advance to ensure you can ride during the time that is perfect for you. There is limited parking for Cog riders at the rail station, or you can park in a free lot or pay lot and take the shuttle. As with parking for the Incline, take care to pay attention to where you park and how long you are allowed to be there. 
5. Pikes Peak by Jeep with Adventures Out West Outfitters
Difficulty: Easy | Time: 4 hours
In a tie for the absolute easiest way to summit Pikes Peak is Adventures Out West's Jeep tour. The outfitter's Pikes Peak or Bust Jeep tour kicks off early in the morning to allow you to maximize your experience on the mountain. You get to ride in a custom open-air Jeep with a clear/lifted roof that lets you see every tree and every mountain as you make your breathtaking ascent. Tours are led by friendly, humorous and experienced guides who provide the perfect balance of knowledge, safety and fun. You get a nice amount of time at the Summit house to explore, snack and pick up fun gifts for anyone unlucky enough to get left behind. 
You can schedule your tour with Adventures Out West throughout the year. The outfitter does offer winter rides, which is a great time to let someone else take the wheel. Ask them about packages — Adventures Out West also provides hot air balloon rides, zip line tours and other fun activities. 
The way you choose to summit Pikes Peak is up to you! If that means a day-long hike to the summit and back, we salute you. If it means chilling in a train with a cup of hot cocoa, that's just fine, too. However you make it to the top, we hope the experience is a memorable and meaningful part of your Colorado adventure.