The character of a town is merely a reflection of the character of its people and the Ghost Stories in the Pikes Peak Region has had more than its fair share of characters.  Big crazy personalities, often lead to infamy after death.  Here are a couple of fun stories from our attractions and their resident characters!

Ghost Corner at Pikes Peak Cog Railway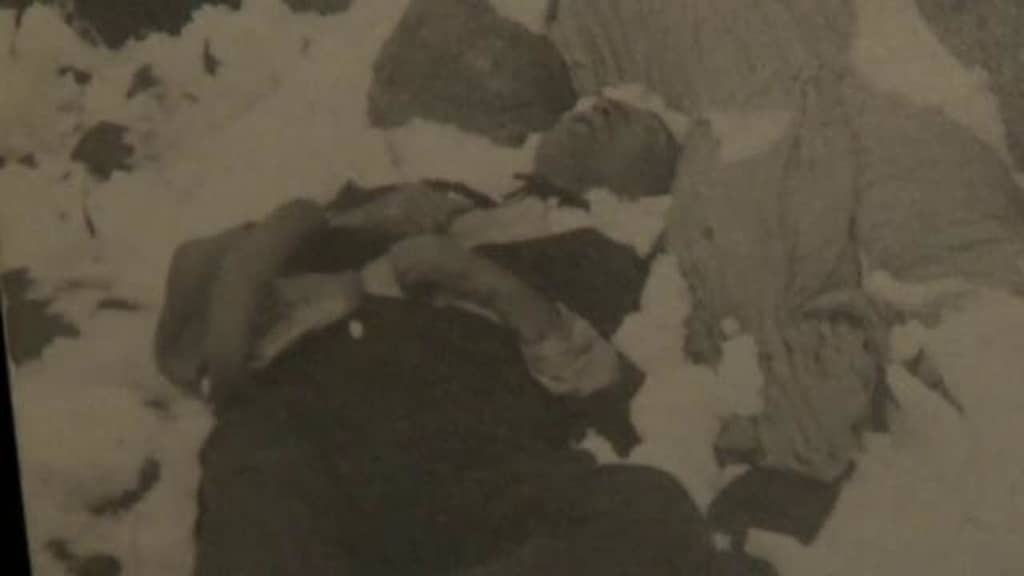 The Cog has an area of tracks towards the top known as "Ghost Corner."
On August 22, 1911, a couple was found frozen to death near the summit of Pikes Peak.  The previous day, they had been advised to delay their ascent down the tracks until a storm had blown over.  Unfortunately they did not listen and froze on the way down.  Ironically, they were found with a note that said "I hope you are having the time of your life in Colorado and do not freeze to death on Pike's Peak."
Today, we do have a cross near the tracks marking the area where their bodies were found.

Iron Springs and the guy who "owns the place"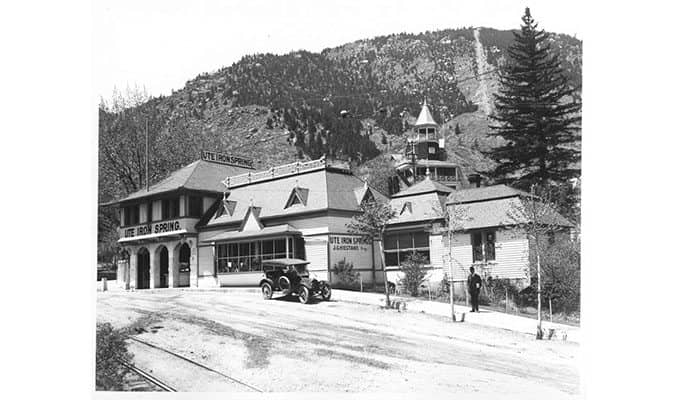 The Iron Springs Chateau is alive with year-round ghosts.  JG Heistand, former owner of the Ute Iron Springs (now Iron Springs Chateau), who died on January 1st, 1916, has been seen by numerous people milling about the Iron Springs Chateau as if he owns the place.  Also, the "Lady in White" has been seen in the upstairs windows by people passing by, or see her in the bathroom mirror.  Last year one of the actors saw the director of the show out in the audience, and when he mentioned he saw her, the rest of the cast said she wasn't in the theater.  The actor said she's wearing a white dress, but when he went back on stage, she was gone.  We're sure he saw the Lady in White.  Lots of stories from former employees about being goosed as they leave the kitchen, a bartender who constantly had to check the tops of the juice containers as they were loosened several times an evening, and disappearing props and costume pieces that suddenly reappear days or even months later….

Cave of the Winds . . . never to be heard from again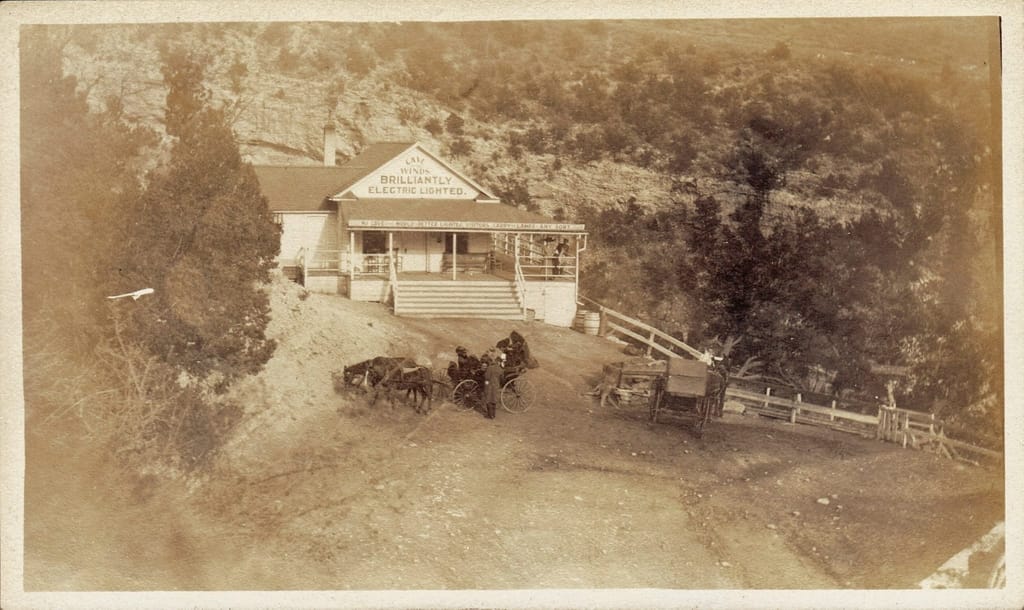 In the late 1800's, after already being quite successful with Cave of the Winds, George Snider continue to explore his property and found the entrance to another cave.  After digging his way in and doing some exploring on his own, he decided he could open this cave to the public as well.  George started giving tours in the Manitou Grand Caverns in the late 1880's when there was still no readily accessible electricity, and flashlights had not yet been invented, so tourists had to carry their own lantern as they walked through the cave instead of crawling through Cave of the Winds.  Since George owned the cave, he would throw private parties on some nights, and so the guests did not have to carry their own lanterns or candles, George paid local boys between the age of 8 and 12 to stand in the cave and hold lanterns and candles so everyone could see.  He would pay these young boys 5 cents an hour to stand still and provide light for the party.  There were a lot of local kids that would do this on a regular basis.  One day after one of George's parties a mother came to see him and said that her kids never made it home the night before.  George was confused since he was the only one with keys to get into the cave and had searched the cave after the party the night before to ensure all of his guests had made it our safely.  So he headed into the cave again to search for the boys.  After hours of crawling through every section of the cave, he surfaced and had to tell the mother that he could not find her boys.  No bodies, clothes or bones have ever been found in the Manitou Grand Caverns, but sometimes people say they can hear the faint sounds of laughing or giggling down some of the passages.
When George first started giving tours in the Manitou Grand Caverns, it wasn't a very popular or well-known cave, so business started slow.  George, being a great showman who liked to have fun with his tours and scare them a little bit, thought to himself that if he could somehow get a real human mummy into his cave that would boost his tour sales, and he could have some fun and scare people with it.  George Snider had a few brothers, and one worked in a rock quarry a few miles down the road from the cave.  One day while digging, the unearthed 3 real human mummies.  Knowing the history of the area and that it was a place that the Ute Indians used to frequent, George figured it had to be someone of great importance to be mummified and buried by themselves.  This perked George's interest and he approached his brother about buying one of the mummies.  After days of begging, George was finally able to buy the mummy in the best shape for $5.  He bought the mummy and brought it into the cave and hid it out of sight from the tours.  Then, when he would bring a group through on a tour he would surprise them with the mummy and scare them.  As the stories about his cave spread and word got out that a real mummy was in the cave business started to pick up.  After a few months with his new prop, he heard about some college athletes that wanted to come through the cave, but already knew about his mummy and how he scared people with it.  So, George decided to move the mummy to a different part of the cave to try and better scare the kids.  When he went to get his mummy to move it, it was no longer there.  He had just seen the mummy the day before on his tours, and he was the only person with access to the cave.  Obviously the mummy had been in the cave for a few months now and never moved before so George freaked out.  He frantically searched the cave all over for his mummy but was never able to locate it.  We have never found any bones, bodies, or clothing in the cave, but the mummy disappeared and was never found again.

Cripple Creek: Taking "Ghost town" to a whole new level
Cripple Creek is famous for its ghosts, literally.  Nearly every building in Cripple Creek has a ghost story of its own.  We caught up with Heritage Tourism Director, Michelle Rozell, for some awesome tales that raised the hair on the back of our neck.  Michelle had so much information to share, we decided to head to Cripple Creek with our cameras for footage — stay tuned.
Meanwhile, enjoy the video from Ghost Adventures.  They were able to gather a lot of data, and got to interview the lovely Michelle (we know her!)
Here are a couple of Michelle's favorite stories:
"I was down in the basement of the Jail getting items to restock the gift shop when I heard someone call my name "Michelle!"  I only had two visitors touring the Jail (it was winter time) and they were clear on the upper level.  I ran upstairs to see who had come in looking for me….no one.  I went outside and looked up and down the street, then on each side of the Jail….no one.  I stopped and analyzed what just happened.  I can still remember the voice:  It was a male, it was "yelling" my name but it was muffled.  Yep….it was real!
"The other was during a regular SUMMER business day.  I was in solitary confinement talking with a grandmother and granddaughter about prostitution (I find their stories fascinating) when I was overcome with goosebumps from my arms to my ankles.  I told the ladies that I needed to step out of the cell for a bit.  The goosebumps did not go away for 45 minutes.  Finally I said out loud "Get off me. We are done!" and they stopped.  Weird.
"My final best personal experience was during an investigation with other guests, one being my younger daughter.  A group of 5 or 6 of us were on the upper tier of the cell block.  My daughter and one guest were standing in solitary confinement.  The rest of us were outside the cell but right next to the door of the cell when we heard either "GET ME OUT!" or some heard "STICK IT OUT!"  This was recorded on several recorders and our reactions were obviously surprised.  A disembodied voice loud as could be!!  I later asked my daughter what she experienced and she said it sounded like the guy was standing right next to her."

Miramont Castle: photo evidence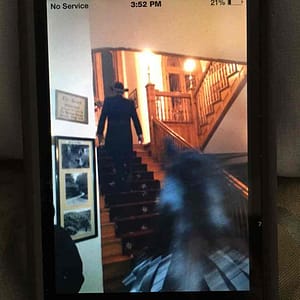 Miramont Castle is one of our favorite places to photograph, and we're not alone.  This photo was shared with us by one of their visitors.  This past summer, while visiting the castle, a woman snapped a photo of her husband ascending the grand staircase.  It wasn't until later review of the photos that the photo-bomber was discovered.
Now there are plenty of people out there, handy with photoshop, but this one sure sent a chill down my spine!
Historic Mantiou Springs: run with the coffins

Emma Crawford is one of Colorado's most celebrated dead people.  Since 1995, Manitou Springs has celebrated Emma with the most unusual race — a race of coffins.  Every year, teams assemble a coffin on wheels, clad themselves in themed costumes, and race down Manitou Avenue.  It is quite possibly one of the greatest people-watching events of the year.
Emma, born in 1863, came to Colorado seeking a cure for her tuberculosis.  Sadly, she succumbed to the disease in the winter of 1891, but not before asking her mother and fiance to bury her atop Red Mountain.  Her pallbearers, 12 in total, had to work in shifts to carry her body to the summit.
In the 20's, a dancehall was erected at the summit of the mountain with an Incline to ferry visitors up the steep hill.  Emma's body was moved during this construction and put into "loose gravel."  In 1929, a skull and pieces of what appeared to be her coffin were discovered by two boys playing on the mountain.  Further investigation discovered a wrapped bundle of bones and a coffin handle.  Later that same year, a new grave was dug for Emma in Manitou cemetery, but her grave would remain unmarked for nearly 80 years.  Finally, in 2004, the Manitou Heritage Center provided Emma with a stone to mark her grave.
Although we hope that Emma and her spirit are able to rest in peace, no one has more reason to be a restless spirit than Emma Crawford.