May 7, 2020 Details:
Due to COVID-19, Miramont Castle will be doing To-Go Mother's Day High Tea for curbside pick up. Call 719-685-1101 to place your order. 
2020 Menu: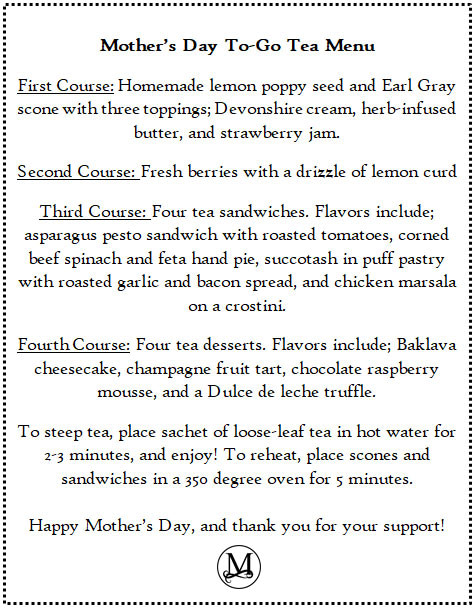 May 3, 2019 Details: 
Honoring mom on Mother's Day can seem like a pretty daunting task, right? After all, she's practically a superhero. She's a telepathic, time-bending healer with the ability to be in five places at once and still have time to be fun, smart and basically the best parental unit ever, so it's natural to want to do something extra special to show your appreciation. And we've got a perfect idea. Celebrate your mom — or your favorite matriarchal figure — like the amazing queen she is by pampering her with an exquisite celebration in an honest-to-goodness castle. The Mother's Day Tea at Miramont Castle has been a much-loved tradition for Colorado Springs families for years. Here's why you should make it yours.
Multiple Tea Times — and Days!
While Mother's Day is officially on Sunday, everyone can't always get together on the same day. Or perhaps one of your siblings called dibs on mom's time and now you fear your plan to reign as the best sibling has been thwarted. No worries. Miramont Castle understands busy schedules and sibling rivalry, so it's holding Mother's Day tea all weekend long. Friday, May 10, through Sunday, May 12, you can choose from three tea times: 11 a.m., 12:30 p.m. and 2 p.m. You'll want to book right away, because this is really popular!
Delicious Treats and Teas
The Mother's Day Tea at Miramont Castle is one of the tastiest celebrations you will find for moms. It's a Victorian high tea, with four courses that include fresh-baked scones, fruit, tea sandwiches and desserts. We recommend loading your scone with some rich and creamy clotted cream and a bit of jam. And since it is a tea party, you'll be happy to know the tea is stellar and the staff is very knowledgeable about every tea they serve. So you'll leave the party with a bit of an education, too.
The Décor is Tops
When mom walks into the Queen's Parlour Tea Room, the décor is guaranteed to make her feel royal and fabulous. Elaborate table settings and delicate tea service sets create the exact Victorian ambiance one requires in a high tea, as do fresh flowers, lacy table cloths and other thoughtful touches. Dressing to the nines is totally fine for this event, which will probably be nice for mom as well. You can also pick up tea sets in the gift shop, so if your mom is into tea at other times besides the occasional party, you can make her feel that queen-like grace at home as well.
It's Family-Friendly
Moms often come equipped with some kids, which is why the tea is family-friendly. Even the pickiest of eaters typically enjoy the four courses offered, as well as the teas. They also tend to be rather thrilled to attend a party in a castle. Service for kids up to age eight is only $20. Tell the staff about all the moms in your party when you make your reservation, then watch the thrill of the younger kiddos when their own special mom gets recognized at the party!
Tour Miramont Castle After the Tea
You don't have to go home when your tea time is done. You're in a beautiful castle, you should absolutely tour it! Miramont Castle is on the National Register of Historic Places and over 14,000 square feet. It's also over 100 years old, with construction beginning in 1895. The Victorian décor you loved in the tea room? It extends far into the castle. There's also a conservatory and several interestingly designed rooms (40 rooms in all). You can take mom on a self-guided tour through this unique piece of Colorado history and one of the treasured pieces of architecture that make Manitou Springs so special.
Sidebar: Miramont Castle Has Events All Year
If you don't manage to make the Mother's Day Tea, you'll be happy to know that Miramont Castle has events all year long. Regular high teas, lighter teas and lunch occur at the tea room daily when the museum is open (hours and dates vary). You can also enjoy spooky midnight tours during Halloween and on months with Friday the 13th in them. There's also the Victorian Christmas, Emma Crawford's Wake, a Victorian Easter Egg Hunt and a Valentine's Day high tea.
We know that capturing all the love and awe you feel for mom is a Herculean effort. Treating her like a queen for a day with a lovely high tea at the local castle is a great step in the right direction.